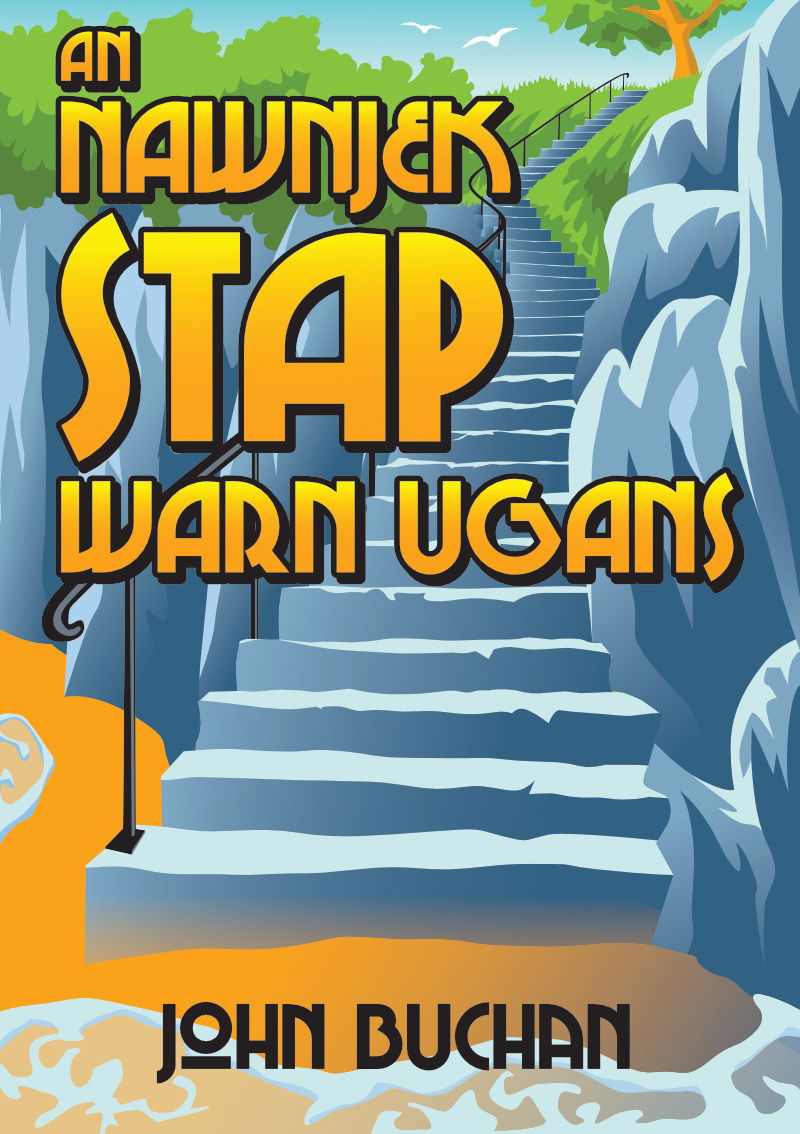 Gerva - A downloadable "Gerva" is available on this site for use in conjunction with this translation
John Buchan
AN NAWNJEK STAP WARN UGANS
Kernowek gans
Ian Jackson
E-dhyllys gans
kernoweklulyn.com
Kensa dyllans / First published 1915
Mamdytel / Original title The Thirty-Nine Steps
Trailyans / Translation © 2019 Ian Jackson
Pùb gwir gwethys. Nyns yw an pùblycacyon-ma dhe redya marnas wàr wiasva kernoweklulyn.com – ny yll radn vëth anodho naneyl bos copies, sensys aberth in ken system dascafos na treuscorrys in form vëth oll na dre vain vëth oll, poken electronek, jynweythek, dre fotocopians, dre recordyth bò fordh vëth aral, heb recêva cubmyas dhyrag dorn dhyworth an trailyor.
All rights reserved. This publication is exclusively for reading on the website kernoweklulyn.com – no part of it may be reproduced, stored in another retrieval system or transmitted, in any form or by any means, electronic, mechanical, photocopying, recording or otherwise whatsoever, without prior permission of the translator.
Olsettyans gans an trailyor in Palatino Linotype.
Typeset by the translator in Palatino Linotype.
E-dhyllys gans kernoweklulyn.com
E-published by (Vivian Taskis)
Ranjy A, 37 Bre an Eglos
Flat A, 37 Church Hill
Hellys / Helston
Kernow / Cornwall
TR13 8TL
Lymnans Nigel Roberts
Illustration
A note on the Cornish in this e-book
The Cornish of the translation takes William Jordan's Gwrians an Bÿs as its 'foundation text', while looking forward to John Keigwin, William Rowe and Nicholas Boson, and back to John Tregear, Sacrament an Alter, Bêwnans Ke, and Bêwnans Meriasek.
Spellings are those of Standard Cornish ('Kernowek Standard' or 'KS'). This orthography was developed under the leadership of Michael Everson in close cooperation with Professor Nicholas Williams. It aims for spellings that are as unambiguous as possible in their representation of the sounds of Cornish, and which at the same time remain faithful to the forms we encounter in the traditional Cornish texts – since these are our chief source for the language.
The whole corpus of traditional Cornish has been used to enlarge the vocabulary. This has been a necessary principle of the revival from the outset. For words and phrases that are not in Gerlyver Kescows, see the separate Glossary that accompanies this e-book. The Glossary may be downloaded in portable document format (pdf).
CONTENS
1 An den hag a veu marow
2 An lethor ow tallath dh'y viajys
3 Aneth an tavernor lienak
4 Aneth an radycal ombrofyor
5 Aneth oberwas an fordh ha spectaclys ganso
6 Aneth an hendyscansyth mol
7 An pescador pluv sëgh
8 Devedhyans a'n Men Du
9 An nawnjek stap warn ugans
10 Lower person ow keskeverya dhe'n mor
DHE
THOMAS ARTHUR NELSON
(A VARHOGYON LÔTHYAN HA'N OR)
A TOMMY WHEG,
Yth eson ny ow cara nans yw pell, agan dew, pùb whedhel a'n sort elvednek, cries mesk Amerycans an 'dime novel' ha besydhys an 'shocker' i'n pow-ma – romans may ma wharvedhyans ow tefia lycklod, hag ow kerdhes bys in very cûr an possybyl. Pàn y'm bo cleves, gwâv passys, wosa redya oll ow creun a'n darbar lowender-na, y feuma constrînys dhe screfa whedhel dhybmo vy ow honen. Sewyans yw an lyvryn usy inter dha dhêwla, ha my whensys dhe worra dha hanow warnodho, dre gov agan felshyp hir, i'n termyn mayth yw fancys, gwyls teg aga gnas, meur moy gwirhaval ès an fethyow.
J.B.
CHAPTRA 1
AN DEN HAG A VEU MAROW
Me a wrug dewheles dhia'n Cyta i'n dohajëdh-na a vis Mê, ogas dhe deyr eur, leun a dhyflassys a'm beweth. Yth esen vy i'n Wlas Coth nans o tremis, ha sqwith glân en vy anedhy solabrës. Mara pe nebonen ow targana bledhen alebma my dhe vos in cher kepar, me a vensa y sensy gesyor; saw feth o. Th'en vy bystlek drefen an gewer, th'esa cows an Sowson gemyn ow qwil wheja dhybm, nyns esa omassayans lowr dhe'm corf, ha pùb solas Loundres o maga farow, dhe'm breus vy, avell dowr sôda gesys dhe bowes i'n howl. "Richard Hannay," yn medhaf, ha hebma yn fenowgh, "crambla a wrussys, a vab, dhe'n cledh cabm, ha res porres yw crambla in mes."
Brathy min a vydnen pàn esen vy owth ombredery wàr oll ow forposys formyes i'n dewetha bledhydnyow in Bùlawayo. Orth kevoth an empîr me a gùntellas ow radn dhybmo – nyns o hy onen a'n radnow brâs, mès dâ lowr i'm golok vy; ha me a wrug desmygy lower maner a gafos plesour. Ow thas a'm dros, whegh bloodh, mes a Scotlond, ha bythqweth ny veuv vy devedhys tre a'y wosa; ytho Englond o neb Mil Nosweyth hag Onen dhybm, dell hevelly, ha my ow qwetyas trega ino yn parhus.
Saw i'n very dallath yth en vy tùllys anodho. Kyns pedn seythen th'en vy sqwith a weles tyleryow meur gà hanow, ha kyns pedn mis y'm bo gwalgh a'n bêwnans boosty ha gwaryjy ha resekva mergh. Ny'm bo mâta vëth dhe bassya termyn ganso, pëth o skyla dhe'm awher, pùb lycklod. Sompnys en vy dhe vysytya showr a bobel i'ga chy, saw nyns êns y kemerys yn frâs genef, dell o apert. Y fedhens y ow qwil nebes qwestyonow gwallus, tùchyng Afryca Soth, ena trailya dh'aga negys arta gà honen. Th'esa benenes Emprorethek pals orth ow gelwel dhe brës tê rag metya gans descadoryon a Sêlond Nowyth ha penscreforyon a Vancouver, ha hèn o an dra dhyflassa oll. Otta vy obma, seytek bloodh warn ugans, yagh i'm anal ha'm esyly, ha mona lowr genef rag lowenhe, ow tianowy gogo efan pùb dëdh. Ervirys veuv vy, ogatty, rag scappya dhe'n glasweltir arta, awos my dhe vos, i'n Wlascor Unyes, an den moyha ancombrys.
I'n dohajëdh-na my êth ha vexya ow mainor arhansek adro dhe'm kevarhow, may fe nampyth dhe wonys i'm brës, ha wàr ow fordh tre my a drailyas adenewen dhe'm clùb – th'o dewotty, res alowa, hag ev owth acceptya tus Wlasva. Me a gemeras dewas hir, ha redya an paperyow androw. Leun êns y a'n gedrydn i'n Ÿst Ogas, hag yth esa artykyl ow tùchya Carolydes, an Pedn-venyster Grêk. Pollat dâ lowr o va i'm estêm vy. Herwyth pùb derivas, nyns esa onen wordhy in oll an show saw ev yn unsel; ha dres hedna, th'esa va ow qwary teg, ha scant ny yller leverel ma's nahen a'n re erel. Dell wodhyen vy, hâtyes o va yn hager-dewl in Berlîn hag in Viena, saw th'esen nyny determys dhe vos len dhodho, hag udn paper owth afydhya nag esa baryas vëth inter Ewrop ha Har Magedon lemen ev. Dell eus cov genef, th'esa qwestyon i'm pedn mar kyllyn vy cafos neb soodh i'n côstys-na. Th'esa argraf dhybm bos Albânya neb tyller gwyw may fydna den mos ha hepcor dianowyans oll.
Whegh eur, aderdro, my êth tre, omwysca, kynyewel i'n Café Royal, ha vysytya hel ilow. Show gocky o, benenes ow lappya, ha gwer sym aga vysach, ha bohes termyn th'esen vy ena. Ebron an nos o clor ha cler pàn esen vy ow kerdhes tre, dhe'm ranjy gobrenys ogas dhe Portland Place. Th'esa an rûth owth herdhya wàr leghveyn an cauns dresto'vy, leun a froth ha cows, ha my ow perthy envy a'n bobel rag anjy dhe vos bysy teg. Mowysy shoppys ha scrifwesyon, an dus payon ha'n greswesyon, th'esa gansa neb les i'ga bêwnans rag gwil pêsya dhedha. Me a ros hanter-cùrun dhe veggyor pàn wruga' gweles dell esa va ow tianowy; kessùffror o hedna. Orth Oxford Circus me a veras in bàn, wàr an ebron a waynten, ha leverel ly solempna. Me a vydna ry dhe'n Wlas Coth udn jëdh moy, may halla gorra nampyth dhybm; mara ny wharva tra vëth, me a vydna kemeres trumach dhe Bow an Penrin i'n nessa gorhal.
Th'esa ow ranjy an kensa leur in byldyans nowyth adrëv Langham Place. Th'esa stairys kemyn, ha porthor ha den eskyner i'n entryng, saw nyns esa boosty pò haval vëth, ha pùb ranjy o degës qwit in y honen. Cas yw servons anedhys genef, ytho me a'm bo gwas rag ow cherya vy, hag ev heb lavurya ma's i'n jëdh. Y fedha ow tos kyns eth eur pùb myttyn hag ow tepartya seyth eur gordhuwher, rag nyns esen vy ow kynyewel i'n chy bythqweth.
Th'esen vy i'n very gwrians a dhesedha an alwheth i'n daras pàn wruga' merkya den orth ow fenelyn. Ny wruga' gweles y dhevedhyans, ha my ow plynchya orth y fygùr rybo' mar sodyn. Den moon o va, ha barv got a vlew gorm ganso, ha dewlagas sherp ha blou ha bian. Me a'n aswonys, dell o va tregor udn ranjy wàr an leur awartha, ha my orth y salusy neb treveth kyns.
"Alla'vy cows genowgh?" yn medh. "Alla'vy dos ajy rag tecken?" Th'esa va ow qwetha y lev gans caletter rag crena, ha'y dhorn ow qwil pawa wàr ow bregh.
Pàn wrugaf egery an daras, me a sînas dhodho, entra may halla. Kettel veuva dres an treuthow, ev êth ha fysky dhe'm rom dhelergh, mayth en vy ûsys dhe vegy ha dhe screfa lytherow. Ena ev a dheuth in udn wybya dhybm arta.
"Yw an daras in dadn alwheth?" ev a wovydnas yn fevrus, hag ev ow lacya an chain gans y dhorn y honen.
"Drog yw genama glân," yn medh, uvel y vaner. "Favour brâs re wruga' govyn, saw why yw den, a'gas syght, a wor convedhes. Th'esewgh i'm preder oll an seythen, abàn gefys vy trobel. Now, a vydnowgh why gwil torn dâ dhybm?"
"Parys oma dhe woslowes orthowgh," yn medhaf. "Heb dedhewy moy." Anies veuv vy solabrës dre fara coynt an gwesyk nervus-ma.
Yth esa servyour a dhewosow wàr an tâbel ryptho, may whrug ev lenwel dowr tobm Alban ha sôda ino. Ev a'n evas, try therlonk, ha terry an wedren crack pàn y's gorras dhe'n bord.
"Pardon," yn medh. "Tabm amayes ov vy haneth. Dell yw happyes, i'n eur-ma, a worowgh? th'ov yn farow."
Esedhys veuma wàr ow hader vrehek ha tùchya ow fib.
"Fatl'yw tâstyans hedna?" me a wovydnas. Certan en vy lebmyn dell esa den muscok obma, ha res o dhybm y dhyghtya.
Minwharth a flyckras dres y vejeth gwydnyk. "Muscok nyns ov vy màn – na whath. Now, aspia a wrugaf ortho'why, ha my ow rekna why dhe vos pollat neb â wàr y gàm. Ow rekna inwedh dell owgh why onen onest, heb own a wary dornas hardh. Me a wra kyfy dhywgh. Otham a'm beus a weres, possa otham ès dell esa dhe dhen bythqweth, ha res yw dhybm surhe y halla'vy scodhya warnowgh."
"Gwrewgh derivas gàs whedhel," yn medhaf, "ena me a lever dhywgh."
Ev a wrug crefhe y honen, dell hevelly, rag strîvyans brâs, ena dallath clatter a'n coynta. Me a wrug fyllel a'y gonvedhes i'n kensa prës, ha res o dhybm govyn hedhy ha styryans. Otta ascorn an câss:
Amerycan o va, dhia Kentùcky, ha wosa y benscolyans ha dâ y begans, ev a vedra gweles an bÿs efan. Ev a screfas nebes, hag obery avell gohebyth bresel dhe neb jornal in Chycâgo, ha passya bledhen pò dew in Ewrop a'n Soth-Ÿst. Dell o apert, yethor spladn o va, hag aswon an gowethas i'n côstys-na yn tâ lowr. Th'esa ow côwsel meur y wodhvos a lies hanow a welys vy, ha cov dhybm whath, i'n paperyow nowodhow.
Ev a wrug mellya gans an wlasegeth, dell lavaras, rag hy dhe vos a les wàr an dallath, a'y wosa dre rêson na ylly ev hepthy. Dell esen vy orth y vrusy, ev o pollat lybm ha dybowes, porposys pùb termyn dhe hedhes bys in gwrëdh an mater. Ev a wrug hedhes nebes hirra inans ès dell esa cùssel dhâ ganso.
Th'eso'vy ow tascor an pëth a dherivas ev kebmys dell wrugaf ùnderstondya. Adrëv kenyver Governans hag oll an luyow ervys yth esa môvyans brâs in dadn gel, devîsys gans tus pòr beryllys. An den-ma a'n cafas dre wall; dynyes o va ganso; ev êth pelha; ena ev a veu kychys. Dell wruga' convedhes, anarkystyon dheskys o an moyha radn a'n dus ino, a'n sort plegys dhe wil wheldroyow, saw yth esa arhansoryon inwedh, ow qwary rag mona. Gwainya prow brâs a yll den conyng in marhas eus ow codha, ha porpos pùbonen a'n dhew rencas-ma o domhel oll Ewrop.
Ev a dherivas lower coyntys, hag anjy ow styrya cals a daclow o penpleth dhybm kyns – wharvosow in Bresel an Balcanyow, fatell veu udn stât conqwerrour desempys, prag y feu pùb kefrysyans gwrës ha dyswrës, prag yth êth certan tus mes a wel, hag a ble teuth pùb giewen an vresel. Meder oll an bras o settya Rùssya ha Jermany an eyl warbydn y gela.
Pàn wovydnys vy praga, ev a lavaras bos breus gans an bagas anarkyst dell ylly hedna ry spâss dhe wythres. Y fedha pùptra i'n tedhlester, hag anjy intentys dhe weles bÿs nowyth ow tos anodho in mes. Y fedha an gevalavoryon ow crafa shekels pals, hag ow prena oll an browsyon in udn wil fortyn. Kevalaf ny's teva keskians, yn medh, na mamvro naneyl. Ha pelha, th'esa an Yêdhow sevys in hy hilva, ha'n Yêdhow owth hâtya Rùssya lacka ès iffarn y honen.
"Eus marth dhywgh?" ev a grias. "Dres try cans bledhen yth yns y tormentys, ha hebma yw an gam wàr dhelergh wosa an pogromys. Yma an Yêdhow in pùb plâss, saw res yw mos dhe'n stairys dhelergh, ha pell wàr nans, rag y drouvya. Kemerowgh kenyver onen in mesk cowethasow kenwerthek brâs a'n Tewtonas in ensompel. Pàn vydno'why gwil negys orthy, an kensa den dell wrewgh metya yw Pryns von und zu Neppyth, den yonk ha jentyl, ow côwsel Sowsnek Eton-Harrow. Saw nyns yw ev gwarior a vry. Mars yw gàs negys brâs, why a wra mos adrëv dhodho ha cafos Westfâlyan, balek y jalla, kil-ledrek y dâl, ha'y vanerow kepar ha fara hogh. Ev yw an den negys Alman usy ow qwil crena dhe baperyow an Sowson. Saw mars eus dhywgh chyffar a'n brâssa ehen, mayth yw res bargednya gans an very mêster y honen, why a dheu ha dierbydna, chauns deg worth onen, Yêdhow bian, gwydn y fâss, esedhys wàr gader Bath, ha lagas nader ruglen ino. Eâ, sera, hèn yw an den usy ow rêwlya an bÿs i'n present termyn, ha'y gollel yw pychys in Empîr an Sar, drefen y das dhe vos scorjys ha'y vodryp outrayes in neb pendra udn margh ryb an Volga."
Ny yllyn vy hepcor leverel nag esa sowenyans teg dh'y anarkystyon Yêdhowek i'n tor'-ma.
"Nag eus, hag eus defry," yn medh. "Anjy a wrug gwainya neb gradh, saw bonkya warbydn tra yw brâssa ès mona, tra na yller y brena, anyen omlath coth a vab den. Bos ledhys mars yw gàs peryl, desmygy neb baner, neb gwlas a vydnowgh, ha batalyas abarth dhedha, ha mars owgh a'y wosa yn few, alena in rag y fedhowgh warnodhans dôtys oll. An soudoryon-ma, dewolow wocky, re gafas neptra usons y ow cara, ha hedna a wrug omwheles pùb devîs dâ in Berlîn ha Viena. Saw whath ny worras ow hothmans aga dewetha carten i'n gwary – cabmen na wrussons. An âss, yma ev cudhys i'ga brehal, ha mara ny alla'vy gortos yn few dres an mis a dheu, anjy a vydn y settya trigh dhe'n tâbel."
"Saw dell esof ow convedhes, why yw marow," me a lavaras in udn woderry y gows.
"Mors janua vitae," yn medh ha minwherthyn. [Mernans: an porth dhe vêwnans, lavar coth an Frankmasons] (Aswonys o an devyn dhybm: scant ny wodhyen vy Latyn vëth dresto.) "Me a wra y glerhe, saw res yw desky showr a daclow dhywgh yn kensa. Mars eso'why ow redya gàs baper nowodhow, nyns yw Constantyn Carolydes hanow ùncoth dell dyba'?"
Esedhys veuv vy serth dewhans, rag me a redyas anodho i'n very dohajëdh-na.
"Ev yw an den re wrug myshevya oll aga gwary. Ev yw an brâssa brës i'n holl show, ha den onest kefrës, dre hap. Ytho wàr rol an negys re beu moldrans nans yw dewdhek mis. Me a dhyskevras hedna – heb caletter, rag y hyll pùb den fol desmygy kebmys. Saw me a dhyskevras an fordh dôwlys dh'y wil inwedh, ha mortal veu an godhvos-na. Hèn yw skyla dhe'm tremen."
Ev a wrug kemeres secùnd dewas, ha my orth y gemysky ragtho, dre rêson an brybour dhe vos owth higedna wortyweth wàr ow fancy.
"Y ladha ny yllons in y bow y honen, rag yma gwethysy a Epyrôtas ganso a'n sort parys dhe dhyscrohedna dama wydn. Saw an 15ves mis Efen y fëdh ev ow vysytya an dre-ma. Hag yma ûsadow nowyth dhe'n Sodhva Dramor Vretednek: gelwel tus kesgwlasek dhe gyffewy tê, ha'n brâssa kyffewy trevnys dhe'n dedhyans-na. Now, Carolydes yw sur an chif-ôstyas, ha mar teu ow hothmans ha spêdya dell yns y whensys dhe wil, nefra nyns â va tre dh'y dhinasydhyon garadow."
"Hèn yw sempel lowr, neb cor," yn medha'. "Gwrewgh y warnya ha'y wetha chy."
"Ha degemeres aga rêwlys ynsy?" ev a wovydnas sherp. "Mar ny dheuva, vyctory a vëdh dhedhans y, rag ny yll den vëth ma's ev dygabma oll an dhol. Ha mars yw y Wovernans gwarnyes, dos ny vydn an den, rag na wor ev kebmys a vëdh gaja an gwary fest uhel i'n 15ves mis Efen."
"Pandr'orth an Governans Bretednek?" yn medha'. "Ny vydnons y gasa ôstysy dhe voldroryon. Gwrewgh sîna dhedha, hag anjy a wra gorqwetha dhe voy."
"Prow vëth. Mara pêns y ow stoffya dha dre-ma leun a helerhysy hag ow tobla an creslu, y fia Constantyn onen marow ha deu bytegyns. Nyns usy ow hothmans i'n hapwary-ma rag gwainya whegydnow. Occasyon a vry, hèn yw gà whans rag cowlwil an ladhans, hag oll Ewrop orth y lagata. An moldror a vëdh Awstryan, ha plenta vëdh an dùstuny rag dysqwedhes scodhyans kel a'n vrâsyon in Viena hag in Berlîn. Gow iffarnak vëdh hedna, sur, mès an câss a wra hevelly du lowr dhe'n bÿs. Nyns yw ow geryow air tobm, sera, an devîs melygys-ma yw godhvedhys dhybm in oll y vanylyon, ha my owth afydhya dhywgh fatell vëdh an purra drog-galneth wosa termyn an Borgias. Saw ny wher mars eus den, onen ow convedhes rosow an bras, knack obma in Loundres an 15ves mis Efen, yn few. Ha'n den-na, y fëdh ev agas servont, Franklin P. Scudder."
Tabm ha tabm, th'esa an gwesyk ow plegya dhybm. Degës veu y dhewawen kepar ha maglen logas brâs, hag yth esa tan a vatel in y lagasow lybm. Mars o va rackor a whedhlow gwag, th'o mêster a'n waryva kefrës.
"Ple whrusso'why dyskevra an story-ma?" me a wovydnas.
"An kensa hynt a gefys vy in tavern ryb an Achensee in Tyrol. Hèn o dallath an helgh, hag assembla toknys erel an câss a wrug avy in shoppa pelour i'n qwartron Galycyan in Bùda, in Clùb Estrenyon in Viena, hag in gwerthjy bian a lyvrow ogas dhe'n Racknitzstrasse in Leipzig. Me a wrug collenwel oll an dùstuny deg dëdh alebma in Parys. Ny alla'vy derivas an manylyon i'n eur-ma, rag istory hir lowr ywa. Pàn veuv vy perswâdys a'm tybyans yn tien, me a wodhya convedhes dell o res dhybm dysapperya, ha dos dhe'n dre-ma wàr fordh dhydro ha coynt dres ehen. Pàn wruga' dyberth orth Parys, th'en vy Frank-Amerycan yonk ha fascyonus; pàn gemerys vy trumach mes a Hamborg, th'en vy marchont Yêdhowek in chyffar adamans. In Norwey th'en vy studhyor Sows a scrifow Ibsen, cùntellor a dhefnyth rag arethyow, saw pàn wruga' dyberth orth Bergen th'en vy den gwaya-mir a fylmys sky-resek specyal. Ha me a dheuth obma dhyworth Leith gans lower kydnyk glus predn i'm pocket rag profya dhe'n paperyow nowodhow in Loundres. Bys de, dyscleryes veu pùb ol genef yn tâ, dell hevelly, ha my lowen teg. Ena ..."
Dystemprys veuva, dell hevelly, orth cov a'n dra, hag ev a wrug terlenky nebes moy a'n dowr tobm.
"Ena me a aspias den a'y sav i'n strêt ryb an byldyans-ma wàr ves. Gortos clos i'm rom my a wrug ûsya der an jëdh, heb walkya an dre ma's i'n tewlder rag our pò dew. Th'esen vy orth y aspia pols dâ dre'm fenester, hag orth y aswon, dell dybys ... Ev a dheuth ajy ha côwsel orth an porthor ... Pàn veuv vy devedhys newher a'm kerdh dhe'n chy, me a gafas carten i'm lythergyst. Warnedhy th'esa hanow an den ov vy lyha whensys dh'y vetya i'n oll an bÿs gwrës gans Duw."
Heb dhowt, tremyn ha syght ow howeth, an ewn euth noth wàr y fâss, y feu ow surneth a'y onester collenwys dredha. Nebes lebmys veu ow lev ow honen pàn wovydnys pëth a wrug ev nessa.
"Convedhys veu dhybm dell en vy botellys mar certan avell pyckel hernen wydn, na nyns esa ma's udn scappyans. Res o dhybm merwel. Ow helhysy mars esens y ow cresy y feuv vy marow, anjy a vydna codha arta in cùsk."
"Fatell wrusso'why spêda a'n dra?"
"Me a lavaras dhe'n den usy chambrour dhybm dell en vy gyllys clâv lowr, ha me a wrug lywa ow bejeth rag mâkya enewores. Nyns o hedna cales màn, rag my dhe vos tùllwyscor sley. Ena me a gemeras corf marow – yma body marow dhe gafos in Loundres pùb eur oll mar corowgh le may ma dhe fanja. Me a'n dros tre in cofyr wàr garyach peder ros, hag otham a weres wàr an stairys dhe'm rom in bàn. Dell wodhyr, res o dhybm grahella nebes dùstuny rag whythrans sodhogyl a'm ancow. My êth dhe'm gwely ha govyn orth ow chambrour kemysky draght cùsca dhybm, ena erhy dhodho voydya in kerdh. Whensys o va dhe dhry medhek, saw th'esen vy ow cùssya ha leverel na vydnen vy godha' den fysek vëth. Pàn en vy genef ow honen oll, me a dhalathas conterfeytya wàr an corf-na. Y vusur o kehaval ha'm brâster vy, hag ev merwys re y syker, dell veu breus dhybm, ytho me a settyas neb gwyrosow obma hag ena yn parys. An challa o an gwanboynt i'n hevelepter, ytho me a wrug y dhystrôwy gans revolver. Dre lycklod, y fydn nebonen afydhya vorow fatell glôwas ev son a dedn, saw nyns eus kentrevak vëth wàr ow leur vy, ha me a rekna dell dela y lavasos. Ytho me a worras an corf i'm gwely, gwyskys i'm pyjamas vy, ha'm revolver a'y wroweth wàr dhyllas an gwely ha deray mynsek adhedro. Ena me a wyscas ow honen in sewt a veu sensys rybo' dhe bùb otham. Ny vydnen vy bedha dyvarva, rag own may hallen vy gasa olow, ha dres hedna, dybrow glân o tria mos wàr an strêtys. Yth esewgh why i'm prederow oll an jëdh, ha ny yllyn ma's gelwel orthowgh. Th'esen owth aspia mes a'm fenester erna welys why dhe dhos tre, ena me a slynkyas an stairys wàr nans rag omvetya genowgh ... Otta, sera, why a wor lebmyn a'n negys kebmys dell worama vy."
Esedhys o va whath, ha'y dhewlagas ow plynchya kepar ha pàn ve cowan, ha'y nervow in treneyj, mès cowl-dhetermys bytegyns. Surhës en vy yn tâ solabrës y vos ow leverel an gwir. Whedhel o va moyha gwyls, saw my re glôwas lies whedhel ascorn pedn leugh hag anjy dysqwedhys a'y wosa dhe vos gwiryon, ha'm ûsadow yw jùjya an den kyns an story. Mara mydna ev establyshya y honen i'm ranjy, ena trehy an gùdhùk dhybm, y whrussa derivas nampyth clorra.
"Roy gàs alwheth," yn medha', "my â ha gweles an corf marow. Gwrewgh ascusya ow rach, saw res yw tabm prevy an gwrioneth mar callaf."
Ev a shakyas y bedn yn trist. "Gàs govynadow yw dell dhargenys, saw ny'm beus. Yma va wàr ow chain ha hedna wàr an voos omwysca. Res o gasa an alwheth wàr ow lergh, rag na yllyn alowa chêson a dhrogdybyans. An dus jentyl usy orth ow helghya, th'yns y cytysans skentyl lowr. Res yw dhywgh perthy fydhyans ino'vy haneth, hag avorow y fëdh dùstuny a'n corf marow-na, yn tâ teg."
Th'esen vy ow predery tecken. "Unverhës. Me a vydn trestya dhywgh haneth. Me a wra gàs gorra in dadn alwheth i'n stevel-ma, ha'y alwheth genama vy. Marnas udn ger, a Vêster Scudder. Gwirleveryas o'why, dell gresa', mès mar nyns owgh yn tefry, res yw gwarnya dhywgh y bosaf handlor codnek a wodn."
"Sur," yn medh, ha sevel sodyn ha freth in bàn. "Godhvos gàs hanow, nyns ov enorys anodho, sera, saw gesowgh vy dhe leverel agas bos den gwydn. Ha gwrewgh lendya alsen dhybm, dre blegadow."
Me a'n hùmbroncas ajy dhe'm chambour ha gasa dhe wary frank. Wosa hanter-our y teuth fygùr in mes esen vy owth aswon scant. Nyns o tra vëth heb chaunj saw y lagasow yn unsel, sherp ha nownek. Dyvarvys o ev glân, y vlew o rydnys i'ga cres, ha trehys veu y abransow. Gans hedna, y'n jeva stauns a dhyscans breselek, exampyl perfeth o va, bys in arlyw gell y fâss, a neb soudor Bretednek a renk, wosa termyn hir a dûta Eyndek. Th'esa unweder ganso kefrës, neb a worra ev dh'y lagas, ha pùb leveryans Amerycan o gyllys dhywar y gows.
"Re'm pât! Mêster Scudder –" me a stlavas in udn hockya.
"Nyns ov vy Mêster Scudder," ev a wrug êwna; "Capten Theophilus Digby, a'n dewgansves Gùrcas, dewhelys dhe'n wlas tre in y dermyn frank. Gwaitys yw dell vedno'why remembra, sera."
Me a wrug darbary gwely dhodho i'm rom megy ha mos dhe'm groweth vy, moy lowen ès dell veuma nans o mis leun. Traweythyow i'n bencyta-ma nakevys gans Duw, y feu neb wharvos byttele.
Me a dhyfunas ternos ha clôwes ow gwas, Paddock, fatell esa va ow qwil noys an jowl orth daras an rom megy. Paddock o pollat may whruga' torn dâ dhodho alês wàr an Selakwy, hag ev arfedhys genef kettel dheuth vy dhe Englond. Th'esa kebmys helavarder ganso, ogas lowr, dell eus gans dowrvargh, na nyns o va chambrour meur y dalent, mès y hyllyn trestya dh'y lelder, heb mar, heb martesen.
"Sens dha hùbbadùllya, Paddock," yn medhaf. "Yma cothman dhybm, Capten – Capten" (kellys veu cov a'y hanow) "ow campya i'n rom-na. Gwra parusy haunsel dhe dhew dhen, ena deus ha my ow styrya."
Me a dherivas dhe Paddock whedhel brav, an cothman fatell o onen meur y vry, ha'y nervow in studh idhyl wosa gorlavuryans, ow tervyn powes ha cosoleth heb ambos. Res porres o na wothfa nagonen y vos obma, poken y fedha omsettys gans messajys dhyworth an Sodhva Eyndek ha'n Pedn-venyster ha'y sawyans dyswrës. Y coodh alowa, th'esa Scudder ow qwary y bart yn frentyn pàn dheuth ev dhe'n haunsel. Ev a vera stark orth Paddock der y unweder, kepar ha sodhak Bretednek poran, govyn ow tùchya Bresel an Boers, ha tôwlel dhybm cals a story adro dhe vâtys fyscsyonek. Ny wodhya Paddock leverel 'sera' dhybmo, mès yth esa ow qwil 'sera sera' orth Scudder kepar ha pàn ve y vêwnans i'n vantol.
Me a'n gasas dhe gowethya gans an paper nowodhow ha box a cygarow, ha my ow mos dhe'n Cyta bys i'n eur ly. Pàn dheutha' tre, th'esa tremyn brâs ha poos wàr dhen an eskyner.
"Hager-wharvos obma hedhyw vyttyn, sera. Anedhyas in Nyver 15 re wrug omladha y honen gans godn. Anjy re'n dug dhe'n marowjy namnygen. Ma'n creslu ena vàn lebmyn."
Me a ascendyas dhe Nyver 15, ha cafos copel a greswesyon hag arolegyth dhe vos bysy i'ga whythrans. Me a wrug nebes qwestyonow gocky, hag anjy a'm pôtyas mes yn scon. Ena me a gafas an den a veu chambrour kyns dhe Scudder, ha'y bùmpya, saw apert o nag esa gorgîs vëth ganso. Onen ha kynvan in y lev o va, ha'y fâss kepar ha corflan, hag êsy lowr y gonfortya dre hanter-cùrun.
My êth dhe whythrans an cùrunor i'n nessa dëdh. Cowethyas in neb chy dylla a ros dùstuny dell wrug an den tremenys dry dhodho kynygow glus predn, hag ev o, dh'y vreus, mainor dhe gowethas Amerycan. Seyth an cùrunor a jùjyas an câss dell o va omladhans ha'n brës mes a'y rêwl, ha'n nebes taclow personek a veu dascorys dhe'n Consùl Amerycan rag gà dyghtya. Me a dherivas oll an mater dhe Scudder, ha meur y les ino. Ev a lavaras ass o va hirethek a vos i'n whythrans-na, rag ev dhe dyby fatell via mar spicek dell ve redya artykyl a'th ancow dha honen.
I'n kensa dew dhëdh mayth esa ev tregys genef i'n rom dhelergh-na, th'o va pòr gosel. Ev a redya ha megy nebes, ha gwil crug a screfa in lyvryk cov, ha pùb gordhuwher y fedhen ny ow qwary gwëdhpoll, hag ev orth ow stewadny vy. Dell gresa', th'esa va ow cherya y nervow bys in yêhes arta, rag ev a bassyas termyn vexus lowr. Saw i'n tressa dëdh me a'n gwelas dell esa ow mos dybowes. Ev a stagas rol dhe'n fos a'n dedhyow bys i'n 15ves mis Efen, ha'ga thyckya an eyl wosa y gela gans pluven blobm rudh, ha keworra covnôtyans berdhorn ryb pùbonen. Y fedhen vy ow tos ha'y gafos codhys in hunros morethek, ha'y lagasow lybm omdednys, ha wosa pùb pryjweyth a'n ombrederyans yth o tuedhys pòr dhyglon.
Ena me a verkyas dell esa ev ow mos wàr bigow dreyn unweyth arta. Y fedha ow coslowes orth sonyow bian, hag ow covyn prest mars o Paddock den dhe drestya dhodho. Bohes weyth yth o pòr growsek, hag ev a wrug dyharas. Nyns ov vy whensys dh'y vlâmya. Me a vydna alowa dhodho moyha gyllyn, rag y oberen dhe vos onen vehus.
Sawder y grohen y honen, nyns o hedna y drobel, mès spêda y dowlen dell veu hy tôwlys. An denyk-na o colonecter pur dredho, heb spot medhel vëth. Udn nos y feuva pòr solempna.
"Now, Hannay," yn medh, "dhe'm breus, y coodh dhybm ry downha ùnderstondyng a'n aventur-ma. Cas vëdh genef departya heb gasa ken onen wàr ow lergh rag batalyas." Hag ev a wrug derivas manylyon a'n pëth na glôwys vy ma's dyscler kyns.
Ny wrugaf y attendya yn tywysyk. In gwrioneth, yth o y anethow y honen a voy les dhybm agès y wlasegeth. I'm reknans vy, Carolydes ha'y writh nyns o bern vëth genef, ha my whensys dhe jarjya hedna oll dhodho ev. Ytho radn vrâs a vyns a dherivas, hy êth slyppys mes a'm cov yn tien. Kebmys dell esof ow remembra, ev a lavaras pòr gler na dhalethy an jùparty erna ve Carolydes devedhys in Loundres, ha'n peryl ow sordya mes a'n very gwartha, le na vedha skeus vëth a dhrogdybyans. Ev a wrug mencyon a venyn – Julia Czechenyi – esa maglys neb maner i'n peryl. Y fedha hy an edhen dynya, dell veu convedhys dhybm, rag kemeres Carolydes mes a with y wethysy. Th'esa va ow côwsel a neb Men Du inwedh hag a dhen stlav wàr y davas, hag ev a dhescrefas nebonen pòr gewar na ylly campolla heb scruth – den coth, mès yonk y lev, a wodhya gwil cûgh dh'y lagasow kepar ha falhun.
Th'esa ow côwsel a'y vernans yn fenowgh kefrës. Mortal porposys o va dhe wainya in y ober bys i'n dyweth, mès heb gwil fors vëth a'y vêwnans ev.
"Dell dyba'vy, th'yw pecar ha codha in cùsk pàn vosta sqwith oll, ha dyfuna ha cafos dëdh a hâv ha sawor gora ow tos orth an fenester ajy. Dhe Dhuw y whrug vy grassa lies myttyn a'n par-na pàn esen vy in Pow an Glaswels pell, ha grassa Dhodho me a vydn, dell waita', pàn wrellen vy dyfuna a'n tu aral dhe'n Jordan."
I'n nessa dëdh yth o va meur moy hudhyk, hag th'esa ow redya bewgraf Stonewall Jackson dres ourys. My êth ha kynyewel gans injynor bal mayth o res dhybm y weles rag negys, ha dewheles hanter wosa deg aderdro hag abrës dh'agan gwëdhpoll kyns mos dhe'm gwely.
Th'esa cygar i'm min, dell eus cov genef, pàn wrugaf egery daras an rom megy. Nyns esa bollen vëth ow colowy, ha my ow cafos hedna coynt. O Scudder gyllys dh'y wely solabrës?
Me a wrug sqwychella crack, saw nyns esa den vëth i'n rom. Ena me a aspias nampyth i'n gornel bell, ha gasa an cygar dhe godha, ha whës ow tardha dhybm in ewn euth.
Ow ôstyas vy, th'esa a'y wroweth omlêsys wàr geyn. Th'esa collel hir der y golon hag ev beryes stag i'n leur.
CHAPTRA 2
AN LETHOR OW TALLATH DH'Y VIAJYS
Me a sedhas wàr jair brehek, ha whans brâs dhybm a wheja. Pymp mynysen y turya, ha fyt a scruth ow sewya. An fâss truan wàr an leur, gwydn, stag y lagasow, th'o moy ès dell wodhyen vy perthy, ha me a gemeras lien moos ha'y gudha. Ena my êth in udn drebuchya dhe'n amary, cafos an dowr tobm ha lenky lower ganowas. Me a welas, kyns, tus a veu marow sodyn; gwir, re anodhans a ledhys mavy in Bresel Matabele; saw dyffrans o an gwrians afleythys-ma in dadn do. Bytegyns, gans caletter me a wrug dascùntell ow honen. Me a veras orth ow euryor, ha gweles bos hanter wosa deg.
Desempys y teuth tybyans dhybm, ha me a whythras an ranjy dour. Nyns esa den vëth dhe gafos, nag ol vëth a dhen, saw me a worras keas ha predn wàr oll an fenestry ha settya an chain dhe'n daras.
Lebmyn th'en vy devedhys tabm ha tabm dhe'm rêwl, ha gallos predery arta. Cowl-dhesmygy an dra, me a'n gwrug dres udn our, heb hast, rag termyn frank dhe vos dhe'm ombrederyans bys whegh eur, ogas lowr, mar ny wrêns an voldroryon dewheles.
Th'esen vy in check pooth – hèn o lowr apert. Gyllys o pùb dowtyans oll a Scudder, y whedhel ha'y wiryoneth. Yth esa prov dyblans a'y wroweth in dadn an lien moos. An dus hag a wodhya ev dhe wodhvos myns a wodhya, anjy a'n cafas, hag ûsya an gwelha fordh rag diogelya y daw. Eâ; saw th'esa i'm rômys dres peswar dëdh, ha res yw y eskerens dhe gonvedhes dell wrug ev kyfy dhybm. Ytho y fedhen vy an nessa tremenor. Haneth whath, pyw a wor? pò avorow, pò trenja, mès yth esa dewetha sentens warna', certan.
Ena me a dybys ken lycklod desempys. Mars ellen vy lebmyn ha gelwel an creslu, pò mos dhe'm gwely ha gasa Paddock myttyn dhe gafos an corf marow ha dh'aga gelwel? Pana whedhel a vydnen vy derivas a Scudder? Dhe Paddock me a lavaras gow in y gever, hag oll an dra fest skeusus. Mar teffen vy ha gwirleverel pùptra a dherivas ev dhybm, ny vensa an creslu ma's wherthyn orthy'. Mil worth onen o an chauns my dhe vos cùhudhys a'n moldrans, ha crev lowr o an dùstuny kerhynek rag ow cregy. Aswonys en vy dhe vohes pobel in Englond, ny'm bo mâta ogas a ylly bos test a'm natur. Hedna, par hap, o dhe'n eskerens kel-na gà meder. Conyng lowr êns y rag tra pynag a ve, ha pryson in Pow an Sowson o udn vaner bos ryddys ahana' bys dres an 15ves mis Efen, mar dhâ avell collel i'm devron.
Dres hedna, mar teffen vy ha derivas oll an mater, hag anjy ow cresy dhybm dre verkyl, y fien vy ow qwary gà gam gà honen. Carolydes a vydna gortos in chy, an very pëth o gà whans. Neb rêson, gweles Scudder ha'y fâss marow a'm gasas cryjyk lel a'y dowlen, leskys ow holon. Gyllys o va, saw ev a wrug kyfy dhybm, ha my constrînys lowr dhe bêsya y whel.
Y fydnys sensy hobma tra wharthus martesen in den mayth o y vêwnans in kebmys peryl, saw indella th'esen vy ow tyby. Pollat kemyn y gynda oma, heb bos moy colodnek ès re erel, mès cas yw genef gweles dremas ledhys, ha Scudder – ny vedha an gollel hir-na y worfen, mar kyllyn vy gwary in y le.
Th'esen vy ow tesmygy hebma oll dres ourys dew, nena ervirys veuv vy. Res o dhybm vansya neb fordh, ha gortos vansys bys pedn secùnd seythen mis Efen. Ena res vedha cafos maner omdava gans pobel an Governans ha derivas myns a dherivas Scudder dhybmo. A mydna, re Dhuw, unweyth derivas moy! A mednen vy dhe voy, attendya an bohes pëth a dherivas defry! Ny wodhyen vy tra vëth ma's fethow pòr aswiak. Brâs o an peryl, ha my ow tos der an perylyow erel yn salow kyn fe, na vydnens y cresy dhybm wàr an dyweth. Res o kemeres chauns a hedna, ha govenek genef a nebes happyans rag afydhya ow whedhel in gwel an Governans.
An kensa oberen o durya der an nessa teyr seythen. An jëdh-ma o an 24a mis Mê, ytho ugans dëdh a gudhans kyns lavasos côwsel orth an auctorytys. Dhe'm reknans, y fedha dew barcel a dus orth ow whelas – eskerens Scudder, rag trehy hanvos dhybm, ha'n creslu, a vydna cafos an den a wrug moldra Scudder. Helgh penscaf vedha, ha'y wetyas o confort brâs, coynt teg. Lows en vy mar bell, wolcùm mayth o pùb gwythres nowyth. Hadre ve res esedha yn tygoweth gans an corf marow-na ha gwil tendans dhe Fortyn, nyns en vy gwell ès kenak sqwattyes; maras esa codna ha sawder ow scodhya wàr skians, ha'm skentylsys ow honen i'n prov, parys en vy dhe vos lowen anedhy.
An nessa preder a dheuth dhybm: esa gans Scudder neb scrifow rag ry gwell gedyans i'n mater? Me a dednas an lien moos wàr dhelergh ha sarchya in y bockettys, rag nag esa dhybm plynchyans na felha a'n corf. An fâss o marthys cosel gans den a veu gweskys wàr nûk dhe'n dor. Nyns esa tra vëth i'n ascra, tra vëth ma's nebes bathow munys ha sensor cygar in pocket an grîspows. I'n lavrak yth esa kellylyk vian ha nebes bathow arhans, hag in pocket tenewen y jerkyn th'esa câss cygarow coth a grohen grocodyl. Nyns esa ol vëth a'n lyvryn du bian may whrugaf y weles ow covnôtya ino. Hedna a gemeras y voldror, heb dhowt.
Saw pàn wruga' meras dhywar ow gweyth in bàn, me a aspias fatell veu tregys tedna egerys i'n bord screfa. Ny via Scudder whensys màn dh'aga gasa i'n studh-na, rag ev dhe vos an moyha kempen inter sojetys an ancow. Res yw nebonen dhe whelas neppyth – an lyvryn martesen.
My êth oll adro dhe'n ranjy ha cafos pùptra dhe vos pyllys – lyvrow a'n tu aberveth, tregys tedna, amarys, boxys, ha pockettys pùb gwysk i'm dyllasva kefrës, ha'n bord lestry i'n kynyowva. Heb ol a'n lyvryn. Pùb lycklod, an envy a'n cafas, saw ny wrussons y cafos an dra orth corf Scudder y honen.
Ena me a gemeras lyver mappys in mes ha whythra orth mappa brâs a'n Enesow Bretednek. Th'esa tybyans dhybm a scappya dhe neb qwartron gwyls, may whre les dhybm ow creft an glasweltir, rag my dhe vos logosen vrâs ha maglen i'm kerhyn in tre. Dell dybys, y fedha Scotlond an gwelha dôwys, rag ow herens avy, th'êns y Albanas, ha my abyl dhe vos degemerys avell Alban kemyn in pùb plâss. Ow hensa tybyans o omwil vysytyor Alman, rag ow thas a'n jeva cowethysy Alman, hag yth esen vy ow côwsel Almaynek pòr dhâ dhia'm megyans, heb gwil mencyon a'm teyr bledhen a whelas mûn cober in Damaralond an Almanas. Saw me a gonsydras dell vedha le hewel mar pedhen vy Scot, ha le alînys dhe vyns a wodhya an creslu, par hap, a'm dedhyow a veu. Me a wrug determya Gallowey dhe vos an gwelha covva. Tyller gwyls o va, ha'n nessa dhe'n or, kebmys dell yllyn vy rekna, hag in syght an mappa nyns o tew y boblans.
Sarchyans in Bradshaw a dhysqwedhy train dhe voydya orth Sen Pancras dhe 7:10, rag ow londya vy androwweyth in kenyver gorsaf in Gallowey. Hèn o dâ lowr, saw moy a bris o an qwestyon, fatell dhov vy dhe Sen Pancras? rag certan y fedha cothmans Scudder owth aspia wàr an strêtys. Th'esen vy in penpleth pols dâ; ena me a'm beu awen, mayth êth avy dhe'm gwely ha cùsca dew our troblys warnedhy.
Me a dhyfunas orth peswar eur hag egery keas fenester an chambour. Th'esa golow gwadn devedhyans a vyttyn a hynon hâv ow lenwel an ebron, ha'n golvanas ow tallath aga hân. Ow tyflasa th'esen vy yn tien, hag owth omsensy fol nakevys gans Duw. Ow thuedhyans o gasa oll inter keun ha bryny, ha trestya dhe'n creslu Bretednek regardya an câss yn rêsonus. Saw pàn esen vy ow tasqweles an savla, ny gefys vy argùment vëth warbydn ow ervirans newher, ytho, cabm ow min, me a dhetermyas pêsya i'm devîs. Nyns en vy ownek anodho, mès heb whans vëth a whelas trobel, cler mars yw ow mênyng.
Me a wrug turya ha cafos sewt brethyn ha meur-ûsys, botas crev ha kentrow ina, ha cris gwlanen, fast y vond codna. I'm pockettys me a stoffyas cappa gonesyas, nebes lienyow dorn, ha scubylen dens. Me a dednas cals dâ a goynach owr mes a'n arhanty nans o dew dhëdh, rag dowt y fedha otham dhe Scudder a vona, ha me a gemeras hanter-cans pens a'n arhas-ma, in sovrans, in grugys a brenys in Rôdesya. Hedna oll o dhybm gorholeth lowr. Ena me a wrug troncas, ha trehy dhybm an minvlew, o hir ha cribellek, bys in pyllen got ha sowlek.
Lebmyn y sewyas an nessa stap. Y fedha Paddock ow tos 7:30 abrës hag entra gans alwheth clycket. Saw ugans mynysen dhe seyth eur, dell wodhyen vy, experyans wherow, y fedha an lethor ow tos gans clatter brâs a gadnys, ha gasa shara dhybm orth ow daras. Me a welas an lethor-na traweythyow kyns pàn en vy mes a'n chy hag in tro avarr wàr geyn margh. Den yonk o va a'n keth hirder ha my, gwanbeskys y vinvlew, ha côta gwydn in y gerhyn. Warnodho th'esen vy ow qwystla oll ow chauncys.
My êth ajy dhe'n rom megy, o tewl, ha dewyn golow an myttyn ow tallath slynkya dre geas an fenester. I'n rom-na me a gemeras haunsel: dowr Alban ha sôda, ha nebes byskyttys mes a'n amary. Nans o whegh eur aderdro. Me a worras pib i'm pocket ha lenwel pors mes a'n seth backa wàr an bord ryb an olas.
Pàn esen vy ow pockya aberth i'n backa ow besias a davas nampyth cales, ha me a dednas lyvryn du bian Scudder in mes ...
Hèn o arweth dhâ, dhe'm breus. Me a dherevys an lien dhywar an corf ha kemeres marth a'n cres ha'n dynyta i'n bejeth marow. "Farwèl, a was," yn medha'; "me a vydn gwil oll ow ehen abarth dhys. Gwra benega ow whel, pypynag mayth esta."
Ena me a darya i'n hel ha gortos an lethor. Hèn o an radn lacka oll i'n negys, rag namnag o vy tegys orth yêwnadow a scappya mes a jy. Y teuth an eur dhe hanter wosa whegh; dewgans wosa whegh; saw whath ny wrug ev dysqwedhes. An fol a dhôwysas an jëdh-ma, mesk oll an jornys, rag bos holergh.
Udn vynysen wosa an qwartron-our dhe seyth, me a glôwas an clattrans a'n cadnys wàr ves. Me a egoras an daras arâg, awot an den, hag ev ow tyberth ow hadnys vy dhyworth tysk esa va ow ton, hag ow whybana der y dhens. Ev a blynchyas nebes pàn y'm gwelas.
"Dewgh obma ajy rag tecken," yn medha'. "Whans a'm beus a verr lavarow genowgh." Ha me a'n hùmbroncas i'n gynyowva.
"Den sport o'why, dell dyba'," me a lavaras, "ha whensys ov vy dhe gafos servys orthowgh. Gwrewgh lendya dhybm gàs cappa ha'gas côta, deg mynysen, hag otta sovran dhe why."
Brâs-egerys veu y lagasow pàn welas an owr, hag ev ow kenwerthyn yn ledan. "Pandr'ew'n gam?" ev a wovydnas.
"Prat a wystel," yn medha'. "Ny'm beus termyn dh'y styrya, mès rag gwainya th'yw res dhybm bos lethor dres an nessa deg mynysen. Oll agas ober yw gortos obma erna dheffen vy arta. Tùch holergh vedho'why, saw ny vëdh grevons gans nagonen, ha'n pens-na, te a'n pew."
"Dalowr!" yn medh, heudh y jer. "Nynj oma den dhe vyshevya spot a sport. Ot an darbar, meyster."
Strik me a wyscas y hot glas plat ha'y gôta gwydn, kemeres an cadnys, degea ow daras sqwat, ha mos an stairys wàr nans, in udn whybana. An porthor wàr woles a wrug gorhebmyn sensy ow min, pëth a gonfyrmyas ow tùllwysk dhe servya.
Argraf uskys, nyns esa nagonen wàr an strêt. Ena me a aspias creswas cans lath y bellder, ha crowdror ow traylya y dreys a'n barth aral. Neb iny a'm gwrug dhe dhrehevel ow golok wàr an chy adâl, hag otta fâss orth fenester i'n kensa leur. Pàn dheuth an crowdror ha'm passya, ev a veras in bàn, ha neb sin a veu keschaunjys dell hevelly.
Me a wrug tremena dres an strêt, ha whybana gay ha mâkya kerdh an lethor, jolyf y lescans. Ena me a entras dhe'n kensa strêt adenewen, ha trailya agledh wàr amal splat a dir gwag. Nyns esa den vëth wàr an strêt bian-na, ytho gyllys veu an cadnys dhe godha heb let dres an ke predn, ha me a dôwlys an cappa ha'n côta wàr aga lergh. Me a wyscas ow happa gonesyas ha lytherwas ow tos dystowgh adro dhe'n gornel. Me a worhemydnas myttyn dâ, hag ev ow cortheby heb skeus. I'n very prës-na clock in eglos an kentrevogeth a wrug gweskel seyth eur.
Nyns esa tecken vëth moy ès dell resa. Kettel dheutha' dhe Fordh Euston, me a bonyas crackya codna. Th'esa an clock in Gorsaf Euston ow showya pymp mynysen wosa seyth. In Sen Pancras ny'm beus termyn lowr dhe brena tôkyn, heb mencyon a'n feth na wrug vy ervira pedn ow hens na whath. Degor a dhysqwedhas an cay dhybm, ha pàn êth avy warnodho me a welas an train dhe vos in gwayans solabrës. Th'esa dew sodhak a'n gorsaf ow lettya an fordh, saw me a wrug diank ha crambla ajy dhe'n dewetha caryach.
Teyr mynysen a'y wosa, pàn esen ny ow mos in udn daredna dre geyfordhow an dre a'n north, gwethyas serrys a dheuth hag omweles genef. Ev a screfas tôkyn dhe Newton Stewart, hanow neb a dheuth dhe'm cov desempys, ha'm hùmbrank mes a'n radn adhevîs mayth en vy esedhys attês bys in radn megy a'n tressa class, mayth esa marner tregys, ha benyn dew ha flogh in hy dywvregh. Ev êth in kerdh, in udn groffolas, ha me a wrug deseha ow thâl ha campolla dhe'm cowetha, ha'm leveryans a'n moyha Albanek, cachya train dell o gweyth cales. Solabrës th'en vy entrys aberth i'm part.
"Ass o'n gwethyas-na dyveth!" yn medh an venyn, wherow hy lev. "Ma othom a davas an Alban rag keredhy glan. O'croffolas therava'n vaby vian-ma na's teves tokyn, ha nynj ew hei pajer bloodh kenj Est war vledhen, hag ev o'lawl warbydn an den jentyl-ma ha'y drew."
An marner a wrug assentya yn asper, ha me a dhalathas ow bêwnans nowyth in airgelgh a brotestyans erbydn an vestrysy. Me a dhros dhe'm cov fatla hevelly an bÿs mar sqwithus kyns, ha hodna heb bos ma's udn seythen alebma.
CHAPTRA 3
ANETH AN TAVERNOR LIENAK
Termyn solempna o an viaj i'n jëdh-na dhe'n north. An ebron a vis Mê o cler teg, ha'n spern gwydn ow plejyowa wàr bùb ke, ha my ow covyn orthyf ow honen prag y whruga' glena orth Loundres heb kemeres plesour a'n wlas nevek-ma, kynth en vy den a franchys whath. Ny yllyn vy bedha an caryach boosty, saw me a brenas canstel ly in Leeds ha'y radna gans an venyn dew. Prena paperyow an myttyn inwedh, ha nowodhow inans a vergh ow tallath i'n Derby hag egeryans a'n sêson crycket, ha nebes paragrafow fatell esa an savla i'n Balcanyow ow cosolhe ha'tell o sqwadron Bretednek danvenys dhe Kiel.
Pàn vowns y cowl-redyes, me a dhros lyvryn du bian Scudder in mes ha'y studhya. Leun lowr o va a screfa bysy, fygùrs dre vrâs, kynth esa hanow lytherednys obma hag ena. Rag exampyl, me a gafas an geryow 'Hofgaard', 'Luneville', hag 'Avocâdo' yn fenowgh, ha spessly an ger 'Pavia'.
Now certan en vy nag esa Scudder bythqweth ow qwil tra vëth heb rêson, ha sur lowr en vy bos cîfer ûsys i'n lyvryn. Hòn yw desten a les dhybm pùb termyn, ha my ow qwil nebes gweyth cîfer pàn esen vy sodhak aspias in Bay Delagoa, in Bresel an Boers. Desedhys yw ow fedn dhe wëdhpoll, desmygow hag erel: assoylya cîfers, nyns en vy heb abylta anodho, dhe'm breus ow honen. Dell hevelly, an cîfer-ma o onen dhe'n sort nyverek, may ma settys a fygùrs ow cortheby dhe lytherednow an abecedary, saw y hyll pùb den skentyl cafos gedyans dre cîfer a'n par-na kyns pedn our pò dew, ha dowtys en vy dell via Scudder content dhe scodhya wàr neptra mar êsy. Ytho me a worras fog wàr an geryow lytherednys, rag y hyller gwil cîfer pòr dhâ mar y'th eus ger alwheth ha hedna ow ry ordyr dhe bùb lytheren.
Me a wrug assaya dres ourys, saw nyns esa assoylyans vëth i'n geryow. Ena me a godhas dhe gùsk ha dhyfuna in Dumfries scant adermyn rag rolya mes hag eskyna i'n train lent dhe Gallowey. Th'esa den wàr an cay nag o y syght dâ genef, saw ny drailyas golok vëth warnaf, heb marth hedna, ha my orth aspia ow semlant in gweder meras neb jyn awtomatek. Awos ow fâss howl-lywys, ow brethyn coth, ha'm stubm gwargren, yn tien th'en vy hevelep dhe onen a'n diogyon bryn esa owth eskyna, meur aga nùmber, in caryajys an tressa class.
Th'esen vy ow viajya gans pymp pò whegh aral in airgelgh a vacka garow ha pîbow pry. Devedhys êns y mes a varhas an seythen, ha'ga min leun a brîsyow. Me a glôwas derivadow a dhenethyans an ên in tir an Cairn ha'n Deuch ha deg dowr ken ha kevrînek. Moy ès hanter a'n dus a gemeras gà ly solabrës hag anjy saworys brâs a wyras Alban, saw ny wrussons y fors ahana'vy. Th'esen ny ow rolya lent wàr ros ha tros aberth in glydnow bian ha cosak, wosa hedna wàr won efan, lenter hy lohow, ha brynyow glas hag uhel a'n tu north.
Adro dhe bymp eur an caryach a veu gyllys gwag, ha my gesys genef ow honen, dell esa govenek dhybm pàn wrugaf omjùnya. Me a skydnyas i'n nessa gorsaf, tyller bian ha'y hanow scant attendyes, tyller desedhys in kenegen in hy very cres. Drës i'm cov arta y feu onen a'n gorsavow nakevys bian i'n Karroo. Th'esa mêster coth an gorsaf ow palas in y lowarth, hag ev ow kerdhes dhe'n train heb hast, ha'y bal wàr y scoodh, ha kemeres fardel in charj, ha dewheles dh'y batâtys. Flogh deg bloodh a recêvas ow thôkyn, ha my êth wàr fordh wydn in mes, ha hy ow qwandra dres an won worm.
Th'o gordhuwher spladn a hâv, ha pùb bre ow tysqwedhes mar gler avell amethyst trehys. Th'esa odour gwrëdh gwernek i'n air, coynt y deythy, mès fresk avell keynvor, hag ev owth effethya wàr ow spyrys yn astranj. Scaffa teg êth ow holon. Th'en vy kepar ha maw in tro kerdhes a dhegolyow gwaynten, adar den seytek bloodh warn ugans ha'n creslu orth ow whelas yn fen. Th'esa emôcyon dhybm kepar ha pàn vedhen vy ow tallath dhe hirdravel brâs in myttyn yêyn wàr an glasweltir avàn. Mara cresyth dhybm, th'esen vy ow kerdhes hardh wàr an fordh-na, in udn whybana. Nyns esa towl caskergh i'm pedn, nyns esa ma's porpos a gerdhes, rag ha rag i'n uhelbow benegys-ma, onest y sawor, ha pùb mildir ow qwella cher dhybm.
In dor plynsys ryb an fordh me a drohas lorgh a gollwëdh, ha dyberth orth an benfordh wharê, dhe scochfordh ahës, ow sewya glydn gover tervus. Dell reknys, yth esen vy pell arag pùb helghyas whath, hag abyl dhe wil orth ow flesour i'n nos-na. Ny wruga' sawory vytel vëth nans o lies our, ha pòr wag en vy pàn dheuth dhe growjy bugel desedhys in sorn ryb pystyl. Th'esa benyn a'y sav i'n daras, howl-lywys hy bejeth, ha hy orth ow recêva gans meth caradow tus an hal. Pàn wovydnys gwestva udn nos, hy a lavaras y bosama wolcùm dhe'n "gwely i'n talyk", ha scon y feu boos larj teg settys dhyragof: hàm hag oyow, scons, ha levryth wheg ha tew.
Dhe dewlwolow y teuth hy gour dhywar an brynyow tre, cowr tanow, esa ow mos an keth hës in udn pâss dell via try stap dhe bùb mortal ken. Ny wrussons y gwil qwestyon vëth orthy', rag norter perfeth dhe vos gansa, dell eus dhe bùb tregor i'n gwylfos, saw me a wodhya convedhes y bosama gwycor a neb sort dh'aga breus, ha my orth hy afydhya kebmys dell yllyn. Th'esen vy ow côwsel meur adro dhe warthak, ha'm ost ow codhvos nebes anedha, ha tùchyng marhajow bro Gallowey me a dhescas lower, ha'y vailya aberth i'm cov dh'y ûsya i'n devedhek. Dhe dheg eur th'esen vy ow pendroppya wàr ow chair, ha'n "gwely i'n talyk" a gemeras den sqwith na wrug egery lagas kyns ès pymp eur dhe worra an wodref vian unweyth arta in whel.
Sconya talas a wrussons y, ha warbydn whegh eur, wosa haunsel, th'esen vy ow kerdhes stappys hir tro ha'n soth. Dewheles dhe lînen an hens horn yth esa tybyans genef, onen pò dew orsaf pelha ès may whruga' skydnya de, hag omdrailya wàr dhelergh. Dell reknys, an sawa fordh o hobma, rag an creslu dhe soposya yn naturek y bosama prest ow mos pelha dhyworth Loundres wor'tu ha neb porth a'n wèst. Dell hevelly dhybm, bleynyans dâ a'm bo i'n resekva whath, rag cably blam a'n drog-ober warna'vy, dell resnys, ny wrêns y ma's wosa lies our, ha lower moy bys may whrellens aswon an pollat eskynys wàr an train in Sen Pancras.
Th'esa an keth ebron a waynten, jolyf ha cler, hag omsensy behys a wovyjyon ny yllyn vy badna. In gwir, ow cher vy o gwell ès dell veu dre lies mis. Dres crib hir a'n hal me a gemeras fordh, ow mos ryb tenewen bre uhel a wrug an bugel henwel Cairnsmore of Fleet. Th'esa gelvynogas ha kernwhyl ow carma orth aga neythyans in pùb le, hag enygow pals wàr welsek an borva ryb pùb gover. Lowsethes oll an dewetha mîsyow, th'esa ow slyppya mes a'm eskern, ha my ow pâcya kepar hag onen peswar bloodh. In by ond by me a dheuth dhe vothan i'n hal, inclynyes aberth in golans ryver bian, hag aspia mog train udn vildir abell.
An gorsaf pàn veu drehedhys, th'o va delvresek dhe'm porpos. An hal o omherdhys adedhro in bàn, ha nyns esa tyller gesys ma's dhe'n hens unplek, y gilfordh danow, rom gortos, sodhva, penty mêster an gorsaf, ha garth munys a brysk grows ha Wella bian. Dell hevelly, nyns esa bownder vëth ow lêdya dhodho a neb le, ha rag cressya an dyfeythter th'esa todnow neb lydn meneth ow lyckya wàr dreth growyn hanter-mildir y bellder. Me a wortas i'n grug down erna wrugaf aspia, wàr an gorwel, mog train dhe'n ÿst. Ena my êth bys i'n dôkynva vunys ha prena tôkyn dhe Dumfries.
Nyns esa tregoryon i'n caryach ma's bugel coth ha'y gy – mil brith y lagas ha my orth y vystrestya. Ow cùsca th'esa an den, ha ryptho wàr an pluvogow th'esa an Scotsman a'n myttyn-na. Me a'n sêsyas yn fen, rag certan en vy bos derivadow a les ino.
Th'esa dyw goloven adro dhe 'Moldrans Portland Place', dell o henwys. Ow gwas Paddock a wrug alarm hag inia dalhednans a'n lethor. An den truan! heb dhowt ev a dhendylas y sovran fordh gales; saw isel an pris dhybmo, rag ev dhe sensy an creslu bysy lowr der udn jorna ogatty. In mesk an nowodhow moyha degensow me a gafas radn nowyth a'n story. Gesys veu an lethor dhe wary, dell redys, ha'n drogwas gwir – tawesek o an creslu a'y hanow – a veu dienkys mes a Loundres, dell o cresys, wàr onen a'n hensy horn dhe'n north. Yth esa nôten got i'm kever vy avell perhen a'n ranjy. Dell dhesmygys, an creslu a geworras hedna rag assaya perswâdya dhybm, cledhek lowr, nag o vy drogdybys.
Nyns esa ken tra vëth i'n paper, tra vëth a'n wlasegeth tramor pò a Carolydes, pò a'n taclow a veu dhe Scudder a les. Me a'n gorras tre, ha merkya y boson ny ow nes'he dhe'n gorsaf may whruga' skydnya de. Mêster an gorsaf, an den a'n bal patâtys, o kenerthys dhe nebes gwythres, awos an train dhe'n wèst dhe vos ow cortos rag agan gasa dhe dremena, ha mes anodho y feu tredden skydnys, neb esa ow qwil qwestyonow. Dell soposys, anjy o creslu an vro, kentrydnys gans Scotland Yard rag ow helerhy bys i'n gilfordh udn margh-ma. Esedhys pell dhelergh i'n skeus th'esen vy owth aspia dour ortans. Onen a'n jeva lyver, hag ev ow screfa covnôtyans. Den coth an patâtys o gyllys crowsek, dell hevelly, saw an flogh hag a gemeras ow thôkyn de, th'esa va ow côwsel freth y davas. An holl vagas a vera dres an hal mayth esa an fordh wydn departyes. Th'esen vy ow qwetyas anjy dhe whelas ow olow i'n tyller-na.
Pàn esen ny ow qwaya dhyworth an gorsaf, ow howeth vy a dhyfunas. Ev a stagas golok a stray warna', pôtya y gy yn fylen, ha govyn pleth esen ny. Apert lowr, ev o pòr vedhow.
"Sew'ans a vos scon'or lycour," ev a wrug compla, wherow y edrek.
Me a levas marth, fatell wruga' cafos ev y honen dhe vos onen stordy adhevîs.
"Ea, scon'or crev oma a'n lycour," yn medh, breselus y don. "Me a'n plyght'as dwetha Deg'l Martyn, na ny rugam tava badna dowr Alban a'y woja. Ny rugam madn, Hogmanay kyn fe, ha my tempt'es yn froas."
Ev a dherevys y dhewwewen wàr an eseth in bàn, ha pockya pedn dygempen ajy dhe'n pluvogow.
"Ha hebm ew ow reward," yn medh in udn hanaja. "Pedn tobma es tan iffarnak, ha dewlagas ow meras kescar i'n Sabot."
"Pëth a'n gwrug orthys?" me a wovydnas.
"Dewas hen'ys dowr Frynkek. Dref'n bos scon'or lycour, savam wor'dowr Alban, saw therom oth eva dowr Frynkek lebmyk lebmyk dre'n jedh, ha dout dhebm mar pedham sawys in pymthek nos." Y lev êth in stlaveth trew dhe ves, ha cùsk a wrug settya y dhalhen boos ino unweyth arta.
Ow thowl vy o skydnya dhe orsaf nebes pelha i'n lînen, saw gwell chauns a ros an train dhybm desempys, rag ev dhe sevel stag wàr bedn tremen idn dres ryver tervus, coref gorm y golour. Me a veras in mes, ha merkya bos fenester pùb caryach degës, heb body denyl dhe weles i'n dirweth. Ytho me a egoras an daras, ha lebmel uskys aberth in magel a gollwëdh esa owth amala wàr an lînen.
Pòr dhâ, na ve an ky dyowlak dhe vellya. Ev a bredery dell esen vy ow voydya gans pythow y vêster, ha dallath hardha, ha settya y dhens i'm lavrak ogatty. Hebma a dhyfunas an bugel, esa a'y sav in daras an caryach, ow cresy dell wrug avy omladha ow honen. Me a slynkyas der an godhal, drehedhes amal an strem, ha kemeres cans lath a bellder dhywortans in dadn woskes an prysk. Ena me a veras mes a'm covva wàr dhelergh gans rach, ha gweles gwethyas an train ha lower tremenyas cùntellys adro dhe dharas egerys an caryach hag owth aspia glew i'm qwartron vy. Ny alsen vy departya in maner moy poblek mara mednen vy qwyttya gans kernyas ha band brest.
I'n gwelha prës an bugel medhow a dednas attendyans an dus dhyworthyf. Ev ha'y gy, hag o jùnyes dh'y wast gans lovan, anjy a godhas sodyn sket mes a'n caryach, londya wàr aga fedn dhe'n leur, ha rolya an bank wàr nans, polta tro ha'n dowr. I'n rescous a sewyas, an ky a wrug brathy nebonen, rag my dhe glôwes son a gùssyans fers. Y a'm ancovas wharê, ha pàn wruga' lavasos meras wàr dhelergh wosa qwartron-mildir a scolkyans, dalethys o an train solabrës hag ev ow mos i'n droghva mes a wel.
Th'esen vy in hanter-kelgh ledan a hal, ha'n ryver gorm o gwrath dhodho, ha'n brynyow uhel ow formya y gompas adro a'n tu north. Nyns esa sin na son a vab den, tra vëth ma's lagyans a'n dowr ha crians an kernwhyl heb hedhy. Bytegyns, ha coynt lowr, kensa prës yth esa brawagh an best helghyes warna'vy. Nyns esen vy ow predery a'n creslu, mès a'n dus erel, a wodhya fatell wodhyen vy tra gelys Scudder; a wodhya na yllens y godhevel dhybm bewa. Certan en vy dell vydnens y châcya gans dywysygneth ha hewolder dres ûsadow an laha Bretednek, ha my heb cafos mercy vëth pàn wrella gà gavel degea i'm kerhyn.
Me a veras wàr dhelergh, saw nyns esa tra vëth i'n dirweth. Yth esa an howl ow terlentry wàr olcan an hens ha wàr an veyn glëb i'n strem, ha nyns esa syght moy cosel dhe weles i'n bÿs. Byttele me a dhalathas ponya. Me a blattyas in goverygow an genegen ha ponya erna wruga' drehedhes min an meneth hag omdhehesy in udn dhiena wàr grib pell a-ugh dowrow yonk an ryver gorm.
Mes a'm tyller a brow th'eso'vy ow whythra oll an hal alês, bys i'n hens horn, ha dresto i'n soth mayth esa gwelyow gwer ow kemeres le an grug. Dhybm yma lagasow a'n hôk, saw ny welys vy tra vëth in gwayans i'n holl bowdir. Ena me a veras dres an grib dhe'n ÿst ha gweles kynda nowyth a dirweth – valys bas ha glas ha tyleryow plynsys, pals, ha gwanlinednow a dhoust esa ow tysqwedhes penfordhow. Dewetha oll, me a veras aberveth i'n ebron las a vis Mê, hag ena me a welas an pëth a drailyas pols ow gwythy in stêvyans ...
Isel i'n soth yth esa airen udn askel owth ascendya. Mar sur en vy dell pàn ve deskys dhybm bos an airen-na orth ow sarchya, ha hy heb bos jyn longus dhe'n creslu. Udn our, pò dew, th'esen vy owth aspia orty mes a'm poll i'n grug. Hy a neyjas yn isel, an badnow ahës, ena in kelhow cul dres an valy may teuth avy dredho. Ena y chaunjyas hy forpos, dell hevelly, ha'n jyn owth ascendya uhelder brâs, hag ow neyja dhe'n soth dhe ves.
Dâ genef nyns o cabmen an aspians-ma i'n air, ha lacka ow brusyans a'n powdir a dhêwysys vy in harber. Covva wyw nyns o brynyow grugek màn mars esa ow eskerens i'n ebron, ha res o dhybm trouvya ken sort a sentry. Th'esen vy ow meras moy ow flesour wàr an pow glas dres an grib, rag my dhe gafos cosow ena, ha treven a veyn.
Adro dhe whegh eur gordhuwher me a dheuth mes a'n hal dhe rybyn gwydn a fordh, ow qwia golans cul neb gover a'n stras ahës. Hadre ven vy orth hy sewya, th'esa an gwelyow ow plegya dhe fydny, an glydn êth wàr wastattir, ha my ow tos wharê dhe aswy a neb ehen i'n meneth, mayth esa udn chy dygoweth ow pyffya y vog i'n tewlwolow. Th'esa an fordh ow swarvya dres pons, ha den yonk posys wàr an crenel.
Th'esa va ow megy pib hir a bry hag ow studhya an dowr dre spectaclys. In y dhorn cledh yth esa lyvryn hag udn bës ow qwetha plâss. Yn lent ev a wre declaimya –
As when a Gryphon through the wilderness
With wingèd step, o'er hill and moory dale
Pursues the Arismaspian
[Kepar ha pàn ella Gryfon dre'n gwylfos, askellek y stap. dres bryn ha nans an hal, ow châcya an Arymaspyan (Milton)]
Ev a drailyas in udn blynchya pàn sonas ow stap vy wàr an men alwheth, ha me a welas bejeth, maw y fysmens, plesont ha lywys der an howl.
"Gordhuwher dâ dhywgh," ev a lavaras yn sad. "Nosweyth brâv yw rag kerdhes."
Th'esa odour a vog towargh hag a neb goleyth saworek ow tryftya i'n air mes a'n chy.
"Yw an tyller-na tavern?" me a wovydnas.
"Dh'agas servys," yn medh cortes. "An tavernor ov vy, sera, hag yma govenek why dhe ôstya genen dres nos, rag – ha my ow leverel an gwir – ny veu coweth dhybm nans yw seythen."
Me a dednas ow honen wàr an crenel in bàn ha lenwel ow fib. Th'esen vy ow trouvya kefrysyas martesen.
"Yonk o'why ha soodh tavernor dhywgh solabrës," yn medha'.
"Ow thas a veu marow bledhen alebma ha kemydna an negys dhybm. Tregys ov vy ena gans ow dama wydn. Soodh dhyfreth dhe dhen yonk, heb bos ow galwans dôwysys."
"Py galwans?"
Ev a rudhyas, heb wow. "Whensys oma dhe screfa lyvrow," yn medh.
"Ha pana jauns a yll den gwetyas dhe well?" me a wrug cria. "Dàr, mar venowgh y tybyn vy ost tavern dell vedha rackor flour!"
"Indella ny vëdh i'n jëdh hedhyw," ev a worthebys yn fen. "Indella par hap i'n dedhyow coth may fedha prierynas ha balladoryon ha tebel-ladron ha côchys post wàr an fordh. Ken th'yw lebmyn. Nyns eus nagonen ow tos obma, marnas kerry tan leun a venenes tew, hag anjy owth hedhy rag prës ly, ha pùscador pò dew i'n gwaynten, ha'n wobrenoryon sport godn mis Est. Nyns eus defnyth brâs dhe gemeres orth hedna. Whensys oma dhe weles bewecter, dhe viajya der an bÿs, ha dhe screfa kehaval ha Kipling, Conrad. Saw whath ny spêdys vy tra vëth, ma's dylla nebes gwersyow in Chamber's Journal."
Me a vera orth an tavern, owrek i'n howlsedhas a'y sav ha'n brynyow gell y gilva.
"My re wandras hës dâ dre'n bÿs, ha ny vydna'vy despîsya ancarjy a'n par-ma. A greso'why nag eus aneth dhe gafos ma's i'n Drova pò mesk gwelhevyn in hevys rudh? Par hap why yw cowethys gans aneth i'n very prës-ma."
"Dell usy Kipling ow leverel," yn medh, glewa y wolok, hag ev a wrug devydnes neb gwers adro dhe romans ow try an naw eur pymthek.
["Romance!" the season-tickets mourn, / "He never ran to catch His train, / But passed with coach and guard and horn – / and left the local – late again!" / Confound Romance! ... And all unseen / Romance brought up the nine-fifteen."]
"Ot obma whedhel gwir dhywgh, ytho," me a grias, "ha wosa mis y hyller gwil novel anodho."
A'm eseth wàr an pons in tewlwolow medhel a vis Mê, th'esen vy ow racka whedhel spladn. Ha'n gwir o va in oll y linednow, kyn whruga' chaunjya an manylyon. Me a bretendyas y bosama den bal brâs a Kimberley, troblys meur dre PAD [Prenas Adamans Dyfednys (Sowsnek: Illicit Diamond Buying 'IDB')] ha dyskevror a sherewys. Anjy a'm châcyas dres an keynvor, ha ladha ow nessa cothman, ha cafos lebmyn ow olow avy.
Me a wrug racka yn tâ, res yw alowa dhybm. Me a bortrayas fo dres an Calahary bys in Afryca Alman, an dedhyow a sehes ow crasa, an nosow paly blou rial. Me a dhescrefas omlath warbydn ow bêwnans i'n viaj tre, ha lymna an moldrans in Portland Place avell nampyth a'n hackra. "Ow whelas aneth th'eso'why," me a grias; "wèl, why a'n jeves obma. Yma an dhewolow orth ow helghya vy, ha'n creslu orth gà helghya ynsy. Resekva yw, ha my determys dh'y gwainya."
"Ren ow thas!" ev a whystras, in udn anella sherp aberveth, "Rider Haggard ha Conan Doyle glân yw an holl dra."
"Why a'm crës, dhana," yn medha'vy, meur ow ras.
"Heb mar na martesen," hag ev a istynas y leuv. "Me a grës pynag oll a vo dres kynda. Ny wrav vy mystrestya tra vëth ma's normalyta."
Pòr yonk o va, saw den a allen vy fydhya ino sur.
"Dell hevel, anjy a gollas an olow rag tro, saw res yw dhybm omgeles copel a dhedhyow. A yllowgh ry gwestva?"
Ev a'm cachyas vy er elyn in y frethter ha tedna wor'tu ha'n chy. "Why a yll keles mar gles obma dell vowgh in toll mûs. Me a wra gwil na vydna nagonen naneyl ow clattra ahanowgh. Ha why a vydn gasa moy defnyth dhybm a'gas anethow, martesen?"
Pàn entrys vy in portal an tavern, me a glôwas polsans a jyn tan i'n pellder. Otta va, ow hothman vy, sylhouet wàr dewlwolow an Wèst: an airen udn askel.
Ev a boyntyas chambour dhybm wor'tu delergh an chy, ha golok vrav dres an gwastattir mes anodho, hag ev a ros franchys a'y rom studhya, leun a dhyllansow iselbrîs a'y auctours moyha kerys, lies aga crug. Ny welys vy an dama wydn bythqweth, ytho desmygy y bos hy keth dh'y gwely. Y fedha benyn goth, Margit hy hanow, ow try pùb prës boos dhybm, ha'n tavernor ow qwil tendans warna' pùb eur oll. Me a'n jeva whans a dermyn ragof ow honen, ytho me a settyas oberen dhodho. Th'esa jyn dywros ganso, ha ternos me a'n danvonas rag prena paper nowodhow an jorna, a vedha ow tos gans an post warbarth i'n androw. Me a wrug gorhebmyn lagasow opyn prest, rag may halla va merkya pùb fygùr estrednek a ve va orth y weles, hag aspia glew orth kenyver carr hag airen. Esedhys veuv vy ena rag whythra orth lyvryn Scudder in ewn dhywysycter.
Hanter-dëdh ev a dheuth tre, ha don an Scotsman. Nyns esa tra vëth ino, marnas neb dùstuny addys gans Paddock ha'n lethor, ha menegyans unweyth arta, dell o screfys de, an moldror dhe vos gyllys dhe'n North. Saw yth esa artykyl hir, daspryntys mes a The Times, ow tùchya Carolydes ha'n plit i'n Balcanyow, kyn nag esa mencyon vëth a vysyt dhe Englond. Me a wrug ryddya ow honen a'n tavernor dres an dohajëdh, rag my dhe hedhes ogas flàm i'm sarchyans a'n cîfer.
Dell derivys solabrës, cîfer nyverek o va, ha dre gevreth arbrevy complek me a dhyskevras yn tâ lowr pandr'o an elvednow gwag ha'n elvednow poyntyans. Ancombrynsy brâs o an ger alwheth, ha pàn esen vy ow predery a'n geryow possybyl, neb mylyon pò moy, dyweres yth êth vy yn tien. Saw adro dhe deyr eur me a'n jeva awen sodyn.
An hanow Julia Czechenyi a wrug luhesy i'm cov. Scudder a lavaras hy dhe vos meur hy bry in negys Carolydes, hag y teuth dhybm i'm brës dell ylly bos prevys i'n cîfer.
Ha sowyn. Th'esa an pymp lytheren in "Julia" ow tysqwedhes savla an vogalednow. A, hòn o J, an degves lytheren i'n abecedary, ytho fygùryes X i'n cîfer. E, hòn o U = XXI, hag indella rag. Th'esa "Czechenyi" ow tysqwedhes an nyveren dhe bùb kesson a vry. Yn uskys me a screfas an rester-na wàr bîss paper ha dallath redya Scudder ha'y folednow.
Wosa hanter-our th'esen vy ow redya gwydn ow bejeth, ha'm besias ow qweskel wàr an voos avell wàr dabour.
Me a wrug tôwlel golok mes a'n fenester hag aspia carr touryas, brâs y vyns, ow tos tro ha'n tavern, an glydn in bàn. Ev a savas orth an daras, hag y teuth son a dus ow skydnya. Dell hevelly, th'esa dew anedha, dew wor, côta staunch i'ga herhyn ha cappa brethyn wàr gà fedn.
Wosa deg mynysen an tavernor a dheuth cosel i'n chambour, ha'y lagasow bryght aga frobmans.
"Ma dew bollat wàr woles, eus orth gàs whelas," ev a whystras. "Mowns y i'n gynyowva, hag eva dowr Alban ha sôda. Anjy a wrug govynadow ahanowgh ha leverel bos govenek dhedhans a'gas metya obma. Ô! hag anjy a wrug gàs descrefa pòr dhâ, agas botas ha'gas cris kefrës. Me a worthebys why dhe vos obma newher ha gyllys wàr jyn dywros hedhyw vyttyn dhe ves, hag onen a'n bollatys a gùssyas avell palor dowrgleth."
Me a dhescas aga semlant dhyworto. An eyl o gwas tanow, tewl y lagas ha bojek y abrans, th'esa y gela ow minwherthyn pùpprës hag ow côwsel stlav wàr y davas. Estren vëth o naneyl na'y gela. Ow howeth yonk, certuster a'n jeva a hedna.
Me a gemeras pîss paper ha screfa an geryow-ma i'n Almaynek kepar ha pàn vêns y radn a lyther –
... Men Du. Scudder a'n dyskevras, saw pymthek nos whath ny ylly gwil tra vëth. Ha my dowtys lebmyn mar calla'vy obery neppyth a brow, spessly rag Carolydes dhe vos ansur a'y dhevîs. Saw mar mydn Mêster T cùssulya, oll ow ehen a wrama ...
Me a'n conterfeytyas teg lowr, ha'y semlant o neb folen lows a lyther pryva.
"Tanowgh hebma wàr nans ha leverel ev dhe vos trouvys i'm chambour, ha govyn orta dascor an folen dhybm mar y'm cafons y."
Wosa try mynysen me a glôwas an carr dhe waya, ha meras kel in mes a'n groglen hag aspia an dhew fygùr. Th'o an eyl den moon, y gela den smoth; hèn o cowlsùm dhe'm ragwhythrans.
Y teuth an tavernor brâs y frobmans. "Gàs paper a's dyfunas glew," yn medh lowen leun. "An gwas tewl êth gwydn avell bedh in dadn ergh ha cùssya yn iffarnak, ha'n den corfak a'n jeva hager-dâl ha whyban wàr y vin. Anjy a dylys aga dewas gans hanter-sovran, heb gortos an mona munys."
"Now hèm yw an pëth a wrewgh gwil," yn medha'. "Kemerowgh gàs dywros ha mos dhe Newton Stewart dhe'n Pedn-gonstabyl. Rewgh descrevyans a'n dhew dhen, ha leverel y boso'why gà drogdyby dell esens y maglys neb maner i'n moldrans in Loundres. Why a wor desmygy rêsons. An dhew a vydn dewheles, sur certan. Ny dhowns y haneth, rag anjy dhe'm holya dewugans mildir wàr an fordh, mès avorow avarr. Gwrewgh gorhebmyn orth an creslu bos obma in kensa terry an jëdh."
Ev a dhalathas dhe'n fordh kepar ha flogh clor, ha my ow conys nôtyansow Scudder whath. Pàn dheuth arta ny a wrug kynyewel warbarth, ha res o dhybm, in comen-ewnder, sùffra y vos ow pùmpya derivadow in mes ahana'. Me a whedhlas showr adro dhe helgh lions ha Bresel Matabele, ha my ow predery i'n kettermyn fatell o negysyow a'n par-na mater idhyl mara pe comparyes dhe'n pëth esa orth ow dydhana i'n eur-ma. Pàn êth ev dhe'n gwely yth en vy esedhys whath, dhe'n dyweth lyvryn Scudder. Ena th'esen vy ow megy bys may trehevys an howl, rag na yllyn vy cùsca.
Adro dhe eth eur me a wrug aspia devedhyans a dhew gonstabyl ha serjont gansa. Anjy a worras aga harr in chy côcha warlergh brednyans a'n ost, hag entra dhe'n tavern. Wosa ugans mynysen, mes a'm fenester, me a welas secùnd carr ow tos dres an gwastattir dhyworth an qwartron contrary. Ny dheuth ev dhe'n tavern, mès sevel dew cans lath alês, in goskes splat a goos. Me a verkyas fatell wrug an re esa ino lewyas wàr dhelergh kyns dyberth orto. Mynysen pò dew, ha me a glôwas aga stappys wàr an rabmen orth an fenester wàr ves.
Porposys en vy dhe omgudha i'm chambour, ha gortos pùb wharvedhyans. Dell hevelly dhybm, mar kyllyn vy settya an creslu ha'm helhysy moy peryllys an eyl gans y gela warbarth, y fedha nampyth dhe'm les ow sewya par hap. Saw lebmyn y teuth dhybm tybyans o gwell. Uskys lowr me a screfas nôten a râss dhe'm ost, egery an fenester, hag omdhroppya tawesek ajy dhe brysken grows. Heb bos aspies, me a dremenas dres an vanken, slynkya tenewen neb is-streth ahës, ha gwainya an benfordh a'n tu pell dhe'n splat a wëdh. Ot an carr, meur y dacluster in splander an myttyn, saw th'esa an doust warnodho ow testa viaj hir. Me a'n tanyas, lebmel dhe eseth an lewyor, ha mos ladrus wàr an gwastattir in mes.
Dystowgh ogatty, an fordh a godhas, may feu an tavern mes a'm gwel, saw th'esa an gwyns ow try son dhe'm clôwans a levow engrys.
CHAPTRA 4
ANETH AN RADYCAL OMBROFYOR
Gwra desmygy fatell esen vy ow trîvya an carr-na, dewgans y varghnerth, toth men wàr fordhow fresk an hal in myttyn spladn a vis Mê; tôwlel golok dres ow scoodh wostallath, ha whythra, meur ow fienasow, pùb nessa stubm i'n hens; ena lewyas lows ow lagas, scant dyfun lowr rag remainya wàr an fordh. Rag yth esen vy ow predery yn whyls a'n pëth a gefys in lyvryn Scudder.
An denyk bian a wrug derivas gowyow brâs dhybm. Oll y whedhlow adro dhe'n Balcanyow ha'n anarkystyon Yêdhowek ha Kescùssulyans an Sodhva Dramor o flows flour, ha Carolydes kekefrës. Flows dien glân, bytegyns, nyns o màn, dell wredh clôwes. Me a wrug hapwary pùptra, pàn dhalethys, wàr gresy whedhel Scudder, ha tùllys veuv vy ganso; ot y lyvryn hag ev ow whedhla story aral. Saw ny veu cas genef a'n ky a'm brathas kyns – th'esen vy ow cresy hebma oll.
Praga? Ny worama. An gwir a seny uhel anodho in mes, ha gwir o an kensa whedhel whath, mar kyller convedhes, warlergh y spyrys in maner goynt. An 15ves mis Efen a vedha dëdh a denkys, tenkys brâssa ès ladhans a neb den a'n Cresvor. Mar vrâs o va, ma na wren vy blâmya Scudder a'm gwetha mes a'n gwary hag ev ow whansa sensy an cartednow in dorn heb coweth. Pòr gler o dhe'm brës y feu hedna y borpos. Ev a wrug derivas dhybm neptra a sonas yn frâs lowr, mès an dra wir o mar vortal y vrâster, may feu ev – an den a'n dyskevras – whensys dh'y wardya inter y dhêwla y honen. Ny wren y vlâmya. Crefny a berylyow kyns oll, res alowa, y feu hedna y nas.
Th'esa an holl dra dhe weles i'n covnôtyans – an aswiow, re bo cler, ev a vensa gà hollenwel a'y gov y honen. Ev a screfas y benfentydnyow inwedh, hag yth esa wrynch stranj ganso a ry dhedha valew nyverek ha'ga hesposa, ha'n sùm ow musura gwirionsys pùb chaptra in y whedhel. Pùbonen a'n peswar hanow lytherednys o penfentyn, hag yth esa den, Ducrosne, ha valew pymp rës dhodho, mes a bymp neb o possybyl; ha pollat aral, Ammersfoort, ha valew try ryptho ev. Nyns esa i'n lyvryn ma's corf eskern a'n whedhel – hedna, hag udn lavaren goynt a'y sav lower tyller intra camvahow. ("Nawnjek stap warn ugans") o an lavaren-na; hag orth an dewetha treveth hy o screfys indelma— ("Nawnjek stap warn ugans, me a's comptyas—morlanow 10.17 w.h."). Ha my heb convedhes cabmen.
Kensa oll, me a wrug desky goheles bresel nag o an mater. Yth esa bresel ow tos, mar sur avell Nadelyk: arayes veu hy, yn medh Scudder, pell alebma, mis Whevrel 1912. Carolydes a vedha occasyon dhedhy. Ragerhys o va, dowt vëth, hag ev ow cashya y jecken an 14ves mis Efen, dyw seythen ha peswar dëdh wosa an myttyn hedhyw a vis Mê. Th'esen vy owth ùnderstondya warlergh covnôtyans Scudder na ylly tra vëth lettya hedna i'n bÿs. Gwethysy a Epyrôtas parys dhe dhyscrohedna dama wydn, th'o cows a flows heb moy.
Yn nessa, sowthan brâs vedha an vresel-ma orth an Vreten Veur. Mernans Carolydes a wre gorwheles an Balcanyow, ha Viena a vydna kemeres hy radn in udn ry gwarnyans godrosek. Ny vedha hedna dâ gans Rùssya, hag y fedha geryow pooth. Saw Berlîn a vydna gwary rol gwrior cres, ha denewy oyl wàr an dowrow, erna alla hy cafos chêson gwyw dhe gedrydn, kemeres an chêson-na, ha cronkya wàr agan pydn in nebes ourys. An towl, th'o tôwlys indelma, ha tôwlys fest yn sley. Mel hag arethyow teg, ena strocas in dadn dewlder. Hadre ven ny ow côwsel whath a borposys hag a vodh dâ Jermany, y whre tardhegow kerhydna gàn arvor ny yn tawesek, ha lestry sedhy ow cortos pùb gorhal omlath.
Mès yth esa hebma oll ow cregy wàr an tressa tra, o settys dhe wharvos an 15ves mis Efen. Ny wrussen vy convedhes badna na ve my dhe vetya udn jëdh i'n termyn passys gans sodhak Frynkek dhe neb jeneral, ow tewheles in mes a Afryca a'n Wèst, hag ev ow terivas dhybm taclow pals. Intredha, fatl'esa whel dâ ha kefrysyans dhe wir inter Pow Frynk ha'n Vreten Veur, in despît a'n folneth côwsys i'n Seneth, ha jeneralys a'n dhyw wlas ow metya traweythyow, rag omgùssulya tùchyng gwythres kemyn mar pedha bresel. Wèl, mis Efen neb sodhak a'n brâssa a vydna dos a Parys, hag y fedha dysqwedhys dhodho derivadow kyn fe a'n Morlu Bretednek Tre ha'y drevnans orth dallath gwerryans. Poken tra gepar, dhe'n lyha, dell wodhyen vy convedhes; wàr neb cor, neppyth a bris dres ehen.
Saw an 15ves mis Efen y fedha tus erel in Loundres – tus erel, na yllyn vy ma's desmygy pyw. Scudder o content dh'aga henwel an "Men Du". Nyns yns y kefrysysy, mès eskerens vortal dhyn; hag anjy a vydna trailya an gevarweth, Pow Frynk hy meder, dh'aga fockettys aga honen. Ha remember, kevarweth dhe ûsya o hy – dhe ûsya kyns pedn seythen pò dew, gans godnys brâs ha torpêdôs uskys, in tewlder neb nos a hâv, adhesempys.
Hèm o an whedhel a wrug avy dyscudha in rom dhelergh in tavern powdir, ha vu dres lowarth caul dhyworto. Hèm o an whedhel esa ow sia i'm empydnyon pàn esen vy ow lesca i'n carr touryas brâs a'n eyl glydn dh'y gela.
Ow hensa desmygyans, hèn o screfa lyther dhe'n Pedn-venyster, saw ombrederyans cot a'm perswâdyas na vedha vas. Pyw a vydna cresy ow whedhel? Res o dysqwedhes sin, neb arweth prevy, ha nev a wodhya pandra ve hodna! Kyns oll, y tal dhybmo pêsya in rag, parys dhe wil an pëth a res pàn dheffa taclow bys in athvetter, na ny vedha ober êsy – creslu an holl wlascor, garm uhel orth ow sarchya, hag aspysy an Men Du owth helghya scav ha tawesek wàr ow lergh.
Nyns esa porpos pòr gler i'm viaj, saw th'esen vy ow lewyas dhe'n ÿst herwyth an howl, rag my dhe berthy cov a'n mappa, fatell vedhen vy devedhys dhe vro a bollow glow ha trevow whel mar mydnen vy mos dhe'n north. Skydnys veuv vy dhywar an hal wharê. Th'esen vy ow tremena dres dol ledan orth ryver. Me a lewyas mildiryow a fos park ahës, ha gweles castel brâs der aswy i'n gwëdh. Me a lescas dre dreveglosyow penty sowl, ha dres strêmys cosolek wàr stras, ha ryb lowarthow spladn a spern gwydn ha chainys owr. An tireth o mar dhown in cres, ma na yllyn vy cresy, scantlowr, bos an re o whensys dhe'm ladha ow sewya neb le wàr ow lergh; na cresy naneyl fâssow rônd an weryn-ma dhe vos cow gwag kyns pedn mis, mar ny wren vy cafos lùck moyha marthys, ha tus dhe vos a'ga groweth yn farow wàr welyow an Sowson.
Orth hanter-dëdh entrys veuv vy in treveglos hir ha tanow, ha whans dhybm a hedhy ha debry. Hanter-hës dre'n tyller yth esa Sodhva an Post, hag a'y sav wàr hy stappys an bostvêstres ha neb creswas bysy ow redya telegram. Pàn wrussons y ow gweles, anjy a dhyfunas scon, ha'n creswas a wrug avauncya, derevys y dhorn, ha cria hedh.
Namna veuv vy fol lowr rag obeya. Ena tybyans a dheuth in udn luhesy dell yw an pellscrif i'm kever ow honen; dell veu ow hothmans i'n tavern unverhës intredha ha whensys dhe'm gweles arta, ha dell veu êsy lowr gansa pellscrefa descrevyans ahanaf ha'n carr dhe dheg pendra warn ugans may hallen vy martesen tremena dredha. Scant ny wrug vy relêsya an frodn adermyn. Hag i'n prës-na, th'esa an creswas ow talhedna cûgh an carr heb codha 'ves erna wrug avy bonkya in y lagas, dorn cledh.
Me a wodhya convedhes nag o an benfordh tyller salow, ha trailya aberth i'n fordhow scoch. Ober cales o hedna heb mappa, rag yth esa peryl a gafos fordh amêthva ha drehedhes in poll heyjy pò garth mergh, ha my heb perthy strech a'n par-na, hag ow convedhes yn scon pana wocky o ladra an carr. A ny vedha an cowrvil gwer-ma gedyans glew dhe'm trouvya der oll Scotlond? Mar y'n gassen ha mos wàr dreys, dyskevrys via va in bohes our ha my scant arâg i'n resekva.
Kyns oll, res porres o dos bys i'n fordhow pelha dhyworth tus. Me a's cafas heb caletter pàn dheuth ha lewyas ryb is-avon ow resek bys i'n dowr brâs, ha hedhes in glydn aberveth ha brynyow serth i'm kerhyn, ha fordh kepar hag alwheth corkyn wàr an eyl pedn, owth ascendya bys in culva. Obma ny wrug vy metya gans den vëth, mès hùmbrynkys en vy re bell dhe'n north, ytho me a drailyas sherp dhe'n ÿst wàr hager-fordh idn ha cafos wàr an dyweth hens horn dewblek brâs. I'n pellder awoles me a welas ken valy ledan ha tyby my dhe drouvya tavern dygoweth dresto, martesen, rag an nos. Ogas lebmyn an gordhuwher, my o uthyk gwag, rag na wrug avy debry tra vëth warlergh haunsel, saw unsel dyw dorthen brenys dhywar gert pebor.
I'n very prës-na me a glôwas son i'n ebron, ha lô! awot an airen dyowlak, ow neyja yn isel, hanter-ugans mildir aderdro a'n soth hag ow tos uskys in nes.
Fur lowr en vy dhe remembra fatell esen vy in danjer tydn an airen hadre ven wàr won opyn, ha nag esa chauns vëth dhybm ma's drehedhes goskes a dhel i'n valy. My êth an vre wàr nans mar uskys avell luhesen las, ha screwya ow fedn adhedro, bÿth pàn ve dhe beryllya, rag meras orth an jyn neyja melygys-na. A verr spis y teuth avy dhe fordh inter ke losow, ow skydnya in glydn down o trehys dre neb gover. Ena th'esa darn a goos tew may whrug vy lehe ow thoth.
Desempys agledh me a glôwas corn ow longya dhe garr aral, ha convedhes gans euth dell esa copel a beulyow yet dhyrago' poran, ha fordh pryva ow tos dredha bys i'n carhens. Ow horn vy a roncas in ewn angùs, mès re holergh. Me a frodnas yn nerthek, saw th'esen vy owth herdhya re grev in rag, hag otta carr aragof hag ow slynkya dhybm adreus. Neb secùnd moy, hag y fia gwreck wordhy a'n jowl. Me a wrug an udn pëth o possybyl, ha resek sqwat aberth i'n ke adhyhow, ow trestya neptra vedhel dhe vos dresto.
Assa veu camgemeryans. Ow harr vy a slyppyas maner amanyn der an ke, nena trebuchya dyflas ha codha in rag. Heb dowt vëth a'n sewyans ow tos, me a savas scav wàr an eseth, ha'm porpos o labma dhe ves. Saw scorren spern a'm knoukyas wàr ow brèst, ow lyftya hag ow sensy, hag oll an olcan ker, udn tona pò moy, êth ha slynkya in dadnof, ow terlebmel in udn lesca yn frâs, ena droppya pymthek troos'hës bys in tervans ha torrva wàr wely an strem.
Yn lent, an spern a'm gasas dhe wary. Wostallath yth esen vy ow sedhy wàr an ke, ena pòr glor wàr dhelyowek a lynas. Pàn veuv vy lavuryes bys in sav, dorn a'm gemeras er ow bregh, ha lev kescolodnek ha cler y own a wovydnas mars en vy golies.
Me a gafas dell esen vy ow meras orth den yonk hag uhel, gwyskys in lagatoryon ha côta Ùlster a lether, hag ev ow carma bednath wàr y ena hag ow cryhias dyharasow. Dhe'm part vy, pàn veu an anal dewhelys, th'en vy pës dâ, moy ès ken. Maner pòr wyw o hy a vos ryddys a'n carr.
"My dhe vlâmya, sera," me a worthebys. "Lùck dâ na wrug vy addya denladhans dhe'm rol a writh fol. Hèm yw dyweth dhe'm tro vôtour dre Scotlond. Bos dyweth dhe'm bêwnans y halsa."
Ev a dednas euryor in mes ha'y examnya. "Why yw ewn sort a was," yn medh. "Yma dhybm pymthek mynysen heb devar, ha nyns yw ow chy ma's dyw vynysen pell. Me a vydn dha wysca ha dha vaga ha dha worra cles dhe'n gwely. Ple ma dha hernes, ytho? Usy va i'n streth gans an carr warbarth?
"I'm pocket yma va," yn medhaf, ow qwevya scubylen dens. "Den Gwlasva ov vy, ow viajya dyfardel.
"Den Gwlasva," ev a grias. "Re'm fay, why yw an very den dell esen vy ow pejy wàr bedn dêwlin. Owgh why, par hap benegys, scodhyor a'n Kenwerth Frank?"
"Ov," yn medhaf, heb tybyans vëth pandr'o y styr.
Ev a ros what dhybm wàr scoodh ha'm kemeres dh'y garr in udn fystena. Wosa teyr mynysen ny a wrug hedhy arag penty tedna godn, attês y syght ha desedhys inter gwëdh pin, hag ev a'm gedyas aberveth. Ev a'm hùmbroncas dhe jambour wostallath ha tôwlel hanter-dewdhek a'y sewtys dhyragof, ha'm sewt ow honen sqwerdys oll dhe glowtys. Me a wrug dôwys onen lows a saya blou, ha dyffrans hewel teg orth ow dyllas kyns, ha benfygya gùdhùgen lyn. Ena ev a'm gelwys dhe'n gynyowva, mayth esa remenant a brës wàr an bord, ha nôtya bos dhybm pymp mynysen rag debry. "Why a yll gorra croust i'gas pocket, ha ny ow tebry soper pàn dheffen ny arta. Res yw dhybm bos in Hel an Masons eth eur, ken yn harow y fydn ow mainor cribya an blew warna'."
Me a gemeras hanaf a goffy ha nebes hàm yêyn, hag ev sevys wàr strayl an olas in udn whedhla prest.
"Kefys oma genowgh in deray an jowl, Mêster –; hag in gwir, ny leversowgh dha hanow. Twisdon? Yw Tommy Twisdon, cothwas i'n Rejyment Try Ugans, gàs goos martesen? Nag yw? Wèl, me yw an Ombrofyor Lybral dhe'n randir-ma, ha gwaitys veu cùntellyans haneth in Brattleburn – hòn yw an chif-tre dhybm, ha cadarnla iffarnak dhe'n Torys. Arayes yw dell dheffa Crumpleton, an pedn-venyster kyns i'n wlasva-na, ha côwsel haneth abarth dhybmo, hag argemydnys yw yn freth hag yn fen, ha trustrùm settys der oll an tyller. Dohajëdh me a recêvas pellscrif dhort an vylen, fatell eus anwesva warnodho in Blackpool, hag otta vy gesys dhe wil an holl dra yn tygoweth. Whensys en vy dhe gôwsel deg mynysen ha res dhybm lebmyn a bêsya dewgans, ha kynth esen vy owth omdormentya dres try our rag desmygy nampyth, ny alla'vy durya mar bell, dowt vëth. Now y tal dhywgh bos gwas dâ ha ry gweres. Scodhyor owgh a'n Kenwerth Frank ha why a yll leverel dh'agan tus dell yw an Dyffres-Trad mothow brâs dre bùb gwlasva. Pollat gwlasva yw helavar yn teg, kenyver onen – unweyth a pen avy! Y fedha'vy sensys dhywgh rag nefra."
Scant nyns eus tybyans vëth dhèm ow tùchya an Kenwerth Frank, dhodho abarth pò wàr y bydn, saw ny wodhya chauns aral a gafos ow forpos. An den jentyl yonk-ma o meur re lenkys in y galetter heb merkya dell o fest coynt, govyn orth den ùncoth, neb a fyllys scantlowr a verwel namnygen, hag a gollas carr mil gyny, arethya ragtho in cùntellyans, knack desempys. Saw nyns esa an otham ow codhevel dhèm predery a goyntys vëth, na dôwys pyw a rolla gweres dhybm.
"Assentys," yn medha'. "Kyn nag ov vy arethor dâ, me a vydn derivas adro dhe Awstrâlya nebes ha tabm."
Gans an geryow-ma govyjyon oll an osow a neyjas dhywar y dhewscoth, ha meur y rassow ha lowena. Ev a lendyas côta lewyas brâs – ha bythqweth ny dheuth ev bys i'n qwestyon prag y whrug avy dallath in tro vôtour heb côta gwyw – hag ev ow tevera fethyow sempel y istory personek i'm scovornow pàn esen ny ow slynkya an fordhow podnek ahës. Omdhevas o va, ha'y norter orth y êwnter – ankevys yw hanow an êwnter dhybm, saw th'esa i'n Cabynet, ha'y arethyow dhe redya i'n paperyow nowodhow. Ev êth oll adro dhe'n bÿs wosa gorfedna in Kergraunt, ha'y êwnter ow cùssulya entra dhe'n wlasegeth rag na'n jeva soodh. Dell hevel, nyns o an eyl party gwell ganso ès y gela. "Pollattys dâ in pùbonen a'n dhew," yn medh, jolyf y lev, "ha showr a dhrogwesyon inwedh. Lybral ov vy, dre rêson ow theylu dhe vos Whyg pùpprës." Saw kynth o va mygyl i'n bolytek, crev y teuth y vreus orth taclow erel. Ev a dhyskevras my dhe wodhvos tabm dâ ow tùchya mergh, ha gerya tavas leun a'n resoryon i'n Derby; ha lies y dowlen rag gwellhe y setha godn. Oll warbarth, den pòr lân hag onest o va, ha leugh glëb.
Pàn esen ny ow passya der dre vian, dew greswas a sînas rag may whrellen ny sevel, ha gwil dh'aga lugern shînya warnan.
"Gwrewgh gava, Syr Harry," yn medh onen. "Deskys on ny dhe whelas certan carr, ha'n descrevyans hevelep dh'agas carr why."
"Pòr dhâ," yn medh ow ost, ha my owth aswon grâss dhe Dhuw a'n vaner fel mayth en vy drës in sawder. A'y wosa ny wrug ev côwsel na felha, rag y breder dhe lavurya lebmyn in dadn y areth a dheu. Th'esa y vin prest ow seny croffal, ow qwandra th'esa y lagasow, ha me a dhalathas ombarusy rag nessa meschauns. Me a sarchyas nampyth a yllyn leverel dhe'm part avy, mès ow brës o mar sëgh avell men. Desempys y feun ny hedhys dhyrag daras in strêt, hag yth esa tus jentyl, roscolm dh'aga gwysk, orth agan wolcùbma gans meur a dros.
Th'esa pymp cans, ogas lowr, i'n hel, benenes dre vrâs, lower pedn mol, tus yonk ugans aderdro. An caderyor, menyster codna-gwydn eglos ha dewfrik rudh ganso, a wrug drem drefen nag esa Crumpleton ena, omgôwsel a'y anwesva yn tramatek, ha testa a'm govys dell en vy "hùmbrynkyas lel a'n breusyow Awstrâlyan". Th'esa dew greswas orth an daras, ha govenek dhybm anjy dhe verkya an dùstunyans-ma. Ena Syr Harry a dhalathas.
Bythqweth ny glôwys vy tra gepar. Cabm na wodhya gwil areth vëth. Yth esa covnôtyans ganso, bùshel brâs, dhe redya anodhans in mes, ha bÿth pàn wrella ev dyberth ortans ev a godhas in stlevyans hir. I'n eyl pryjweyth ev a remembra neb lavar deskys dre gov, composa y geyn, ha'y dheclarya in gis Henry Irving, hag in y gela th'o va plegys dobyl rag whyrny mes a'y scrifow. Euvereth uthyk o pùptra kefrës. Ev a wrug mencyon a'n "godros Alman", ha leverel hedna dhe vos desmyk Tory rag kemeres gwiryow dhyworth bohosogyon dre hyg ha lettya an liv brâs a'n gwellheans socyal, saw yth esa "an lavur kesunyansek" orth y gonvedhes hag ow wherthyn an Torys dhe scorn. Whensys o va dhe lehe agan Morlu in prov a'gan fëdh dâ, ha danvon gwarnyans godrosek dhe Jermany, fatl'o res dhedhy gwil an keth hedna poken y fydnen ny cronkya yn tydn. Ev a lavaras dell vedha an Vreten Veur ha Jermany, adar an Torys, gonesyjy warbarth in cres ha gwellheans. Me a berthy cov a'n lyvryn du i'm pocket! Bern cothmans Scudder, ass o hedna brâs wor'tu ha gwellheans in cres!
Bytegyns, y areth a veu dâ genef neb fordh goynt. Th'esa whecter an den ow tewynya hewel in mes adrëv an teyl mayth o va peskys ganso. I'n kettermyn, begh poos a veu drehevys dhywar ow freder. Nyns en vy arethor marthys, saw milweyth gwell agès Syr Harry.
Me a sowenys dâ lowr pàn dheuth ow thro vy. Me a dherivas myns esa i'm cov ow tùchya Awstrâlya, ha pejy i'm pedn na ve Awstrâlyan vëth i'n tyller – pùptra a'n party lavur i'n wlas hag a dhyvroans dy hag a'n servys ûnyversal ena. Ankevys veu gwil mencyon a'n Kenwerth Frank, saw me a lavaras nag esa Tory vëth in Awstrâlya, nagonen ma's Lavur ha Lybrals. Rag hedna y sonas hùrê yn uhel, ha my a wrug aga dyfuna yn teg i'n prës may talethys declarya an Empîr pana negys spladn a ylly bos dhe'm breus mars esen ny ow qwil agan gwelha ehen.
Oll warbarth, ow areth a's teva spêda lowr. Saw gans an menyster nyns en vy dâ màn, ha pàn worras hebma vôta grassys in rag, ev a wrug henwel areth Syr Harry "fur ha doth" ha leverel fatell veu dhe'm areth vy "frethter an mainor dyvroa".
Pàn esen ny i'n carr arta, gwyls o spyrys ow ost wosa collenwel an oberen. "Areth vrentyn, Twisdon," yn medh. "Now, why a wrewgh dos tre gene'vy. Dygoweth oma, ha mar mydnowgh godrega nebes dedhyow me a wra profya spâss dhe byskessa adhevîs."
Ny a dhebras soper tobm – ha my whensys dhodho yn fen – ena ny a wrug eva gròg in rom megy brâs ha lowenek ha tan predn ow crackya cosel ino. Dell hevelly dhybm, an very prës may hallen vy gorra ow cartednow dhe'n bord o devedhys. Me a wely in lagas an den-ma y vos a'n sort may hyllyth gorra trest.
"Goslow, Syr Harry," yn medhaf. "Yma genef tra lowr y bris dhe leverel dhys. Gwas dâ osta, ha me a vydn côwsel dhe blebmyk. A ble whrusta cafos an folneth venymus a wrussys arethya haneth?"
Y fâss êth in coodh. "O mar dhrog dhana?" a wovydnas, meur y edrega. "Tanow lowr y sonas hy dhe wir. Me a gafas an brâssa radn anedhy mes a'n Progressive Magazine ha pamflettys usy an mainor-na ow ry dhybm heb hedhy. Saw sur ny gresyth Jermany nefra dhe werrya orthyn."
"Gwra an qwestyon-na wosa whegh seythen, ha ny vëdh otham vëth a worthyp," yn medha'. "Mar teta hag attendya udn hanter-our, my a vydn derivas whedhel."
Th'esof ow qweles an rom bryght-na whath, ha'n pednow carow ha'n pryntys coth wàr an fosow, ha Syr Harry sevys fyslak wàr amal men an olas, ha my a'm groweth in chair medhel, ow côwsel. Dell hevelly, neb den aral en vy, ow sevel adenewen, ow coslowes ow lev ow honen, ow prusy gwirionsys ow whedhel gans rach. Th'esen vy ow terivas kensa treveth an gwir poran, kebmys dell wodhyen y gonvedhes, hag y feu sawyans teg dhybm, rag an dra dhe dhos compes i'm brës. Ny wrug vy plynchya màn. Ev a glôwas oll adro dhe Scudder, ha'n lethor, ha'n lyvryk cov, ha'm gwrith in Gallowey. Pòr frobmys o va wharê, hag ow kerdhes strayl an olas arta hag arta.
"Ytho dell welyth," me a fynsyas, "yma genes i'th chy an den may ma an creslu orth y whelas rag an moldrans in Portland Place. Dûta yw danvon dha garr rag dry an creslu ha'm dascor. Dowtys ov vy nag allama scappya pell. Y wher hager-wall, ha my gans collel i'm asow udn our warlergh an dhalhen. Byttele, th'yw dûta dhis, dell os dinasyth uvel dhe'n laha. Kyns pedn mis martesen y fëdh drog genes, saw nyns eus chêson vëth a bredery hedna."
Th'esa va ow meras orthyf, glew ha sur y lagasow. "Pandr'o dha soodh in Rôdesya, Mêster Hannay?" ev a wovydnas.
"Injynor bal," yn medha'. "Me a gùntellas ow radn heb gowegneth, ha meur plesour i'n gwrians."
"Nyns yw galwans a'n par-na onen dhe wanhe colonecter, certan."
Me a wharthas. "Ogh, tùchyng hedna, ow holon yw crev lowr." Me a gemeras collan helgh a'y sensor wàr an fos, ha gwil prat coth an Mashona ha'y thôwlel ha'y hachya i'm min. Ma otham a nebes colon stordy worth hedna.
Th'esa va ow meras orthy'vy gans minwharth. "Nyns eus whans a brov dhybm. Asen gocky ov vy wàr arethva martesen, mès arvrusy den a alla'vy heb mar. Nyns osta moldror vëth na fol naneyl, ha my ow cresy te dhe leverel an gwir. Me a vydn dha scodhya. Now, pëth a alla'vy gwil?"
"Kensa tra, me a'th pës a screfa lyther dhe'th êwnter. Res yw dhybm omdava gans tus an Governans nepprës kyns an 15ves mis Efen."
Ev a dednas wàr y vinvlew. "Ny wra gweres. Hèm yw negys an Sodhva Dramor, ha nyns usy ow êwnter maglys i'n mater. Dres hedna, ny wredh y berswâdya nefra. Nâ, me a vydn mos pelha whath. Me a vydn screfa dhe'n Scryvynyas Parhus i'n Sodhva Dramor. Ow thas besyth yw ev, hag onen a'n gwelha i'n bÿs. Pandr'yw dha whans?"
Esedhys veuva orth tâbel rag screfa warlergh ow dythyans. An ascorn anodho: mar pëdh den cries Twisdon (gwell dhybm glena orth an hanow-na) ow tysqwedhes kyns ès an 15ves mis Efen, y tal y dhyghtya yn cuv. Dell wrug ev screfa, Twisdon a vedha prevy y bona fides dre'n pass-eryow "Men Du" ha dre whybana 'Annie Laurie'.
"Pòr dhâ," yn medh Syr Harry. "Otta gis fytty. Hanow ow thas besyth, ha my ow cows anodho, yw Syr Walter Bullivant, ha ty a wra y gafos in y benty powdir, tregys ena rag Pencast. Yma ogas dhe Artinswell ryb Dowr Kennet. Gorfednys. Now, pandr'yw an nessa tra?"
"Te yw a'n keth hirder dell ov vy. Gwra lendya dha gotha sewt brethyn. Na fors py qweth, unweyth mars yw an colour contrary dhe'n dyllas a wruga' dystrôwy dohajëdh. Ena dysqwa mappa a'n vro ha gwra styrya dhybm fâss an pow. Yn tewetha, mar teu an creswas ha'm sarchya, na wra ma's showya an carr i'n glydn. Mar teu an parcel aral, gwra derivas my dhe gemeres train uskys dhe'n soth wosa dha gùntellyans."
Ev a wrug gwil, pò dedhewy, oll an taclow-ma. Me a drohas an remenant a'm minvlew, ha crambla ajy dhe sewt auncyent a'n stoff yw henwys kemysk grug, dell gresa'. Th'esa an mappa ow ry neb conceyt a'm omgelgh, ha'n dhyw dra eus whans anedha – ple hyller jùnya orth an chif-hens horn dhe'n soth ha pana randiryow moyha gwyls esa in ogas.
Dhe dhyw eur ev a'm dyfunas mes a gùsk in chair medhel an rom megy, ha'm hùmbroncas, plynchys ow lagasow, aberth i'n nos tewl ha sterednek. Ev a gafas dywros coth in crow toulys ha'y dascor dhybm.
"Kensa tro adhyhow, ryb an coos sab wàr vàn," ev a'm charjyas. "Kyns terry an jëdh ty a vëdh in mesk an brynyow. Ena gwra dehesy an dhywros in neb kenegen ha mos kerdhes dres an hal. Te a yll passya seythen intra bugeleth, ha bos in sawder kepar ha pàn vesta in Gyny Nowyth."
Me a wrug trosella wàr hensy grow meneth ha serth, yn tywysyk in bàn, erna veu an ebron gwadn hy duder orth myttyn. Pàn êth an nywl kescar dhyrag an howl, th'esen vy in bÿs gwer ha cowrek, ha glydn ow codha a bùb tu, ha gorwel glas i'n pellder. Wàr neb cor, nowodhow a'm eskerens o obma dhe gafos abrës.
CHAPTRA 5
ANETH OBERWAS AN FORDH
HA SPECTACLYS GANSO
Me a sedhas wàr very crib an gulva ha rekna stock ha savla.
Wàr ow lergh th'esa an fordh owth ascendya dre fâls i'n brynyow, o glydn gwartha dhe neb ryver a vry. Arâg yth esa spâss gwastas a udn vildir martesen, oll leun a bollow kenegen ha garow y dosow, ha'y wosa an fordh ow codha ken glydn serth wàr blain in nans, tedhys mayth o y dhysclerder glas bys i'n pellder. Agledh hag adyhow th'esa breow gwer, rônd aga scodhow ha mar leven avell crampeth, mès dhe'n soth – hèn yw, agledh – th'esa golok got a venydhyow uhel ha grugek, ha my ow perthy cov agà bos an colm brâs a vryn a wrug avy dôwys in sentry. Th'esen vy wàr voth cres a bow uheldir efan, hag ow qweles pùptra esa in gway dres lies mildir. I'n buthynyow iselha ès an fordh, hanter-mildir wàr ow lergh, yth esa chymbla neb penty ow megy, saw nyns esa sin vëth a vêwnans denyl ma's hedna. Th'esa garm an kernwhyly yn udnyk, ha tynkyal a woverow bian.
Yth o seyth eur lebmyn, ogas lowr, ha pàn esen vy whath ow cortos my a wrug unweyth arta clôwes an pols-na, drog y dhargan, i'n ebron. Desempys me a wodhya convedhes ow flâss a brow dell ylly bos maglen in gwrioneth. I'n tyleryow gwer-na ha mol, nyns esa covva dhe bedn paly kyn fe.
Esedhys en vy, dywayans, heb govenek, ha'n pols ow tevy. Ena me a wrug aspia airen ow tos mes a'n ÿst. Th'esa hobma neyjys uhel, mès droppyes lower cans troos'hës ha my ow meras orty, ha hy ow tallath kelhy adro dhe'n colm a vryn, kelgh culha pùb tro, kepar ha pàn vo falhun owth omdrailya kyns ès codha wàr bray. Lebmyn th'esa hy ow neyja pòr isel, ha'n aspior inhy a'm merkyas. My a welas an dhew dhen i'n airen, dell esens y ow qwil examnyans ahana' dre dhewweder.
Yn sodyn an airen a dhalathas eskyna in troyllyow uskys, ha scon yth esa hy ow fysky arta dhe'n ÿst, bys may feu hy spot munys in glas an myttyn.
Constrînys en vy i'n tor'-ma dhe bredery yn fen. Ow eskerens a'm trouvyas, ha cordon adro dhybm a vëdh an nessa stap. Ny wodhyen vy pygebmys tus esa i'ga danjer, saw me o certan y fedhens y lowr. Aspies veu ow dywros gans an airen, ytho y fydnens y tyby my dhe scappya an fordh ahës. Dhana me a'n bo chauns whath wàr an hal adhyhow pò agledh par hap. Me a herdhyas an dhywros cans lath dhywar an fordh, ha'y thôwlel in toll mûs aberveth, may whrug hy sedhy inter dowrles ha pawyow bran an dowr. Ena me a wrug ascendya wàr dolgh mayth esa golok i'n dhew valy aberveth. Nyns esa tra vëth in gwayans wàr an rybyn gwydn hir ow qwia dredha.
My re dherivas nag esa goskes i'n holl dyller rag cudha udn logosen in fo. An hal o leun a wolow clor ha fresk, ha'n jëdh owth avauncya, bys mayth esa howlecter saworek dhedhy kepar ha'n glasweltir Soth-Afrycan. Dâ via an tyller genam in ken termyn, saw i'n eur-ma th'esa va, dell hevelly, orth ow thaga vy. An won frank o fosow an pryson, hag air lybm an brynyow o anal an dhorgell.
Me a wrug tôwlel bath – pedn adhyhow, kil agledh – hag y codhas pedn, ytho me a drailyas dhe'n north. A verr spis my a dheuth dhe dâl crib, o fos scodhya dhe'n gulva. Me a wely an benfordh dres deg mildir martesen, ha pell warnedhy th'esa nampyth ow qwaya, ha hèn o carr tan, dhe'm desef. Dres an grib me a vera wàr won las hag efan, ow codha in glydnow cosak dhe ves.
Now, ow bêwnans wàr an glasweltir a ros dhybm lagasow scowl, ha my ow qweles taclow may ma otham dhe'n moyha tus a weder aspia ... Wàr an leder dhyrago', dyw vildir aderdro, th'esa nebes tus owth avauncya kepar ha beaters in udn rew orth helgh godn ...
Me a skydnyas mes a wel adrëv lînen an ebron. An fordh-na o degës wàr ow fydn, ha res o prevy brâssa brynyow a'n soth dres an benfordh. Th'esa an carr a verkys vy kyns ow nes'he, saw pell o va whath, ha nebes ledrasow pòr serth aragtho. Me a bonyas scav, in udn blattya yn isel, marnas i'n cowyow, hag in dadn bonya th'esa ow lagata orth tâl an vre dhyragof. Esa tarosvan pedn dhybm, pò esen vy ow qweles fygùrs – onen, dew, pò moy – ow qwaya in glydn in hans dhe'n gover?
Mars os kerhydnys a bùb tu in neb splat a dir, nyns eus ma's udn chauns a dhiank. Res yw gortos i'n splat, ha gasa dha eskerens dh'y whythra heb dha gafos. Hèn o fara fur, saw fatell, mar plêk, yllyn vy mos mes a wel in tyller kepar ha lien bord? Parys vien vy dhe encledhyas ow honen in lis bys i'n codna pò dhe wrowedha in dadn dhowr pò dhe grambla i'n uhella gwedhen. Saw nyns esa predn vëth a wëdh, an pollow kersek o lagednow bian, an gover o sygerans tanow. Nyns esa tra vëth ma's grug cot, ha fydny an vre vol, ha'n benfordh wydn.
Ena in pleg munys a fordh, ryb crug a veyn, me a gafas oberwas an fordh.
Ev o nowyth devedhys, hag yth esa va ow tôwlel y vorthol dhe'n dor yn sqwith. Ev a wrug meras orthyf, skeusus y lagas, ha dianowy.
"Melygys re bo'n jedh rugam gara'n bugelyans!" yn medh, kepar ha pàn ve va ow côwsel orth oll an bÿs. "Kens thoma mayster i'n lavur avy. Lebben my ew kethwas dhe'n Governans, stegys ort amal an vor, ha lagajow cloav dhebm, ha keyn vell crobman."
Ev a gemeras an morthol, gweskel neb men, gasa an toul dhe godha ha cùssyans ganso, ha gorra y dhêwla dhe'n scovornow. "Roy mercy dhebm! Ma'n pedn o'tardha!" ev a grias.
Fygùr gwyls o va, an keth hës ha my, ogas lowr, mès meur plegys y geyn, seythen a varv wàr an elgeth, ha spectaclys brâs a gorn wàr y fâss.
"Ny ellama wil," ev a grias arta. "Gas an Arwhythror dhe notya'm fowt. Ma otham a'n gwely dhebm."
Me a wovydnas pandr'o an trobel, fest apert kyn fe.
"An trobel ew dell erom i'n omvedhowy. Newer ow merh Merran a veu demedhys, hag anjei o'tauncya bys peder eur myttyn. My ha nebes gwesyon erel, theren nei'gan eseth hag o'th eva, hag otta vy obma! Dell rugam spia'n gwin pan o va rudh, ass ew dieth broas!"
Unverhës en vy ganso, tùchyng an gwely.
"Esy ew cows," ev a groffolas. "Bus my rug gawas carten bost de'ndrow, ha hei o'lawl Arwhythror nowyth an for'ow dhe vysytya hedhyw vyttyn. Ev ra dos heb throuvya vy, poken ev ra throuvya mes a'm rowl, ha war neb cor thoma den dys'res. My vedn mos dhe'n gwely ha lawl nag oma salow, bus ma dout na vo gweres dhebm, rag anjei dhe'm gweles vy ha'n anyehes a'm sort kefres."
Ena y teuth awen dhe'm brës. "Os aswonys dhe'n Arwhythror nowyth?" me a wovydnas.
"Na, cabmen veth. Nynj ujy e mas udn seythen i'n soodh. Ma va o'resek adro in carr bian, ha whensys dhe wovyn an very perveth mes a wihen mow."
"Ple ma dha drigva?" me a wovydnas, ha'y vës andyblans a dhysqwedhas dhybm an penty ryb an gover.
"Wèl, dhe'th wely arta," yn medhaf, "ha cùsk in cres. Me a vydn kemeres dha whel rag tro, ha metya gans an Arwhythror."
Ev a wrug meras orthyf heb convedhes; nena, pàn dhalathas an towl egery in y vrës ancombrys, y fâss êth howlek i'n minwharth gwag longus dhe'n pedn medhow.
"Ass o'whei pollat da," ev a grias. "Esy lowr vedh y wil. My re worfednas an crug a veyn-na, tho nynj eus otham terry muy kens hanter-dedh. Kemerow' an grava, ha drei meyn lowr, mes a'n mengledh war'n vor dres ena, rag gorra ken crug vorow. Alexander Turnbull ew hanow vy, seyth bledhen i'n greft, hag ugans kens a vugelya, reb Dower Leithen. Thujy hothmans o'th henwel vy Ecky, traweythyow Specky, rag ow spectaclys, ha por wadn an syght vy. Cowsow' an Arwhythror yn jentyl, ha crei e Syr, ha fedh e plesys teg. My vedn dos arta, hanter-dedh sur."
Me a wrug benfygya y spectaclys ha'y hot mostys plos; dysky côta, crîspows, gùdhùgen, ha ry dhodho rag don dh'y benty; benfygya, inwedh, y stùbba dyflas a bib pry dhe'm taclow gwaryva. Heb whetha y gorn, ev a dhysqwedhas poyntys sempel a'm ober ha dallath adroos dh'y wely. Gwely y jif-medras kyn fe, th'esa nampyth in goles a votel kefrës, dell dybyn. Me a besy wàr Dhuw y fedha ev mes a wel kyns ès ow hothmans vy dhe dhos i'n fram.
I'n tor'-na th'esen vy ow qwil oll rag omwysca dhe'm rol gwary. Me a wrug egery ow cris orth an gùdhuk – blou ha gwydn o va, comen-checker, dyllas aradror y gis – ha dyscudha codna mar howlys avell gwycor vëth a'n fordhow. Me a rolyas ow brehellow, hag otta ragvregh wyw dhe neb ferror, gell ha garow in dadn greythednow coth. Me a wrug gwydna ow botas ha berrow an lavrak gans doust an fordh, ha kelmy an stoff in bàn dre gorden orth an dhêwlin. Ena me a dhalathas chaunjya ow vysach. Gans dornas a dhoust me a wrug dowrnos adro dhe'm codna, le nag esa Mêster Turnbull in y wolgh Sul ow mos dresto, pùb lycklod. Me a rùttyas cals a vost i'n howl-losk wàr ow bohow kefrës. Lagasow oberwas yw nebes faclys pùpprës, ytho me a ros tùch a bodn dhe'n dhew, ha gwil effeth molys dre rùttyans crev.
An breghtanow provies gans Syr Harry a veu gyllys gans ow hôta, saw th'esa croust an oberwas fardellys in coverchyf rudh ha parys dhe'm servys. Me a dhebras, brâs ow blas, lower tregh tew a scons ha keus, hag eva nebes a'n tê yêyn. I'n coverchyf yth esa paper nowodhow a'n vro, kelmys gans corden ha danvenys dhe "Mêster Turnbull" in solas dh'y bowes hanter-dëdh, dell o apert. Me a wrug trùssa an fardel arta, ha desedha an paper rybof yn hewel.
Nyns en vy content a'm botas, mès dre bôtya mesk an veyn me a spêdyas bejeth men growyn warnodhans, arweth dell yw ûsys orth eskyjyow an oberwas. Ena me a wrug densel pùb ewyn ow besias erna veu aga fedn trogh ha dygompes. Sur ny vydna an dus settys wàr ow fydn hepcor merkya manylyon vëth. Me a dorras onen a'n lâcys ha daskelmy yn cledhek, ha lowsya an aral, may fe an lodrow loos ha tew ow whedhy dres an gwartha. Whath nyns esa sin vëth a neptra wàr an fordh. Res o an carr, a welys vy hanter-our alebma, dhe vos gyllys tre.
Cowlwrës veu ombarusyans, ha me a gemeras an grava ros ha dallath viajya inter a'm tyller ha'n mengledh cans lath in kerdh.
Th'esof ow perthy cov a fordhor coth in Rôdesya, a wrug lies tra goynt in y vêwnans, hag ev ow leverel dhybm udn jëdh an art kevrînek a soweny in neb rol, dell yw hedna leun-dyby teythy an rol der oll an brës. Nefra ny yllyth y ventêna, yn medh, mar ny wredh perswâdya dha honen fatl'os jy an very person. Ytho me a dhegea pùb preder ken ha trailya oll ow brës dhe fordhow ha'ga mendya. Me a dhesmygy fatl'yw an penty gwydn bian ow olas vy, me a remembra an bledhydnyow a vugelyans ryb Dowr Leithen, me a wre dhe'm preder chersya cùsk in gwely box ha botel iselbris a wyras Alban. Ha whath ny dhysqwedhas tra vëth wàr an fordh wydn hir.
Traweythyow th'esa davas ow qwandra dhywar an grug rag lagata orthy'. Kerhyth a londyas flop wàr boll i'n gover ha dallath pyskessa, heb attendya moy ès dell ven vy men mildir. Ha me a bêsya, ow rolya an behow a veyn, ha'm kerdh o stappys poos longus dhe'n den galwansek. My êth tobm yn scon, ha'n doust wàr ow fâss a veu chaunjys dhe rowyn fast ha glenus. Solabrës yth esen vy ow nyvera an ourys erna wrella gordhuwher gorra finweth dhe lavuryans undôn Mêster Turnbull.
Desempys y feu lev cras dhywar an fordh, ha pàn dherevys vy ow golok me a welas carr Ford bian a dhyw eseth, ha den yonk, rônd y vysach, ha hot cales crèn ganso.
"Os Alexander Turnbull?" ev a wovydnas. "My yw Arwhythror nowyth Fordhow an Conteth. Tregys esos in Blackhopefoot, hag yma an radn inter Laidlawbyres ha'n Riggs in dha jarj? Wèl! Hës mynsek yw hedna, Turnbull, ha byldyes crev lowr. Nebes medhel udn vildir alebma, ha dhe'n emlow yma otham a'ga glanhe. Gwra dyghtya. Myttyn dâ. Ha my aswonys dhys lebmyn kyns an nessa tro."
Cler, ow thùllwysk o dâ lowr dhe dhecêvya an Arwhythror awos an brawagh brâs anodho. Me a bêsyas ow whel, ha pàn esa myttyn ow tevy dhe hanter-dëdh ow cher a veu gwellhës gans daromres uvel. Carven an pebor a dheuth dres tâl an vre, hag ev ow qwertha dhybm sagh a desednow jynjyber cales, ha my ow corra in pockettys ow lavrak rag gorotham. Ena bugel a dremenas gans deves, ha gwil nebes anês warna' pàn wovydnas yn uhel, "Ple ma Specky dhan?"
"I'n gwely ha'n drog torr warnodho," me a worthebys, ha'n bugel ow tremena in rag ...
Orth very hanter-dëdh y teuth carr brâs ow scolkya an vre wor'tu ha my, ow slynkya drestof, hag ow sevel cans lath abell. An tredden ino a skydnyas kepar ha pàn vednons y istyna an garrow, ha kerdhes dhybm yn lent.
Dew a'n dus-ma me a welas kyns, dre fenester an tavern Gallowey – onen tanow, sherp, tewl; an aral attês ha minwharth wàr y vejeth. Dhe'n tressa th'esa syght a drevesyk – milvedhek, martesen, pò tiak tir bian. Gwyskys o va in lavrak lows penglin, gwadn-drehys, ha'y wolok o mar vryght ha mar war avell lagas an yar.
"Myttyn dâ," yn medh an dewetha-ma. "Ass eus whel brav hag êsy dhys."
Ny wruga' derevel ow fedn orth aga devedhyans, ha lebmyn, mayth esens y ow côwsel, me a wrug composa ow heyn yn lent hag yn tydn, warlergh maner an oberwesyon; trewa yn fen, warlergh maner fest genesyk i'n Iseldiryow Alban; ha meras ortans yn stark kyns gortheby. Trailys yth o dewlagas tergweyth warna'vy, na nyns êns y fyllys a verkya tra vëth.
"Ma lacka whel, ha ma ober gwell," yn medhaf yn solempna. "Gwell via dhebm gas whel whei, ga eseth oll an jedh war gas tin ha war gas pluvak. Whei ha'gas kerry broas, mown'jei o'terry'm for'ow vy! Mara pe dhe nei an peth yw gan gwir, fia res dhe whei mendya gas myshew gas honen."
Th'esa an den bryght y vejeth ow meras orth an paper nowodhow desedhys ryb fardel Turnbull.
"Dell wela', th'esta ow recêva dha baperyow abrës," yn medh.
Me a dôwlys wolok warnodho yn lows. "Ea, abres defrei. Anjei rug pryntya an paper-na De Sadorn d'wetha, tho nynj oma holerth m'as wheddyth."
Ev a'n kemeras, ry golok got dhe'n drigva screfys warnodho, ha gorra arta dhe'n dor. Th'esa onen a'n re erel ow meras orth ow botas, ha ger i'n Almaynek ow kelwel an cowsor dh'aga gweles.
"Yma breus dâ dhys a votas," yn medh. "Cabm na veu an re-ma gwrës gans keryor a'n vro."
"Na vowns," yn medhaf iredy. "Fown'jei gwres in Loundres. Kefys dhort an den jentyl, esa obma warleny rag an hel'godn. Now pandr'o y hanow?" Ha me a wrug cravas ow fedn dygov.
Unweyth arta an den smoth a gowsas i'n Almaynek. "Deun wàr rag," yn medh. "An gwas yw gwiryon lowr."
Anjy a worras udn dewetha qwestyon.
"A welsta nebonen ow tremena myttyn avarr? Wàr dhywros martesen, pò adroos."
Namna godhys vy sqwat i'n vaglen, ow terivas fatell êth dywrosyas drestof in golow loos orth terry an jëdh. Saw fur veuv vy, hag aspia an peryl. Me a fâcyas ombredery pòr dhown.
"Ny rugam saval a'm gwely avarr," yn medha'. "Gor now, ow merh veu demedhys newer, ha ny oll wor'kyffewy bys holerth. My rug egery daras an chei dhe seyth eur ha nynj era den veth war'n vor i'n pres-na. Woja my dhe dhos obma in badn, ny veu ma's an pebor ha'n bugel a Ruchill, ha whei tus jentyl."
Onen a ros dhybm cygar, a wruga' sawory dewfrik dour ha gorra in fardel Turnbull. Eskynys vowns y dh'aga harr, ha mes a wel in teyr mynysen.
Ow holon a labmas, scafhës yn frâs, saw me a bêsyas rolya an veyn. Ha hèn o dhâ, rag an carr a dheuth arta wosa deg mynysen, hag onen a'y dus ow qwevya dhybm. An gwelhevyn-na, nyns esa tra vëth gesys gansa dhe jauns.
Me a fynsyas an bara keus, ha fynsya a verr spis an veyn inwedh. An nessa stap o desmyk du. Ny yllyn vy durya in whel êwna an fordh-ma termyn hir. Duw truethek a wrug gwetha Mêster Turnbull aberth in y benty, mès y fedha trobel mar mydna va dysqwedhes. Certan lowr en vy an cordon dell o stroth adro dhe'n glydn whath, ha my dhe vetya apposyoryon mars ellen vy ha kerdhes neb qwartron. Saw scappya o res porres. Coraj den vëth ny yll sùffra aspians moy ès udn jëdh.
Me a wortas i'm tyller bys pymp eur aderdro. I'n termyn-na my a wrug ervira mos dhe benty Turnbull wàr nans, inter dew wolow, ha kemeres chauns a dremena dres an brynyow i'n tewlder. Saw desempys y teuth ken carr an fordh ahës, ha lent'he arago' nebes lathow. Sordyes o gwyns clor, ha'n lewyor whensys dhe dùchya cygaryk.
Carr touryas o hebma, ha'n delergh leun a fardellow kemyskys. An udn den esedhys ino – dre verkyl ev o aswonys dhybm. Marmaduke Jopley o y hanow, ha despît teg o va dhe wrians oll an bÿs. Ev o sort a mainor lynaja, ha'y negys o fecla pùb kensa mab, pùb arlùth yonk ha rych, pùb benyn goth ha fol. "Marmie" o fygùr menowgh, dell wodhyen, in gwariow dauns, seythednow pôlo, mansyons an powdir. Drog-tavasek sley o va, abyl dhe slynkya mildir wàr y dorr bys in pùbonen mayth esa brentynsys pò neb mylyon. Pàn dheuth vy dhe Loundres, comendyans negys a'm bo dhe vetya ganso, hag ev a veu cortes lowr ha govyn orthy' kynyewel in y clùb. I'n tyller-na ev a wrug bobans boll, ow padera adro dh'y dhùchesow, erna dhros y snobbuster whejans i'm briansen. Me a wovydnas orth ken onen a'y wosa, prag na wrella den vëth y bôtya bonk, ha'n gorthyp dhybm – pùpprës y fydn an Sowson ry revrons dhe'n gwadnha reydh.
Wàr neb cor, otta va lebmyn, fin y dhyllas, spladn y garr nowyth, hag ev ow mos, dell o apert, dhe vysytya re a'y gothmans mar vrav. Folneth sodyn a'm sêsyas, ha dyson me a labmas i'n delergh aberveth ha settya dalhen in y scoodh.
"Lowena dhis, Jopley," me a grias jolyf. "Metyes yn tâ, sos!" Ev a gemeras scruth uthyk. Y elgeth êth in coodh hag ev ow meras orthy' stag. "Pyw an jowl os tejy?" a lavaras ev in udn dhiena.
"Hannay yw ow hanow vy," yn medha'. "Den Rôdesya, a nyns eus cov?"
"Duw benegys, an moldror!" yn medh ev, tegys y lev.
"Ewn poran. Ha moldrys a vëdh nessa onen, ow melder, mar ny wredh dell vydna'vy pesy. Roy dhybm dha gôta-na. Ha'n cappa kefrës."
Ev a wrug dell erhys, awos euth dh'y sensy oll. Me a wyscas y gôta lewyas brav, ha'm lavrak plos ha cris checker in dadno. Th'esa dhe'n côta botodnow bys in y dop, ytho an fowt a wodhùgen o cudhys. Me a settyas an cappa wàr ow fedn, ha keworra manegow dhe'm aparell. Transformys veu an oberwas podnek in udn pols dhe dhen a'n lewyoryon moyha kempen in oll Scotlond. Wàr bedn Mêster Jopley me a settyas hot grysyl Turnbull, ha dyfen orto gorra dhe ves.
Ena, ha nebes caletter ino, me a drailyas an carr. Ow forpos o dewheles wàr an fordh may teuth ev solabrës: rag an aspioryon a wrug y weles kyns, ytho dre lycklod ny vydnens y lettya gàn tremen, na nyns o fygùr Marmie ha my hevelep màn.
"Now, a flogh wheg," yn medha', "gwra sedha qwiet teg ha bos maw dâ. Nyns eus whans vëth dhybm a'th shyndya. Ny vydna'vy ma's benfygya dha garr, udn our pò dew. Saw mar mynta gwil prattys, pò egery dha vin kyns oll, gorra tro a wrama dhe'th codna jy. Savez?"
Plesour a veu lewyas gordhuwher teg. Ny a wrug resek eth mildir an valy in nans, dre dreveglos ena, hag ena, ha ny yllyn vy bos heb merkya tus coynt aga semlant ow crowdra ryb an fordh. An re-ma o an aspioryon, ha gansans y fia lowr dhe leverel dhybm mar teffen vy ha mos in gwysk aral pò in ken company. An dra dell o, th'esens y ow meras orthyn, bohes aga bern. Nebonen a wrug tava y gappa in salusans, ha me a worthebys gans grâss.
Th'esa an tewlwolow ow tos pàn wruga' trailya in glydn adenewen, a lêdya aberveth in neb cornel dhybobel a'n brynyow, dell esen vy ow perthy cov a'n mappa. Gesys veu an treveglosyow yn scon wàr ow lergh, gesys pùb bargen tir, gesys an pentiow ryb an fordh kefrës. Wharê ny a dheuth dhe hal wag mayth ylly an nos duhe an howlsedhas ha'y dewydnow i'n pollow kersek. Obma ny a savas, ha me a wrug gorthtrailya an carr yn hegar ha dascor dhe Vêster Jopley oll y bethow.
"Gromercy milweyth," yn medha'. "Moy dhe les osta agès dell dybys. Now kê in kerdh ha cafos an creslu."
Pàn esen vy a'm eseth wàr an run, ow meras dell esa lugern kil an carr ow lehe, my a ylly consydra an lies par a drespasseth a wrug vy sampla solabrës. Contrary dhe'n vreus kemyn, nyns en vy moldror, mès my a veu gowek ansans, faytour dyveth, ha lader fordh gans tast merkys dhe gerry ker.
CHAPTRA 6
ANETH AN HENDYSCANSYTH MOL
Me a wrug passya an nos in plâss gwastas wàr an run, in goskes bùlien vrâs mayth esa an grug ow tevy hir ha medhel. Campya, th'o yêyn an negys-na, rag nyns esa dhybm na côta na crîspows. Yth esa an re-na gans Mêster Turnbull, ha lyvryn Scudder kefrës, ha'm euryor ha – lacka oll – ow fib ha'm pors backa. Nyns esa genef ma's ow mona i'm grugys, hag ogas ha hanter-pens a desednow cales jynjyber in pocket ow lavrak.
Me a dhebras soper a hanter a'n tesednow, ha dre gramyas dhe'n grug down ajy me a gafas tomder a neb ehen. Ow spyrys êth scaffa, ha my ow kemeres delît kyn fe i'n gwary toll cudh muscok-ma. Bys lebmyn y feu dhybm lùck marthys teg. An lethor, an tavernor lienak, Syr Harry, an oberwas, ha Marmie gocky, th'yns y oll darn a fortyn dâ heb ken. Neb fordh, th'esen vy owth omsensy my dhe soweny, drefen an kensa spêda, i'n holl dra.
An chif-trobel o dell en vy pòr nownek gwag. Bÿth pàn wrella Yêdhow omladha y honen i'n Cyta, dre dedn godn, ha'n cùrunor ow qwil whythrans, ûsadow an paperyow nowodhow yw derivas an den tremenys dhe vos "dâ y bask". Remembrys dell yw genef, yth esen ow predery na vensens y ow cria vy dâ y bask mars ella ow gwarr terrys in toll kenegen. A'm groweth yth esen owth omdormentya – rag ny wrug an tesednow jynjyber ma's poosleva gloos an gwacter – dre berthy cov a bùb vytel dâ na wrug avy estêmya in Loundres kyns. Intredhans oll, selsyk cras Paddock ha raskyon saworek a vacken, hag oyow pochys ha sêmly – assa wren gà dysprêsya yn fenowgh! Ha'n goleythyon esens y ow parusy i'n clùb, ha certan mordhos settys wàr an bord yêyn, ha tebel-ewl anedhy wàr ow ena. Yth esa ow freder neyjys dres pùb sort a voos mab den, ha my ow tôwys wàr an dyweth stêk chy porter ha qwart a goref wherow, ha keus pebys a'y wosa. In yêwnadow a'n tybmyn dainty-ma heb govenek, me a godhas dhe gùsk.
Me a dhufunas pòr yêyn, pòr dhywethyn i'm mellow, udn our pò ogas wosa terry an jëdh. Yn syger me a remembras pleth esen vy, rag my dhe vos sqwith ha dhe gùsca yn town. Kensa oll, me a welas an ebron laswydn dre roos rug, ena scoodh vrâs a vre, ena ow botas ow honen gorrys glanyth in bùsh lus. Me a wrug derevel wàr ow dywvregh ha meras i'n valy in nans, ha'n udn wolok-ma o chêson lowr a lacya an botas, ha'm hast men muscok.
Rag yth esa try den awoles, le ès qwartron mildir dhyworthy', dysplewys kepar ha gwynsel wàr an run, hag ow qweskel an grug. Marmie a gemeras dial warnaf heb hockyans vëth.
Me a gramyas mes a'm plâss gwastas bys in goskes bùlien brâs, ha drehedhes dhianedhy in cledh bas esa ow ledry bejeth an meneth in bàn. Hebma a'm lêdyas wharê dhe wolans cul neb streth, may whrug vy crambla bys in top an grib. Mes a'n tyller-na me a veras wàr dhelergh, ha gweles na veuv vy dyskevrys na whath. Yth esa an helhysy ow sarchya dres an run heb fystena hag ow qwaya wàr vàn.
Me a'm gwetha adrëv lînen an ebron ha ponya hanter-mildir aderdro, bys may feuv vy, dhe'm breus, a-ugh pedn awartha an glydn. Ena me a dhysqwedhas ow honen, ha dyson y teuth vy merkys gans onen a'n dus adenewen, hag ev ow passya ger dhe'n re erel. Me a glôwas criow awoles ow seny in bàn, ha gweles an sarchyoryon dhe jaunjya gà heveryans. Me a wrug wis a gildedna dres lînen an ebron, saw in le hedna my êth ha dewheles an fordh mayth êth vy kyns, hag in spis ugans mynysen yth esen vy adrëv an grib, hag ow meras dres ow flâss cùsca. Dhe'm plegadow me a aspias mes a'n wolokva-na fatell esa an helgh ow frosa an vre a-ugh an glydn in bàn, wàr olow fâls yn tien.
Aragof yth esa lower qwartron a yllyn vy mos, ha me a dhôwysas crib orth elyn dhe'n grib mayth esen vy in tor'-na, rag may fe glydn down settys intra my ha'm eskerens yn scon. An omassayans a wrug tobma ow goos, ha my ow kemeres joy a'n very brâssa in oll an dra. Me a dhebry haunsel, in udn gerdhes, a'n remenant poltrus a'n tesednow jynjyber.
Ny wodhyen vy ma's nebes bian adro dhe'n powdir, ha nyns esa tybyans vëth dhybm a'n pëth a vydnen vy gwil. Trest a'm bo dhe grefter ow garrow, saw pòr dhâ th'o convedhys fatell esa an re wàr ow lergh certan owth aswon fâss an pow, ha'm nycyta tell o pral poos. Me a wely dhyrago' keynvor a vrynyow, ow trehevel pòr uhel a'n soth, mès wor'tu ha'n north ow terry dhe gribednow efan, ha nansow ledan bas intredha. Th'esa an grib a dhôwys ow sedhy, apert, wosa mildir pò dew bys in hal a'y groweth kepar ha pocket i'n uheldir. Hòn o qwartron maga tâ avell pùb aral, dell hevelly.
Ow injyn a dhros nebes bleynyans – ugans mynysen, ogas lowr – hag y feu les udn glydn adrëv dhybm kyns ès my dhe aspia pedn an kensa helhysy. An creslu a sompnas skians a'n vro dh'aga gweres, hèn o cler, ha wàr an dus i'm syght yth esa semlant a vugeleth pò gwethysy gam. Anjy a wrug garma pàn y'm gwelsons y, ha my ow qwevya leuv. Dew a herdhyas aberth i'n glydn ha dallath ascendya wàr ow crib, ha'n erel ow remainya a'ga farth aga honen. Th'esa argraf dhybm a gemeres radn in neb gwary scovarnak ha keun mes a'm dedhyow scol.
Saw pòr scon dhe le y talathas hevelly bos gwary heb drog. An wesyon-ma wàr ow lergh o tus crev ha wàr gà splat gà honen. Pàn wruga' meras wàr dhelergh, me a welas nag esa ma's try ow sewya yn tydro, ha me a wrug desmygy an re erel dell ethons y in kelgh rag contrewaitya orthy'. Fowt a wodhvos a'n vro, y hylly hedna bos dyswrians dhybm, hag ervirys veuv vy diank mes a'n vagel a glydnow bys i'n pocket a hal aspies genam a'n badnow in mes. Encressya pellder o res porres, rag scappya'n helgh, ha my a ylly gwil hedna, dell hevelly, mar kyllyn vy cafos neb leur ewn. Mar pe unweyth prysk goskes, me a vensa assaya scolkya nebes, saw wàr an ledrow noth-ma y fia kelyonen dhe weles mildir abell. Hirder ow garrow ha salowder ow anal, re bowns y oll ow govenek, mès yth esa otham a dir êsya, ha my heb bos menedhor. Yêwnes a verhyk Afrycânor dâ, ass o meur!
Me a herdhyas nerthek brâs in rag ha skydnya dhywar ow crib ha wàr an hal in nans kyns ès fygùr vëth dhe dhysqwedhes wàr lînen an ebron wàr ow lergh. Me a dremenas dres streth, ha drehedhes penfordh in culva inter glydnow. Dhyragtho' nyns esa ma's park efan a rug ow ledry dhe grib in bàn, ha cùrun goynt a wëdh awartha, kepar ha pluv. I'n vanken ryb an fordh yth esa yet, ha trûlergh a laswels ow lêdya dhyworto dres an kensa todn a won.
Me a labmas an vanken adreus ha sewya an trûlergh, ha'n gwels wosa nebes cans lath – kettel ethons y mes a wel a nebonen wàr an benfordh – a wrug cessya ha bos sodenly fordh pòr dhâ, gwethys gans rach dell o apert. Heb dhowt yth esa ow mos dhe neb chy, ha my ow tyby mos dy kefrës. Bys lebmyn th'esa ow fortyn heb fyllel, ha'm gwelha chauns owth omgafos i'n aneth pell-ma par hap. Wàr neb cor yth esa gwëdh in hy herhyn, ha'ga styr o covva wyw.
Ny wruga' mos an fordh, mès kerdhes ryb an streth orth tenewen an fordh adhyhow, mayth esa an reden ow tevy down ha'n gladnow ow provia skew a valew. Ha maner dhâ o hodna in gwir, rag pàn veuv vy i'n cow, orth an very prës-na, me a dôwlys golok wàr dhelergh ha gweles an helgh devedhys dhe'n grib awartha, may whrug vy skydnya namnygen.
Wosa hedna ny vydnys vy meras wàr dhelergh namoy; nyns esa termyn lowr. Me a bonyas tenewen an streth ahës, ha cramyas der an tyleryow opyn, ha kerdhes radn vrâs i'n gover y honen. Me a drouvyas penty forsâkys, ha deys towargh tarosvanus in udn rew, ha lowarth overdevys. Ena th'esen vy in mesk gora yonk, ow tos pòr scon in amal dor plynsys a sabwëdh stubmys orth an gwyns. Ena in mes, me a aspias chymblys an chy, esa ow megy, nebes cans lath agledh. Me a wrug dyberth orth tenewen an streth, tremena dres banken aral, ha dos wàr lesyn garow por sodyn. Golok got dhelergh a wrug afydhya nag esen vy awêl an helgh màn, hag ev heb passya kensa godolgh an won na whath.
An glesyn o tyller garow fest, trehys gans falgh dhorn adar jyn falhas, ha plynsys gans blejyowegow a rugros prysclowek. Dew gulyek du, nag yw ÿdhyn kemyn in lowarth, a wrug derevel dhe'n air pàn dheuth vy nes. An chy dhyragof o chy tiak dell yw ûsys wàr an won, hag askel meur hy fâssow addys dhodho, ha lim gwydn hy fosow. Stegys wàr an askel-ma th'esa veranda gweder, hag aspies dre'n gweder y feu bejeth den jentyl ha coth, ow meras orthyf yn whar.
Me a gerdhas, mar dhydros dell yllyn, dres an or a rabmen bre hag entra dhe dharas egerys an veranda. Th'esa rom plesont ajy, gweder a'n eyl tu, ha showr a lyvrow a'y gela. Yth esa lyvrow dhe aspia kefrës in ken rom moy aberveth. Wàr an leur th'esa câssys, adar mosow, a'n par yw dhe weles in hendrajy, leun a vathow ha toulys coynt a ven.
Th'esa desk toll dêwlin in cres an rom, ha'n den jentyl coth ha hegar esedhys orto, ha'y scrifow ha'y gevrôlyow egerys aragtho. Bejeth an den o rônd ha lenter, kepar ha Mêster Pickwick, spectaclys brâs settys fast wàr vleyn y dhewfrik, ha top y bedn o mar vryght ha mar vol avell botel weder. Ny wayas ev màn ha my owth entra, mès ev a wrug derevel y abransow clor ha gortos erna wrellen vy côwsel.
Ober cales o derivas orth estren, ha scant pymp mynysen dh'y wil, pyw en vy ha pëth o whans dhybm, ha gwainya y weres. Ny wrug vy assaya. Th'esa nampyth in lagas an den dhyrago', nampyth mar lew ha leun a wodhvos, ma na gefys ger vëth. Ny wruga' ma's meras stag orto ha stlevy.
"Ow fystena th'esowgh, dell hevel, a gothman," yn medh ev yn lent.
Gans ow fedn me a sînas tro ha'n fenester. Th'esa hy ow ry golok dres an won dre aswy i'n dor plynsys, ha dysqwedhes certan fygùrs hanter-mildir dhyworthyn, ow lavurya der an grug.
"Â, convedhys," yn medh, ha kemeres dewweder aspia, mayth esa va ow whythra an fygùrs dredha dour.
"Foesyk dhort jùstys, th'o apert. Wèl, ny a vydn apposya pàn vo termyn frank. I'n tor'-ma, pryvetter terrys gans creslu cledhek an pow, th'yw ow breus wàr y bydn. Kewgh i'm rom studhya, may whrewgh gweles dew dharas adâl. Kemerowgh an daras agledh ha degea wàr agas lergh. Ena salow teg why a vëdh."
Ha dewhelys dh'y bluven yth êth an den dres kynda-ma.
My a wrug dell veu erhys, ha cafos ow honen in rômyk tewl idn, ha smellyng a gemygyon ino, heb golow marnas fenester vunys hag uhel i'n fos. An daras a lescas clyck wàr ow lergh kepar ha daras cofyr saw. Me a drouvyas sentry heb y wetyas unweyth arta.
Byttele, nyns en vy attês. Th'esa neppyth i'n den jentyl coth-ma owth ancombra hag ow corra euth. Re barys ha heforth a veuva, kepar ha pàn ve orth ow gortos ogatty. Hag y lagasow o sley, uthyk sley.
Ny dheuth dhybm son vëth i'n tyller tewl-na. Kebmys dell wodhyen, th'esa an creslu ow sarchya der oll an chy, ha mar qwrêns y defry, y fedha whans dhedha godhvos pandr'esa adrëv an daras-ma. My a strîvyas gwetha rêwl i'm enef dre berthyans, hag ankevy dell en vy mar wag.
Nena me a gafas gwell cher. Scant ny ylly an den jentyl coth naha dhybm prës boos, ha me ow tallath desmygy ow haunsel arta. Backen hag oyow, anjy a vëdh terry nown, ha my ow tesîrya an brâssa radn a hanter-hogh, ha hanter-cans oy gensy warbarth. Hag i'n very tecken mayth esa dhe'm ganow devera govenek, y sonas clyck, ha'n daras owth egery.
Me a dheuth dhe wolow howl in mes ha cafos mêster an chy a'y eseth in cader vrehek dhown i'n stevel henwys y rom studhya, hag ow meras orthy' gans golok a wovyn.
"Yns y departyes?" yn medha'.
"Departyes yns y. My a's perswâdyas why dhe vos tremenys dres an bryn. Ny dhôwysaf an creslu dhe dhos inter my hag onen esof owth enora gans delît. Myttyn a fortyn dâ yw hebma dhywgh, Mêster Richard Hannay."
Pàn esa va ow côwsel, crohen y dhewlagas a wrug crena, dell hevelly, ha codha nebes dres y lagasow loos ha glew. Wàr nûk, y teuth lavaren Scudder dhybm arta i'n pedn, hag ev ow tescrefa den mayth esa an moyha scruth anodho in oll an bÿs. Scudder a lavaras fatell wodhya an den-na "gwil cûgh dh'y lagasow kepar ha falhun." Ha my ow convedhes i'n very prës-na y bosama kerdhys strait poran in caslÿs an envy.
Ow hensa desmygyans, taga an vylen coth veu hedna, ha scappya dhe'n air opyn. Oll gwaitys o an porpos-na, dell wodhyen, rag ev dhe vinwherthyn clor, ha sîna gans y bedn dhe'n daras wàr ow lergh.
My a omdrailyas, ha gweles dew servont, ha pùbonen ow sensy pystol orthyf.
Ow hanow a'n jeva in gwir, mès bythqweth ny vetyas ev genama kyns. Ha pàn dheuth an preder-ma ha gwybya dre'm brës, my a wrug aspia chauns tanow.
"Ny worama pandr'yw gàs styr," yn medhaf in lev brathus. "Prag y'm criowgh Richard Hannay? Ainslie yw ow hanow vy."
"Wèl?" yn medh, ha minwherthyn whath. "Yma dhywgh henwyn erel heb mar. Na wren strif a neb hanow."
Th'esen vy ow dascùntell ow honen solabrës, ha predery na vedhen vy betrayes der ow gwysk wàr neb cor, heb còta vëth na crîspows na gùdhùgen. Me a gemeras ow fâss moyha crothak, ha derevel scodhow.
"Why a vydn ow dascor wosa pùptra, a wrewgh? Drog-cast yw hedna, hyg ha fâlsury. Re'n jowl, aspia an carr tan melygys-na, unweyth na wrellen vy hedna! Ot an mona! Mollath Duw warnowgh!" Ha me a wrug dehesy peswar sovran wàr an bord.
Ev a egoras y lagasow myjyn. "Ogh nâ, ny vanaf agas dascor. My ha'm cothmans, ny a wra gwil acord pryva bian genowgh, hèn yw oll. Why a wor nebes re, Mêster Hannay. Why yw onen codnek dhe blain an gwary, heb bos codnek lowr."
Th'esa va ow côwsel gans omfydhyans, saw me a welas dalathfos a dhowt in y vrës.
"Ogh, sevowgh orth gerya abarth Duw," me a grias. "Yma pùptra wàr ow fydn. Ny'm beu poynt vëth a fortyn abàn wrugama londya in Leith. Pana dhrog yll bos mar kebmer den, anfusyk ha gwag y dorr, bohes vona kefys in carr tan trogh? Ny wrug avy ma's hedna'n udnyk, ha rag hedna th'en vy treddyth tormentys gans creswesyon a'n pla dres brynyow a'n pla. Gwalgh leun a'm beus. Gwrewgh, a welhevyn, dell yw plesour dhywgh! Ned Ainslie, ny vydn ev omlath na whath."
Dell welys, yth esa an dowt ow tevy.
"A wrewgh derivas dhybm, mar plêk, agas gwrians agensow?" ev a wovydnas.
"A vêster, ny allama màn," yn medhaf, ha kynyans gwyw dhe'n beggyor i'm lev. "Ny wruga' debry tabm vëth na hedhyw na de. Rewgh dhèm ganowas a vytel, ha why a glôw an gwir, Duw in test."
Res o my dhe dhysqwedhes ow gwacter i'm fâss, rag ev a sînas dhe onen a'n dus dhyrag an daras. Darn a basty yêyn a veu drës dhybm, ha gwedren a goref, ha me a's loncas kepar ha porhel – poken kepar ha Ned Ainslie, rag my dhe ventêna ow gnas. In cres a'm prës, adhesempys, ev a gowsas orthyf i'n Almaynek, mès me a drailyas orto mir marow avell fos meyn.
Ena me a dherivas ow story – fatell wrug vy londya mes a worhal in Leith, devedhys dhia Arhangelsk, nans o seythen, ha mos fordh dres tir dhe'm broder in Wigtown. Scant veu ow mona – me a hyntyas yn tyscler tro ha gwary medhow – ha my in esow lowr pàn dheutha' warbydn toll i'n ke losow, ha meras dredho hag aspia carr tan brâs a'y wroweth i'n streth. Me a whythras orto nebes, rag desky an pëth a wharva, ha trouvya try sovran wàr an eseth hag onen moy wàr an leur. Nyns esa den vëth ena, na sin vëth a'n perhen, ytho me a gemeras an bathow dhe'm pocket. Saw neb fordh an laha a'm aswonys. Pàn wrug vy whelas chaunjya sovran in shoppa pobas, an venyn êth ha gelwel an creslu, ha nebes a'y wosa, pàn esen vy ow colhy an bejeth in ken streth, namna veuv vy crefys, na ny veuma dienkys ma's dre forsâkya côta ha crîspows.
"Me a ro an mona dh'anjei arta," me a grias, "rag scantlowr ny veu prow dhybmo vy. Beghya an vohosogyon, dhe'n dus pedrys-na th'yw gà nas. Now, mêster, mar pe'why onen a gafas peswar pens, ny venja den vëth gàs trobla."
"Gowleverel, why a'n gyll yn tâ, Hannay," yn medh.
My êth in codnar. "Dyweth dh'agas foly, mollath Duw! Ainslie yw ow hanow, heb martesen, na ny wrugama clôwes hanow Hannay in oll ow dedhyow vy. Gwell via dhybm an creslu avellowgh why ha'gas Hannay ha'gas prattys sym a bystol ... Nâ, mêster, gevowgh dhèm, hedna ny vydnen vy leverel. Sensys ov vy dhywgh a'n vytel, ha gromercy mar y'm gesowgh dhe wary ha'n helgh gyllys in kerdh."
Dell o apert, th'esa penpleth poos warnodho. Bythqweth ny vetyas ev genama, dell wodhes, ha'm semlant chaunjys sur yn frâs, dhyworth a'm skeusednow, mars esa onen ganso. Brav lowr en vy ha gwyskys fin in Loundres; lebmyn th'en vy gwyll gwir.
"Ny vanaf agas gasa dhe wary. Mars owgh an den may leverowgh why dhe vos, y'gas bÿdh spâss yn scon rag afydhya agas gwiryonsys. Mars owgh an den may cresaf why dhe vos, dowtys ov na wellowgh an golow nefra namoy."
Ev a wrug seny clogh, ha tressa servont a dhysqwedhas mes a'n veranda.
"Dro an Lanchester wosa pymp mynysen," yn medh. "Y fëdh tredden orth prës ly."
Nena ev a veras orthy' stark ha hir – hèn o an prov moyha cales oll.
Th'esa nampyth ùncoth ha dyowlak i'n dhewlagas-na, yêyn, spîtys, dres natur, ha sley yn iffarnak. Th'esens y orth ow huda kepar ha lagasow an sarf. Iny brâs a'm kemeras dhe besy y vercy ha dhe brofya omjùnya wàr y barth. Ha mar teth ha consydra fatell esen vy ow cresy fast der oll an dra, ty a wel dell resa an iny dhe vos fysycal yn tien, gwacter empydnyon mesmeryes ha maystrys in dadn greffa spyrys. Saw me a wrug perthy dredhy neb fordh ha gwenwherthyn kefrës.
"Ha my aswonys dhywgh, a vêster, kyns an nessa tro," yn medha'.
"Karl," ev a gowsas i'n Almaynek orth onen a'n dus dhyrag an daras, "ty gorr an pollat-ma i'n withva erna dheffen vy arta, ha ty a vÿdh in dàn ow danjer rag y wardya."
Anjy a'm hùmbroncas mes a'n stevel heb strech, ha dew bystol dhe'm dewscovarn.
*
An withva o rom glebor y gnas, i'n radn a'n aneth o chy an tiak kyns. Nyns esa ledn wàr an leur dygompes, na tra vëth dhe sedha warnodho saw form scol goth yn unsel. Yth o tewl dall, rag pùb fenester dhe vos cudhys gans keas stroth. Me a wrug dyskevra, in udn balvala, fatell esa boxys ha balyers ha seghyer a neb stoff poos sevys an fosow ahës. Th'esa fler a gewny ha bal sqwattyes der oll an tyller. Ow jailoryon a drailyas an alwheth i'n daras, ha my ow clôwes an wethysy wàr ves dre stankyans a'ga threys.
Me a sedhas i'n tewlder yêyn-ma, ha pòr vorethek ow cher. An den coth o gyllys i'n carr rag kemeres an dhew smat a wrug omwel genama de. Now, anjy a'm gwelas in rol an oberwas, hag y fedhens y ow perthy cov ahana', rag my dhe vos gwyskys i'n keth dyllas. Prag yth esa oberwas ugans mildir mes a'y dyller, ha helghyes gans an creslu? Wosa qwestyon pò dew anjy a vedha very nes dhe'n gwir. Dre lycklod, metys gans Mêster Turnbull a vowns y i'n mên-termyn; gans Marmie kefrës; pùb lycklod y fedhens y ow tesmygy an gevren intredhof ha Syr Harry, nena an holl dra a vedha mar gler avell gwrys. Py chauns a'm bo in chy an won-ma gans try vylen ha'ga servons ervys?
Th'esen vy ow predery a'n creslu gans hireth solabrës, hag anjy ow trosya lebmyn dres an brynyow in helgh a'm tarosvan. Dhe'n lyha anjy o kestrevesygyon ha tus onest, hag y fedha aga dyghtyans cuffa agès an estrenyon vedhrosus-ma. Saw ny vensens y gwil vry a'm whedhel. An tebel-gothwas ha'y hager-grohen dhewlagas a ryddyas y honen anedha scon lowr. Dell hevelly dhybm, yth esa brîbyans i'n constableth, pùb lycklod. An den a'n jeva lytherow screfys gans menystrys an Cabynet, pòr wirhaval, ow ry kenyver comodyta rag plottya warbydn an Vreten Veur. Gis ûla, th'yw omdhon a'gan gwlasegeth a'n very par-na i'gan Pow Coth.
An tredden a vydna dos tre rag lyfya, aga thry, ytho ny vedhen vy ow cortos moy ès dew our. Gortos dyswrians, rag na yllyn vy desmygy scappyans a'n drog-vyshyf-ma. A pe dhybm unweyth coraj Scudder! Rag franchys a'm beus dhe amyttya nag esen vy ow cafos colonecter meur. An udn dra only esa ow kenertha, hèn o y bosama serrys brâs. Th'esa codnar vryjys inof, ha my ow predery an try aspias dell gafsons y poynt a brow orthyf. Wèl, re biv ow corra tro in codna onen anedha kyns ès anjy dhe'm ladha!
Dhe voy me a bredery, dhe voy me a veu wod, ha res o dhybm sevel in bàn ha kerdhes der an plâss. Me a brovas an keasow, mès anjy o a'n par yw degës gans alwheth, ha ny yllyn aga gwaya. Avês yth esa clùckyans clor a yer i'n howl tobm. Ena me a wrug tava in mesk oll an seghyer ha'n boxys. Ny yllyn egery an boxys, ha'n seghyer o leun, dell hevelly, a daclow par ha byskyttys ky ha sawor a ganel dhedha. Saw i'm golyans adro dhe'n rom me a drouvyas dornla wàr an fos, ha hedna wordhy a whythrans, dell dybys.
Daras amary fos o va – sort a gùbert cries press in Scotlond – ha degës in dadn alwheth. Me a'n shakyas, ha hedorr o va, martesen. Heb gwell tra dhe wil, me a settyas nell wàr an daras-na, ow cafos dalhen i'n dornla dre ûsya ow galosys in cabester. Wharê ev a dorras sqwat, hag own a'm beu an tros dhe sompna ow gwethysy. Me a wortas polta, ena dallath examnya estyll an amary.
Th'esa lu a daclow coynt warnedha. Me a gafas nebes tanbrednyer in pocket ow lavrak ha rùttya golow. Dyfudhys veu wosa tecken, saw ev a wrug dysqwedhes tra a bris. Yth esa neb stock a dorchednow tredan wàr udn estyllen. Me a gemeras onen, ha cafos hy bos ow qwythresa yn tâ.
Gans an dorchen dhe'm gweres me a whythras pelha. Th'esa botellow ha câssys a stoff dyvers ha coynt y fler, kemygyon heb dhowt rag arbrovow, hag yth esa tergh a wyver cober fin, ha kenglow-kenglow a syjan tanow hag urys. Th'esa box a dardhoryon, ha cals a gorden rag fûsys. Wàr udn estyllen in hy hil dewetha me a gafas box a basbord gorm ha tew, hag ino câss predn. Me a'n egoras, yn harow, hag otta whegh bryck loos aberveth, pùbonen dew vesva ha dew vesva in pedrak.
Me a gemeras onen hag ev ow mos dhe vrows êsy i'm dorn. Ena me a brovas y smellyng ha gorra ow thavas dhodho. A'y wosa me a sedhas rag predery. Nyns esen vy injynor bal yn euver, ha my owth aswon lentonît pàn y'n gwelys.
Gans onen a'n bryckys-ma y hyllyn vy gwil dhe'n chy tardha dhe dymynygow. Me a ûsyas an stoff-ma in Rôdesya, hag aswon y nerth. Saw soweth, nyns esen vy orth y wodhvos yn kewar. Ankevys veu myns an lanow ha'n fordh ewn a'y barusy, na nyns en vy sur a'n termyn ha'y reknans. Godhvos a'y nerth o dyscler dhybm kefrës, rag kyn whrug avy ûsya an stoff solabrës, th'esa va intra'm besias lebmyn dhe'n kensa tro.
Saw chauns o va, ha nyns esa ken onen vëth. Peryl meur o va, mès y gontrary o certuster du ha diambos. Mar mydnen vy ûsya an stoff, an chauns o pymp worth onen, dell reknys ogas lowr, y fedhen vy ow neyja sqwattys bys i'n gwëdh awartha; saw mar ny vydnen, th'esa lycklod brâs my dhe vos tregor i'n lowarth kyns gordhuwher, in toll whegh troos'hës y dhownder. Res o dhybm y gonsydra indella. Nyns o an dhargan ma's asper, an eyl fordh ha'y ben, saw wàr neb cor yth esa chauns, dhybmo vy ha dhe'm gwlas.
Remembra Scudder bian, y'm tros hedna dhe'm determyans. Th'o an lacka prës in oll ow bêwnans martesen, rag cas yw genef ervira taclow a'n par-na in goos yêyn. Me a rathas, bytegyns, coraj lowr warbarth rag gwasca ow dens yn tydn ha lettya an liv a dhowtys uthyk o parys dhe'm overcùmya. Me a dhegeas ow brës wàr aga fydn ha fâcya my dhe wil arbrof mar sempel avell tanow creft Guy Fawkes.
Me a gafas tardhor, ha'y staga orth dew droos'hës a fûs. Ena me a gemeras qwartron bryck lentonît, ha'y encledhyas ogas dhe'n daras in dadn onen a'n seghyer in crig i'n dor, ha fastya an tardhor ino. Scant ny wodhyen vy hanter a'n boxys-na mars êns y dynamît. Mars o contens an amary defnyth tardha a'n par-ma, prag na ve stoff kepar i'n boxys? Dhana y fedha viaj gloryùs i'n nev dhybmo, ha dhe'n servons Alman, ha dhe neb erow a'n pow oll adro. Th'esa peryl inwedh an tardh dhe wil tardha dhe'n bryckys erel i'n amary, rag ankevys veu dhybm an brâssa radn a'n myns a wodhyen vy tùchyng lentonît. Saw tyby an possybyltys, th'o heb les vëth. Uthyk an chauns, mès res y gemeres.
Me a settyas ow honen knack in dadn legh an fenester, ha tùchya an fûs. Nena me a wortas tecken pò try. Taw marow – nyns esa ma's drayl botas poos i'n dremenva, ha clùckyans cosel an yer i'n tomder wàr ves. Me a gomendyas ow enef dhe'm Gwrior, hag omwovyn ple fedhen vy wosa pymp secùnd.
Dell hevelly, todn vrâs a bothter êth herdhyes dhia'n leur in bàn, ha cregy udn pols bros i'n air. Ena an fos adâl dhybm a luhesys bys in melen owrek hag omdedha in taran a dhystrùcsyon a wrug mortholya an empydnyon in glus. Nampyth a godhas warnaf, ha cronkya ow scoodh gledh wàr hy amal.
Nena, dell gresa', me a veu clamderys.
Res yw ow clamder dhe vos heb durya scant moy ès nebes secùndys. Th'esa sensacyon a vos tegys in mog melen ha tew, ha my ow strîvya dhe dhos mes a'n atal orth ow threys. Neb le wàr ow lergh yth esa air fresk dhe verkya. Kilbôstow an fenester o dyfygys, ha'n mog ow scùllya der an sqward skethrek i'n hanter-dëdh a hâv in mes. Me a wrug stap dres hy fedn codhys, hag omgafos in garth, a'm sav in nywl borr wherow. Th'en vy gyllys fest clâv ha parys dhe wheja, saw me a worras an esyly in gwayans, ow mos dall in rag, in udn drebuchya, ha dhia'n chy in kerdh.
Th'esa shanel melyn bian ow resek in odyt predn a'n tu aral dhe'n garth, ha my ow troppya inhy. An dowr goyeyn a'm dasvewas, ha skians lowr whath i'm pedn rag desmygy scappyans. Me a herdhyas ow honen an shanel in bàn, mesk an lis slynk, erna wruga' drehedhes ros an velyn. Ena me a wrug gwengel dre doll an ehel aberth i'n velyn goth, ha codha wàr wely us. Higednys veu kenter orth tin ow lavrak, ha tos a gemysk grug gesys wàr ow lergh.
An velyn o sqwattys termyn hir. An skeulyow o poder dre henys, ha'n logas brâs a wrug knias tell meur in leur an soler. Crenys clâv wheja en vy, hag yth esa ros i'm pedn ow trailya prest adro, mès ow scoodh gledh ha'm bregh gensy o, dell hevelly, paljies oll. Me a wrug meras mes a'n fenester ha gweles bos nywl cregys a-ugh an chy whath, ha mog ow tylla dre fenester avàn. A worrys vy tan i'n plâss? A mydna Duw! Rag yth esa criow sowthenys dhe glôwes a'n tu aberveth.
Saw nyns esa termyn lowr dhe darya, rag an velyn-ma dhe vos covva wadn, pòr apert. Pùb sarchyor a vydna sewya an shanel, ha certan en vy an helgh dhe dhallath kettel wrellons y cafos nag esa ow horf i'n withva. Mes a fenester aral me a welas bos colomyer coth a veyn, a'y sav a'n tu pell dhe'n velyn. Mar kyllyn vy dos dy heb gasa olow, kefys vedha gwell covva martesen, rag y fydna ow eskerens ervira my dhe vos scappyes dhe'n tir opyn, dell wren vy argya, mar pedhens y ow cresy my dhe allos gwaya, hag anjy a vydna ow sarchya nena wàr an won.
Me a gramyas an skeul drogh dhe'n dor, ha tôwlel usyon alês wàr ow lergh rag cudha an olow. My a's tôwlys wàr leur an velyn inwedh, ha wàr an treuthow mayth esa an daras cregys wàr vahow trogh. Me a wrug gîky mes, ha gweles bos splat meyn cauns gwag intra my ha'n colomyer, le na vedha olow dhe weles. Cudhys o va kefrës, grâss e dhe Dhuw, gans treven an velyn dhyworth pùb syght a'n chy brâs. Me a slynkyas dres an spâss, dos bys i'n colomyer dhelergh, ha whelas fordh rag crambla in bàn.
Hèn o onen a'n oberow moyha cales dell wrug avy assaya bythqweth. Yth esa ow scoodh ha'm bregh owth hùrtya yn iffarnak, ha kebmys ow whans a wheja, kebmys scafter dhe'm pedn, namna wrug vy codha. Saw me a'n spêdyas neb maner. Dre ûsya meyn valek hag aswiow i'n menweyth ha gwredhen idhyow stordy, me a dheuth dhe'n top wàr an dyweth. Yth esa crenel bian, hag adrëv dhodho my a gafas tyller rag growedha. Ena my êth in clamder gis coth hag êsy wàr rag.
My a dhyfunas ha pedn genef ow facla, ha'n howl ow shînya smat wàr ow fâss. Termyn hir yth esen vy a'm groweth heb gwayans, rag an mog uthyk a wrug lowsel ow mellow, dell hevelly, ha'm empydnyon gesys sogh. Th'esa sonyow ow tos dhybm mes a'n chy – tus ow côwsel ronk aga briansen ha môtour ow polsa in carr a'y sav. Th'esa aswy vian i'n crenel, may whrug vy gwengel dhedhy ha cafos neb golok dhe'n garth. My a welas fygùrs dhe dhos in mes – servont ha'y bedn lystednys, ena yonca den in lavrak penglin. Th'esens y ow whelas nampyth, hag ow nessa tro ha'n velyn. Nena onen anodhans a wrug aspia an tos a badn wàr an genter, ha cria orth an aral. Anjy êth aga dew i'n chy arta ha kerhes dew moy rag meras. Me a welas fygùr rônd ow fredhor kyns, hag aswon kefrës an den stlav wàr y davas par hap. Me a verkyas bos pystol gansans oll.
Hanter-our yth esens y ow pylla an velyn. Me a's clôwas dell esens y owth omwheles an balyers, in udn bôtya, hag ow tedna an plankys poder in bàn. Ena anjy a dheuth in mes, ha sevel knack in dadn an colomyer, ow têry gwyls. An servont ha'n lysten ganso, th'esens y ow rebukya hedna yn fen. Me a's clôwas dell esens y ow fysla gans daras an colomyer, ha tecken uthyk my a waitya aga devedhyans avàn. Ena anjy a wrug chaunjya porpos, ha mos i'n chy arta.
Dre dhohajëdh tobm tydn, yth esen vy a'm groweth, pebys cras, wàr an to. An chif-torment o sehes. Ow thavas êth serth kepar ha gwelen, ha'n dra o lacka dhe voy rag my prest dhe glôwes deverans clor a dhowr yêyn mes a shanel an velyn. Th'esen vy ow meras resekva an gover bian, le mayth esa va ow tos dhywar an won, hag i'm desmygyans my a'n holyas bys in gwartha an glydn, mayth esa va sur ow tylla mes a benfenten pòr yêyn, ha reden ha best er in hy herhyn. Me a vensa ry mil bens rag troghya ow fâss inhy.
Golok deg a'm bo dres oll an kelgh a hal. Me a welas an carr ow fysky in kerdh gans dew vylen ino, ha den wàr geyn merhyk ow marhogeth dhe'n ÿst. Dhe'm breus, th'esens y orth ow sarchya, ha re bo dhedha sowenyans!
Saw me a welas nampyth ken, o brâssa y les. Namnag esa an chy wàr hothfians a won, wàr hy very top, neb o cùrun settys wàr sort a wastattir, ha nes agès an brynyow meur, whegh mildir pell, nyns esa uhella tyller vëth. An topyn y honen, dell wruga' compla solabrës, o bodny mynsek a wëdh – sab dre vrâs, ha lower odnen, lower fawen kefrës. Wàr an colomyer th'esen vy dhe'n keth level ha pedn an gwëdh, abyl dhe weles an pëth adhelergh. Nyns o an coos solyd, th'o kelgh only, hag yth esa spâss hirgren ino a wels glas, fest hevelep dhe bark brâs crycket.
Desmygy pandr'o, scon veu hedna. Hy o airenva, airenva gudh. Dôwysys o an plâss pòr sley. Rag mar mydna nebonen aspia airen ow skydnya obma, ev a gressa hy bos gyllys dres an vre in hans dhe'n gwëdh. Drefen an plâss dhe vos wàr dolgh in cres kelhenva vrâs, pùb aspior in pùb qwartron a vensa tyby hy dhe bassya mes a wel adrëv an vre. Ny vensa den vëth convedhes, marnas onen pòr ogas, nag o an airen tremenys màn, mès skydnyes in cres an coos. Y halsa whythror wàr onen a'n uhella brynyow godhvos an gwir, mar pe gweder aspia ganso, saw nyns esa ma's bugeleth ow mos dy, ha bugeleth ny's teves daffar a'n par-na. Pàn wrug vy meras dhywar an colomyer, yth esen vy ow qweles i'n pellder lînen las, ha my ow codhvos hy bos an mor, hag ow serry brâs a'n preder dell ylly agan eskerens racana dowrhensy Bretednek mes a'n tour a wolva gel-ma.
Ena me a gonsydras an chauns dell o deg worth onen my dhe vos dyskevrys mar teffa an airen arta. Ytho, growedhys oll an dohajëdh, me a yêwny devedhyans a'n tewolgow, ha pòr lowen en vy pàn sedhys an howl a-ugh an brynyow brâs i'n wèst, ha'n dysclerder inter dew wolow ow slynkya dres an won. An airen a veu holergh. An tewlwolow o avauncys dâ pàn glôwys vy polsans eskelly, ha'y aspia ow volplânya dh'y thrigva i'n coos. Th'esa lugern ow terlentry nebes termyn; ha dos ha mos, showr anodho, orth an chy. Ena y codhas tewlder, ha taw.
Du peg o an nos, grâss hy dhe Dhuw. An loor o gyllys pell in hy whartron kilgans dewetha, heb drehevel bys holergh. Ow sehes o re vrâs dhe darya moy, ytho ogas dhe naw eur, kebmys dell yllyn vy rekna, me a dhalathas skydnya dhe'n dor. Ny veu êsy, ha hanter-fordh me a glôwas daras dhelergh an chy dhe egery, ha gweles dewyn lugarn wàr fos an velyn. Nebes mynysow dyflas th'esen vy ow cregy i'n idhyow ha pesy wàr Dhuw, pynag a ve den an lugarn, na wrella ev dos dhe'n colomyer nes. Ena an golow êth vansys, ha me a dhroppyas, mar dawesek dell yllyn, dhe'n pry cales an garth.
Me a gramyas wàr ow thorr in goskes banken a veyn, bys may teutha' bys in oryon an gwëdh esa adro dhe'n chy. Mar cothfen y wil, me a vensa whelas myshevya an airen, rag na alla hy neyja, saw euver a vedha pùb assay in oll lycklod, dell wruga' convedhes. Sur lowr en vy bos dhe'n chy neb defens in y gerhyn, ytho my êth der an coos wàr ow feswar, hag ow palva pùb mesva dour. Dâ veu hedna, rag wharê my a dheuth warbydn gwyvren dew droos'hës a-ugh an dor. Mar pen vy trebuchys warnedhy, heb dhowt hy a wrussa dhe glogh seny i'n chy, ha my kychys teg.
Cans lath pelha, me a gafas ken gwyvren dhesedhys fel wàr vin gover bian. Dresto th'esa an won, ha gyllys veuv vy down in reden ha grug kyns pedn pymp mynysen. A verr spis me a bassyas dres scoodh an tolgh i'n glydn bian mayth esa shanel an velyn ow resek in mes. Deg mynysen a'y wosa, yth esa ow fâss i'n benfenten, ha my ow lenky lower pynta a'n dowr benegys.
Saw ny wrug vy powes erna veu hanter-dewdhek mildir settys inter my ha'n aneth hager-vollethys-na.
CHAPTRA 7
AN PESCADOR PLUV SËGH
Me a sedhas wàr vre awartha, ha rekna stock ha savla. Lowen nyns en vy, rag ow grâss naturek a'm scappyans o cudhys in dadn dhysconfort fysycal ha cloud ahas. Mog a'n lentonît a wrug posnya in gwir, hag oll an ourys a bobas tobm wàr an colomyer ny rosons y gweres. Th'esa drog pedn warna', meur y wask, ha my mar barys dhe wheja 'vell an gath. Kefrës, ow scoodh o hager hy flit. Dhe'm kensa breus, ny veu moy ès brew crohen, saw th'esa hy ow whedhy, na ny yllyn vy ûsya ow bregh gledh.
Ow forpos o whelas penty Mêster Turnbull, dascafos ow dyllas, ha lyvryn Scudder spessly, ena trouvya pedn-lînen an hens horn ha mos arta dhe'n soth. Dell hevelly, dhe sconha y fydnen vy omdava gans den an Sodhva Dramor, Syr Walter Bullivant, dhe well y fedha dhyn ny oll. Ny yllyn vy, dhe'm breus, cafos moy a dùstuny ès dell esa genef solabrës. Ny resa ma's recêva pò sconya ow whedhel. Ha me a vedha, wàr neb cor, in gwell charj ganso ev ès mesk an Almanas dhyowlak-ma. Wosa oll an anethow, th'en vy inclynyes moy caradow dhe'n creslu Bretednek.
Nos sterednek marthys clor o hy, ha my ow cafos fordh heb caletter brâs. Me a wodhya fâss an pow, deskys a vappa Syr Harry, ma nag eus otham ma's a lewyas poynt pò dew dhe'n wèst a soth-wèst rag dos dhe'n gover may whrug vy metya kyns gans an oberwas. In oll ow viajyans, bythqweth ny wodhyen hanow dhe'n tyleryow dyvers, saw in very gwir an gover-ma o ragdhowr an Tweed, dell gresa'. Me a reknas an pellder dhe vos êtek mildir aderdro, ha styr hedna o my heb gallos dos dy kyns myttyn. Ytho res o dhybm omgeles neb plâss, rag yth en vy fygùr re hager ow syght dhe vos gwelys in golow an howl. Nyns esa côta dhybm, na crîspows, na gùdhùgen, na hot naneyl. Ow lavrak o drog-drogh, ha'm bejeth ha'n dhêwla o du drefen an tardh. Ken poyntys a decter a'm bo, heb dhowt, rag ow lagasow dhe vos, dhe'm clôwans, gojek gwythy fest. Oll warbarth, nyns en vy gwel gwyw màn dhe len-Gristonyon an benfordh.
Wosa terry an jëdh, hag a spis a'n berra, my a assayas omwolhy in streth bryn, ena prevy penty bugel, rag ewl boos dhe vos warna'. Nyns esa an bugel i'n chy, ha'y wreg o dygoweth, heb kentrevak nes ès pymp mildir. Benyn goth vas o hy, hag onen golodnek, rag kyn kemeras hy euth pàn wrug ow gweles vy, bool o parys dh'y dorn, ha hy whensys dh'y ûsya orth kenyver drog-oberor. Me a dherivas my dhe sùffra coodh – ny leverys pana vaner – ha hy a wrug convedhes a'm syght y bosama clâv lowr. Kepar ha Samarytan gwir, ny worras orthy' qwestyon vëth, mès hy a ros bolla leth ha spot a wyras Alban ino, hag alowa dhybm esedha polta ryb tan an gegyn. Porposys o hy, badhya ow scoodh, saw mar dydn yth esa gloos, ma na vydnen gasa hy dh'y thava.
Ny worama hy breus, pyw en vy – lader nos, codhys in edrega, martesen; rag pàn vydnys vy tylly an leth dhedhy ha profya sovran, hag o an biadnha bath esa genef, hy a shakyas hy fedn ha leverel nampyth par ha "ry dhe'n re eus gwir dhodho". Orth hebma me a brotestyas maga crev, may whrug hy cresy y bosama onest, pò bos lycklod anodho, ha hy ow kemeres an mona ha ry dhybm brithlen nowyth ha cles, ha hot coth ow longya dh'y gour. Hy a dhysqwedhas fatell wrellen vy plegya an vrithlen adro dhe'm scodhow, ha pàn êth ha departya orth an penty-ma th'en vy imach bew a'n sort a dhen Albanek esos ow qweles in lymnans dhe gânow Burns. Wàr neb cor, my o gwyskys, moy pò le.
Tra dhâ o hodna, rag an gewer dhe jaunjya kyns hanter-dëdh in glûthglaw tew. Me a gafas scovva in dadn garrek valek ryb neb streth orth y droboynt, mayth esa dryft a reden marow ow provia gwely uvel attês. I'n tyller-ma th'esen my ow cùsca bys gordhuwher, ha pàn dhyfunys my o crobmys ha myserabyl glân, ha'm scoodh knies gans gloos haval dhe dhrog dens. Me a dhebras an desen gergh ha keus a ros an wreg goth, ha dallath i'm viaj unweyth arta, tùch kyns an tewlwolow.
Me a sav orth derivas ow anken der oll an nos-na mesk an brynyow glëb. Nyns esa ster may hallen vy lewyas ortans, ha res o dhybm mos gwelha gyllyn herwyth cov a'n mappa. Dywweyth my êth mes a'm fordh, ha my a godha in pollow towargh yn tyflas. Nyns esa dhybm ma's deg mildir, dell neyj an vran hy neyj, saw ugans y fowns der ow stray. An dewetha hës a veu gorfednys gans gwasca dens, ha'm pedn pòr scav ha gwadn. Saw me a wrug drehedhes dhredhy, hag orth terry an jëdh avarr knoukya wàr dharas Mêster Turnbull. An nywl o isel ha tew, ha dhyworth an penty nyns o an benfordh dhe weles.
Mêster Turnbull y honen a wrug egery an daras – dyvedhow, ha nebes moy ès dyvedhow. Gwyskys o yn kempen in sewt du, auncyent mès gwethys yn tâ; dyvarvys veuva newher, adar kyns, dowt vëth; yth esa gùdhùgen lyn ganso; hag ev ow ton Beybel pocket in y dhorn cledh. Ny'm aswonys orth an dallath.
"Pyw o'whei, o'tos hag o'crowdra obma myttyn an Sabot?" ev a wovydnas.
Kellys veu kevrif dhybm a'n dedhyow oll. An Sabot ytho, hèn o skyla an dynyta coynt-ma.
Th'esa ow fedn frobmys gwyls, ma na yllyn formya gorthyp kesclenus. Saw ev a'm aswonys, ha gweles y bosama clâv.
"Eus ow speckys gena jy?" ev a wovydnas.
My a's kemeras in mes a bocket ow lavrak ha'ga dascor.
"Whei ew devedhys rag gas jerkyn ha'gas crispows," yn medh. "Deus obma ajei. A Dhuw, gas garrow, tho'whei plit ithyk. Gortow' erna rellen kerhes chair dhe whei."
Me a wodhya convedhes fyt a gleves sêson dhe vos warna'. Th'esa cals a fevyr i'm eskern, ha'n nos glëb a'n dros in mes. Th'esa goly an scoodh hag effeth an mog ow kesunya kefrës rag sqwattya ow yêhes pelha whath. Adhesempys, yth esa Mêster Turnbull ow qweres orth dysky dyllas, ha'm gorra dhe'n gwely in onen a'n dhew gùbert wàr amal fos an gegyn.
Cothman gwiryon o dhybm i'm otham, an oberwas coth-na. Y wreg a veu marow lies bledhen alena, hag ev tregys yn tygoweth abàn êth y vyrgh ha demedhy.
Dres an brâssa radn a dheg dëdh yth esa ev ow qwil dhybm oll an cheryans a resa. Nyns en vy ma's whensys dhe vos gesys in cres hadre ve an fevyr ow resek, hag ow crohen pàn veu myglys my a gafas an fyt dell wrug dhe'm scoodh yaghhe dâ lowr. Drog-termyn o va bytegyns, ha kyn feuma sevys mes a'n gwely wosa pymp dëdh, neb termyn moy o reqwîrys rag crefhe ow garrow vy arta.
An den-ma êth mes a'n chy pùb dëdh, ha gasa leth dhe'n jëdh ragof, ha degea an daras in dadn alwheth; ha dos tre gordhuwher rag esedha in cornel an olas hag in taw. Ny dheuth ken onen vëth i'gas nes. Hadre ven vy ow sawya, ny wrug ev ow throbla gans qwestyon vëth, bythqweth. Moy ès unweyth ev a gerhas dhybm an Scotsman dew dhëdh coth, ha my a verkyas an studh dell o gyllys cosel adro dhe'n moldrans in Portland Place. Nyns esa mencyon anodho, na ny yllyn vy trouvya ma's very nebes tùchyng tra vëth, saw certan Cùntellyans Kemyn yn unsel – sort a gyffewy a'n eglos, kebmys dell wodhyen.
Udn jëdh Mêster Turnbull a gerhas ow grugys mes a neb trog tedna esa in dadn alwhedhow naw. "Ma cals arhans broas etto," yn medh. "Gwell dhe whei y gomptya ha checkya oll y vos ena."
Ny wovydnas ev unweyth a'm hanow vy. Me a wrug govyn orto, mara qwrug nebonen vysytya, in udn whythra, warlergh ow frës ober fordh.
"Ea, thera den in carr tan. E rug govyn pyw gemeras ow le i'n jedh-na, ha me rug y sconya pecar ha peva onen muscok. Saw therava covyn heb hedhy, tho me rug lawl, res o e'dhe vetya gen ow broder da, ujy tregys i'n Haunans hag o'rei gweres dhebm traweythyow. Gwas idhyl y drem o hedna, ha ny rugam understondya hanter y davas naneyl."
Fyslak en vy i'n dedhyow dewetha-ma, ha kettel veuv vy omsensys yagh me a wrug ervira dyberth. Yth o an 12ves mis Efen solabrës, ha dre hap y teuth hùmbrynkyas a vestas in udn bassya i'n myttyn-na, ow trîvya gwarthek dhe Moffat. Den henwys Hislop o va, cothman dhe Turnbull, hag ev a dhebras haunsel genen ajy ha profya ow degemeres in coweth.
Me a gonstrînas dhe Turnbull recêva pymp pens rag ow gwestva, hag ober veu cales lowr. Bythqweth nyns esa onen moy anserhak i'n bÿs. Ev êth stowt dyscortes, ha gohelus rudh y vejeth, ha kemeres an mona heb grâss wàr an dyweth. Pàn leverys kebmys en vy sensys dhodho, ev a wrug stlevy bos "neyl torn da tendel gela." A qwelles agan farwèl, ty a vensa desmygy y vos kescar in dyflassys.
Hislop o pollat jolyf y jer, hag ev ow clappya dres oll an gulva bys in valy howlek Dowr Anan wàr nans. Th'esen vy ow côwsel a varhajow Gallowey ha prîsyow davas, hag ev ervirys y bosama "pack-vugel" a'n côstys-na – pynag oll a vo hedna. Th'esa ow brithlen ha'm hot coth, dell leverys kyns, ow qwil semlant Albanek brav a'n gwaryjy. Saw drîvya gwarthek yw lavur mortal lent, ha ny a spênas an moyha radn a'n jëdh rag mos hanter-ugans mildir.
Na ve dhybm colon mar leun a wovyjyon, my a vensa kemeres plesour a'n pryjweyth-na. An ebron o glas spladn, ha'n vu ow chaunjya prest, dres brynyow gell ha dolow gwer pell, hag awhesydhas ow seny pùb eur oll, ha gelvynogas, ha goverow i'ga skydnyans. Saw dhybmo nyns esa attendyans vëth a'n hâv, ha bohes a gescows Hislop, rag yth esa an jëdh tenkysek ow nessa, an 15ves mis Efen, ha my re vehys a'm oberen ha'y haletter dyweres.
Me a dhebras con uvel neb tavern in Moffat, ha kerdhes dyw vildir dhe'n gorsaf, o stacyon kes'hens wàr an pedn-lînen. Train uskys an nos dhe'n soth, nyns o va gwaitys kyns hanter-nos, ha rag lenwel an spis my êth dhe'n run in bàn ha codha in cùsk, rag sqwith en vy wosa oll an kerdh. Namna wrug vy cùsca re hir, ha res veu dhybm ponya bys i'n gorsaf hag entra dhe'n train scant dyw vynysen kyns an whyb. Gwy pluvogow garow an tressa class, ha sawor backa coth y vlas, y whrussons y kenertha cher marthys scon. I'm colon dhe'n lyha, yth esen vy ow mos in gavel orth an pëth a veu charjys dhybm.
Denewys veuma in Crewe i'n man-euryow in mes, ha res o gortos bys whegh eur rag kemeres train dhe Birmingham. Devedhys veuv vy in Reading dohajëdh, ha chaunjya orth train a'n vro esa ow viajya dre Bow Berek in y berveth. Wharê y teuth dhe direth a vuthynyow dowr ha goverow kersek syger. Eth eur androw, canjeon sqwith ha dyslywys a'n fordh hir – hanter-gonesyas, hanter-milvedhek – ha brithlen checker du ha gwydn degys wàr y vregh (rag nag esa coraj dhybm a'y wysca, soth dhe'n Or), y whrug hebma skydnya in gorsaf bian Artinswell. Th'esa lower pobel wàr an cay, ha gwell dhybm, dell dybyn, heb pesy kevarwedhyans bys may fen vy polta dhyworto.
An fordh a lêdya dre goos a faw brâs, ena in golans aberveth, ha trum glas an gonyow ow cîky dres an pelha gwëdh. Wosa Scotlond yth esa sawor poos ha plat dhe'n air, mès wheg heb worfen, rag an owrwern ha gwëdh kesten ha bojow laylock dhe vos cromdohow a flourys. Me a dheuth dhe bons wharê, mayth esa strem lent ha cler ow frosa in dadno, inter blejyowegow a baw bran an dowr, mar wydn avell an ergh. A-ughto th'esa melyn; ha fros an gores ow seny goyeyn ha wheg i'n tewlwolow saworys. Coselhës en vy neb maner hag attês i'n tyller-ma. My êth ha whybana, ow meras aberth i'n downder glas, ha'n gân i'm gwessyow th'o 'Annie Laurie'.
Pescador a gerdhas a'n ladn in bàn, hag ev inwedh ow tallath whybana, kettel dheuth i'm ogas. Ha'n gân a veu kescan, rag yth esa an den-ma ow sewya sewt dhybm. Onen cowrek o va, gwyskys in lavrak gwlanen dygempen, ha hot ganso, ledan y vin, ha sagh canfas cregys wàr y scoodh. Ev a sînas orthy' gans y bedn, ha bythqweth kyns ny welys vy fâss moy codnek ha clor. Ev a wrug dh'y welen, bambou moon a dheg troos'hës, posa worth an pons, ha meras i'n dowr gene'vy warbarth.
"Cler teg, a nyns yw?" yn medh, plesont y lev. "Gwell yw agan Dowr Kennet pùb dëdh oll ès Dowr Test. Mir orth an pysk brâs-na. Peswar pens, moy dre lycklod. Saw gyllys yw an eur neyja bejeth in bàn, ha ny yller aga themptya."
"Ny'n gwelaf," yn medha'.
"Mir dhan! Otta va! Dhyrag an cors, scant udn lath, knack arag an darn a dhowr garow-na."
"My re'n cafas ev. Ha'y very syght kepar ha men du."
"Ytho," yn medh, ha whybana 'Annie Laurie', udn musur moy.
"Twisdon yw dha hanow, a nyns yw?" yn medh dres y scoodh, ha'y wolok fast wàr an strem whath.
"Nag yw," yn medha'vy. "Agh fyllys! Twisdon defry." Rag tecken ow henhanow êth nakevys oll.
"Fur yw an brasyor a wor y hanow yn tâ," ev a wrug merkya, ha gwenwherthyn ledan orth lagyar, esa ow tos mes a skeus an pons.
My a savas serth ha meras orto. Meras orth an elgeth pedrak, an challa feljys ha ledan, an tâl linednys ha plegow crev y vogh. Ha dallath cresy, otta kefrysyas wordhy wàr an dyweth. Y lagasow blou ha siansek, yth êns y pòr dhown aga golok.
Desempys ev a blegyas y dâl. "Methus yw, dhe'm breus," yn medh, hag uhellas y lev. "Den abyl y gorf, methus dell wrewgh bedha ha beggya! Why'yll cafos prës boos mes a'n gegyn, adar mona vëth dhyworthy'vy."
Th'esa scafcarr ky ow passya, ha'n lewyor, den yonk, ow terevel y whyp rag salusy an pescador. Pàn veu hebma gyllys, ev a gemeras y welen in bàn.
"Awot ow chy," yn medh, ha dysqwedhes dhe yet gwydn, cans lath pelha in rag. "Gortowgh pymp mynysen, ena mos adro, bys i'n daras dhelergh." Ha nena ev êth ha dyberth.
Me a wrug dell veu erhys. Me a gafas penty teg ha glesyn ow resek dhe'n strem wàr nans, ha gwylcoos perfeth a gorswig ha laylock orth amal an trûlergh. An daras dhelergh o egerys solabrës, ha botler sad orth ow gortos.
"Dewgh an fordh-ma, sera," yn medh, ha'm hùmbrank, tremenva ahës, stairys dhelergh in bàn, ha dhe jambour plesont ha vu dhyworto wor'tu ha'n ryver. I'n tyller-ma my a gafas cowl-aparell, o settyes parys dhybm. Gwysk gordhuwher hag oll an taclow ganso: sewt gwlanen gorm, cris, gùdhùgen, colm codna, daffar dyvarva ha scubylen blew, ha skyjyow lether lenter kefrës. "Syr Walter a dyby dyllas Mêster Reggie dell vydn desedha dhwygh, sera," yn medh an botler. "Yma ev ow sensy nebes dyllas obma, rag ev dhe vysytya yn rêwlys lies pedn seythen. Golghva yw an rom kentrevak, ha my re wrug parusy keryn dobm. Kydnyow wosa hanter-our, sera. Te a glôw an gong."
An gwas sad a wrug kildedna, ha my a sedhas wàr gader vrâs, chynts hy hudhlen, ha lagata stark. Kepar ha neb anterlyk Nadelyk, desempys y feuv vy devedhys in mes a'm beggyans bys i'n confort glanyth-ma. Th'esa Syr Walter ow cresy ino'vy, dell o apert, kyn na yllyn desmygy praga. Me a wrug meras orthyf ow honen i'n gweder, ha gweles pollat howl-lywys, gwyls ha lavuryes, pylednek y varv a bymthek nos, ha doust i'n scovornow ha lagasow, comen y hevys heb gùdhùgen, y dhyllas brethyn dyfurv, ha'y votas heb glanhe nans o mis ogatty. Gwyll brav me a veu, ha hùmbrynkyas dâ lowr a vestas; hag otta vy gedys gans botler kempen i'n templa gracyùs hag attês-ma aberveth. Hag ot an gwelha tra oll – ny wodhyens y ow hanow màn.
Ervirys veuv vy dhe gemeres an pëth a ros an duwow, adar gwil penpleth dhybm. Me a'm dyvarvas, gwil troncas in gorlanwes, ha gwysca gordhuwher i'n cris cracklyn glân, nag o drog-desedhys warna'. Pàn wrug vy gorfedna, an gweder a dhysqwedhas den yonk, gwyw teg dhe bresentya.
Th'esa Syr Walter ow cortos i'n gynyowva hanter-tewl, mayth esa bord bian rônd golowys dre goltrebyn arhans. Syght an den – mar onest, mar fast ha salow y solva, laha ha government personegys, ha'n holl ewn-sqwir omdhon gansans – y'm sowthanas hedna, ha gasa dhybm omsensy estren. Res o ev heb godhvos an gwir i'm kever, poken ny via orth ow dhyghtya i'n vaner-ma. Ny yllyn vy degemeras y helder màn yn fekyl.
"Me yw moy sensys dhywgh ès dell yller gorra in geryow, mès res yw dhybmo clerhe an mater," yn medha'. "Den oma heb drog, saw yma an creslu orth ow whelas. Res yw amyttya hebma, ha ny vëdh marth mar mydnowgh ow fôtya in mes."
Ev a wrug minwherthyn. "Cudyn vëth. Re bo heb shyndya gàs ewl boos! Ny'yll côwsel a'n taclow-ma wosa kydnyow."
Bythqweth ny dhebrys vy prës gans brâssa blas, rag ny'm beu tra vëth dre'n jëdh saw breghtanow an hens horn. Abarth dhybm Syr Walter a wrug oll y ehen, rag ny dhe eva shampên dâ ha portwîn fin dres kynda a'y wosa. Namna gemeryn vy sterycks ha my esedhys ena, servyes gans gwas in unwysk ha gans botler smoth, ha my ow perthy cov dell veuma bewys kepar ha rafnor teyr seythen, ha dorn pùb huny parys dhe'm sqwattya. Me a wrug whedhla adro dhe bùscas tîger in Dowr Zambesy, content dhe vrathy dha vesias dhe ves, mar mydnys ry dhedha spâss, ha ny a wrug kescôwsel agan dew a sport obma hag ena i'n norvÿs, rag ev dhe helghya nebes in y yowynkes.
Ny êth dh'y rom studhya rag eva coffy, stevel jolyf, leun a lyvrow ha trôfys ha dygempensys ha confort. Me a wrug determya, mar teuth ha ryddya ow honen a'n negys-ma ha prena chy dhybm, y fydnen vy trevna rom a'n keth par poran. Ena, pàn veu an hanavow coffy restrys dhe ves, ha cygar dhe bùbonen ow lesky dâ, an ost a dôwlys y arrow hir dres bregh y jair ha gorhebmyn dallath ow story.
"My re wrug obeya brednyans Harry," yn medh. "Ha'n brib a brofyas ev dhybm o hebma: why dhe dherivas nampyth dhe'm dyfuna. My yw parys, Mêster Hannay."
Me a verkyas, sowthan brâs, dell wrug ev cria ow hanow ewn.
Me a dhalathas orth an dalathfos. Me a wrug derivas sqwithter ow enef in Loundres, ha'n nos mayth êth vy tre ha cafos Scudder ow clattra ownek wàr an treuthow. Me a dherivas oll an pëth a wrug Scudder derivas dhybmo a Carolydes ha kescùssulyans an Sodhva Dramor, ha'm ost ow qwil pors a'y wessyow orth hedna, ha gwenwharth ganso.
Ena my a dheuth bys i'n moldrans, hag ev gyllys solempna arta. Ev a glôwas a'n lethor ha'm godrik in Gallowey, ha fatell wrug vy assoylya nôtednow Scudder i'n tavern.
"Usons y genowgh obma?" ev a wovydnas sherp, hag anella hir pàn wrug vy dry an lyvryn mes a'm pocket yn trobm.
Ny dherivys vy tra vëth a'n contens. Ena me a dhescrefas ow metyans gans Syr Harry, ha'n arethyow i'n hel. Ev a wharthas meur y dervans orth hebma.
"A wrug Harry leverel flows pur? Ow cresy th'esom, heb let. Onen mar dhâ dell veu bythqweth yn few! Saw y êwnter fol re stoffyas contron dh'y bedn. Gwrewgh pêsya, Mêster Hannay."
Ow dëdh in ober an fordh, y whrug hedna entanya nebes. Ev a wovydnas descrevyans dour a'n dhew was i'n carr hag yth esa va, dell hevelly, ow sarchya in y gov wàr dhelergh. Ev a veu hudhyk arta pàn glôwas anfeus an asen Jopley.
Saw an cothwas in chy an won a'n dros ev dhe sevureth. Unweyth arta, res o dhybm descrefa y semlant in manylyon.
"Mygyl, ha mol y bedn, ha cûgol dh'y lagasow kepar ha falhun ... edhen gwyls casadow ywa, sur! Ha why a wrug dynamîtya y ancarjy, wosa ev dh'agas sylwel orth an creslu. Ober brâs y goraj a veu hedna!"
Wharê my a dheuth dhe dhyweth ow gwandrans. Ev a savas lent in bàn, ha meras orthyf, dhywar strayl an olas.
"Why a yll scubya an creslu mes a'gas brës," yn medh. "Nyns eus peryl vëth dhywgh a'n wlas-ma na'y laha."
"Ren ow thas!" me a grias. "Yw an moldror kychys?"
"Nag yw. Saw defendys owgh why, nans yw pymthek nos, dhywar rol an dus possybyl."
"Prag?" me a wovydnas, meur ow marth.
"I'n kensa le, rag my dhe recêva lyther dhyworth Scudder. Aswonys dhybm veu an den-ma, neb gradh, hag ev ow collenwel oberen dhybm traweythyow. Hanter-coyntwas, hanter-awenyth o va, mès onest heb nàm. Poynt a vexyans ganso: an maner dell vydna gwary prest y gartednow heb coweth. Euver via va dre hedna, hës ha hës, in kenyver Servys Cudh – soweth, rag yth esa ino talent arbednek. Ev o, dhe'm breus vy, an den moyha colodnek i'n bÿs, rag pùb termyn yth esa va ow trembla der ewn-own, bytegyns ny yll tra vëth y vegy. Me a recêvas lyther dhyworto, an 31sa mis Mê."
"Mès marow o va, nans o seythen, i'n jëdh-na."
"An lyther a veu screfys ha gorrys dhe'n post an 23sa. Dell yw apert, nyns esa va ow qwetyas mernans avarr. Dre vrâs yth esa y vessajys ow tos gans strech a seythen, dre rêson anjy dhe vos danvenys dhe Spayn in dadn gel, hag ena dhe Newcastle. Dyowl o va, heb dowt, rag cudha y olow."
"Pëth a screfas ev?" me a wovydnas yn hockus.
"Tra vëth. Marnas y vos in peryl, saw ow cafos harber gans cothman dâ, ha my dhe glôwes moy dhyworto kyns an 15ves mis Efen. Ny ros trigva vëth, mès ev a screfas y vos anedhys ogas dhe Portland Place. Dell hevel dhybm, y borpos o surhe gàs bos why glân mar teu neppyth ha wharvos. Pàn recêvys an lyther, my êth dhe Scotland Yard, examnya whythrans an cùrunor, oll an manylyon, hag ervira y bosowgh why an cothman. Ny a wrug govynadow adro dhywgh, Mêster Hannay, ha desky agas bos den onest. Cler lowr o dhybm prag y whrussowgh vansya – an creslu, ha'n achêson aral kefrës – ha pàn dheuth gwanscrif Harry, nena me'ylly desmygy an gwedhyl. Th'esof ow qwetyas why dhe dhysqwedhes nans yw seythen."
Pana vegh a veu lyftyes dhywarna'! Den frank en vy arta i'm brës, rag my dhe vos lebmyn settys warbydn eskerens only ow gwlas, adar laha ow gwlas.
"Now, gesowgh ny dhe weles an lyvryk cov," yn medh Syr Walter.
Ny a wrug moy ès our leun, ow redya dredho oll. Me a styryas an cîfer, hag ev o dyscor pòr lybm. Amendyes veu ow redyans ganso in bohes tyller, mès ewn lowr o an gweyth dre vrâs. Y feu y dremyn pòr sevur kyns gorfedna, hag ev esedhys polta heb côwsel.
"Ny wòn fatl'yw dhe ùnderstondya," yn medh wàr an dyweth. "Kewar yw udn dra, dhe'n lyha – an pëth a whyrvyth avorow. Fatl'an jowl êth hedna dyscudhys? Hèn yw hager lowr, y honen oll. Mès hebma kefrës! Gwerryans ha Men Du – whedhel kepar ha gordhrâma gwyls. A mednen vy trestya unweyth dhe vrusyans Scudder! Y natur o re vexus, ow mydnas bos re romantek. Ev a'n jeva gnas an artyst, ow tesîrya pùb termyn may fe whedhel gwell agès porpos Duw. Lies gowvreus coynt a'n jeva inwedh. Serrys brâs o va warbydn Yêdhewon, rag exampyl. Warbydn Yêdhewon hag arhansorieth an Cyta.
"An Men Du," yn medh arta. "Der Schwarze Stein. Tra wyw dhe novelyk deneren! Hag oll an ger tùchyng Carolydes. Hòn yw an gwadnha radn i'n whedhel, rag Carolydes yw dremas a wra gordhurya agan dew, pùb lycklod dell worama. Nyns eus Stât vëth in Ewrop whensys dh'y remôvya. Dres hedna, th'esa va namnygen ow truthya Berlîn ha Viena, hag ow qwil dhe'm Menyster pryjweyth pòr anês. Nâ! Scudder êth dhywar an linednow obma. Ny gresa' dhe'n whedhel i'n radn-na, Hannay, mar lavara' dhe blebmyk. Devîsys yma neb last, hag ev a dhyskrevras re, ha kelly y vêwnans ragtho. Saw parys oma dhe lia, nag yw ma's negys aspias kemyn. Yma certan Power Ewrôpek ow qwary hobba gans y gevreth aspias, ha scant nyns yw an gis a whel dainty. Abàn usy ev ow tylly gweyth herwyth sewyans, ny vëdh nebes moldrans lowr dh'y vebyon gal. Trevnans oll a'gan morlu yw sur an medras, rag y geworra dh'aga hùntellva i'n Marinamt. Saw anjy a wra gorra hedna dhe restryn – heb namoy."
I'n very prës-na y teuth an botler dhe'n rom ajy.
"Yma cows pell, dhia Loundres, Syr Walter. Mêster 'Eath yw, hag ev whensys dhe gôwsel orthowgh agas honen."
An ost a gerdhas dhe'n pellgowsor in mes.
Ev a dheuth arta warlergh pymp mynysen, gwydnyk y fâss. "Dyharas re bo dhe spyrys Scudder," yn medh. "Carolydes a veu ledhys dre wodn, haneth, nebes mynysow wosa seyth eur."
CHAPTRA 8
DEVEDHYANS AN MEN DU
Ternos me a dheuth dhe'n stairys wàr nans rag debry haunsel wosa eth our a gùsk benegys heb hunros vëth, ha cafos Syr Walter ow tycôdya pellscrif in mesk bara tesen ha marmelâda. Dell hevelly, tùch tarnsys o erder an roslyw esa dhodho de.
"Our bysy a wrug vy in pellgowsans wosa why dhe vos gyllys dhe'n gwely," yn medh. "Me a besys wàr ow Menyster a vetya gans an Kensa Arlùth ha gans an Scryvynyas Bresel, hag anjy a vydn sompna Royer mes a Bow Frynk udn jëdh moy avarr. Yma an telegram-ma orth y sêlya. Ev a vëdh in Loundres dhe bymp eur. Coynt dell yw 'porhel' an ger cod rag Sous-chef d'Etat Major-General."
Ev a'm gedyas dhe'n sandys tobm, ha pêsya.
"Saw hedna dhe vos a brow ny gresa' màn. Mar peu gàs cothmans codnek lowr solabrës dhe dhyscudha an kensa arayans, codnek lowr yns y dhe dhyskevra an chaunj. Me a vensa offrydna oll ow fedn rag godhvos ple ma an dorrva i'gan kevrîn. Dell gresyn ny, nyns esa moy ès pymp den in Englond a wodhya Royer ha'y vysyt, ha bedhowgh sur, th'esa biadnha nùmber whath in Frynk, rag taclow a'n par-ma yw dyghtys dhe well i'n wlas-na."
Pàn esen vy ow tebry, ev a dhurya côwsel, ow ry leun-gyfyans, meur ow marth.
"A ny yll an trevnans bos chaunjys?" me a wovydnas.
"Gyll defry," yn medh. "Saw porposys on ny dhe woheles hedna mars yw neb maner. An trevnans yw ascoras a brederyans down dres musur, ha ny via chaunj vëth mar dhâ. Ha pelha, ùnpossybyl yw chaunjya nebes poyntys specyal in kenyver câss. Y hyller bytegyns spêdya nampyth, dell dyba', mar pëdh res porres. Saw otta an caletter, Hannay. Ny vydn ow envy gwary fol ha sqwychya pocket Royer pò gwil ken tra flohyl kepar. Anjy a wodhya kedrydn dhe vos sewyans hedna, ha brâssa warneth dhyn. Aga meder yw cafos an manylyon, ma na wrella onen vëth ahanan merkya, rag mayth ella Royer dhe Parys tre, whath ow cresy oll an negys dhe vos mortal kevrîn. Heb obery hedna 'fedhons y fyllys, rag anjy dhe wodhvos y fëdh res chaunjya an holl dra kettel vo skeus genen."
"Dhana res yw dhyn tackya orth tenewen an Frank, erna vo dewhelys tre," yn medha'. "Mar cressens y an godhvos dhe vos dhe gibya in Parys, anjy a vensa tria ena. Ytho res yw neb towl tôwlys dhe vos, onen sley, a wra gwainya oll in Loundres, dell esons y ow rekna."
"Royer a vydn kynyewel in company ow Menyster, ena dos dhe'm chy vy may fydn peswar den metya ganso – Whittaker a Lÿs an Mor, my ow honen, Syr Arthur Drew, ha Jeneral Winstanley. An Kensa Arlùth yw clâv, ha gyllys dhe Sheringham. I'm chy Royer a wra recêva certan docùment dhyworth Whittaker, ena bos gorrys in carr tan dhe Portsmouth ha gorhal dystrôwy dh'y dhon bys i'n Havre. Y viaj yw re y bris rag train treth kemyn. Nefra ny vëdh gesys heb coweth, na tecken vëth, erna vo devedhys wàr dir Frynkek yn saw. Ha Whittaker, bys may fo metyes gans Royer, an keth hedna. Cabm ny yllyn ny gwil moy, ha cales yw convedhes mothow fatell yllons y bos. Mès yma anês uthyk brâs warnaf, res alowa. Carolydes moldrys a wra dyfuna an jowl in pùb chanslereth dres Ewrop."
Wosa haunsel ev a wovydnas mara codhyen vy lewyas carr.
"Wèl, why a vëdh ow lewyor hedhyw ha gwysca aparell Hudson. Th'owgh a'n keth brâster hag ev, ogas lowr. Maglys owgh i'n negys-ma, ha ny vydnyn ny peryllya tra vëth. Yma tus dhybyta wàr agan pydn, neb na sav orth omsettyans in argel bowdir udn sodhak re y weyth."
I'n very dallath, pàn dheuth vy ha trega in Loundres, me a wrug prena carr ha kemeres solas, ow rolya der Englond a'n Soth adro, rag may hallen vy desky, neb gradh, dorydhieth an pow. Syr Walter me a worras dhe Loundres wàr an Bath Road ahës, ha toth dâ. Th'o myttyn medhel a mis Efen, heb gwyns, ha dedhewadow a des poos moy dhewedhes, mès delycyùs lowr o lesca der an trevow bian ha'ga strêtys hegar ha dowrhës, ha dres lowarthow hâv valy Tamys. Me a londyas Syr Walter orth y jy in Queen Anne's Gate dhe hanter wosa udnek abrës. Y fedha an botler ow tos i'n train, ha'n fardellow ganso.
Kensa oll, Syr Walter a'm hùmbroncas dhe Scotland Yard. Ena ny a wrug metya gans den jentyl kempen, dyvarv y vejeth, laghyas y vaner.
"My re dhros moldror Portland Place dhywgh," a wrug Syr Walter ow homendya.
An gorthyp a veu minwharth cabm y vin. "Ro wolcùm a via hedna, Bullivant. Hèm yw Mêster Richard Hannay, dhe'm desef, ha'n asran-ma frobmys anodho yn frâs nebes dedhyow kyns."
"Frobmys vëdh hy unweyth arta drefen Mêster Hannay. Yma showr a vater ganso dhe dherivas, adar hedhyw bytegyns. Rag neb skyla a boos, res yw gortos y whedhel, whath udn jëdh. Nena, hag ot ow fromys, why a vëdh dydhenys teg, kefrës edyfies par hap. My a'gas pës, gwrewgh afydhya na vëdh Mêster Hannay gorrys dhe drobel namoy."
An afydhyans-ma a veu gwrës heb hockya. "Why a yll dastallath gàs bêwnans i'n poynt may whrussowgh astel," a lavaras an den jentyl. "Yma agas ranjy, nag owgh whensys dhe vos tregys inhy na felha martesen, ow cortos agas devedhyans, ha'gas gwas ena whath. Ny vewgh why cùhudhys bythqweth dhyrag tus, ytho ny a wra consydra nag eus otham omascusya. Saw tùchyng hedna, heb dowt, why a vydn gwil gàs plesour."
"Whans a'gas gweres, MacGillivray, y hyll bos arta," yn medh Syr Walter pàn esen ny ow tyberth.
Ena me a veu gesys ganso dhe wary.
"Dewgh ha metya genef avorow, Hannay. Scant ny dal dhybm leverel taw an bedh dhe vos a res porres. Ow hùssul dhywgh yw mos dhe'n gwely. Yma cùsk dhelergh dhe dylly, sùbmen vynsek sur. Gwell yw dhywgh scolkya pùb eur oll. Mar teffa onen a'gas cothmans a'n Men Du ha'gas aspia, y fia awher dhe wetyas."
My ha fowt oberen, hèn o sensacyon coynt. Fest wheg o, worth an dallath, bos den frank, neb a yll mos ple pypynag may fydna heb own vëth. Scant udn mis yth esen vy in dadn gonstrînans an laha, mès gwalgh veu dhybm. My êth dhe'n Savoy hag erhy, dour glân, prës ly dâ glân, ena megy an gwelha cygar dell ylly an ostel provia. Saw th'esa nervuster dhybm whath. Pàn wrug vy aspia den ow meras orthyf i'n esedhva, gorgîs a'm beus, hag omwovyn mars esa ev ow perthy cov a'n moldrans.
Wosa hedna me a gemeras taxy ha mos lies mildir bys in Loundres a'n North. Me a gerdhas tre, dre barcow ha resyow a dreven kenkyth ha rewjiow, ena dre hovelys ha cragh-strêtys, ha kerdh a dhew our o va ogatty. Ha dredho oll yth esa dyfyk powes inof ow cressya. Dell hevelly dhybm, taclow brâs, taclow marthys brâs, yth esens y ow wharvos, pò scon y fedhens y ow wharvos, ha my, an dans i'n jynweyth, my o gorrys mes a'n gam. Th'esa Royer ow tira in Dover, Syr Walter ow tôwlel towl gans an bohes tus in Englond mayth o an kevrîn godhvedhys, ha neb le i'n tewlder yth esa an Men Du owth obery. Th'esen vy ow clôwes an peryl, ha'n godros a veschauns ow tegensewa, ha coynt i'm brës, inwedh, yth esa tybyans dell yllyn vy only, adar ken onen, y drailya dhe ves, y wrydnya dhe'n dor. Saw nyns esen vy i'n gam na felha. Fatell ylly bos ken maner? Menystrys an Cabynet hag Arlydhy Lÿs an Mor dhe'm amyttya i'ga hùssulyans aberveth, nyns o lycklod brâs.
I'n gwrioneth yth esen vy ow tesîrya dierbydnans kyn fe worth onen a'm try escar. Ha neb sewyans ow tos mes a hedna. Môvyes en vy gans an gwelhevyn-ma dhe yêwny omlath gal, may hallen vy cronkya ha plattya nampyth. Yth esen vy ow serry brâs hag uskys.
Dewheles dhe'm ranjy tre nyns en vy whensys dhodho. Eneby hedna, y fedha res nepprës, saw me a dyby dylâtya bys avorow vyttyn, rag yth esa whath mona lowr genef, ha tyby cùsca nos in ostel.
Ow sorr a dhurya der an kydnyow a dhebrys vy in boosty wàr Jermyn Street. Nyns en vy gwag na felha, ha gasa dhe lower sant tremena heb tâstya. Me a wrug eva an brâssa radn a votel a win Bùrgayn, mès gwell ny êth ow cher. Dybowes en vy, plagyes, fyslak ow fara. Otta vy, pollat kemyn pur, heb skentoleth arbednek, saw yth esa otham ahana'vy, th'en vy sur, a ry gweres neb fordh worth fynsya an negys-ma – hag ev oll myshevys hebof. Me a levery i'm pedn nag o moy ès gooth fol glân: bos an ober inter dêwla peswar pò pymp a'n dus moyha codnek i'n bÿs, ha nerth oll an Empîr Bretednek orth aga scodhya. Bytegyns ny veuv vy perswâdys. Dell hevelly, th'esa lev prest ow côwsel i'm scovarn, owth inia mayth ellen vy ha gwil orty, poken cùsk ny vedha dhybm, nefra namoy.
Ytho, orth hanter wosa naw, me a wrug ervira wortyweth mos dhe Queen Anne's Gate. Pùb lycklod ny vedhen vy amyttyes, mès assaya, y whre diaha keskians.
Me a gerdhas Jermyn Street ahës, ha passya dres bagas a dus yonk wàr an gornel gans Duke Street warbarth. Gwyskys êns y gordhuwher, wosa kemeres kydnyow neb tyller, hag anjy ow mos dhe hel ilow. Onen anodhans o Mêster Marmaduke Jopley.
Ev a'm aspias ha sevel stag.
"Re'm fay, awot an moldror!" ev a grias. "Ay, gwesyon, sêsyowgh e! Hannay yw, an den a wrug moldrans Portland Place!" Ev a settyas dalhen i'm bregh, ha'n re erel owth hêsya i'm herhyn.
Nyns esen vy porposys dhe brofya trobel, mès ow drog-jer a wrug dhybm gwary scogyn. Y teuth creswas, hag y talvia dhybm leverel gwir ha, mar nyns esa ev orth y gresy, demondya mos dhe Scotland Yard, pò dhe'n nessa stacyon creslu dhe'n very lyha. Saw neb strech o dywodhaf i'n eur-na, dell hevelly dhybm, hag aspia Marmie ha'y vejeth gwag a skians o moy ès dell yllyn vy perthy. Me a wrug bonkya gans dorn cledh, ha content veuv vy teg pàn y'n gwelys growedhys hirder oll in shanel an strêt.
Ena y talathas tervans scruthus. Th'esens y oll warnaf in udn labm, ha'n creswas a'm sêsyas dhelergh. My a wrug spêdya nebes bobmyn dâ, rag me a vensa gà fetha oll, dell dybaf, a callen boxesy in dadn rêwl, saw an creswas a'm sensys fast adhelergh, hag onen anodhans a grafas ow gùdhùk in y vesias.
Dre gloud du a godnar me a glôwas sodhak an laha ow covyn pandr'o an mater, ha Marmie, inter y dhens trogh, ow teclarya my dhe vos Hannay an moldror.
"Ogh, mollath Duw," me a grias, "gwrewgh dhe'n chet tewel. Bëdh war, constabyl, ha gas vy in cosoleth. Scotland Yard a wor pùptra i'm kever, ha tavasans brâs a'th fÿdh mar teffes ha mellya orthyf."
"Res yw dhywgh dos gene'vy, a vab," yn medh an creswas. "Me a welas why dhe vonkya an den jentyl yn harow cruel. Ha pelha, why a dhalathas an dra: nag esa ev ow qwil drog vëth. Me a'gas spias. Dos heb froth, hèn yw gwell, 'ken res dhèm gàs carhara."
Fowt perthyans ha sens ollgalosek na wrellen vy strechya cabmen, anjy a ros dhybm crefter gour-olyfans. Me a dôwlys an constabyl dhywar y dreys, sqwattya an den esa ow crafa i'm gùdhùgen, ha ponya, gwelha toth, wàr Duke Street ahës. Me a glôwas son a whyb whethys, ha tus ow stêvya in helgh.
Yma uskytter pòr dhâ dhybm, hag yth esa eskelly genef i'n nos-na. Me a dheuth dhe Pall Mall wàr nûk, ha trailya tro ha St James's Park wàr nans. Me a wohelas an creswas orth yettys an Palys, herdhya der an rûth a garyajys in entryng an Mall, ha medra an pons kyns ès an helhysy dhe dremena an carhens. I'n tireth opyn a'n Park me a wrug herdhya dhe voy. I'n gwelha prës nyns esa ma's bohes tus, na ny whelas den vëth lesta. Th'esen vy ow qwystla pùptra in hapwary rag hedhes in St Anne's Gate.
Pàn wrug vy entra dhe'n strêt cosel-ma, gwag o, dell hevelly, a bobel vëth. Th'esa chy Syr Walter i'n radn gul, hag yth esa try pò peswar carr sevys dhyragtho wàr ves. Me a wrug lehe ow thoth nebes lathow dhyworto ha kerdhes scav dhe'n daras. Mar mydna an botler naha amyttyans, pò egery an daras re lent, my a vedha dyswrës.
Ny veuva lent. Egerys êth an daras knack pàn senys vy an clogh.
"Res yw omweles gans Syr Walter," yn medhaf in udn dhiena. "Ow negys yw pëth a bris dres ehen."
Den meur y enef o an botler. Heb gwaya keheryn, ev a wrug sensy an daras egerys, ena y dhegea wàr ow lergh. "Syr Walter yw bysy, sera, ha comondys ov vy, rag na ve den vëth amyttyes. Why a vydn gortos martesen."
I'n chy-na, coth y gis, an hel o ledan, ha yth esa rômys wàr an eyl tu ha wàr y gela. Orth pelha pedn an hel yth esa kil bian, ha pellgowsor ha copel a jairys ino, ha'n botler a brofyas esedha i'n tyller-ma.
"Gwra convedhes," me a whystras. "Yma trobel rybon, ha my maglys in y gres. Saw Syr Walter a'n gor, ha my ow lavurya ragtho. Mar teu nebonen ha govyn, Eso'vy obma? lavar gow."
Ev a sînas assentyans, ha wharê y feu voycys wàr an strêt, ha senyans gwyls orth an clogh. Nefra ny allaf estêmya den vëth moy agès an botler-na. Ev a wrug egery an daras, ha gortos govynadow gans syght kepar hag imach grevys. Ena ev a wrug setha. Ev a lavaras chy pyw o hebma, ha py arhadow esa ganso, hag anjy a veu rewys yêyn i'n treuthow hag in kerdh. Me a welas an holl dra mes a'm kil, hag y feuva gwell ès plain an gwary.
Nyns esen vy ow cortos termyn hir, kyns an clogh dhe seny unweyth arta. An botler a wrug amyttya an vysytyor nowyth-ma heb hockyans vëth.
Pàn esa va ow tysky y gôta, me a wrug aspia pyw o. Ny yllyth egery paper nowodhow pò lyver termyn heb gweles an fâss-na – an varv loos ha trehys in shâp pal, an min tydn ha breselek, an dhewfrik sogh ha pedrak, ha'n lagasow blou ha glew. Me a wrug aswon Kensa Arlùth an Morlu, an den, dell o whedhlys, a vyldyas an Morlu Bretednek modern.
Ev êth dres ow hil, gedyes bys in rom wor'tu dhelergh. An daras-na pàn veu egerys, me a glôwas son a levow isel. Wosa degea, my o dygoweth arta.
Ugans mynysen yth esen vy a'm eseth ena, owth omwovyn pëth a wrellen vy scon. Certan sur en vy whath dell esa otham ahana', mès peur ha fatell ny wodhyen vy màn. Th'esen vy prest ow checkya'm euryor, ha pàn veu an eur slynkyes dhe hanter wosa deg me a bredery dell o res an kescùssulyans dhe dhewedha a verr spis. Kyns pedn pymthek mynysen y fedha Royer ow fysky an fordh dhe Portsmouth ahës ...
Ena me a glôwas clogh ow seny, ha'n botler a dhysqwedhas arta. Daras an rom dhelergh êth egerys, ha Kensa Arlùth an Morlu a dheuth in mes. Ev a gerdhas drestof, ha tôwlel, in udn bassya, golok got i'm qwartron vy, ha rag tecken yth esen ny ow meras an eyl wàr y gela, tâl orth tâl.
Tecken, adar moy, mès lowr veu hy rag gwil dhe'm golon labma. Bythqweth ny welys an den brâs-na kyns, na ny wrug ev ow gweles vy naneyl. Mès i'n very pols y feu nampyth spryngys in y lagasow, ha'n pëth-na, th'o aswonvos. Tra certan yw aswonvos. Flyckrans scav ywa, neb elven a wolow, arlyw munys a dhyffrans, eus ow styrya onen hag onen only. Y teuth hedna a'y anvoth, hag yth êth marow dystowgh, ha'n den ow tremena in rag. Mesk kerdroya a fancy gwyls, me a glôwas daras an strêt dhe dhegea wàr y lergh.
Me a gemeras lyver an pellgowsor ha checkya nyver y jy. Omjùnyes a veun ny dewhans, ha my ow clôwes lev neb servont.
"Usy y Arlottes i'n chy?" me a wovydnas.
"Y Arlottes a dheuth tre nans yw hanter-our," yn medh an lev, "ha gyllys yw va dhe'n gwely. Nyns yw ev yagh haneth. A vydnowgh gorra messach, sera?"
Me a wrug trehy an pellgows ha codha wàr jair, codha ogas oll warbarth. Ow radn i'n negys-ma, nyns o hy fynsys na whath. Namna wrussyn ny fyllel a'y spêda, saw devedhys veuv vy abrës.
Strech vëth nyns o dhe wodhevel, ytho me a wrug kerdhes bold ha dyson dhe dharas an rom dhelergh hag entra heb knoukya.
Pymp vysach sowthenys a veras dhyworth bord rônd in bàn. Yth esa Syr Walter, ha Drew an Menyster a Vresel, aswonys dhybm warlergh y skeusen. Yth esa den tanow ha coth, Whittaker pùb lycklod, sodhak Lÿs an Mor, hag yth esa Jeneral Winstanley, es y aswon rag an grithen hir wàr y dâl. Dewetha oll, th'esa den berdew, ha minvlew loos horn ganso, hag abransow bojek, ha'y lavar goderrys in y gres.
Tremyn Syr Walter a dhysqwedhy sowthan ha vexyans kefrës.
"Otta Mêster Hannay, may côwsys vy anodho solabrës," yn medh dhe'n company, yn tyharasus. "Soweth, Hannay, nyns yw an vysyt-ma i'n ewn prës."
Diaha o dewhelys dhybm neb gradh. "Gesowgh ny dhe weles, sera," yn medha'. "Dell hevel dhybmo, th'yw knack adermyn. Tus jentyl, leverowgh abarth Duw, pyw o an den êth in mes mynysen alebma?"
"Arlùth Alloa," yn medh Syr Walter, hag ev ow rudhya dre sorr.
"Nyns o va badna," me a grias. "Yth o imach bew anodho, mès Arlùth Alloa nyns o màn. Ev o neb a wrug aswon pyw ov vy, onen a welys mavy i'n mis tremenys. Scant nyns o va gyllys a'n treuthow ha my ow pellgôwsel orth meyny Arlùth Alloa, hag anjy a lavaras ev dhe vos devedhys tre nans o hanter-our ha solabrës dh'y wely."
"Pyw – pyw –" a stlavas nebonen.
"An Men Du," me a grias, ha sedha wàr an chair may feu voydyes maga gensow, ow meras orth an pymp den jentyl adhedro, diegrys down kettep huny.
AN NAWVES CHAPTRA
A VËDH KEWORRYS
DHE'N CHAPTRYS-MA
MIS GORTHEREN 2020