LITERATURE AVAILABLE IN KERNOWEK STANDARD (KS)
---
If you are unsure how to obtain any of the literature listed below, please contact www.skeulantavas.com and we'll do our best to help.
Books published by Evertype are usually available from Amazon UK. You can also access Evertype's own catalogue at https://www.evertype.com/catalogue.html.
Some books may be stocked by Spyrys a Gernow of Portreath. You can email queries to shoppa@spyrys.org.
Gerlyver Kescows and Kescows Nebes Moy are available from the author: go to the relevant item on the Vocabulary page at www.skeulantavas.com for details.
Skeul An Tavas (Standard Cornish version)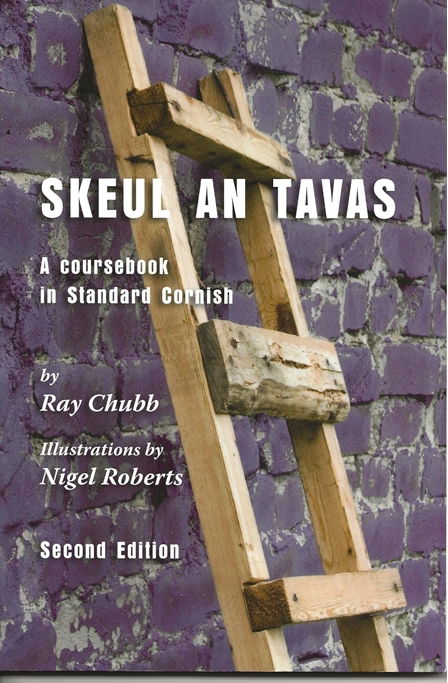 Can be purchased online from;
Evertype https://www.evertype.com/
Agan Tavas https://www.agantavas.com/shop/
Amazon UK https://www.amazon.co.uk/Skeul-Tavas-Coursebook-Standard-Cornish/dp/190480893X/ref=sr_1_1?crid=1D0TVQHGV40D5&dchild=1&keywords=skeul+an+tavas&qid=1631200885&sprefix=Skeul+%2Caps%2C167&sr=8-1
Also in class from "Class Kernowek Lulyn" as available
Gweles;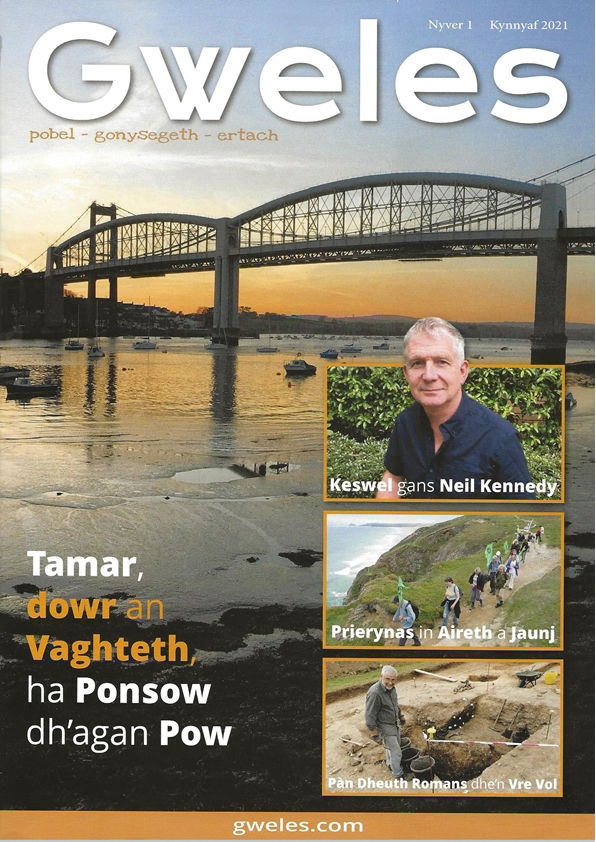 You Can subscribe to Gweles here https://gweles.com/
An Gowsva;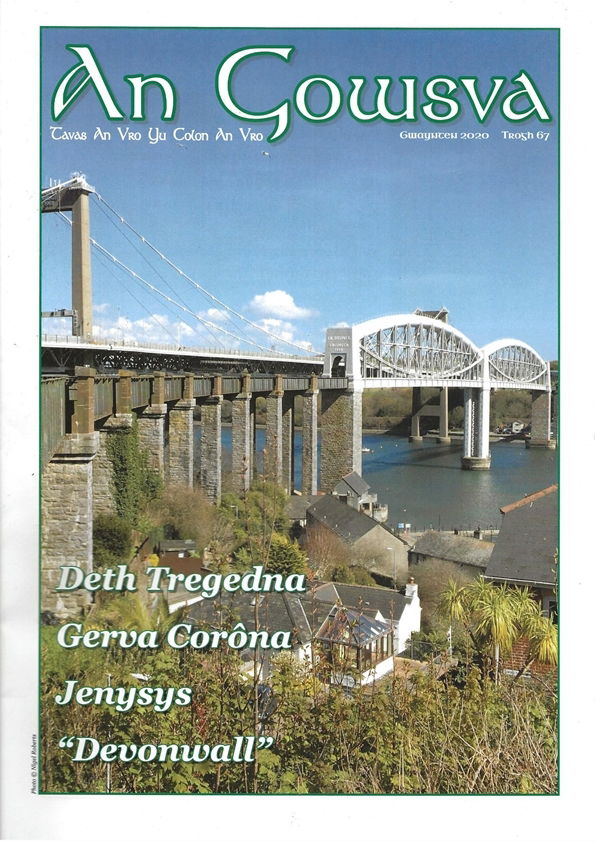 Provided with membership of Agan Tavas here https://www.agantavas.com/joining-agan-tavas/
Literature available from Agan Tavas: https://www.agantavas.com/
HISTORICAL TEXTS
Published 2012
Jowan Chy an Hordh
Published 2020
The Charter Fragment and Pascon Agan Arluth
NOVELS, STORY BOOKS, OTHER IMAGINATIVE FICTION (translated)
Published 2009
Lewis Carroll Aventurs Alys in Pow an Anethow
Harriette Taylor Treadwell & Margaret Free Kensa Lyver Redya
Jules Verne Adro dhe'n Bÿs in Peswar Ugans Dëdh, abridged
Craig Weatherhill Jowal Lethesow
Published 2010
Robert Louis Stevenson Enys Tresour
Published 2011
Alan M. Kent, Gabrielle Cailes, Neil Kennedy The Beast of Bodmin Moor – Best Goon Brèn, bilingual
Nigel Roberts Whedhlow ha Drollys a Gernow Goth
Published 2012
Arthur Conan Doyle Ky Teylu Baskerville
Edith Nesbit Flehes an Hens Horn
Published 2013
Kenneth Grahame An Gwyns i'n Helyk
H.G. Wells Gwerryans an Planettys
Published 2014
Jerome K. Jerome Tredden in Scath
Robert Louis Stevenson Câss Coynt an Doctour Jekyll ha Mêster Hyde
J.R.R. Tolkien An Hobys
Published 2015
Jane Austen Gooth ha Gowvreus
Lewis Carroll Der an Gweder Meras ha Myns a Gafas Alys Ena
Published 2016
Charles Dickens Carol Nadelyk, extracts - devydnow
H. Rider Haggard Honna
Bram Stoker Dracùla hag Ôstyas Dracùla
Published 2017
L. Frank Baum Pystrior Marthys Pow Òz
Published 2018
Carlo Collodi Pinocchio
Published 2019
John Buchan An Nawnjek Stap warn Ugans
Published 2020
Charlotte Brontë Jane Eyre
Wilkie Collins An Loorven, Prologue
Charles Dickens Gwaityans Meur, Chapter 1
Winifred Holtby Pastel Vro Soth, Chapter 1
Barones Orczy An Flour a Vrathles Cogh, Chapter 1
Anna Sewell Beawty Du, Chapter 1
Anthony Trollope An Cronyclys a Bow Barr, Chapter 1
Monthly serialization from September 2020
Anthony Hope An Prysner in Castel Zenda
Monthly serialization from January 2021
George Orwell Amêthva an Bestas
SHORT STORIES (translated)
Published 2016
Hans Christian Andersen An Brynces wàr an Bysen
Hans Christian Andersen Mowes Vian an Tanbrednyer
Published 2018
Hans Christian Andersen An Corn Tan
Published 2019
Breder Grimm An Logosen, an Edhen, ha'n Selsygen
Published 2020
Aesop An Ky ow Ton Kig
Hans Christian Andersen Dyllas Nowyth an Emprour
Rudyard Kipling An Canker neb'rug Gwary gans an Mor
Lûcyan a Samosata Prentys an Gorhenyas
Mabinogion Pwyll Pendefig Dyfed, First episode, originally published 1934, ed. E.G.R. Hooper 'Talek' 1968, ed. Jackson 2020
Nigel Roberts Lûty ha'n Vorvoren (versyon nowyth)
POEMS (original)
Published 2017
Ian Jackson In Pow Blackmore
Published 2018
Ian Jackson An Âls a'n Barth West
Published 2020
Ian Jackson Orth Tremenyans Craig Weatherhill
Henry Jenner Dhe'm Gwreg Kernowek, originally published 1904
A.S.D. Smith 'Caradar' Trystan hag Isolt, Part 1, originally published 1951
SHORT STORIES (original)
Published 2010
A.S.D. Smith 'Caradar' Nebes Whedhlow Berr, originally published 1948, ed. Williams
A.S.D. Smith 'Caradar' Whedhlow an Seyth Den Fur a Rom, originally published 1948, ed. Williams
A.S.D. Smith 'Caradar' Fordh an Broder Odryk, originally published 1964, ed. Williams
Published 2020
A.S.D. Smith 'Caradar' An Wreg Yonk Gwynn hy Blew, originally published 1948, ed. Williams 2010, ed. Jackson 2020
TEXTBOOKS AND DICTIONARIES
Published 2010
Ray Chubb Skeul an Tavas
Published 2012
Nicholas Williams Desky Kernowek
Published 2014
Nicholas Williams Geryow Gwir
Published 2017
Ian Jackson Gerlyver Kescows
Published 2018
Ian Jackson Kescows Nebes Moy
OTHER (translated)
Published 2009
Andy Phillips Lyver Pejadow rag Kenyver Jorna
Published 2011
An Beybel Sans (Testament Coth ha Testament Nowyth)
Published 2017
Abraham Lincoln Areth Gettysburg
Coming soon
Khalil Gibran An Profet