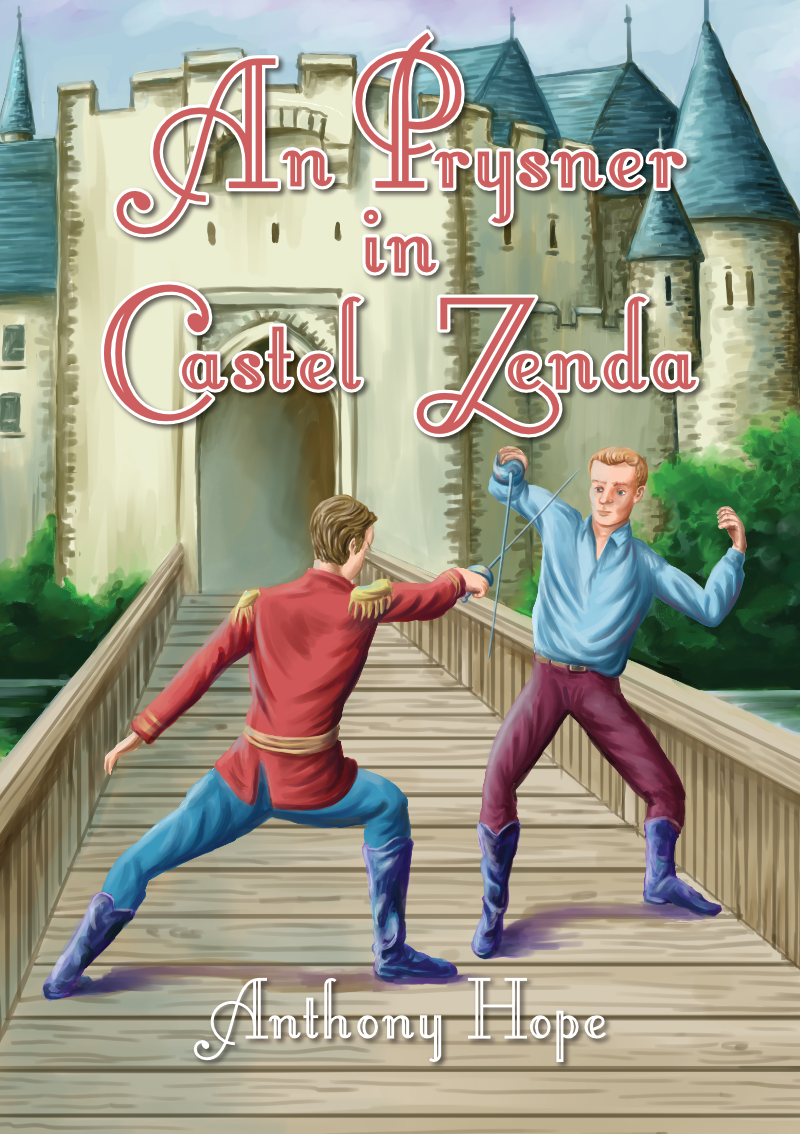 Kernowek gans Ian Jackson
E-dhyllys gans kernoweklulyn.com
Y fëdh An Prysner in Castel Zenda ow carya an redyor dhe Rùrytânya, pow a hen-whedhel in perveth Ewrop coth. Res yw dh'agan gorour Rudolf Rassendyll dos ha gweres Mytern an wlas vian-ma, ha hebma in studh a beryl brâs. A yll Rassendyll lettya hager-dhevîs Dûk Michael, hanter-broder dhe'n Mytern? A yll diank orth cas Rupert a Hentzau ha'y dhrog-golytys? A yll dry oll an aventuryans dhe dhyweth fusyk, heb terry colon an Brynces Flavia, ha'y golon y honen kekefrës?
Anthony Hope a wrug screfa an aneth-ma in 1894. Rùrytânya ha'y manylyon lywus a gibyas fancy an bobel desempys yn tobm. Yma an trailyans gans Ian Jackson ow cachya froth ha frobmans romantek an mamlyver.
Kensa dyllans / First published 1894
Mamdytel / Original title The Prisoner of Zenda
Trailyans / Translation © 2020 Ian Jackson
Pùb gwir gwethys. Nyns yw an pùblycacyon-ma dhe redya marnas wàr wiasva kernoweklulyn.com – ny yll radn vëth anodho naneyl bos copies, sensys aberth in ken system dascafos na treuscorrys in form vëth oll na dre vain vëth oll, poken electronek, jynweythek, dre fotocopians, dre recordyth bò fordh vëth aral, heb recêva cubmyas dhyrag dorn dhyworth an trailyor.
All rights reserved. This publication is exclusively for reading on the website kernoweklulyn.com – no part of it may be reproduced, stored in another retrieval system or transmitted, in any form or by any means, electronic, mechanical, photocopying, recording or otherwise whatsoever, without prior permission of the translator.
Olsettyans gans an trailyor in Palatino Linotype.
Typeset by the translator in Palatino Linotype.
E-dhyllys gans / E-published by
kernoweklulyn.com
(Viv Taskis)
Ranjy A, 37 Bre an Eglos / Flat A, 37 Church Hill
Hellÿs / Helston
Kernow / Cornwall
TR13 8TL
Lymnans / Illustration
Nigel Roberts
A note on the Cornish in this book
The Cornish of this translation takes William Jordan's Gwrians an Bÿs as its 'foundation text', while looking forward to John Keigwin, William Rowe and Nicholas Boson, and back to John Tregear, Sacrament an Alter, Bêwnans Ke, and Bêwnans Meriasek. Spellings are those of Standard Cornish ('Kernowek Standard' or 'KS'). This particular orthography was developed under the leadership of Michael Everson in close cooperation with Professor Nicholas Williams. It aims for spellings that are as unambiguous as possible in their representation of the sounds of Cornish, and which at the same time remain faithful to the forms we encounter in the traditional Cornish texts – since these are our chief source for the language. The whole corpus of traditional Cornish has been used to enlarge the vocabulary. This has been a necessary principle of the revival from the outset.
There is a Glossary at the end of the book.
I am indebted to Ray Chubb, who kindly read a draft of the whole translation and suggested many improvements.
A note on proper names
Anthony Hope's Ruritania becomes Rùrytânya in Cornish, but otherwise names of people and places specific to the story have not been respelled. All the Ruritanian characters have German or Slavic names, so Michael, for example, sounds very much like Cornish Myhal, and you will be close enough if you pronounce Flavia as 'Flâvya', not with the vowel heard in the first syllable of English 'flavour'. Strelsau too is a German name, at least in form. Say it as 'Shtrelzaw'. But Zenda is probably meant to be purely Slavic, so its z is pronounced as in Cornish zyp (not 'ts').
CONTENS PÙB RADN MÎSEK
Mis Gwydngala 2020
Chaptra 1
An Rassendylls – ha nebes geryow tùchyng an Elphbergs
Chaptra 2
Adro dhe'n colour a vlew eus dhe dus
Mis Hedra 2020
Chaptra 3
Gordhuwher mery gans goos pell
Chaptra 4
An Mytern ow sensy appoyntyans
Mis Du 2020
Chaptra 5
Aventurs dhe actour gorthro
Chaptra 6
Kevrîn in certan selder
Mis Kevardhu 2020
Chaptra 7
Y Vrâster ow cùsca in Strelsau
Chaptra 8
Kenytherow a'n tecka ha broder tewl
Mis Genver 2021
Chaptra 9
Tâbel tê ha porpos nowyth dhe hedna
Chaptra 10
Chauns brav dhe dhen bylen
Mis Whevrel 2021
Chaptra 11
Helghya torgh coos ha brâs dres ehen
Chaptra 12
Recêva vysytyor ha bosa hig
Mis Merth 2021
Chaptra 13
Skeul Jacob amendys
Chaptra 14
Udn nos orth an Castel wàr ves
Mis Ebrel 2021
Chaptra 15
My ow côwsel orth temptyor
Chaptra 16
Towlen othobmak
Mis Mê 2021
Chaptra 17
Dydhanans hanter-nos gans Rupert yonk
Chaptra 18 Ajy dhe'n grocken dre nell
Mis Efen 2021
Chaptra 19
Fâss orth fâss i'n forest
Chaptra 20
An prysner ha'n Mytern
Mis Gorefen 2021
Chaptra 21
Mara pe kerensa oll an dra
Chaptra 22
Termyn present, passys – ha dhe dhos?
CHAPTRA 1
AN RASSENDYLLS – HA NEBES GERYOW TÙCHYNG AN ELPHBERGS
"Prest yma qwestyon gena vy, Rudolf, pana dermyn vynta in oll an bÿs obery neppyth?" yn medh gwreg ow broder.
"A Rose wheg," my a worthebys, ow corra an lo oy wàr an plât. "In oll an bÿs, prag y tal dhybmo obery neppyth? Ow studh yw attês. Namnag eus pegans dhybm lowr dhe'm whans (nefra nyns eus pegans lowr qwyt dhe nagonen, dell wosta), benegys ov vy a sensy worshyp meur dh'y yêwny: broder ov vy dhe'n Arlùth Burlesdon, ha broder dâ dh'y gontes, an arlodhes mar worhanus. Mir, th'oma content!"
"Te yw naw bloodh warn ugans," hy a nôtyas. "Ha ny wrusta obery tra vëth ma's –"
"Ma's gwary alês? Gwir yw hedna. Nyns eus otham dh'agan teylu obery taclow."
Tabm vexys o Rose dre an ger-ma, rag pùbonen a wor (mencyon a'n feth, ytho, ny yll bos myshyf) nag eus teylu dhedhy a'n keth gre exaltys dell yw an Rassendylls, teg ha codnek kynth yw hy honen. Kefrës ha'y theythy dynyak, perhenes o hy a fortyn brâs, hag ow broder Robert o fur lowr, ma na vo hy lynaja bern ganso. Lynaj yw, in gwrioneth, testen may lavaras Rose nampyth ewn in y gever in hy nessa geryow.
"An teylu dâ yw lacka, dre vrâs, ès oll an re erel," yn medh.
I'n very prës-na me a wrug palva ow blew. Godhvedhys veu hy mênyng pòr gler.
"Fest lowen ov vy dell yw Robert du y vlew!" hy a grias.
I'n keth tecken Robert a dheuth ajy, rag y fëdh ev ow tyfuna wor'seyth eur dell yw ûsys, hag ow qwil whel kyns haunsel. Ev a dowlas golok wàr y wreg: hy bogh o tùch entanys. Ev a'n tavas in udn jersya.
"Pandr'yw an mater, a whegen?" ev a wovydnas.
"Yth esa hy ow tavasa warbydn ow fowt obery ha'm perhenogeth a vlew rudh," yn medhaf, in ton a bystyk.
"Ho! Sur nyns yw ev dhe vlâmya a'y vlew," Rose a wrug amyttya.
"Ûsys dhe dhos dhe wel, unweyth pùb kenedhel, 'ma an blew-na," yn medh ow broder. "An dhewfrik kefrës. Rudolf a'n jeves aga dew."
"Dos dhe wel, ass yw edrek genama," yn medh Rose, entanys whath.
"Gena vy th'yw an blew dâ lowr," yn medhaf, ha my a savas in bàn hag omblegya tro ha'n portreyans a'n Gontes Amelia.
Gwreg ow broder a levas garm heb perthyans.
"Ass yw edrek, na gemerta an pyctour-na in kerdh, Robert," yn medh hy.
"Ogh, a whegen!" ev a grias.
"Re Varia!" me a geworras.
"Dhana nakevys via, martesen," hy a dhuryas.
"Scantlowr – ha Rudolf in agan mesk," yn medh Robert, ow shakya pedn.
"Bos nakevys, prag y coodh?" my a wovydnas.
"Agh Rudolf!" gwreg ow broder a grias in mes, ha rudhya pòr dhainty.
My a wrug wherthyn, ha pêsya debry an oy. Me a worras adenewen, dhe'n lyha, an qwestyon pana res o dhybm obery neppyth (ha py neppyth). Ha, rag gorfedna an dhadhel – ha rag serry tebmyk dhe voy, res alowa, ow whor vy dre laha, mar vian ha sevur – my a wrug merkya:
"Dâ glân yw genama bos onen a'n Elphbergs."
Pàn viv ow redya whedhel, pùpprës y fydnaf vy dreslebmel oll an text styrya. Saw pàn dheffa porpos dhybm a screfa whedhel, desempys yma otham owth inia warna vy styryans. Dell yw ôpynwelys, res yw dhybm clerhe prag y feu ow whor dre laha vexys a'm dewfrik ha'm blew, ha prag y whrug vy lavasos lavar, my dhe vos onen a'n Elphbergs. Rag kynth eus bry brâs, res desta, dhe'n Rassendylls, nans yw lies kenedhel, bytegyns nyns yw kevradna in aga goos jùstyfians vëth, orth kensa golok, a vôstya dell en vy jùnys dhe'n lynaja moy bryntyn a'n Elphbergs, na jùstyfians naneyl a bottya qwarel dell esa dhybm eseleth i'n Teylu Rial-na. Pana berthynas a yll bos inter Rùrytânya ha Burlesdon? Inter an Palys in Strelsau pò an Castel in Zenda, ha Nyver 305 Park Lane, Loundres West?
Now – ha res yw dhybm leverel orth an dallath, y fedha'vy ow tysencledhyas, heb goheles, an very bysmêr yw res ankevy, dell dyb an Arlodhes Burlesdon wheg – i'n vledhen 1733, ha'n Secùnd Jory a'y eseth wàr an se rial, ha'n cres i'n termyn-na ow rainya, ha'n mytern ha Pensevyk Kembra heb bos an eyl warbydn y gela na whath, y teuth certan pryns ow vysytya Lÿs an Sowson, neb o henwys in istory a'y wosa an Tressa Rudolf a Rùrytânya. An pryns o pollat yonk ha sêmly, uhel y bedn, merkys (namys martesen, ny dhegoth dhybm brusy) dre dhewfrik strait, lybm, hir tabm dres ehen, ha bùsh a vlew rudh tewl – an keth frigow-na ha'n keth blew, in gwrioneth, re wrug stampya an Elphbergs nans yw termyn pelha ès cov. Th'esa va tregys in Englond lower mis, hag ev a veu recêvys i'n pow-ma gans an moyha cortesy. Bytegyns ev a dhepartyas, wàr an dyweth, in dyfyk a gomendyans. Rag y feu va in omlath dewdhen (ha pùbonen owth omsensy bos y woos a'n uhella, hag ev ow casa hepcor kenyver qwestyon a'y dhynyta) gans neb nôbyl, aswonys dâ in Cowethas an jëdh, rag y boyntys y honen a veryt, ha kefrës avell den teg dhe wreg. I'n omlath Pryns Rudolf a gemeras goly garow, Ha sawyes anodho, y feu remôvys in dadn gel dre sleyneth an lÿscadnas Rùrytânyan, hag ev ow cafos plenta trobel. Ny veu an nôbyl golies i'n omlath, mès yêyn o an myttyn, ha glëb, pàn wrussons y omvetya, ha'n nôbyl a godhas in hager-anwos. Hag abàn na sowenys ow fetha y gleves, y feu marow whegh mis, ader dro, wosa dybarth Pryns Rudolf, heb spâss rag amendya y gescowethyans gans y wreg – ha hodna, warlergh dew mis moy, ow tenethy flogh in er dhe dîtel ha stâtys an teylu Burlesdon. An arlodhes-ma o an Gontes Amelia, mayth esa ow whor dre laha ow yêwny remôcyon a'y fyctour in mes a'n parleth in Park Lane. Ha gour dhedhy y feu Jamys, pympes Yùrl Burlesdon ha Baron Rassendyll an secùnd warn ugans, pùbonen a'n dhew in nôbylta an Sowson, ha Marhak in Ordyr an Garget. Ha Rudolf, y whrug ev dewheles dhe Rùrytânya, demedhy gwreg, hag eskyna wàr an se rial, le may feu y flehes esedhys in lynaja ewn, alena bys i'n very eur-ma – saw spis cot yn unsel. Ha wortyweth, mar mydnowgh kerdhes dre soleryow an pyctours in Burlesdon, in mesk an hanter-cans portreyans a'n dewetha deg bledhen ha seyth ugans, why a wra cafos pymp pò whegh, hag intredhans an pyctour a'n wheffes yùrl, oll dyblans der aga dewfrik strait, lybm, hir. Ha kefrës dre showr a vlew rudh flàm. Dhe'n re-ma, pymp pò whegh, yma lagasow glas inwedh, kynth eus lagasow tewl inter an Rassendylls moy menowgh.
Wèl ot an styryans. Ha my lowen y vos dewedhys. Namow wàr lynaja wordhy yw testen fest tyckly. Ha'n nôcyon erytuster eson ny ow clôwes kebmys anodho hedhyw i'n jëdh yw, dowt vëth, tavasak a'n lacka kynda oll. Ow mockya dothter yma va, hag ow screfa manylyon astranj in Lyver an Nôbylta inter an lînednow.
Êsy yw merkya tell usy ow whor dre laha – ha fowt gensy a lojyk, fowt personek dhedhy hy honen heb mar (rag nag eus lecyans na felha a gùhudha hy reydh) – usy hy ow consydra ow fysmens kepar hag offens ogatty ha my dhe vlâmya ragthans, hag ow tesevos, wàr hast, warlergh an sînys-ma avês, teythy aberveth mayth ov vy hepthans kettep huny. Ha hy a genertha hy inferyans anjùst dre boyntya orth dyfyk a brow i'm bôwnans vy bys i'n eur-ma. Wèl, re bo hedna dell yll, my a wrug kemeres shara dâ a blesour solabrës, ha shara dâ a wodhvos skentyl. My a veu kyns in scol Alman hag in ûnyversyta Alman, hag yth esen vy ow côwsel Almaynek mar berfeth avell Sowsnek iredy. Nyns esen vy estren vëth in Frynkek. Y'm bo nebes geryow Italek, ha Spaynek lowr kefrës dhe gùssya ino. My o, dhe'm breus, cledhevyas crev, mès heb sleyneth meur. Ha sethor dâ gans godn. My a wodhya marhogeth pùb best mayth yw y geyn dhe sedha warnodho. Ha'm pedn ow mos wàr y gàm kebmys dell yw possybyl, in despît y worher tanek. Mar mydnowgh leverel y talvia dhybm ry ow dedhyow dhe ober vas, nyns eus ger vëth dhe'm dyffres, marnas hebma: na godhvia dhe'm kerens kemyna dhybm ertons a dhyw vil bens an vledhen ha nas stubmys dhe wandra.
"An poynt a dhyffrans intra jy ha Robert," yn medh ow whor dre laha, ha hy (bednath warnedhy!) ow côwsel yn fenowgh wàr arethva a'n wlasegeth ha, menowghter moy vëth, wàr arethva y desmygyans, "an poynt a dhyffrans yw, y vos ev owth aswon an dûtys usy ow sordya a'y savla i'n Gowethas, ha dha vos jy owth aspia a'th savla chauncys dhe sêsya."
"Dhe dhen uhel y golon, a Rose wheg," my a worthebys, "sêsya chauncys yw dûta."
"Flows!" yn medh, ow shakya hy fedn yn fen. Ha wosa tecken hy a bêsyas: "Now, otta Syr Jacob Borrodaile ow profya dhys soodh par hap a'th vusur jy poran."
"Gromercy milweyth!" yn medhaf, in udn hanaja.
"Canaseth a'n jevyth warlergh whegh mis. Yma Robert ow leverel gans certuster y vos parys dhe'th recêva avell onen a'y sodhogyon. Gwra acceptya, Rudolf – rag plegya dhe vy."
Now, bÿth pàn wrella ow whor dre laha gorra an mater in geryow a'n par-ma, ow crihy hy thâl teg, hag ow plethy hy dêwla bian, hirethek hy lagasow, oll a'm govys vy, loselwas kyn fe, ha hy heb omgemeryans naturek in ow hever, y'm beus edrega. Ha pelha, th'esen vy ow predery tell yllyn vy, dowt vëth, spêna termyn i'n soodh brofys-na ha cafos moy ès spot a solas. Ytho me a lavaras:
"A whor wheg, wosa whegh mis mar nyns eus lestans nag yw gwaitys, ha Syr Jacob orth ow gelwel, dhe'm cregy! my a vydn mos gans Syr Jacob defry!"
"Ogh, Rudolf, ass osta cuv! Pòr lowen ov vy!"
"Ple fëdh ow mos?"
"Ny wor whath. Certan y fëdh canaseth dâ."
"A Vadâma," yn medhaf, "kyn na vo ma's Myssyon othobmak par hap, me a vydn mos rag kerensa jy. Pesqweyth may fo màl genama, ny vedham mygyl."
Rÿs veu ow fromys ytho. Saw whegh mis yw whegh mis, owth hevelly trank heb worfen. Ha rag an mîsyow-ma dhe vos istynys inter my ha'm dywysygneth devedhek (me a vydn soposya sodhak canaseth dell yw den dywysyk, saw ny worama, rag na veuv vy sodhak canaseth bythqweth, na dhe Syr Jacob na dhe nagonen), my a wrug whythra orth maner garadow gasa an termyn dhe bassya. Ha desempys i'm pedn y teuth tybyans a vysytya Rùrytânya. Martesen yth hevel coynt, na wrug vy bythqweth vysytya an wlas-na kyns. Mès ow thas (in spit dh'y gerensa gudh wor'tu ha'n Elphbergs, neb a'n lêdyas dhe ry dhybm, y secùnd mab, an meur-hanow Rudolf), yth o prest sevys warbydn mos dy. Ha warlergh y vernans, ow broder, in dadn gùssul Rose, a wrug degemeres tradycyon an teylu, esa ow tesky goheles an wlas-na bytteth. Saw abàn dheuth Rùrytânya i'm pedn, y feuv vy consûmys gans ewl hy gweles dystowgh. Wosa pùptra, nyns yw blew rudh ha dewfrik hir dhe gafos only in Teylu Elphberg. Ha'n whedhel coth o skyla absùrd y dhylowrder, dhe'm breus, rag ow barya vy dhyworth aswon gwlascor a bris, ha meur hy bry, neb a wrug kemeres rol brâs in istory Ewrop kyns, ha parys dhe wil an keth hedna unweyth arta in danjer rêwlyas yonk ha freth, dell o an Mytern nowyth, herwyth pùb mencyon anodho. Sêlys veu ow determyans pàn wrug vy redya in The Times tell vedha an Pympes Rudolf cùrunys in Strelsau kyns pedn an nessa teyr seythen, ha tell vedha an ocasyon brâs-oberys in gwir. Mes a dorn my a vydnas bos ena, ytho dallath parusy. Saw dre rêson nag esa nefra dhybm ûsadow a brovia manylyon dhe'm kerens a'm viajys, ha my i'n câss-ma ow qwetyas gorthenep warbydn ow forpos, my a lavaras dell vydnen vy gwandra i'n Tyrol – o menowghva dhybm – ha my a wrug dyserry Rose dre dheclarya y bosaf intentys dhe studhya problemow gwlasek ha socyal an gemeneth, brâs hy les, usy tregys i'n côstys-na.
"Martesen," me a hyntyas yn tewl, "y fëdh sewyans dhe'm viaj ena."
"Pandra vynta leverel?" hy a wovydnas.
"Wèl," yn medhaf, ha'm gis heb rach vëth, "y hyller lenwel, dell hevel, aswy i'n lien der ober oll-compassus –"
"Ho! a wrêta screfa lyver?" hy a grias, ha tackya dêwla. "Hedna vëdh spladn, a ny vëdh, Robert?"
"Th'yw an gwelha comendyans i'n jëdh hedhyw dhe'n bôwnans gwlasek," ow broder a wrug nôtya, hag ev y honen, dell y coodh godhvos, omgomendys i'n very maner-ma lower gweyth. Burlesdon Tùchyng Damcanep Goth ha Fethow Arnowyth hag An Sewyans Dewetha Oll, gans Studhyor Polytyk, an dhew ober-ma yw uhel in bry aswonys.
"An gwir yma dhis, ha my ow cresy, Bob was," yn medhaf.
"Now gwra dedhewy, ty dh'y wil yn tefry," yn medh Rose, sevur hy lev.
"Nâ, promys vëth ny rov vy. Saw me a vydn y wil mar teuv ha cafos devnyth lowr."
"Hèn yw rêsonus," yn medh Robert.
"Ogh, ny vern an devnyth!" yn medh hy, in udn settya hy gwessyow in pors.
Saw i'n tor'-ma ny ylly hy kemeres moy ès hanter-promys orta vy. In gwrioneth, y fensen vy gwystla sùbmen vrâs, na wrella story a'm viaj nama paper vëth nefra, na shyndya neb pluven. Hag yma hedna ow tysqwedhes fatell woryn ny bohes teg a vyns a vo i'n termyn a dheu. rag otta vy obma, ow collenwel ow hanter-promys, hag ow screfa lyver, dell na wrug vy desmygy bythqweth – kyn na wra servya scant in comendyans dhe'n bôwnans gwlasek, ha'y gontens heb tùchya màn an Tyrol.
Dowt a'm beus dell wrussa an lyver plêsya an Arlodhes Burlesdon naneyl, mar teffen ha'y bresentya dh'y golok hag arvrusyans – na'n stap-na, nyns eus mydnas vëth genef a'y wil.
CHAPTRA 2
ADRO DHE'N COLOUR A VLEW EUS DHE DUS
Lavar meurgerys dhe'm Ôwnter William o, na godhvia dhe dhen vëth tremena dre Paris heb passya inhy udn jorna. Th'esa an ôwnter ow leverel warlergh prevyans a'n bÿs, ha me a wrug enora y gùssul der ôstya udn jëdh hag udn nos i'n 'Continental' wàr ow fordh dhe – dhe'n Tyrol. Me a vysytyas George Featherly i'n Canaseth, ha ny a gemeras tabm warbarth a gydnyow i'n boosty Durand, hag a'y wosa tastya an Gwary Kenys. Ha wosa hedna ny a dhebras nebes soper, ha wosa hedna vysytya Bertram Bertrand, gwersyor dâ y hanow ha kesscrefor in Paris rag The Critic. Y'n jeva set a rômys meur aga honfort, ha ny a gafas gwesyon blesont ow megy hag ow kestalkya. Apert o dhybm, bytegyns, Bertram y honen dhe vos dyglon, estregus y vrës, ha pàn veu pùbonen gyllys, marnas ny gàn honen, my a wrug y dhascùntell a'y vûtyans pell. Pols dâ ev a skyrmyas genef, ha wàr an dyweth ev a grias in mes, ow tôwlel y gorf dhe wely dëdh:
"Dâ lowr, ha ty owth erya. Th'esof ow cara – iffarnak cara!"
"Dhana prydydhieth a wrêta screfa dhe well," yn medhaf avell ger confortya.
Ev a wrug crihy y vlew gans y dhorn ha megy yn fen. Yth esa George Featherly, a'y sav, an keyn trailys dhe'n glavel, ow minwherthyn heb cufter.
"Mars yw hy an garorieth coth," yn medh, "ny dal ma's hy dascor, Bert. An venyn a vydn qwyttya Paris avorow."
"Me a'n gor," yn medh Bertram, garow y lev.
"A pëdh hy ow cortos, dyffrans vëth," a bêsyas George yn tybyta. "Ma hy neyjys uhella ès myster jornalyst, sos!"
"Dh'y cregy hy!" yn medh Bertram.
"A les dhybm via dhe voy," me a wrug lavasos, "mar cothfen vy pyw esow'why ow côwsel in hy hever."
"Antoinette Mauban," yn medh George.
"De Mauban," a groffolas Bertram.
"Ohô!" yn medhaf, ha sevel orth aswon dadhel an ragêr 'de'. "A vynta leverel, Bert – ?"
"Dar, ny ylta gasa cres?"
"Pyma hy ow mos?" me a wovydnas, rag an dhama nyns o bian hy hanow.
George a wrug tynkyal an bathow in y bocket, minwherthyn yn cruel orth Bertram truan, ha gortheby yn plesont:
"Ny wor den vëth. Me a vetyas – ha ny ow côwsel, Bert – gans onen a'n vrâsyon in hy chy nans yw lower nos – wèl, nans yw ogas ha mis. A wrusta metya ganso nepprës – Dûk Strelsau?"
"G'rug," Bert a groffolas.
"Den codnek dres ehen, dell dybys vy."
Caletter vëth ny veu gweles tell o George porposys dre vencyon a'n dûk dhe encressya torment wàr Bertram truan, ytho my a vydna inferya re wrug an dûk aswon attendyans dhe Madame de Mauban. Hy o gwedhwes, rych, sêmly ha, dell levery whedhel, uhelwhansek. Th'o pòr wirhaval hy dhe vos, dell y'n gorras George in geryow, neyjys mar uhel avell ken onen, neb o person a'n moyha possybyl, heb perhedna gre rial i'n styr stroth. Rag yth o an dûk mab dhe Vytern Rùrytânya tremenys agensow, dre secùnd demedhyans a'n leuv gledh, ha hanter-broder dhe'n Mytern nowyth. Ev o mab moyha kerys y das, ha chêson a gabel pàn veuva gwrës dûk, ha'y dîtel kemerys dhyworth cyta, ha hodna an bencyta hy honen. Y vabm o dâ hy genesygeth, adar exaltys bytegyns.
"Dar, nyns usy ev in Paris i'n tor'-ma?" me a wovydnas.
"Ogh, nag usy! Ev êth in kerdh rag bos in cùrunyans an Mytern – solempnyta na wra ev enjoya scant, dr'yw dhe wetyas. Saw Bert, a bollat dâ, na goll govenek! Ny wra ev màn demedhy Antoinette maga teg – wèl, ny wra, marnas towlen aral a vëdh sprellys. Byttele, y fydn hy martesen – " Ev a hockyas ha keworra, in udn wherthyn, "Cales yw sevel orth attendyans rial – ty a wor hedna, Rudolf, a ny wodhes?"
"Dhe'th confùndya!" yn medhaf, ha gorhebmyn farwèl, ha gasa Bertram anfusyk inter dêwla George, ha mos tre dhe'm gwely.
Ternos George Featherly a wrug dos gena vy dhe'n gorsaf, may prenys vy tôkyn dhe Dresden.
"Gwil tro rag gweles oryel an pyctours?" George a wovydnas, ha gwenwherthyn.
George yw whedhlor coth, ha mara mednen derivas dhodho dell esen vy ow viajya bys in Rùrytânya, y fia an nowodhow devedhys in Loundres wosa treddeth, hag in Park Lane kyns pedn seythen. Ytho my a vydna ry gorthyp gohelus pàn wrug ev selwel ow heskians vy ha'm forsâkya desempys, ow qwybya dres an cay. Pàn wrug vy holya gans dewlagas, me a welas bos ev ow terevel y hot ha salusy benyn jentyl, fascyonus hy gwysk, a veu apperys namnygen in mes a'n dôkynva. Hy o, leveryn ny, tùch moy ès deg bloodh warn ugans, hir hy horf, tewl, ha leun lowr hy fygùr. Pàn esa George ow côwsel, me a wrug gweles tell dowlas hy golok scav warna vy, ha'm gooth a veu hùrtys der an preder nag esa semlant dhybm a'n gwelha, ha my cudhys in dadn gôta pelour ha lien codna (rag an jëdh in Ebrel dhe vos yêyn) ha hot viajya, medhel ha tednys isel dhe'n scovornow. Wosa tecken, George a dheuth ha jùnya dhybm arta.
"Cowethes meur hy gorhan yma dhis i'n viaj," yn medh. "Hòn yw an dhuwes usy Bert Bertrand truan ow cordhya dhedhy, Antoinette de Mauban; ha hy, kepar ha ty, ow mos dhe Dresden – heb dowt kefrës rag gweles oryel an pyctours. Pòr goynt yw, bytegyns, nag usy hy ow whelas an enor a'th aswon i'n present termyn."
"Ny vydnen vy govyn comendyans dhedhy," me a wrug merkya, nebes serrys.
"Wèl, me a brofyas dha dhry jy dhedhy. Mès hy a lavaras, 'Prës aral.' Ny vern, 'was, par hap y fëdh drog-labm hens horn, ha chauns dhyso a wil hy rescous ha defendya Dûk Strelsau dhe ves!"
Bytegyns ny veu drog-labm vëth, naneyl orta vy na worth Madame de Mauban. My'yll côwsel abarth dhedhy, ha'm omfydhyans kehaval dell eus a'm parth ow honen. Rag pàn esen vy, wosa nos a bowes in Dresden, ow pêsya an viaj, hy a wrug eskyna i'n keth train. Convedhys o genam y bosy heb whans a gompany, ytho me a vydna hy goheles gans rach. Saw my a wely hy bos ow viajya an keth train-ma gena vy bys in very pedn a'm fordh, ha me a wrug ûsya pùb spâss a veras war orty, bÿth pàn allen vy gwil, heb bos aspies.
Kettel wrussyn ny drehedhes or Rùrytânya (ha'n sodhak coth, neb o rowtor an Dollva, ow settya y dremyn warnaf mar stark, may feuv vy surra agès kyns a'm fysmens Elphberg), me a brenas an paperyow nowodhow, ha cafos derivadow inans tùchyng ow viaj. Heb styryans cler, tabm kevrînek kyn fe, y feu dëdh an cùrunyans avauncys neb rêson. Y fedha an solempnyta sensys trenja. Th'esa an hol bow ow frobma in y gever, ha Strelsau o, hebma apert, leun a rûth. Oll an rômys a veu gwerthys, ha'n ostelyow ow fedna. Pòr idn vedha ow chauns vy dhe gafos gwestva, ha sur y fedha res dhybm tylly pris uthyk brâs. Ervirys veuv vy dhe bowes in Zenda, tre vian, hanter-cans mildir dhyrag an bencyta, ha deg ader dro dhyworth an or. An train a dheuth dy gordhuwher, hag ow forpos o passya an nessa jorna, de Merth, in gwandrans dres an brynyow, meur aga brafter herwyth whedhel; kibya golok got a'n Castel brâs y hanow; kemeres an train dhe Strelsau de Merher myttyn; ha dewheles i'n nos rag cùsca in Zenda.
Ytho in Zenda me a skydnyas, ha pàn esa an train ow tremena an tyller mayth esen vy sevys wàr an cay, my'ylly aspia Madame de Mauban in hy eseth. Th'o cler tell esa hy ow viajya bys in Strelsau ha cafos set a rômys ena, gwell hy darbar ès ow ragwel vy. Minwherthyn me a wrug pàn y teuth dhe'm preder, assa via George Featherly sowthenys a cothfa my ha hy dhe vos kesviajyoryon mar bell.
Pòr guv veu ow recepcyon i'n ostel – in gwrioneth, scant nyns o moy ès gwesty – ha'n ôstes o benyn goth ha borr, ha dyw vyrgh gensy. Pobel gosel êns y, ha caradow, bian aga les, dell hevelly, in gwrÿth vrâs Strelsau. Gorour o an dûk dhe'n venyn goth, drefen ev dhe vos, warlergh lyther kemyn an Mytern tremenys, mêster a stâtys Zenda lebmyn hag a'n Castel, esa bryntyn y sav wàr an vre serth in pedn an valy, ogas hag udn vildir orth an gwesty. Ny hockyas an venyn goth ow teclarya, yn tefry, hy edrek nag esa an dûk esedhys wàr an se rial, in le y vroder.
"Aswonys dhe ny yw an Dûk Michael," yn medh. "Ma va tregys i'gan mesk nanj yw oll y dhedhyow. An Dûk Michael yw aswonys dhe bùb Rùrytânyan. Mès estren namnag yw an Mytern. Kebmys in powyow erel th'esa ev, ha nynj eus ma's onen in deg unweyth orth y aswon dre syght."
"Hag i'n tor'-ma," onen a'n benenes yonk a woderrys hy hows, "yma whedhel tell wrug ev dyvarva, ma nag eus den vëth oll orth y aswon."
"Dyvarva!" hy mabm a grias. "Pyw eus ow leverel?"
"Johann, an gwethyas gam dhe'n dûk. Ev re welas an Mytern."
"Eâ. 'Ma an Mytern, sera, in chy helghya an dûk, i'n forest obma, i'n very eur-ma. Ev a vydn mos ahanan dhe Strelsau rag bos cùrunys de Merher myttyn."
Clôwes hedna a veu meur y les dhybm, ha my a wrug ervira kerdhes tro ha'n chy ternos, ha chauns a dhierbyna an Mytern. An venyn goth a bêsya hir hy thavas:
"Agh, 'pe unweyth ev dhe dhurya orth y helghyans – hedna, ha'y win (hag udn dra kefrës), nynj yw ma's an re-ma y gerensa, dell laver scavel an gow – 'pe unweyth gasa agan dûk dhe vos cùrunys de Merher. Ot ow whans vy, ha ny vern pyw a wor."
"Whyst, mabm!" an myrhas a lavaras, meur aga iny.
"Ogh, 'ma lies huny ow tyby an keth hedna!" an venyn goth a grias, cales hy fedn.
Me a'm towlas i'm chair brehek down wàr dhelergh, ha wherthyn orth hy dywysycter.
"Dhe'm part vy," yn medh an yonca ha tecka a'n dhyw vyrgh, moren blegadow, sêmly hy minwharth, 'Cas yw Michael Du genam! Elphberg rudh yw whans avy, a vabm! An Mytern yw, pùb huny der dherif, mar rudh avell lowarn pò vell –"
Ha hy a wharthas dregynus, ow tôwlel golok warna vy, ha shakya hy fedn orth hy whor, warbydn hy fâss a rebukyans.
"Lies den re wrug molethy y vlew rudh kyns hedhyw," an venyn goth a groffolas – ha my ow perthy cov a Jamys, pympes Yùrl Burlesdon.
"Saw ny wrug benyn bythqweth!" a grias an vowes.
"Benenes, y whrussons y kekefrës, pàn veu re holergh," an gorthyp a dheuth sevur, ha'n vowes a godhas in meth ha taw.
"Prag yma an Mytern i'n vro?" me a wovydnas, rag terry an taw tyckly.
"An dûk yw perhen a'n tir obma, dell leveryth."
"Y feuva gelwys gans an dûk, sera, rag gwil powes obma bys de Merher. 'Ma an dûk in Strelsau, ow tarbary recepcyon dhe'n Mytern."
"Cothmans yns y dhana?"
"A'n gwelha," yn medh an venyn goth.
Saw ow damsel roslyw a shakyas hy fedn unweyth arta. Ny yller hy frodna termyn pell, heb hy dhe derry arta in mes:
"Eâ, th'yw an eyl ow cara y gela, mar wyw dell yw dhe dus whensys dhe'n keth plâss ha dhe'n keth wreg!"
Th'esa an venyn goth ow meras serrys brâs orty. Saw an dewetha geryow a wrug piga ewl a wodhvos ina vy, ha my a's contreweytyas kyns ès hy dhe dhos dhe davasans:
"Pywa! An keth wreg dh'aga dew! Fatl'yw, a venenyk?"
"Gans oll an bÿs 'ma godhvedhys ter via Michael Du – wèl sur, a vabm, an dûk – ow ry y ena ev rag demedhy y genytherow, Prynces Flavia, ha ter vëdh hyhy an vyternes."
"Re'm fay," yn medhaf, "ha my ow kemeres trueth a'gas dûk lebmyn. Saw neb den mar pëdh yonca mab, now, res yw recêva an pëth a vo gesys dhodho gans an mab cotha, hag aswon grâss dhe Dhuw, kebmys dell alla va." Ha my a wrug derevel an scodhow, ow predery ahanaf ow honen, hag ow wherthyn. Nena my a wrug predery Antoinette de Mauban inwedh, ha'y viaj dhe Strelsau.
"Bohes yw dyghtyans Michael Du gèn –" a dhalathas an vowes, in spit dhe sorr hy mabm. Mès pàn esa hy whath in cows, y teuth stap poos ha seny wàr an leur, ha voys grolyak a wovydnas in ton a wodros:
"Pyw eus ow clattra a 'Michael Du' in tre y Uhelder y honen?"
An vowes a levas scrij bian, hanter rag own – hanter, dell gresama, dydhenys.
"Ny wrêta derivas er ow fydn, Johann?" yn medh hy.
"Dar, ny welta pleth ujy dha glap ow lêdya?" yn medh an venyn goth.
An den hag a wrug côwsel, ev a worras y honen in rag.
"Ma company dhe ny, Johann," yn medh ow ôstes, ha'n pollat a wrug sqwychya y hot dhe ves. Wàr nùk ev a'm aspias, ha plynchya stap wàr dhelergh, er am marth, kepar ha pàn wrella gweles tra varthusek.
"Pëth yw dha drobel, Johann?" an cotha mowes a wovydnas. "Hèm yw estren jentyl wàr viaj, devedhys rag gweles an cùrunyans."
An den a dhaskemeras y honen, saw th'esa ow meras stag orta vy ha'y wolok o crev, whythrus, fers ogatty.
"Gordhuwher dâ dhys," yn medhaf.
"Gordhuwher dâ, sera," ev a groffolas, ha whythra orta vy whath, ha'n vowes hudhyk a dhalathas wherthyn, ow cria in mes –
"Mir, Johann, th'yw an colour kerys gena jy! Plynchys veuva pàn wrug aspia gàs blew, sera. Aga holour scant nynj yw gwelys in Zenda yn fenowgh."
"Gyvyans a besaf, sera," yn medh an pollat in udn hockya, penpleth in y lagasow. "Den vëth, nynj o dhe wetyas."
"Roy gwedren dhodho, may halla eva ow yêhes vy. Ha me a vydn gorhebmyn nos dâ dhe why, ha dùrdala dhe why, a venenes wheg, a'gas cortesy ha'gas kescows plesont."
Gans an geryow-ma my a savas in bàn, ha wosa plegyans scav omdrailya dhe'n daras. Th'esa an vowes yonk ow ponya rag golowy ow fordh, ha'n den ow kildedna rag gasa tremen dhybm, ha'y lagasow stegys warna vy hogen. I'n very prës pàn wrug vy passya, ev a gemeras stap wàr rag, ha govyn:
"Y praya, sera, yw an Mytern aswonys dhis?"
"Bythqweth ny'n gwelys," yn medhaf. "Yma govenek dhybm a'y weles de Merher."
Ny lavaras ev namoy, saw th'esen vy owth omglôwes fatell holya y wolok wàr ow lergh, bys may feu an daras degës ha my dredho. Ow hùmbrynkyades taunt a wrug leverel, ow kerdhes dhyragof hag ow meras dres hy scoodh:
"Onen a'gas colour, sera, ny yll plêsya Mêster Johann."
"Gwell yw ganso dha golour jy, martesen?" me a brofyas.
"Ow mênyng, sera, o colour in gour," hy a worthebys, ha'y golok a dhynyores warnaf.
"Pywa?" a wovydnys, ow settya dalhen in tu aral an cantolbren. "Yw colour in gour tra meur y vern?"
"Nag yw, mès my a gar dha golour jy – rudh an Elphbergs yw va."
"Colour in gour," yn medhaf, "nyns yw y valew moy ès hebma!" – ha my ow ry nampyth dhedhy heb valew vëth.
"Duw graunt daras an gegyn dhe vos degës!" yn medh.
"Âmen!" yn medhaf, ha dyberth dhyworty.
In gwrioneth, dell worama lebmyn, traweythyow th'yw colour a valew mynsek in gour.
AN CHAPTRYS TRESSA HA PESWORA A VËDH KEWORRYS DHE'N CHAPTRYS-MA MIS HEDRA 2020.
GERVA
GLOSSARY
Definitions have generally been confined to those relevant for the story. To keep the glossary to a manageable length the listing excludes the most common words. These are best looked up in Gerlyver Kescows – A Cornish Dictionary for Conversation (Ian Jackson, Agan Tavas 2017), for which an up-to-date spell-checker is available at www.skeulantavas.com/Vocabulary. If you need grammar, by far the most helpful book is Desky Kernowek (Nicholas Williams, Evertype 2012).
The format and abbreviations in the glossary are the same as in Gerlyver Kescows, with one refinement. In this listing a middle dot following a vowel sound shows that primary stress is on that syllable (in cases where it is not the penultimate syllable); a double vertical line after a disyllabic word indicates that both syllables are more-or-less evenly stressed.
a'n leuv gledh phr morganatic
acceptya v accept
agh interj oh (protesting)
Alman adj German
Almaynek m German (language)
âmen interj amen
apperya v appear
arvrusyans m appraisal, assessment
astra·nj adj = stranj
attendyans m attention
benenyk f benenygow young lady
bos intentys phr intend
brafter m excellence
brâs-oberys adj magnificent
broder dâ m breder brother-in-law
bytteth adv ever
cantolbren m cantolbrednyer candlestick
caro·rieth f [love] affair
certuster m certainty
clap m chatter
clavel f clavellys mantelpiece
cledhevyas m cledhevysy swordsman
co·mpany m company
confùndya v confound
consûmya v consume
consydra v consider
conte·nt adj content, satisfied
contes f contesow countess
crihy v wrinkle
cufter m kindness
cùrunyans m coronation
damsel f damsels damsel
dascùntell v rally (sb)
daskemeres v recover
der conj = dell
departya v depart
determyans m resolution, decision
dos dhe wel phr appear
dothter m discretion
dre / dr' conj = dell
dregynus adj mischievous
dreslebmel v skip over
drog-davasak m drog-davasogyon scandal-monger
dûk m dûkys duke
dûta m dûtys duty
duwes f duwesow goddess
dyghtyans m dealing
dylowrder m insufficiency
dynyak adj attractive
dynyores f dynyoresow coquette
dy·nyta m dignity
dysencledhyas v disinter
dyserry v placate
dywysycter m zeal
edrega m = edrek
encressya v increase
er m êrys heir
er am marth phr to my surprise
erbydn prep = warbydn
erya v defy, insist
erytuster m heredity
estregus adj absent
exaltya v exalt
fers adj fierce
forest m forestys forest
fortyn m fortune
frigow pl nose
Frynkek m French (language)
fysment m fysmens (facial) feature
garget m gargettys garter
gasa hepcor phr waive
goderry v interrupt
gorthenep m opposition
grauntya v grant
gre m standing, rank
grolyak adj gruff
gwandrans m wandering, rambling
gwedhwes f gwedhwesow widow
gwenwherthyn v grin
gwersyor m gwersyoryon versifier
gwestva f accommodation
gwlascor f gwlascorow kingdom
gwybya v dart
helghyans m hunting
hogen adv still
hudhyk adj merry
hùmbrynkyades f hùmbrynkyadesow escort (female)
hyntya v hint
in danjer prep under (control, influence etc)
inferya v infer
inferyans m inference
intentys see bos intentys
iny m urging
Italek m Italian (language)
Jamys m James
Jory m George
jùstyfians m justification
kekefrës adv = kefrës (emphatic)
kemyna v bequeath
kesscrefor m kesscreforyon correspondent
kestalkya v talk, chat
kesviajyor m kesviajyoryon fellow-traveller
lecyans m lecyansow licence
lestans m lestansow obstacle
leva v utter
loselwas m loselwesyon idler
lower gweyth phr several times
lynaj[a] m lineage, ancestry
lÿs f lÿsyow court
lÿscadnas f lÿscanasow ambassador (masculine reference for pronouns if male)
lyther kemyn m lytherow will
'ma verb = yma
menowghter m frequency
menowghva f haunt
mes a dorn phr at once
molethy v curse
moren f moronyon wench
mos wàr y gàm phr to be steady / cool
musur m musurow measure
mûtyans m sulking, moping
myshyf m injury, harm, ruin
myster [an] jornalyst m journalism
nakevys adj = ankevys
nôbyl m nôblys noble[man]
nôbylta m nobility
nôcyon m nôcyons notion
omblegya v bow
omdrailya v turn (round)
omglôwes v feel (in oneself)
omgomendya v introduce oneself
omlath dewdhen m omladhow duel
omsensy v feel, consider
ôstes f ôstesow hostess
ôstya v stay (as a guest)
othobmak adj beggarly
parleth m parledhow parlour
'pe verb = a pe
penpleth f perplexity, puzzlement
pensevyk m pensevygyon prince
perhenes f perhenesow possessor (female)
perhenogeth m possession
personek adj personal
plegadow adj buxom
plegyans m bow
plenta m plenty
plêsya v please
portreyans m portreyansow portrait
pottya qwarel phr claim
pryns m pryncys prince
pystyk m pystygow injury
qwyt adv completely
qwyttya v quit, leave
ragwel m foresight, providence
rainya v reign
rebukyans m rebuke, reproof
rescous m rescue
rêwlyas m rêwlysy ruler
rol m rôlys role
roslyw adj rosy
Rùrytânya f Ruritania
Rùrytânyan adj/m Rùrytânyans Ruritanian
salusy v greet
saw ... yn unsel phr except
se rial m sêys throne
sêlya v seal
sêmly adj handsome
sêsya v seize
sethor gans godn phr marksman
showr a phr a lot of
skyrmya v fence
socyal adj social
solas m entertainment
Spaynek m Spanish (language)
styryans m explanation
tanek adj fiery
tastya v taste, try
tavasa v speak out
tavasak see drog-davasak
tavasans m scolding
tebmyk m temygow little bit
tecken f tekednow moment
tell conj = fatell (in sense 'that')
ter conj = fatell (in sense 'that')
ternos adv the next day
tôkynva f tôkynvaow booking-office
trank heb worfen phr an eternity
treddeth adv three days
tremen m passing
trenja adv the day after tomorrow
tùchyng prep concerning, about
tynkyal v jingle
ûnyve·rsyta m ûnyve·rsytys university
vell prep = avell
very adj very
vëth adv even (with comparative)
vexya v vex, annoy
voys m voycys voice
wàr nùk phr straightaway
wàr rag phr = in rag
'was form of address = a was
whedhlor m whedhloryon gossip
whor dre laha f whereth sister-in-law
whyst interj hush
whythrus adj searching
worshyp m social position
y tegoth verb it behoves
y Uhelder title his Highness
'yll verb = a yll
'ylly verb = a ylly
yùrl m yùrlys earl