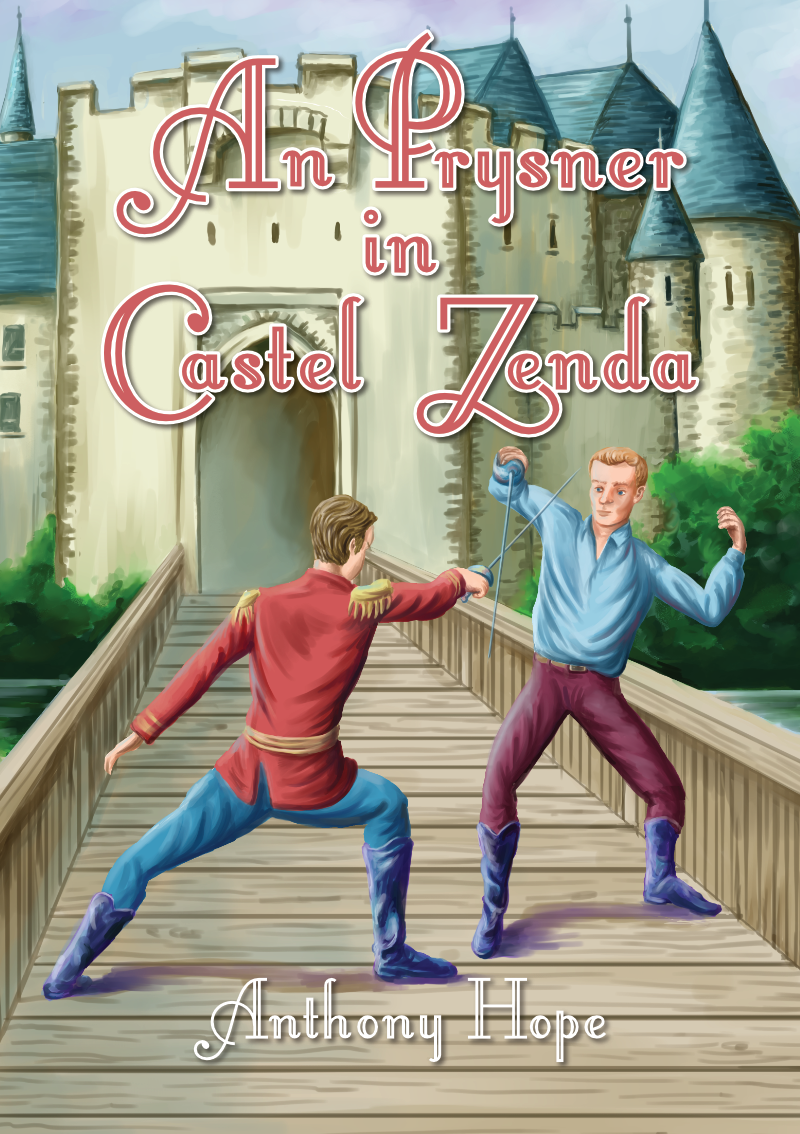 AN PRYSNER IN CASTEL ZENDA
Anthony Hope
Kernowek gans Ian Jackson
E-dhyllys gans kernoweklulyn.com
Y fëdh An Prysner in Castel Zenda ow carya an redyor dhe Rùrytânya, pow a henwhedhel in perveth Ewrop coth. Res yw dh'agan gorour Rudolf Rassendyll dos ha gweres Mytern an wlas vian-ma, ha hebma in studh a beryl brâs. A yll Rassendyll lettya hager-dhevîs Dûk Michael, hanter-broder dhe'n Mytern? A yll diank orth cas Rupert a Hentzau ha'y dhrog-golîtys? A yll dry oll an aventuryans dhe dhyweth fusyk, heb terry colon an Brynces Flavia, ha'y golon y honen kekefrës?
Anthony Hope a wrug screfa an tâla-ma in 1894. Rùrytânya ha'y manylyon lywus a gibyas fancy an bobel desempys yn tobm. Yma an trailyans gans Ian Jackson ow cachya froth ha frobmans romantek an mamlyver.
Kensa dyllans / First published 1894
Mamdytel / Original title The Prisoner of Zenda
Trailyans / Translation © 2020 Ian Jackson
Pùb gwir gwethys. Nyns yw an pùblycacyon-ma dhe redya marnas wàr wiasva kernoweklulyn.com – ny yll radn vëth anodho naneyl bos copies, sensys aberth in ken system dascafos na treuscorrys in form vëth oll na dre vain vëth oll, poken electronek, jynweythek, dre fotocopians, dre recordyth bò fordh vëth aral, heb recêva cubmyas dhyrag dorn dhyworth an trailyor.
All rights reserved. This publication is exclusively for reading on the website kernoweklulyn.com – no part of it may be reproduced, stored in another retrieval system or transmitted, in any form or by any means, electronic, mechanical, photocopying, recording or otherwise whatsoever, without prior permission of the translator.
E-dhyllys gans / E-published by
kernoweklulyn.com
(Viv Taskis)
Ranjy A, 37 Bre an Eglos / Flat A, 37 Church Hill
Hellÿs / Helston
Kernow / Cornwall
TR13 8TL
Lymnans / Illustration
Nigel Roberts
A note on the Cornish in this book
The Cornish of this translation takes William Jordan's Gwrians an Bÿs as its 'foundation text', while looking forward to John Keigwin, William Rowe and Nicholas Boson, and back to John Tregear, Sacrament an Alter, Bêwnans Ke, and Bêwnans Meriasek. Spellings are those of Standard Cornish ('Kernowek Standard' or 'KS'). This particular orthography was developed under the leadership of Michael Everson in close cooperation with Professor Nicholas Williams. It aims for spellings that are as unambiguous as possible in their representation of the sounds of Cornish, and which at the same time remain faithful to the forms we encounter in the traditional Cornish texts – since these are our chief source for the language. The whole corpus of traditional Cornish has been used to enlarge the vocabulary. This has been a necessary principle of the revival from the outset.
There is a Glossary at the end of the book.
I am indebted to Ray Chubb, who kindly read a draft of the whole translation and saved me from many infelicitous expressions.
A note on proper names
Anthony Hope's Ruritania becomes Rùrytânya in Cornish, but otherwise names of people and places specific to the story have not been respelled. All the Ruritanian characters have German or Slavic names, so Michael, for example, sounds very much like Cornish Myhal, and you will be close enough if you pronounce Flavia as 'Flâvya', not with the vowel heard in the first syllable of English 'flavour'. Strelsau too is a German name, at least in form. Say it as 'Shtrelzaw'. But Zenda is probably meant to be purely Slavic, so its z is pronounced as in Cornish zyp (not 'ts').
CONTENT PÙB RADN VÎSEK
Mis Gwydngala 2020
Chaptra 1
An Rassendylls – ha nebes geryow tùchyng teylu Elphberg
Chaptra 2
Adro dhe'n colour a vlew eus dhe dus
Mis Hedra 2020
Chaptra 3
Gordhuwher mery gans goos pell
Chaptra 4
An Mytern ow sensy appoyntyans
Mis Du 2020
Chaptra 5
Aventurs dhe actour gorthro
Chaptra 6
Kevrîn in certan selder
Mis Kevardhu 2020
Chaptra 7
Y Vrâster ow cùsca in Strelsau
Chaptra 8
Kenytherow a'n tecka ha broder tewl
Mis Genver 2021
Chaptra 9
Tâbel tê ha porpos nowyth dhe hedna
Chaptra 10
Chauns brav dhe dhen bylen
Mis Whevrel 2021
Chaptra 11
Helghya torgh coos ha brâs dres ehen
Chaptra 12
Recêva vysytyor ha boosa hig
Mis Merth 2021
Chaptra 13
Skeul Jacob amendys
Chaptra 14
Udn nos orth an Castel wàr ves
Mis Ebrel 2021
Chaptra 15
My ow côwsel orth temptyor
Chaptra 16
Towlen othobmak
Mis Mê 2021
Chaptra 17
Dydhanans hanter-nos gans Rupert yonk
Chaptra 18 Ajy dhe'n grocken dre nell
Mis Efen 2021
Chaptra 19
Fâss orth fâss i'n forest
Chaptra 20
An prysner ha'n Mytern
Mis Gortheren 2021
Chaptra 21
Mara pe kerensa oll an dra
Chaptra 22
Termyn present, passys – ha dhe dhos?
CHAPTRA 1
AN RASSENDYLLS – HA NEBES GERYOW TÙCHYNG TEYLU ELPHBERG
"Prest yma qwestyon gena vy, Rudolf, pana dermyn vynta in oll an bÿs obery neppÿth?" yn medh gwreg ow broder.
"A Rose wheg," my a worthebys, ow corra an lo oy wàr an plât. "In oll an bÿs, prag y tal dhybmo obery neppÿth? Ow studh yw attês. Namnag eus pegans dhybm lowr dhe'm whans (nefra nyns eus pegans lowr qwit dhe nagonen, dell wosta), benegys ov vy a sensy worshyp meur dh'y yêwny: broder ov vy dhe'n Arlùth Burlesdon, ha broder dâ dh'y gontes, an arlodhes mar worhanus. Mir, th'oma pës dâ!"
"Te yw naw bloodh warn ugans," hy a nôtyas. "Ha ny wrusta obery tra vëth ma's –"
"Ma's gwary alês? Gwir yw hedna. Nyns eus otham dh'agan teylu obery taclow."
Tabm vexys o Rose dre an ger-ma, rag pùbonen a wor (mencyon a'n feth, ytho, ny yll bos myshyf) nag eus teylu dhedhy a'n keth gre exaltys dell yw an Rassendylls, teg ha codnek kynth yw hy honen. Kefrës ha'y theythy dynyak, perhenes o hy a fortyn brâs, hag ow broder Robert o fur lowr, ma na vo hy lynaja bern ganso. Lynyaj yw, in gwrioneth, testen may lavaras Rose nampÿth ewn in y gever in hy nessa geryow.
"An teylu dâ yw lacka, dre vrâs, ès oll an re erel," yn medh.
I'n very prës-na me a wrug palva ow blew. Godhvedhys veu hy mênyng pòr gler.
"Fest lowen ov vy dell yw Robert du y vlew!" hy a grias.
I'n keth tecken Robert a dheuth ajy, rag y fëdh ev ow tyfuna wor'seyth eur dell yw ûsys, hag ow qwil whel kyns haunsel. Ev a dowlas golok wàr y wreg: hy bogh o tùch entanys. Ev a'n tavas in udn jersya.
"Pandr'yw an mater, a whegen?" ev a wovydnas.
"Yth esa hy ow tavasa warbydn ow fowt obery ha'm perhenogeth a vlew rudh," yn medhaf, in ton a bystyk.
"Ho! Sur nyns yw ev dhe vlâmya a'y vlew," Rose a wrug amyttya.
"Ûsys dhe dhos dhe wel, unweyth pùb kenedhel, 'ma an blew-na," yn medh ow broder. "An dhewfrik kefrës. Rudolf a'n jeves aga dew."
"Dos dhe wel, ass yw edrek genama," yn medh Rose, entanys whath.
"Gena vy th'yw an blew dâ lowr," yn medhaf, ha my a savas in bàn hag omblegya tro ha'n portreyans a'n Gontes Amelia.
Gwreg ow broder a levas garm heb perthyans.
"Ass yw edrek, na gemerta an pyctour-na in kerdh, Robert," yn medh hy.
"Ogh, a whegen!" ev a grias.
"Re Varia!" me a geworras.
"Dhana nakevys via, martesen," hy a dhuryas.
"Scantlowr – ha Rudolf in agan mesk," yn medh Robert, ow shakya pedn.
"Bos nakevys, prag y coodh?" my a wovydnas.
"Agh Rudolf!" gwreg ow broder a grias in mes, ha rudhya pòr dhainty.
My a wrug wherthyn, ha pêsya debry an oy. Me a worras adenewen, dhe'n lyha, an qwestyon pana res o dhybm obery neppÿth (ha py neppÿth). Ha, rag gorfedna an dhadhel – ha rag serry tebmyk dhe voy, res alowa, ow whor vy dre laha, mar vian ha sevur – my a wrug merkya:
"Dâ glân yw genama bos onen a deylu Elphberg."
Pàn viv ow redya whedhel, pùpprës y fydnaf vy dreslebmel oll an text styrya. Saw pàn dheffa porpos dhybm a screfa whedhel, desempys yma otham owth inia warna vy styryans. Dell yw ôpynwelys, res yw dhybm clerhe prag y feu ow whor dre laha vexys a'm dewfrik ha'm blew, ha prag y whrug vy lavasos lavar, my dhe vos onen a deylu Elphberg. Rag kynth eus bry brâs, res desta, dhe'n Rassendylls, nans yw lies kenedhel, bytegyns nyns yw kevradna in aga goos jùstyfians vëth, orth kensa golok, a vôstya dell en vy jùnys dhe'n lynaja moy bryntyn a'n teylu Elphberg, na jùstyfians naneyl a bottya qwarel dell esa dhybm eseleth i'n Teylu Rial-na. Pana berthynas a yll bos inter Rùrytânya ha Burlesdon? Inter an Palys in Strelsau pò an Castel in Zenda, ha Nyver 305 Park Lane, Loundres West?
Now – ha res yw dhybm leverel orth an dallath, y fedham ow tysencledhyas, heb goheles, an very bysmêr yw res ankevy, dell dyb an Arlodhes Burlesdon wheg – i'n vledhen 1733, ha'n Secùnd Jory a'y eseth wàr an se rial, ha'n cres i'n termyn-na ow rainya, ha'n mytern ha Pensevyk Kembra heb bos an eyl warbydn y gela na whath, y teuth certan pryns ow vysytya Lÿs an Sowson, neb o henwys in istory a'y wosa an Tressa Rudolf a Rùrytânya. An pryns o pollat yonk ha sêmly, uhel y bedn, merkys (namys martesen, ny dhegoth dhybm brusy) dre dhewfrik strait, lybm, hir tabm dres ehen, ha bùsh a vlew rudh tewl – an keth frigow-na ha'n keth blew, in gwrioneth, re wrug stampya an teylu Elphberg nans yw termyn pelha ès cov. Th'esa va tregys in Englond lower mis, hag ev a veu recêvys i'n pow-ma gans an moyha cortesy. Bytegyns ev a dhepartyas, wàr an dyweth, in dyfyk a gomendyans. Rag y feu va in omlath dewdhen (ha pùbonen owth omsensy bos y woos a'n uhella, hag ev ow casa hepcor kenyver qwestyon a'y dhynyta) gans neb nôbyl, aswonys dâ in Cowethas an jëdh, rag y boyntys y honen a veryt, ha kefrës avell den teg dhe wreg. I'n omlath Pryns Rudolf a gemeras goly garow, Ha sawyes anodho, y feu remôvys in dadn gel dre sleyneth an lÿscadnas Rùrytânyan, hag ev ow cafos plenta trobel. Ny veu an nôbyl golies i'n omlath, mès yêyn o an myttyn, ha glëb, pàn wrussons y omvetya, ha'n nôbyl a godhas in hager-anwos. Hag abàn na sowenys ow fetha y gleves, y feu marow whe mis, ader dro, wosa dybarth Pryns Rudolf, heb spâss rag amendya y gescowethyans gans y wreg – ha hodna, warlergh dew mis moy, ow tenethy flogh in er dhe dîtel ha stâtys an teylu Burlesdon. An arlodhes-ma o an Gontes Amelia, mayth esa ow whor dre laha ow yêwny remôcyon a'y fyctour in mes a'n parleth in Park Lane. Ha gour dhedhy y feu Jamys, pympes Yùrl Burlesdon ha Baron Rassendyll an secùnd warn ugans, pùbonen a'n dhew in nôbylta an Sowson, ha Marhak in Ordyr an Garget. Ha Rudolf, y whrug ev dewheles dhe Rùrytânya, demedhy gwreg, hag eskyna wàr an se rial, le may feu y flehes esedhys in lynaja ewn, alena bys i'n very eur-ma – saw spis cot yn unsel. Ha worteweth, mar mydnowgh kerdhes dre soleryow an pyctours in Burlesdon, in mesk an hanter-cans portreyans a'n dewetha deg bledhen ha seyth ugans, why a wra cafos pymp pò whe, hag intredhans an pyctour a'n wheffes yùrl, oll dyblans der aga dewfrik strait, lybm, hir. Ha kefrës dre showr a vlew rudh flàm. Dhe'n re-ma, pymp pò whe, yma lagasow glas inwedh, kynth eus lagasow tewl inter an Rassendylls moy menowgh.
Wèl ot an styryans. Ha my lowen y vos dewedhys. Namow wàr lynaja wordhy yw testen fest tyckly. Ha'n nôcyon erytuster eson ny ow clôwes kebmys anodho hedhyw i'n jëdh yw, dowt vëth, tavasak a'n lacka kynda oll. Ow mockya dothter yma va, hag ow screfa manylyon astranj in Lyver an Nôbylta inter an lînednow.
Êsy yw merkya tell usy ow whor dre laha – ha fowt gensy a lojyk, fowt personek dhedhy hy honen heb mar (rag nag eus lecyans na felha a gùhudha hy reydh) – usy hy ow consydra ow fysmens kepar hag offens ogatty ha my dhe vlâmya ragthans, hag ow tesevos, wàr hast, warlergh an sînys-ma avês, teythy aberveth mayth ov vy hepthans kettep huny. Ha hy a genertha hy inferyans anjùst dre boyntya orth dyfyk a brow i'm bôwnans vy bys i'n eur-ma. Wèl, re bo hedna dell yll, my a wrug kemeres shara dâ a blesour solabrës, ha shara dâ a wodhvos skentyl. My a veu kyns in scol Alman hag in ûnyversyta Alman, hag yth esen vy ow côwsel Almaynek mar berfëth avell Sowsnek iredy. Nyns esen vy estren vëth in Frynkek. Y'm bo nebes geryow Italek, ha Spaynek lowr kefrës dhe gùssya ino. My o, dhe'm breus, cledhevyas crev, mès heb sleyneth meur. Ha sethor dâ gans godn. My a wodhya marhogeth pùb best mayth yw y geyn dhe sedha warnodho. Ha'm pedn ow mos wàr y gàm kebmys dell yw possybyl, in despît y worher tanek. Mar mydnowgh leverel y talvia dhybm ry ow dedhyow dhe ober vas, nyns eus ger vëth dhe'm dyffres, marnas hebma: na godhvia dhe'm kerens kemyna dhybm ertons a dhyw vil bens an vledhen ha nas stubmys dhe wandra.
"An poynt a dhyffrans intra jy ha Robert," yn medh ow whor dre laha, ha hy (bednath warnedhy!) ow côwsel yn fenowgh wàr arethva a'n wlasegeth ha, menowghter moy vëth, wàr arethva hy desmygyans, "an poynt a dhyffrans yw, y vos ev owth aswon an dûtys usy ow sordya a'y savla i'n Gowethas, ha dha vos jy owth aspia a'th savla chauncys dhe sêsya."
"Dhe dhen uhel y golon, a Rose wheg," my a worthebys, "sêsya chauncys yw dûta."
"Flows!" yn medh, ow shakya hy fedn yn fen. Ha wosa tecken hy a bêsyas: "Now, otta Syr Jacob Borrodaile ow profya dhys soodh par hap a'th vusur jy poran."
"Gromercy milweyth!" yn medhaf, in udn hanaja.
"Canaseth a'n jevyth warlergh whe mis. Yma Robert ow leverel gans certuster y vos parys dhe'th recêva avell onen a'y sodhogyon. Gwra acceptya, Rudolf – rag plegya dhe vy."
Now, bÿth pàn wrella ow whor dre laha gorra an mater in geryow a'n par-ma, ow crihy hy thâl teg, hag ow plethy hy dêwla bian, hirethek hy lagasow, oll a'm govys vy, loselwas kyn fe, ha hy heb omgemeryans naturek in ow hever, y'm beus edrega. Ha pelha, th'esen vy ow predery tell yllyn vy, dowt vëth, spêna termyn i'n soodh brofys-na ha cafos moy ès spot a solas. Ytho me a lavaras:
"A whor wheg, wosa whe mis mar nyns eus lestans nag yw gwaitys, ha Syr Jacob orth ow gelwel, dhe'm cregy! my a vydn mos gans Syr Jacob defry!"
"Ogh, Rudolf, ass osta cuv! Pòr lowen ov vy!"
"Ple fëdh ow mos?"
"Ny wor whath. Certan y fëdh canaseth dâ."
"A Vadâma," yn medhaf, "kyn na vo ma's Myssyon othobmak par hap, me a vydn mos rag kerensa jy. Pesqweyth may fo màl genama, ny vedham mygyl."
Rÿs veu ow fromys ytho. Saw whe mis yw whe mis, owth hevelly trank heb worfen. Ha rag an mîsyow-ma dhe vos istynys inter my ha'm dywysygneth devedhek (me a vydn soposya sodhak canaseth dell yw den dywysyk, saw ny worama, rag na veuv vy sodhak canaseth bythqweth, na dhe Syr Jacob na dhe nagonen), my a wrug whythra orth maner garadow gasa an termyn dhe bassya. Ha desempys i'm pedn y teuth tybyans a vysytya Rùrytânya. Martesen yth hevel coynt, na wrug vy bythqweth vysytya an wlas-na kyns. Mès ow thas (in spit dh'y gerensa gudh wor'tu ha'n teylu Elphberg, neb a'n lêdyas dhe ry dhybm, y secùnd mab, an meur-hanow Rudolf), yth o prest sevys warbydn mos dy. Ha warlergh y vernans, ow broder, in dadn gùssul Rose, a wrug degemeres tradycyon an teylu, esa ow tesky goheles an wlas-na bytteth. Saw abàn dheuth Rùrytânya i'm pedn, y feuv vy consûmys gans ewl hy gweles dystowgh. Wosa pùptra, nyns yw blew rudh ha dewfrik hir dhe gafos only in Teylu Elphberg. Ha'n whedhel coth o skyla absùrd y dhylowrder, dhe'm breus, rag ow barya vy dhyworth aswon gwlascor a bris, ha meur hy bry, neb a wrug kemeres rol brâs in istory Ewrop kyns, ha parys dhe wil an keth hedna unweyth arta in danjer rêwlyas yonk ha freth, dell o an Mytern nowyth, herwyth pùb mencyon anodho. Sêlys veu ow determyans pàn wrug vy redya in The Times tell vedha an Pympes Rudolf cùrunys in Strelsau kyn pedn an nessa teyr seythen, ha tell vedha an ocasyon brâs-oberys in gwir. Mes a dorn my a vydnas bos ena, ytho dallath parusy. Saw dre rêson nag esa nefra dhybm ûsadow a brovia manylyon dhe'm kerens a'm viajys, ha my i'n câss-ma ow qwetyas gorthenep warbydn ow forpos, my a lavaras dell vydnen vy gwandra i'n Tyrol – o menowghva dhybm – ha my a wrug dyserry Rose dre dheclarya bos dhybm entent dhe studhya problemow gwlasek ha socyal an gemeneth, brâs hy les, usy tregys i'n côstys-na.
"Martesen," me a hyntyas yn tewl, "y fëdh sewyans dhe'm viaj ena."
"Pandra vynta leverel?" hy a wovydnas.
"Wèl," yn medhaf, ha'm gis heb rach vëth, "y hyller lenwel, dell hevel, aswy i'n lien der ober oll-compassus –"
"Ho! a wrêta screfa lyver?" hy a grias, ha tackya dêwla. "Hedna vëdh spladn, a ny vëdh, Robert?"
"Th'yw an gwelha comendyans i'n jëdh hedhyw dhe'n bôwnans gwlasek," ow broder a wrug nôtya, hag ev y honen, dell y coodh godhvos, omgomendys i'n very maner-ma lower gweyth. Burlesdon Tùchyng Damcanep Goth ha Fethow Arnowyth hag An Sewyans Dewetha Oll, gans Studhyor Polytyk, an dhew ober-ma yw uhel in bry aswonys.
"An gwir yma dhis, ha my ow cresy, Bob was," yn medhaf.
"Now gwra dedhewy, ty dh'y wil yn tefry," yn medh Rose, sevur hy lev.
"Nâ, promys vëth ny rov vy. Saw me a vydn y wil mar teuv ha cafos devnyth lowr."
"Hèn yw rêsonus," yn medh Robert.
"Ogh, ny vern an devnyth!" yn medh hy, in udn settya hy gwessyow in pors.
Saw i'n tor'-ma ny ylly hy kemeres moy ès hanter-promys orta vy. In gwrioneth, y fensen vy gwystla sùbmen vrâs, na wrella story a'm viaj nama paper vëth nefra, na shyndya neb pluven. Hag yma hedna ow tysqwedhes fatell woryn ny bohes teg a vyns a vo i'n termyn a dheu. rag otta vy obma, ow colenwel ow hanter-promys, hag ow screfa lyver, dell na wrug vy desmygy bythqweth – kyn na wra servya scant in comendyans dhe'n bôwnans gwlasek, ha'y gontent heb tùchya màn an Tyrol.
Dowt a'm beus dell wrussa an lyver plêsya an Arlodhes Burlesdon naneyl, mar teffen ha'y bresentya dh'y golok hag arvrusyans – na'n stap-na, nyns eus mydnas vëth genef a'y wil.
CHAPTRA 2
ADRO DHE'N COLOUR A VLEW EUS DHE DUS
Lavar meurgerys dhe'm Ôwnter William o, na godhvia dhe dhen vëth tremena dre Paris heb passya inhy udn jorna. Th'esa an ôwnter ow leverel warlergh prevyans a'n bÿs, ha me a wrug enora y gùssul der ôstya udn jëdh hag udn nos i'n 'Continental' wàr ow fordh dhe – dhe'n Tyrol. Me a vysytyas George Featherly i'n Canaseth, ha ny a gemeras tabm warbarth a gydnyow i'n boosty Durand, hag a'y wosa tastya an Gwary Kenys. Ha wosa hedna ny a dhebras nebes soper, ha wosa hedna vysytya Bertram Bertrand, gwersyor dâ y hanow ha kesscrefor in Paris rag The Critic. Y'n jeva set a rômys meur aga honfort, ha ny a gafas gwesyon blesont ow megy hag ow kestalkya. Apert o dhybm, bytegyns, Bertram y honen dhe vos dyglon, estregus y vrës, ha pàn veu pùbonen gyllys, marnas ny gàn honen, my a wrug y dhascùntell a'y vûtyans pell. Pols dâ ev a skyrmyas genef, ha wàr an dyweth ev a grias in mes, ow tôwlel y gorf dhe wely dëdh:
"Dâ lowr, ha ty owth erya. Th'esof ow cara – iffarnak cara!"
"Dhana prydydhieth a wrêta screfa dhe well," yn medhaf avell ger confortya.
Ev a wrug crihy y vlew gans y dhorn ha megy yn fen. Yth esa George Featherly, a'y sav, an keyn trailys dhe'n glavel, ow minwherthyn heb cufter.
"Mars yw hy an garorieth coth," yn medh, "ny dal ma's hy dascor, Bert. An venyn a vydn qwyttya Paris avorow."
"Me a'n gor," yn medh Bertram, garow y lev.
"A pëdh hy ow cortos, dyffrans vëth," a bêsyas George yn tybyta. "Ma hy neyjys uhella ès myster jornalyst, sos!"
"Dh'y cregy hy!" yn medh Bertram.
"A les dhybm via dhe voy," me a wrug lavasos, "mar cothfen vy pyw esow'why ow côwsel in hy hever."
"Antoinette Mauban," yn medh George.
"De Mauban," a groffolas Bertram.
"Ohô!" yn medhaf, ha sevel orth aswon dadhel an ragêr 'de'. "A vynta leverel, Bert – ?"
"Dar, ny ylta gasa cres?"
"Pyma hy ow mos?" me a wovydnas, rag an dhama nyns o bian hy hanow.
George a wrug tynkyal an bathow in y bocket, minwherthyn yn cruel orth Bertram truan, ha gortheby yn plesont:
"Ny wor den vëth. Me a vetyas – ha ny ow côwsel, Bert – gans onen a'n vrâsyon in hy chy nans yw lower nos – wèl, nans yw ogas ha mis. A wrusta metya ganso nepprës – Dûk Strelsau?"
"G'rug," Bert a groffolas.
"Den codnek dres ehen, dell dybys vy."
Caletter vëth ny veu gweles tell o George porposys dre vencyon a'n dûk dhe encressya torment wàr Bertram truan, ytho my a vydna inferya re wrug an dûk aswon attendyans dhe Madame de Mauban. Hy o gwedhwes, rych, sêmly ha, dell levery whedhel, uhelwhansek. Th'o pòr wirhaval hy dhe vos, dell y'n gorras George in geryow, neyjys mar uhel avell ken onen, neb o person a'n moyha possybyl, heb perhedna gre rial i'n styr stroth. Rag yth o an dûk mab dhe Vytern Rùrytânya tremenys agensow, dre secùnd demedhyans a'n leuv gledh, ha hanter-broder dhe'n Mytern nowyth. Ev o mab moyha kerys y das, ha chêson a gabel pàn veuva gwrës dûk, ha'y dîtel kemerys dhyworth cyta, ha hodna an bencyta hy honen. Y vabm o dâ hy genesygeth, adar exaltys bytegyns.
"Dar, nyns usy ev in Paris i'n tor'-ma?" me a wovydnas.
"Ogh, nag usy! Ev êth in kerdh rag bos in cùrunyans an Mytern – solempnyta na wra ev enjoya scant, dr'yw dhe wetyas. Saw Bert, a bollat dâ, na goll govenek! Ny wra ev màn demedhy Antoinette maga teg – wèl, ny wra, marnas towlen aral a vëdh sprellys. Byttele, y fydn hy martesen – " Ev a hockyas ha keworra, in udn wherthyn, "Cales yw sevel orth attendyans rial – ty a wor hedna, Rudolf, a ny wodhes?"
"Dhe'th confùndya!" yn medhaf, ha gorhebmyn farwèl, ha gasa Bertram anfusyk inter dêwla George, ha mos tre dhe'm gwely.
Ternos George Featherly a wrug dos gena vy dhe'n gorsaf, may prenys vy tôkyn dhe Dresden.
"Gwil tro rag gweles oryel an pyctours?" George a wovydnas, ha gwenwherthyn.
George yw whedhlor coth, ha mara mednen derivas dhodho dell esen vy ow viajya bys in Rùrytânya, y fia an nowodhow devedhys in Loundres wosa treddeth, hag in Park Lane kyn pedn seythen. Ytho my a vydna ry gorthyp gohelus pàn wrug ev selwel ow heskians vy ha'm forsâkya desempys, ow qwybya dres an cay. Pàn wrug vy holya gans dewlagas, me a welas bos ev ow terevel y hot ha salujy benyn jentyl, fascyonus hy gwysk, a veu apperys namnygen in mes a'n dôkynva. Hy o, leveryn ny, tùch moy ès deg bloodh warn ugans, hir hy horf, tewl, ha leun lowr hy fygùr. Pàn esa George ow côwsel, me a wrug gweles tell dowlas hy golok scav warna vy, ha'm gooth a veu hùrtys der an preder nag esa semlant dhybm a'n gwelha, ha my cudhys in dadn gôta pelour ha lien codna (rag an jëdh in Ebrel dhe vos yêyn) ha hot viajya, medhel ha tednys isel dhe'n scovornow. Wosa tecken, George a dheuth ha jùnya dhybm arta.
"Cowethes meur hy gorhan yma dhis i'n viaj," yn medh. "Hòn yw an dhuwes usy Bert Bertrand truan ow cordhya dhedhy, Antoinette de Mauban; ha hy, kepar ha ty, ow mos dhe Dresden – heb dowt kefrës rag gweles oryel an pyctours. Pòr goynt yw, bytegyns, nag usy hy ow whelas an enor a'th aswon i'n present termyn."
"Ny vydnen vy govyn comendyans dhedhy," me a wrug merkya, nebes serrys.
"Wèl, me a brofyas dha dhry jy dhedhy. Mès hy a lavaras, 'Prës aral.' Ny vern, was, par hap y fëdh drog-labm hens horn, ha chauns dhyso a wil hy rescous ha defendya Dûk Strelsau dhe ves!"
Bytegyns ny veu drog-labm vëth, naneyl orta vy na worth Madame de Mauban. My'yll côwsel abarth dhedhy, ha'm omfydhyans kehaval dell eus a'm parth ow honen. Rag pàn esen vy, wosa nos a bowes in Dresden, ow pêsya an viaj, hy a wrug eskyna i'n keth train. Convedhys o genam y bosy heb whans a gompany, ytho me a vydna hy goheles gans rach. Saw my a wely hy bos ow viajya an keth train-ma gena vy bys in very pedn a'm fordh, ha me a wrug ûsya pùb spâss a veras war orty, bÿth pàn allen vy gwil, heb bos aspies.
Kettel wrussyn ny drehedhes or Rùrytânya (ha'n sodhak coth, neb o rowtor an Dollva, ow settya y dremyn warnaf mar stark, may feuv vy surra agès kyns a'm fysmens Elphberg), me a brenas an paperyow nowodhow, ha cafos derivadow inans tùchyng ow viaj. Heb styryans cler, tabm kevrînek kyn fe, y feu dëdh an cùrunyans avauncys neb rêson. Y fedha an solempnyta sensys trenja. Th'esa an hol bow ow frobma in y gever, ha Strelsau o, hebma apert, leun a rûth. Oll an rômys a veu gwerthys, ha'n ostelyow ow fedna. Pòr idn vedha ow chauns vy dhe gafos gwestva, ha sur y fedha res dhybm tylly pris uthyk brâs. Ervirys veuv vy dhe bowes in Zenda, tre vian, hanter-cans mildir dhyrag an bencyta, ha deg ader dro dhyworth an or. An train a dheuth dy gordhuwher, hag ow forpos o passya an nessa jorna, de Merth, in gwandrans dres an brynyow, meur aga brafter herwyth whedhel; kibya golok got a'n Castel brâs y hanow; kemeres an train dhe Strelsau de Merher myttyn; ha dewheles i'n nos rag cùsca in Zenda.
Ytho in Zenda me a skydnyas, ha pàn esa an train ow tremena an tyller mayth esen vy sevys wàr an cay, my'ylly aspia Madame de Mauban in hy eseth. Th'o cler tell esa hy ow viajya bys in Strelsau ha cafos set a rômys ena, gwell hy darbar ès ow ragwel vy. Minwherthyn me a wrug pàn y teuth dhe'm preder, assa via George Featherly sowthenys a cothfa my ha hy dhe vos kesviajyoryon mar bell.
Pòr guv veu ow recepcyon i'n ostel – in gwrioneth, scant nyns o moy ès gwesty – ha'n ôstes o benyn goth ha borr, ha dyw vyrgh gensy. Pobel gosel êns y, ha caradow, bian aga les, dell hevelly, in gwrÿth vrâs Strelsau. Gorour o an dûk dhe'n venyn goth, drefen ev dhe vos, warlergh lyther kemyn an Mytern tremenys, mêster a stâtys Zenda lebmyn hag a'n Castel, esa bryntyn y sav wàr an vre serth in pedn an valy, ogas hag udn vildir orth an gwesty. Ny hockyas an venyn goth ow teclarya, yn tefry, hy edrek nag esa an dûk esedhys wàr an se rial, in le y vroder.
"Aswonys dhe ny yw an Dûk Michael," yn medh. "Ma va tregys i'gan mesk nanj yw oll y dhedhyow. An Dûk Michael yw aswonys dhe bùb Rùrytânyan. Mès estren namnag yw an Mytern. Kebmys in powyow erel th'esa ev, ha nynj eus ma's onen in deg unweyth orth y aswon dre syght."
"Hag i'n tor'-ma," onen a'n benenes yonk a wodorras hy hows, "yma whedhel tell wrug ev dyvarva, ma nag eus den vëth oll orth y aswon."
"Dyvarva!" hy mabm a grias. "Pyw eus ow leverel?"
"Johann, an gwethyas gam dhe'n dûk. Ev re welas an Mytern."
"Eâ. 'Ma an Mytern, sera, in chy helghya an dûk, i'n forest obma, i'n very eur-ma. Ev a vydn mos ahanan dhe Strelsau rag bos cùrunys de Merher myttyn."
Clôwes hedna a veu meur y les dhybm, ha my a wrug ervira kerdhes tro ha'n chy ternos, ha chauns a dhierbyn an Mytern. An venyn goth a bêsya hir hy thavas:
"Agh, 'pe unweyth ev dhe dhurya orth y helghyans – hedna, ha'y win (hag udn dra kefrës), nynj yw ma's an re-ma y gerensa, dell laver scavel an gow – 'pe unweyth gasa agan dûk dhe vos cùrunys de Merher. Ot ow whans vy, ha ny vern pyw a wor."
"Whyst, mabm!" an myrhas a lavaras, meur aga iny.
"Ogh, 'ma lies huny ow tyby an keth hedna!" an venyn goth a grias, cales hy fedn.
Me a'm towlas i'm chair brehek down wàr dhelergh, ha wherthyn orth hy dywysycter.
"Dhe'm part vy," yn medh an yonca ha tecka a'n dhyw vyrgh, moren blegadow, sêmly hy minwharth, 'Cas yw Michael Du genam! Elphberg rudh yw whans avy, a vabm! An Mytern yw, pùb huny der dherif, mar rudh avell lowarn pò 'vell –"
Ha hy a wharthas dregynus, ow tôwlel golok warna vy, ha shakya hy fedn orth hy whor, warbydn hy fâss a rebukyans.
"Lies den re wrug molethy y vlew rudh kyns hedhyw," an venyn goth a groffolas – ha my ow perthy cov a Jamys, pympes Yùrl Burlesdon.
"Saw ny wrug benyn bythqweth!" a grias an vowes.
"Benenes, y whrussons y kekefrës, pàn veu re holergh," an gorthyp a dheuth sevur, ha'n vowes a godhas in meth ha taw.
"Prag yma an Mytern i'n vro?" me a wovydnas, rag terry an taw tyckly.
"An dûk yw perhen a'n tir obma, dell leveryth."
"Y feuva gelwys gans an dûk, sera, rag gwil powes obma bys de Merher. 'Ma an dûk in Strelsau, ow tarbary recepcyon dhe'n Mytern."
"Cothmans yns y dhana?"
"A'n gwelha," yn medh an venyn goth.
Saw ow damsel roslyw a shakyas hy fedn unweyth arta. Ny yller hy frodna termyn pell, heb hy dhe derry arta in mes:
"Eâ, th'yw an eyl ow cara y gela, mar wyw dell yw dhe dus whensys dhe'n keth plâss ha dhe'n keth wreg!"
Th'esa an venyn goth ow meras serrys brâs orty. Saw an dewetha geryow a wrug piga ewl a wodhvos ina vy, ha my a's contreweytyas kyns ès hy dhe dhos dhe davasans:
"Pywa! An keth wreg dh'aga dew! Fatl'yw, a venenyk?"
"Gans oll an bÿs 'ma godhvedhys ter via Michael Du – wèl sur, a vabm, an dûk – ow ry y ena ev rag demedhy y genytherow, Prynces Flavia, ha ter vëdh hyhy an vyternes."
"Re'm fay," yn medhaf, "ha my ow kemeres pyteth a'gas dûk lebmyn. Saw neb den mar pëdh yonca mab, now, res yw recêva an pëth a vo gesys dhodho gans an mab cotha, hag aswon grâss dhe Dhuw, kebmys dell alla va." Ha my a wrug derevel an scodhow, ow predery ahanaf ow honen, hag ow wherthyn. Nena my a wrug predery Antoinette de Mauban inwedh, ha'y viaj dhe Strelsau.
"Bohes yw dyghtyans Michael Du gèn –" a dhalathas an vowes, in spit dhe sorr hy mabm. Mès pàn esa hy whath in cows, y teuth stap poos ha seny wàr an leur, ha voys grolyak a wovydnas in ton a wodros:
"Pyw eus ow clattra a 'Michael Du' in tre y Uhelder y honen?"
An vowes a levas scrij bian, hanter rag own – hanter, dell gresama, dydhanys.
"Ny wrêta derivas er ow fydn, Johann?" yn medh hy.
"Dar, ny welta pleth ujy dha glap ow lêdya?" yn medh an venyn goth.
An den hag a wrug côwsel, ev a worras y honen in rag.
"Ma godregor dhe ny, Johann," yn medh ow ôstes, ha'n pollat a wrug sqwychya y hot dhe ves. Wàr nùk ev a'm aspias, ha plynchya stap wàr dhelergh, er am marth, kepar ha pàn wrella gweles tra varthusek.
"Pëth yw dha drobel, Johann?" an cotha mowes a wovydnas. "Hèm yw estren jentyl wàr viaj, devedhys rag gweles an cùrunyans."
An den a dhaskemeras y honen, saw th'esa ow meras stag orta vy ha'y wolok o crev, whythrus, fers ogatty.
"Gordhuwher dâ dhys," yn medhaf.
"Gordhuwher dâ, sera," ev a groffolas, ha whythra orta vy whath, ha'n vowes hudhyk a dhalathas wherthyn, ow cria in mes –
"Mir, Johann, th'yw an colour kerys gena jy! Plynchys veuva pàn wrug aspia gàs blew, sera. Aga holour scant nynj yw gwelys in Zenda yn fenowgh."
"Gyvyans a besaf, sera," yn medh an pollat in udn hockya, penbleth in y lagasow. "Den vëth, nynj o dhe wetyas."
"Roy gwedren dhodho, may halla eva ow yêhes vy. Ha me a vydn gorhebmyn nos dâ dhe why, ha dùrdala dhe why, a venenes wheg, a'gas cortesy ha'gas kescows plesont."
Gans an geryow-ma my a savas in bàn, ha wosa plegyans scav omdrailya dhe'n daras. Th'esa an vowes yonk ow ponya rag golowy ow fordh, ha'n den ow kildedna rag gasa tremen dhybm, ha'y lagasow stegys warna vy whath. I'n very prës pàn wrug vy passya, ev a gemeras stap wàr rag, ha govyn:
"Y praydha, sera, yw an Mytern aswonys dhis?"
"Bythqweth ny'n gwelys," yn medhaf. "Yma govenek dhybm a'y weles de Merher."
Ny lavaras ev namoy, saw th'esen vy owth omglôwes fatell holya y wolok wàr ow lergh, bys may feu an daras degës ha my dredho. Ow hùmbrynkyades taunt a wrug leverel, ow kerdhes dhyragof hag ow meras dres hy scoodh:
"Onen a'gas colour, sera, ny yll plêsya Mêster Johann."
"Gwell yw ganso dha golour jy, martesen?" me a brofyas.
"Ow mênyng, sera, o colour in gour," hy a worthebys, ha'y golok a dhynyores warnaf.
"Pywa?" a wovydnys, ow settya dalhen in tu aral an cantolbren. "Yw colour in gour tra meur y vern?"
"Nag yw, mès my a gar dha golour jy – rudh an teylu Elphberg yw."
"Colour in gour," yn medhaf, "nyns yw y valew moy ès hebma!" – ha my ow ry nampÿth dhedhy heb valew vëth.
"Duw graunt daras an gegyn dhe vos degës!" yn medh.
"Âmen!" yn medhaf, ha dyberth dhyworty.
In gwrioneth, dell worama lebmyn, traweythyow th'yw colour a valew mynsek in gour.
CHAPTRA 3
GORDHUWHER MERY GANS GOOS PELL
Nyns en vy mar afrêsonus, mayth esen vy ow tysfavera gwethyas gam an dûk drefen nag esa ow fysmens dâ ganso; ha'pe dysfaverans defry, wèl y fara a wrug ow diarva vy, moyha cyvyl ha hegar (dell hevelly dhybm), ternos vyttyn. Pàn glôwas bos Strelsau pedn ow fordh vy, ev a dheuth ha metya genef, ha my orth haunsel, ha derivas fatell veuva gelwys gans y whor, neb o demedhys dhe vysterden rych lowr ha tregys i'n bedncyta, rag ocûpya chambour in hy chy. Ev a wrug acceptya yn lowen, saw lebmyn ev a wodhya convedhes na ylly forsâkya y dûtys. Ytho ev a besys orta vy a gemeres y le, mar calla an westva-ma contentya; uvel, mès, dell wrug ev keworra, glân ha leun a gonfort. Dedhewys o assentyans y whor, hag ev ow poosleva an dieth a via dhybm ha'n rûthow a wrussen vy dierbyn i'm viajys dhe ha dhia Strelsau avorow. Me a wrug acceptya y brofyans heb hockya, hag ev êth ha pellscrefa dh'y whor, ha my ow trùssa hag owth ombarusy rag mos i'n nessa train. Saw yth esen vy ow yêwny an forest ha'n chy helghya whath, ha pàn lavaras ow maghteth vian dell yllyn vy cafos an hens horn in gorsaf ryb an fordh, warlergh kerdhes deg mildir ogas lowr der an forest, me a vydnas danvon ow fardellow strait dhe'n drigva a ros Johann, gwil ow thro kerdhes, ha sewya dhe Strelsau a'y wosa. Gyllys o Johann dhe ves, ytho ny wodhya bos ow thowl chaunjys. Saw drefen nag esa effeth, ma's strechya ow devedhyans dh'y whor nebes ourys, chêson ny welyn vy a dherivas dhodho. Heb dowt, ny vydna an venyn dhâ spêna fienasow a'm govys.
Me a dhebras ly avarr, ha wosa gorhebmyn farwèl dhe'm ôstys cuv, ha promyssya dewheles dhedhans wàr ow fordh tre, my a dhalathas ascendya an vre tro ha'n Castel hag alena wor'tu ha'n forest. Kerdhes hanter-our heb hast a'm dros dhe'n Castel. Th'o ker i'n dedhyow eus passys, ha'n pedndour auncyent in sawment dâ whath, ha brâs y argraf. Adrëv dhodho th'esa ken radn a'n castel gwredhek, hag adrëv hodna, dyberthys dre bollgledh down ha ledan oll adro dhe'n byldyansow coth, yth esa mansyon arnowyth ha sêmly, drehevys gans an dewetha mytern, hag ow servya i'n tor'-ma avell trigva diogus dhe Dûk Strelsau. An radnow coth ha nowyth o jùnyes dre bons derevel, ha marnas an entryng andydro-ma nyns esa tremenva vëth inter an byldyans coth ha'n bÿs wàr ves. Saw ow lêdya dhe'n mansyon arnowyth yth esa rôsva ledan ha sêmly. Aneth dhelvrysek o. Pàn esa Michael Du ow tesîrya cowetha, y hylly trega in y vansyon. Mara pe sêsyes gans shôra cas warbydn mab den, nyns o res ma's tremena dres an pons ha'y dherevel wàr y lergh (an gwayans o dre rolbrednyer), ha'y dhry in mes ny yll tra vëth viadnha ès rejyment ha godnys brâs in aray. My êth ow fordh in rag, lowen bos dhe Michael Du, kyn na ylly ev kemeres an se rial na'n brynces naneyl, trigva mar vrav dell esa dhe genyver pryns in Ewrop.
Me a wrug entra dhe'n forest wharê, ha kerdhes pelha, udn our pò moy, in dadn y skeus tewl ha goyeyn. An gwëdh brâs o plethys an eyl gans y gela a-ugh ow fedn, ha golowyjyon an howl ow qwybya der an to-ma in lagasow mar spladn avell adamans, ha scant nyns êns y brâssa. Gorhenys en vy gans an tyller, ha pàn gefys vy gwedhen-ven a'y wroweth, me a settyas ow heyn orto, hag istyn ow garrow, hag omry dhe gontemplans cosel a decter sad an coos ha dhe gonfort a cygar dâ. Ha pàn anellys vy dalgh a decter (dell soposys), ha'n cygar gorfednys, me a wrug codha in cùsk moyha delycyùs, heb predery a'm train dhe Strelsau hag a'n androw esa ow passya yn scon. Remembra train i'n plâss a'n par-na a via sacrylych gwyls. In y le, me a dhalathas hunrosa y bosama demedhys dhe Brynces Flavia ha tregys in Castel Zenda, hag ow corhana cowl-dhedhyow gans ow hares in lanerhy an forest – ha hunros o hedna pòr blesont. Ha pàn esen vy i'm desmygyans ow qwasca abm gwresak wàr wessyow wheg an brynces, me a wrug clôwes nebonen (ha'n voys o radn a'n hunros, dell hevelly wostallath) ow cria in mes, garow hag uhel y lev:
"Dar, usy an jowl i'n dra? Mar pe dyvarvys, an Mytern via ev!"
An tybyans o siansus teg i'm hunros. Dre offrydna ow minvlew poos ha'm barv ha'y bleyn imperyal, y fedhen vy transformys dhe vonark. Pàn vydnen vy abma dhe'n brynces unweyth arta, i'n very prës-na me a dheuth (meur ow anvoth) dhe'n ervirans y bosama dyfun.
Me a wrug egery ow lagasow, ha cafos dew dhen ow meras orta vy ha brâs aga whans a wodhvos. Dhe'n dhew th'esa dyllas sport godn i'ga herhyn, hag anjy ow ton godnys. Onen o nebes berr ha pòr vynsek y gorf, pedn brâs, bùlet y shâp, minvlew a reun loos, lagasow blou gwydnyk bian, ha tabm gwythiek. An aral o pollat yonk ha tanow, cresek y hirder, tewl y vejeth, gans stubm grassyùs a vryntynsys. Me a wrug desmygy an eyl dhe vos den jentyl ûsys dhe gowethas meur hy bry, hag experyens ganso in conversacyon a vresel inwedh; ha'y gela dhe vos soudor coth. Dell veu prevys a'y wosa, hèn o desmyk lybm.
An cotha den a dheuth bys dhybm, in udn wil sin dhe'n aral may whrella holya. Dell wrug defry, ha derevel y hot yn cortes. Me a savas lent in bàn.
"Ev a'n jeves an hirder kefrës!" a glôwys vy an cotha dhe leva yn isel, hag ev ow whythra an whe troos'hës ha dyw vêsva a hirder esa dhybmo. Ena ev a lavaras, ow tava y gappa i'n vaner a Varhak:
"Alla'vy govyn agas hanow?"
"Awos why dhe wil an kensa stap i'gan aswonvos, a dus jentyl," yn medhaf gans minwharth, "res yw dhe why lêdya i'n negys a henwyn."
An den yonk a dheuth udn pâss in rag, ha plesont y vinwharth.
"Hèm yw," yn medh, "Coronal Sapt, ha my yw henwys Fritz von Tarlenheim. Yth eson agan dew in servys Mytern Rùrytânya."
Me a omblegyas ha dyscudha ow fedn in udn wortheby:
"My yw Rudolf Rassendyll. Viajyor a Bow an Sowson ov vy; hag ow sensy comyssyon sodhak dhyworth hy Brâster an Vyternes nebes bledhydnyow alebma."
"Dhana ny oll yw bredereth a'n cledha," Tarlenheim a worthebys, hag istyn y dhorn, a wrug vy kemeres a'm bodh.
"Rassendyll, Rassendyll!" a hanajas Coronal Sapt. Ena y feu ùnderstondyng gwybys in golow scav dres y vejeth.
"Re Varia!" ev a grias, "ow'why onen a'n teylu Burlesdon?"
"Ow broder yw lebmyn an Arlùth Burlesdon," yn medhaf.
"Lyw an pedn a'th tyskever," ev a wharthas in y vriansen, ow poyntya dhe'm poll dyscudhys. "Dar, Fritz, ny wosta an whedhel?"
An den yonk a dowlas golok dyharas warna vy. Th'esa va owth aswon mater tyckly in fordh may fensa ow whor-dre-laha y estêmya meur. Rag ry dhe'n den diaha, me a wrug compla gans minwharth:
"Â! an whedhel yw godhvedhys obma maga tâ, dell hevel, hag i'gan mesk ny."
"Godhvedhys!" Sapt a grias. "Mar mydnow'why remainya obma, na wra dyowl vëth y dhowtya in oll Rùrytânya – na dâma vëth naneyl."
Me a dhalathas omsensy anês. A pe convedhys genama kyns, tell esen vy ow ton petygrew screfys mar blain warnam, me a vensa kemeres moy preder kyns ès vysytya Rùrytânya. Mès yth o re holergh.
I'n very prës-na y feu lev brâs y senyans clôwys dhyworth an coos adrëv dhe ny:
"Fritz, Fritz! pleth esta, gwas?"
Tarlenheim a blynchyas, ha leverel gans hast:
"An Mytern yw!"
Dhe Sapt coth yth esa wharth in y vriansen unweyth arta.
Ena den yonk a labmas dhia govva a wedhen-ven ha sevel rypthon. Pàn y'n aspias, my a wrug garm a varth. Hag y whrug ev kildedna rag sowthan sodyn pàn y'm gwelas vy. Saw blew ow fâss yn unsel, ha neb gis a dhynyta der entent a'y roweth ev; saw fowt dhodho kefrës a hanter-mêsva martesen a'm hirder vy – nâ, le ès hodna, mès tabm bytegyns – Mytern Rùrytânya a via Rudolf Rassendyll, ha my, Rudolf, a via Mytern Rùrytânya.
Pols yth en ny sevys heb gway vëth, an eyl ow meras orth y gela. Ena my a dednas ow hot unweyth arta hag omblegya gans revrons. An Mytern a wrug dascafos y lev, ha govyn in y sowthan:
"A goronal – Fritz – pyw yw an den jentyl-ma?"
Me a vydna knack gortheby, pàn wrug Coronal Sapt gorra y honen inter an Mytern ha my, ha dallath côwsel orth y Vrâster in croffal isel. Th'esa pedn an Mytern pell a-ugh pedn Sapt, ha'y lagasow lebmyn hag arta orth ow whelas vy, hedre ve ow coslowes. Ha my owth aspia worto ev, polta dour. An havalder o meur y varth, sur, kynth esa poyntys a dhyffrans dhe weles inwedh. Fâss an Mytern o nebes moy kigek ès ow bejeth vy, hirgelgh y lînen o tebmyk creffa ha, dhe'm desmygyans vy, nyns esa dh'y vin oll an ferfter (pò gorthter) o dhe redya wàr ow gwessyow tydn vy. Saw awos hedna, ha dres oll an dyffrans munys, yth esa an havalder ow sordya yn wondrys, marthys, moyha hewel.
Sapt a cessyas côwsel, ha'n Mytern whath ow plegya tâl. Ena, tabm ha tabm, cornellow y vin a dhalathas sqwychya, y dhewfrik a wrug skydnya (dell wra ow dewfrik vy pàn esof ow wherthyn), y lagasow terlentry, hag awot y wharth a dardhas in shôra ancompressadow a'n moyha jolyf, esa ow seny der an coos ha'y dheclarya den mery.
"Metyans dâ, a genderow!" ev a grias, ha dos udn pâss wor'tu ha my, ha tackya dorn wàr ow heyn, ha wherthyn whath. "Gevowgh dhybm dre gortesy ha my sowthenys. Gweles dobyl i'n eur-ma a'n jëdh, nyns yw gwaitys nefra, eh, Fritz?"
"Me a bës pardon, a sera rial, a'm bolder," yn medhaf. "Yma govenek dhybm na wrav vy kelly favour agas Brâster."
"Re Varia! cowntnans dâ an Mytern a'gas bÿdh pùb termyn," yn medh ev, in udn wherthyn, "boneyl a'm bodh bò heptho. Ha, sera, my a vydn keworra servyssyow yn lowen, pùppynag a allen vy. Pleth esow'why ow viajya?"
"Dhe Strelsau, a sera rial – dhe'n cùrunyans."
An Mytern a wrug meras orth y gothmans, hag ev ow minwherthyn whath, kynth esa anetter hyntys in y dremyn. Saw tenewen jolyf an mater a'n cachyas arta.
"Fritz, Fritz!" ev a grias, "me a be mil gùrun rag aspia fâss Broder Michael pàn wrella gàn gweles doblys!" ha'n wharth mery ow seny unweyth arta.
"A furneth Mêster Rassendyll," a wrug Fritz von Tarlenheim merkya, "dowtys ov yn frâs, mar mydn vysytya Strelsau i'n termyn-ma."
An Mytern a dùchyas cygaryk.
"Wèl, Sapt?" yn medh, in udn wovyn.
"Res yw dhodho heb mos màn," an cothwas a wrug gromyal.
"Now, a goronal, gwell via leverel my dhe vos in kendon dhe Vêster Rassendyll mar ny wra –"
"Ogh, eâ! gwra y vailya in maner ewn," yn medh Sapt, in udn hâlya pib vrâs in mes a'y bocket.
"Lowr, a sera rial," yn medhaf. "Me a vydn voydya a Rùrytânya hedhyw i'n very jëdh."
"Na vynta, re'n ebron dhâ – hèn yw sans phrase, dell yw Sapt plêsys dhe leverel. Rag ty a vydn kynyewel gena vy haneth, pùppynag a wharvo a'y wosa. Deus, a dhensa, ny wrêta metya gans nes'hevyn nowyth pùb jorna!"
"Haneth y fedhyn ny ow kynyewel yn erbysek," yn medh Fritz von Tarlenheim.
"Càm na vedhyn – pàn eson ny ow qwesty gàn kenderow nowyth ny!" a grias an Mytern. Ha pàn dherevys Fritz y scodhow, ev a geworras: "Ogh! ha my a vydn perthy cov a'gan dallath avorow avarr, Fritz."
"My kefrës – pàn dheffa vorow," yn medh Sapt coth, ow tedna mog der y bib.
"Ogh, Sapt coth ha fur!" an Mytern a grias. "Deus, Mêster Rassendyll – pana hanow a rosons y dhys, ha ny ow côwsel?"
"Hanow dha Vrâster y honen," me a worthebys, in udn omblegya.
"Wèl, 'ma hedna ow prevy na wrussons y kemeres meth ahanan," yn medh, in udn wherthyn. "Deus dhana, kenderow Rudolf. Ny'm beus plâss ow honen obma, mès yma ow broder wheg Michael ow lendya chy dhyn, ha ny a vydn gwil oll gàn ehen dhe'th intertainya ino". Ev a golmas y vregh dhe'm bregh vy ha'm hùmbrank der an forest in kerdh, gans sin orth an re erel dhe dhos genen, tro ha'n west.
Th'esen ny ow kerdhes moy ès hanter-our, ha'n Mytern ow megy cygarygow hag ow clappya heb hedhy. Les brâs a gemery adro dhe'm teylu, ha wherthyn a'y golon pàn wrug vy derivas a'n portreyansow i'gan soleryow, Elphberg aga blew, ha wherthyn a'y golon dhe voy pàn wrug ev clôwes bos ow thro plesour in Rùrytânya tra gevrîn.
"Yw res dhis vysytya dha genderow drog-gerys in dadn gel?" yn medh.
Desempys ny a wrug tremena mes a'n coos, devedhys dhe jy helghya, bian hag bohes afînys. Byldyans udn leur o va, sort a vùngalow, gwrës oll a bredn. Pàn esen ny ow nessa, y feu den cot apperys dh'agan metya, hag udnwysk sempel in y gerhyn. Ny welys ken onen ma's benyn dew ha coth, neb o mabm Johann, an gwethyas gam dhe'n dûk, dell wrug vy dyskevera a'y wosa.
"Wèl, yw kydnyow parusys, Josef?" an Mytern a wovydnas.
Parusys in gwir, dell dherivas an servont bian, ha ny a'gan eseth dhyrag plenta vytel yn scon. An boos o sempel lowr: an Mytern ow tebry yn yagh, Fritz von Tarlenheim yn tainty, Sapt coth kepar ha bleydh. My a wrug gwary brav gans ow hollel ha'm forgh, dell o ûsys genama. An Mytern a verkyas ow ferformyans, ha gormola in y wolok.
"Th'on ny oll tus dhe dallyour dâ, ny teylu Elphberg," yn medh. "Saw dar! – nyns eson ny ow tebry yn sëgh? Gwin, Josef! gwin, was! On ny bestas, ha ny ow tebry heb eva? On ny gwarthek, Josef?"
Sket orth repref-ma Josef a wrug beha an bord a votellow.
"Remember avorow!" yn medh Fritz.
"Eâ – pàn dheffa vorow!" yn medh Sapt coth.
An Mytern a wrug gwakhe gwedren leun abarth yêhes "Kenderow Rudolf," dell vydna ev ow cria vy dre gortesy – pò dre jolyfter. Ha my a wrug eva eqwal abarth yêhes "Colour rudh Elphberg", hag ev ow wherthyn yn uhel.
Now, pynag a ve an boos, th'o an gwin esen ny owth eva dres pùb pris pò estêmyans, ha ny a wrug jùstys warnodho. Unweyth only, Fritz a vedhas lettya dorn an Mytern.
"Pywa?" an Mytern a grias. "Remember ty dhe dhallath dhyraga vy, Mêster Fritz – res yw dhis bos dew our moy erbysek ès my."
Fritz a welas nag esen vy ow convedhes.
"My ha'n coronal," ev a styryas, "ny a vydn qwyttya 'lebma dhe whegh eur, marhogeth bys in Zenda wàr nans, ha dewheles gans gwethlu an onour rag kemeres an Mytern eth eur, ena ny oll a vydn marhogeth warbarth dhe'n gorsaf."
"An gwethlu, dh'y gregy!" Sapt a groffolas.
"Ogh! Pòr gortes yw ow broder, hag ev ow pesy an onour dh'y rejyment ev," yn medh an Mytern. "Deus, a genderow, nyns eus otham dhe jy a dhallath avarr. Udn votel whath, sos!"
Me a gemeras udn votel whath – gesowgh ny, kyns, dhe leverel udn radn a votel, rag moy ès hanter a veu viajys yn uskys ajy dhe vriansen y Vrâster. Fritz a wrug dascor pùb attent dhe berswâdya. Dhia wil perswâdyans, ev êth bys in bos perswâdys, ha ny oll leunha scon a win ès dell godha dhe ny. An Mytern a dhalathas côwsel adro dhe vyns a vydna gwil i'n termyn a dheu, Sapt coth adro dhe vyns a wrug i'n termyn eus passys, Fritz adro dhe neb mowes, ha my a'n merytys marthys ow longya dhe lydnyath Elphberg. Yth esen ny oll ow kestalkya i'n kettermyn, hag ow sewya Sapt ha'y geskyans: gasa an vorow dhe gemeres with a'y honen.
Wàr an dyweth an Mytern a worras y wedren dhe'n bord ha posa wàr dhelergh in y jair.
"My re evas lowr," yn medh.
"Nyns oma whensys màn dhe gontradia an Mytern," yn medhaf.
Defry, th'o y lavar a'n gwirra yn tien – mar meur dr'ylly bos.
Pàn esen vy ow talkya whath, Josef a dheuth ha settya dhyrag an Mytern cruskyn coth ha reveth, gwelweyth y wyscas. Y feu a'y wroweth in neb selder tewl mar bell, mayth esa va ow qwynkya, dell hevelly, in golow an cantolyow.
"Y Vrâster, Dûk Strelsau, ev a'm erhys settya an gwin-ma arâg an Mytern pàn ve an Mytern sqwith a bùb gwin aral, ha pesy orth an Mytern a'y eva, rag oll y gerensa dh'y vroder."
"Ober dâ, Michael Du!" yn medh an Mytern. "Corkyn mes, Josef. Dh'y gregy! Esa ev o'predery my dhe blynchya dhort y votel?"
Egerys veu an votel, ha Josef a wrug lenwel gwedren an Mytern. An Mytern a'n tastyas. Ena, gans tremyn sad ha gwyw dhe'n eur ha dh'y blit y honen, ev a wrug meras warnan adhedro:
"A dus jentyl, cowetha vy – a Rudolf, ow henderow (sclandrus yw an whedhel, Rudolf, re'm leouta!), th'esof ow ry oll Rùrytânya dhe why bys in hy hanter. Saw na besow' badna a'n votel dhuwyl-ma, ha my o'th eva abarth yêhes an – an knâva fel-na, broder vy, Michael Du."
Ha'n Mytern a sêsyas an votel hag omwheles a-ugh y anow, ha'y gwakhe ha dehesy dhe ves, ha gorra y bedn wàr y vrehow dhe'n bord.
Ha ny a wrug eva hunrosow plesont dh'y Vrâster – ha marnas hedna nyns esof ow perthy cov a'n gordhuwher. Par hap yth yw lowr.
CHAPTRA 4
AN MYTERN OW SENSY APPOYNTYANS
A wrug vy cùsca udn vynysen, udn vledhen? Ny wodhyen vy poynt. Me a dhyfunas sodyn, in udn grena. Ow fâss, ow blew, ow dyllas, th'esens y oll ow tevera dowr, ha Sapt coth sevys adâl dhybm, gwenwharth a dhespît wàr y vejeth ha bùcket gwag in y dhorn. Wàr an bord ryptho th'esa Fritz von Tarlenheim a'y eseth, gwydnyk kepar ha bùcka nos ha mar dhu in dadn y lagasow avell bran.
My a labmas serrys wàr ow threys.
"Dha ges yw gyllys re bell, sera!" me a grias.
"Tety valy, gwas, nyns eus termyn rag omdhal. Ny ylly ken tra vëth dha dhyfuna. Pymp eur yw."
"Bëdh gwarnys, Coronal Sapt –" me a dhalathas arta, tobm ow spyrys, kynth en vy yêyn i'm corf dres ehen.
"Rassendyll," Fritz a wodorras ow lavar, ow skydnya dhyworth an bord ha kemeres ow bregh, "mir obma."
Yth esa an Mytern wàr an leur, growedhys oll y hës. Y fâss o mar rudh avell y vlew, hag ev owth anella poos. Sapt, ky coth ha dygortes, a'n pôtyas yn harow. Ny wrug ev gwaya màn, ha ny veu powes in y anellans naneyl. My a welas dell o y fâss ha'y bedn glëb a dhowr, kepar ha'm câss vy.
"Ny re spênas hanter-our in y gever," yn medh Fritz.
"Ev a wrug eva terweyth moy ès dell wrugow'why dew," Sapt a groffolas.
My êth wàr bedn dêwlin ha tava y wythy. An pols o uthyk idhyl ha lent. Th'esen ny, oll agan try, owth aspia an eyl dh'y gela.
"O droggyes – an dewetha botel-na?" me a wovydnas, in udn whystra.
"Ny woram màn," yn medh Sapt.
"Res yw dhe ny cafos medhek."
"Nyns eus medhek nes ès deg mildir, ha ny alsa mil vedhek y dhry dhe Strelsau hedhyw. Aswonys dâ yw trèm an dra. Ny wra ev gwaya whe pò seyth our na whath."
"Ha'n cùrunyans!" me a grias in ewn euth.
Fritz a dherevys y scodhow, ha my ow convedhes bos hedna ûsadow moyha menowgh dhodho.
"Res yw dhe ny danvon derivas y bos ev clâv," yn medh.
"Eâ, martesen," yn medhaf.
Sapt coth, neb o mar fresk avell egor jarn, a wrug tùchya y bib solabrës ha whetha mog kepar ha jyn êthen.
"Mar ny vëdh ev cùrunys hedhyw," yn medh, "me a wystel cùrun na vëdh cùrunys nefra."
"Varia, prag?"
"Ma an hôll-nacyon ena rag y wolcùbma. Hanter a'n army – eâ, ha Michael Du orth y vleyn. On ny parys dhe dhanvon tell yw an Mytern medhow?"
"Tell yw clâv," yn medhaf, in udn amendya.
"Clâv!" Sapt a dhassonas, ha'y wharth leun a scorn. "Anjy a wor y glevejow re dhâ. 'Clâv' o va lies treveth aral!"
"Wèl, res yw dhyn lavasos kyn fednons y soposya," yn medh Fritz yn tyweres. "Me a vydn dry an nowodhow ha gwil an dra dhe'n gwelha."
Sapt a dherevys y dhorn.
"Lavar dhèm," yn medh. "A gresyth jy an Mytern dhe vos droggyes?"
"Cresaf," a worthebys vy.
"Ha pyw a'n droggyas?"
"An ky damnabyl, Michael Du," yn medh Fritz inter y dhens.
"Eâ," yn medh Sapt, "rag na dheffa dh'y gùrunyans. Dh'agan Rassendyll nyns yw Michael teg aswonys. Pan opynyon eus dhe jy, Fritz? A nyns eus gans Michael mytern parys? A nyns eus gans hanter Strelsau ken ombrofyor? Dell yw Duw yn few, gwas, an se rial yw kellys mar ny wra an Mytern omdhysqwedhes in Strelsau hedhyw. Dhybmo th'yw Michael Du aswonys re dhâ."
"Ny a yll y dhon dy," yn medhaf.
"Ha pòr deg y semlant," yn medh Sapt, in udn vockya.
Fritz von Tarlenheim a gudhas y fâss inter y dhêwla. Th'esa an Mytern owth anella uhel ha poos. Sapt a wrug y dava gans troos unweyth arta.
"Ass yw pedn medhow!" ev a lavaras, "Saw Elphberg yw va, ha mab dh'y das, ha my ow pedry kyns in iffarn ès gasa Michael Du esedhys in y le!"
Rag tecken th'esen ny oll tewys. Ena Sapt a gemeras y bib mes a'y vin ha leverel dhybm, ow plegya tâl:
"Den a vydn cresy in Tenkys pàn usy va ow tevy coth. Tenkys a wrug dha dhanvon jy obma. Tenkys a wra dha dhanvon lebmyn dhe Strelsau."
Me a wrug hanaja "Duw Dynam!", in udn trebuchya wàr dhelergh.
Fritz a dherevys y lagasow in golok freth ha sowthenys.
"Ùnpossybyl!" yn medhaf isel ow lev. "Aswonys vedhama."
"Peryl yw hedna – warbydn certuster," yn medh Sapt. "Mar mydnys trehy dha varv, me a wystel, aswonys na vedhys poynt. Eus own dhis?"
"Sera!"
"Deus, mab, tety valy! Mès dha vôwnans â dhe goll, te a wor, mars os aswonys in gwir – ha'm bôwnans vy – ha bôwnans agan Fritz. Saw mar nyns êth tejy, th'esof ow lia dhys, Michael Du a wra esedha wàr an se kyns haneth, ha'n Mytern a'y wroweth i'n vagh pò in y vedh."
"Nefra ny vydn an Mytern gava dhybm," me a stlevys.
"On ny benenes? Ny vern gyvyans!"
An clock a wrug tyckya hanter-canqweyth, ha try ugans, ha deg ha try ugans, ha my sevys in preder dredhans. Ena y teuth wàr ow fâss neb golok, dell soposys, rag Sapt coth a'm sêsyas er ow dorn, ha cria:
"Êth jy in gwir?"
"Av in gwir," yn medhaf, ha my ow meras orth fygùr an Mytern wàr an leur ahës.
"Arayes yw," Sapt a bêsyas, ha whystra gans hast, "ny dhe wodrega haneth i'n Palys. Pàn vedhyn ny gesys pryva, my ha ty, dystowgh ny a wra eskyna an vergh – res yw dhe Fritz powes ha gwetha chambour an Mytern – ha ny a wra marhogeth obma, in udn bonya. Parys vëdh an Mytern – Josef a wra derivas orto – ha res a vëdh marhogeth, dhodho bys in Strelsau arta genef vy, ha dhyso bys in or an wlas, kepar ha pàn ve an jowl orth dha jâcya."
Me a'n godhya oll in udn pols, hag inclynya pedn.
"Martesen yma chauns," yn medh Fritz, gans kensa sin dhyworto a wovenek.
"Mar callama scappya bos dyskeverys," yn medhaf.
"Dyskeverys mar pedhyn ny," yn medh Sapt, "me a wra danvon Michael Du kyns dhe'n ancow ès mos ow honen, an nev re'm gweressa! Eseth wàr an chair-ma, sos."
Me a'n obeyas.
Ev a wybyas in mes a'n rom, ha cria "Josef! Josef!" Wosa teyr mynysen ev a dheuth arta, ha Josef ganso. Yth esa an eyl ow ton podyk a dhowr pooth, seban, ha daffar alsen. Th'esa ow crena pàn wrug Sapt styrya oll an studh ha comondya ow dyvarva vy.
Desempys Fritz a wrug gweskel wàr y vordhos:
"Saw an gwethlu! 'Njy a wor! a wor!"
"Agh! Ny vydnyn ny gortos an gwethlu. Ny a vydn marhogeth dhe Hofbau ha kemeres train ena. Pàn dhowns y, an ÿdhyn a vëdh neyjys pell dhe ves."
"Saw an Mytern?"
"An Mytern a vëdh in selder an gwin. Me a vydn y dhon dy lebmyn."
"Mar y'n cafons y?"
"Ny wrowns y màn. Fatell allons y? Josef a vydn aga thrailya in kerdh."
"Saw –"
Sapt a wrug stank gans y droos.
"Nyns eson ny ow qwil gwary," ev a wrug taredna. "Re'm fay! a ny worama an peryl? Mar cafons y an Mytern defry, ny vëdh y blit lacka ès pàn ny vëdh cùrunys hedhyw in Strelsau."
Gans an ger-ma, ev êth hag egery an daras yn fen, ha dysqwedhes crefter na vien vy ow tesmygy bos dhodho, ow posa hag ow lyftya an Mytern in y dhêwla. Ha pàn esa va orth y wil, an venyn goth, mabm Johann an gwethyas, hy a dheuth ha sevel i'n daras. Sevys o hy polta, ena hy a drailyas wàr wewen, heb sin vëth a sowthan, ha clattra der an dremenva in kerdh.
"A wrug hy clôwes?" Fritz a grias.
"Me a sens hy clap!" yn medh Sapt, grym lowr, ha don an Mytern in y dhywvregh in mes.
Ha my a sedhas in chair brehek, ha pàn esen vy a'm eseth ena, in hanter-clamder, yth esa Josef ow knyvyas vy ha'm cravas vy erna veu oll ow minvlew ha'm barv imperyal taclow eus passys, ha'm fâss mar vlogh avell bejeth an Mytern. Ha pàn wrug Fritz ow gweles indelma, ev a dednas anellans hir ha cria in mes:
"Re Varia, soweny a wren ny in gwir!"
Th'o whegh eur solabrës, ha nyns esa termyn moy dhe gelly. Constrînys gans Sapt, my a fystenas aberth in chambour an Mytern, ha gwysca ow honen in udnwysk a goronal a'n Gwethlu, ha my ow cafos nebes prës dhe worra qwestyon orth Sapt. Pëth a wrug ev adro dhe'n venyn goth?
"Hy a lias na glôwas hy tra vëth," yn medh. "Mès rag bos sur, me a golmas hy garrow warbarth, ha pockya lien dorn in hy ganow, ha kelmy hy dêwla, ha'y settya in dadn alwheth in selder an glow, kentrevoges dhe'n Mytern. Josef a vydn aga dyghtya, pùbonen a'n dhew, moy adhewedhes."
Ena y feuv vy skydnys in wharth, ha Sapt y honen ow minwherthyn grym.
"Dhe'm desmygyans vy," yn medh ev, "pàn wra Josef derivas ortans an Mytern dhe vos gyllys, y fydnons y cresy ny dhe gafos drog i'n keus. Rag yth yw dhe lia, nyns usy Michael Du ow qwetyas y weles in Strelsau hedhyw."
Me a worras basnet an Mytern wàr ow fedn. Sapt coth a wrug istyn cledha an Mytern dhybm, ow meras orta vy hir ha dour.
"Grâss dhe Dhuw, ev a wrug ervira trehy y varv!" ev a grias.
"Prag y whrug ev?" me a wovydnas.
"Dre rêson Prynces Flavia dhe leverel y bos ev ow tyrusca hy bogh pàn vydna ry dhedhy abm a genderow cortes. Deus now, res yw dhyn marhogeth."
"Yw pùptra salow obma?"
"Nyns eus tra vëth salow nag in tyller vëth," yn medh Sapt. "Mès salwa ny yllyn ny gwil."
I'n tor'-ma Fritz a dheuth ha jùnya dhyn arta, hag udnwysk a gapten in y gerhyn a'n keth rejyment ha'm gwysk ow honen. Kyn pedn peder mynysen y feu Sapt taclys in y udnwysk ev. Josef a grias bos an vergh parys. Ny a labmas wàr aga heyn ha dallath, in udn wobonya scav. Y feu an gwary in gwayans. Pandra vedha y finweth?
An myttyn ha'y air fresk a wrug glanhe ow frederow, ha me a wor convedhes pùptra a levery Sapt dhybm. Ev o marthys. Scant nyns esa Fritz ow côwsel, ev ow marhogeth kepar ha den in cùsk, mès desempys, heb ken ger vëth adro dhe'n Mytern, Sapta a dhalathas desky istory dhybm in oll y vanylyon a'm bôwnans tremenys, a'm teylu, a'm plesours, hobbys, gwanderow, cothmans, cowetha, ha servons. Ev a wrug desky etyket Lÿs Rùrytânya dhybm, in dadn bromys ev dhe vos prest orth ow elyn rag meneges oll an dus a godha dhybm aga aswon, ha ry hyntys pygebmys favour a dalvia dhybm aga wolcùbma ganso.
"Ha ken tra," yn medh Sapt. "Catholyk osta, sur?"
"Nyns ov vy màn," me a worthebys.
"Ren ow thas, cabmgryjyk yw!" Sapt a hanajas, ha dystowgh ev êth in lesson elvednek a'n practycyow ha'n rêwlys in crejyans an Romans.
"I'n gwelha prës," yn medh, "ny vëdh gwaityans brâs a'th wodhvos, rag drog-gerys yw fara dybreder ha lows an Mytern in kenyver negys a'n par-ma. Saw res yw dhis bos mar dhainty avell amanyn orth an Cardynal. Govenek a'gan beus y wainya dhe ny, awos bos kedrydn stag intredho ha Michael ow tùchya aga bleynorieth."
Solabrës y feun ny devedhys dhe'n gorsaf. Fritz a dhascafas coraj lowr rag clerhe dhe vêster an gorsaf, meur y varth, towlen an Mytern dell o chaunjys. An train a dheuth in oll y êthen. Eskynys veun ny in caryach adhevîs, ha Sapt a bêsyas y lesson, ow posa wàr an pluvogow dhelergh. Me a wrug checkya ow euryor vy – euryor an Mytern o hedna, heb mar. Eth eur o, yn kewar.
"An qwestyon yw, a wrussons y mos ha'gan sarchya ny?" yn medhaf.
"Y'm beus govenek na wrowns y cafos an Mytern," Fritz a lavaras, meur y anês, hag i'n dro-ma Sapt o an den a dherevys y scodhow.
Yth esa an train ow viajya yn tâ, ha dhe hanter wosa naw my a wrug aspia der an fenester an tourow pedrak ha mon ow longya dhe cyta vrâs.
"Dha bedncyta, sera lîch," yn medh Sapt coth gans gwenwharth, ha gwevya y dhorn, ha posa in rag ha gorra y vës wàr wythien codna ow bregh. "Dha bols yw tùch re uskys," yn medh, in y lev croffolus.
"Nyns ov vy gwrës a ven!" me a grias.
"Ty a vëdh yn tâ lowr," yn medh, gans inclynyans a'y bedn. "Res yw dhyn leverel fatell eus crèn lêhow wàr agan Fritz. Gwra gwakhe dha gostrel, Fritz, abarth Duw, a vaw!"
Fritz a wrug dell veu erhys dhodho.
"Udn our re avarr," yn medh Sapt. "Gesowgh ny dhe dhanvon messach bos dha Vrâster devedhys, rag sur nyns eus den vëth dh'agan metya i'n eur-ma. Hag i'n mên-termyn –"
"I'n mên-termyn," yn medhaf, "an Mytern, dh'y gregy mar ny vydn cafos spot a haunsel."
Sapt coth a wrug wherthyn in y vriansen, hag istyn y dhorn.
"Elphberg osta, pùb mêsva ahana jy," yn medh. Ena ev a hockyas, ha leverel cosel in udn aspia orthyn, "Graunt Duw ny dhe vos yn few haneth ha hogen!"
"Âmen!" yn medh Fritz von Tarlenheim.
An train a wrug sevel. Fritz ha Sapt a labmas in mes, noth aga fedn, ha sensy an daras dhybm. Me a fethas tag codna o sordys ina vy, settya ow basnet warnaf yn fast, ha whetha pejadow cot dhe Dhuw (heb meth orth y leverel). Ena me a worras ow threys wàr eskynleur an gorsaf in Strelsau.
Mes a dorn, pùptra o fysky ha deray: tus ow fystena dhybmo, hottys inter aga dêwla, ha fystena arta in kerdh; tus orth ow hùmbrank bys i'n bùffet; tus owth eskyna hag ow marhogeth tobm aga hast dhe erberow an soudoryon, dhe'n Beneglos, dhe drigva Dûk Michael. I'n very prës mayth esen vy ow lenky an dewetha lobm a'm hanaf a goffy, pùb clogh i'n cyta a dardhas in kessenyans a joy, ha mûsyk menestrouthy a vresel ha banlevow a dus, hebma oll a wrug gweskel wàr ow scovarn.
Ot an Pympes Mytern Rùdolf in Strelsau, y cyta dhâ! Hag anjy oll ow cria avês –
"Dùrsona dhe'n Mytern!"
Gwessyow Sapt coth a wrug cryhy in minwharth.
"Dùrsona dhe'n Mytern!" ev a whystras. "Kebmer coraj, a vab!" ha my ow clôwes y dhorn dhe wasca wàr ow glin.
CHAPTRA 5
AVENTURS DHE ACTOUR GORTHRO
My a wrug kerdhes mes a'n bùffê dhe'n cay, ha Fritz von Tarlenheim ha Coronal Sapt adrëv dhybm in nes. Y feu ow dewetha gwrians checkya, in udn dava, ow revolver dhe vos parys dhe'm dorn ha'm cledha dhe vos lows i'n woon. Yth esa bagas gay a sodhogyon ha brâsyon a vry orth ow gortos vy, ha den coth ha hir wàr aga bleyn, leun a vedallys, ha'y stauns onen a vresel. Warnodho an ryban melen ha rudh a'n Rosen Rudh a Rùrytânya – ha'n medal-ma, res alowa, o afînans dhe'm brèst anwyw vy kefrës.
"Marshal Strakencz," Sapt a whystras, ha my ow convedhes y bosaf a wel dhe'n hensoudor moyha y hanow in oll an army Rùrytânyan.
Sevys knack adrëv an Marshal th'esa den tanow ha cot, ha gon du ha rudh tewl in y gerhyn.
"Chansler an Wlascor," Sapt a whystras.
An Marshal a wrug ow wolcùbma gans nebes lel-eryow, ha delyfra in udn bêsya omdhyvlâmyans dhyworth Dûk Strelsau. An dûk o, dell hevelly, grêvys gans dysês sodyn, may feu ùnpossybyl dhodho dos dhe'n gorsaf, hag ev ow pesy cubmyas dhe wortos y Vrâster i'n Beneglos. My a levas ow bern, acceptya an omdhyvlâmyans orth an Marshal yn fest wheg, ha recêva lavarow cortes a bersons pòr wordhy ha brâs aga nùmber. Ny wrug nagonen dysqwedhes dowt vëth, ha my owth omsensy coraj dhe dhewheles ina vy ha'n labm frobmys i'm colon ow sedhy. Saw Fritz o gwydnyk whath, ha'y dhorn ow trembla kepar ha dêlen pàn y'n istynas dhe'n Marshal.
Wharê ny a wrug formya keskerth ha kemeres fordh dhe dharas an gorsaf. Eskynys veuv vy obma wàr ow margh, ha'n Marshal a wrug sensy an warthowl. An vrâsyon dhynasek êth i'ga caryajys in rag, ha my a dhalathas marhogeth der an strêtys ryb an Marshal adhyhow ha Sapt agledh (ha'n gwir dhe'n tyller defry ganso, avell ow chif-aide-de-camp). Cyta Strelsau yw part coth ha part nowyth. Yma rôsvaow arnowyth hag efan, ha qwartronys aneth ow kerhydna hag ow compassa strêtys an dre wredhek, strêtys cul ha gwius ha pyctùresk. Tregys yma an ugh-rencasow i'n kelhow avês; i'n re aberveth yma an shoppys desedhys; ha cudhys adrëv aga thâlenebow sowen yma lies bownder ha scochfordh, pals y dus, mès anfusyk, leun a rencas meur y esow, dyrêwl, ha drogoberus (dre vrâs). Th'esa an dyffrans cowethasek ha qwartronek-ma ow wortheby, dell dheskys warlergh derivadow Sapt, dhe dhyberthva aral, o moy hy bern genama. An Dre Nowyth o ledrek tro ha'n Mytern. Mès i'n Dre Goth yth o Michael a Strelsau govenek, gorour, gour wheg oll.
An wolok o pòr spladn pàn esen ny ow passya an Rôsva Veur ahës, bys i'n plain brâs wàr rag, mayth esa an Palys Rial. Obma th'esen vy mesk len-scodhyoryon. Cregys wàr bùb chy yth esa lednow rudh ha banerow ha garmow gwlasek. Wàr dhew amal an strêtys yth esa esedhow derevys, ha my a dremena drestans, in udn omblegya, dhe'n eyl tu ha dh'y gela, in dadn gowas a vanlevow, a venothow, a lienyow dorn ow qwevya. An balcons o leun a venenes jentyl, gay aga dyllas, esa ow tackya dêwla, ow qwil cortesy, ow tôwlel dhybm aga spladnha golok. Th'esa reverthy a flourys ros rudh ow codha warna vy. Y feu udn flour glenys dhe vong ow margh, ha my a'n kemeras ha'y staga dhe'm côta. An Marshal a vinwherthy grym. Traweythyow my a veras orth y fâss in dadn gel, saw nyns esa môvyans lowr gans an Marshal dhe dhyskevera, o va kescolodnek pò nag o.
"An rosen rudh abarth an Elphbergs, a Varshal," yn medhaf yn jolyf, hag ev owth inclynya pedn.
My re screfas "jolyf," ha res yw an ger-ma dhe hevelly stranj. Saw dhe leverel an gwir, medhow en vy a frobmans lowen. I'n prës-na th'esen vy ow cresy – namnag esen – fatell en vy an Mytern in very gwrioneth. Ha me a lyftyas ow golok arta, trygh i'm wharth, dhe'n balcons, beawty gà begh ... hag ena y whrug vy plynchya. Owth aspia warnam wàr woles, ha sêmly hy bejeth ha prowt hy minwharth, yth esa an venyn jentyl a veu kesviajyores kyns – Antoinette de Mauban. Ha me a welas hy bos ow plynchya kefrës, ha'y gwessyow in gway, ha hy ow posa in rag, ha meras stark warna vy. Ha my a wrug cùntell ow honen, in udn dhierbyn hy lagasow, strait hag ôpyn, ha tava ow revolver unweyth arta. Pandra via dhe wil? mar mydna hy cria a lev uhel, "Hedna, nyns yw an Mytern!"
Wèl, ny a wrug tremena, ha'n Marshal a drailyas wàr y dhyber, gwevya y dhorn, ha'n Varhogyon Ervys a dheuth adro, in udn glôsya, ma na yll an rûth bos nes dhybm. Th'esen ny ow qwyttya an qwartron o a'm parth avy hag entra in qwartron Dûk Michael, ha'n gwythres-ma a'n Marshal a dhysqwedhas dhybm iredy, clerra ès geryow, stubm an comen-voys i'n dre. Saw kynth en vy Mytern dre Denkys, ny yllyn vy ma's gwary an part yn sêmly.
"Prag y feu an chaunj-ma i'gan aray, Marshal?" yn medhaf.
An Marshal a wrug densel y vinvlew gwydn.
"Dotha yw, a sera rial," ev a lavaras yn isel.
Me a wrug frodna.
"Gas an re usy dhyragon dhe varhogeth," yn medhaf, "erna vowns y hanter-cans lath arâg. Saw gwrewgh why, a Varshal, ha Coronal Sapt ha'm cothmans, gortos obma erna wrellen avy marhogeth hanter-cans lath. Ha gorrowgh gwith, na vo nagonen nes dhybm. Porposys ov vy dhe showya bos aga Mytern ow fydhya inans."
Sapt a settyas y dhorn wàr ow bregh. Me a'n shakyas dhe ves. An Marshal a wrug hockya.
"A nyns ov vy ùnderstondys?" yn medhaf. Hag ev a ros an arhadow, unweyth arta ow tensel y vinvlew. Me a welas fatell esa Sapt coth ow wherthyn yn cosel in y varv, saw ev a wrug shakya poll orthyf. Mar pen vy ledhys in golow an jëdh wàr strêtys Strelsau, plit Sapt a via plit cales.
Martesen y coodh dhybm leverel y bosama cowl-wyskys in gwydn, saw ow botas yn unsel. Wàr ow fedn th'esa basnet arhans, gorowrys y daclans, ha ryban ledan an Rosen o teg y semlant wàr ow brèst adreus. Prais gwadn dhyworthyf a'n Mytern mar ny vednen vy sevel orth uvelder hag amyttya, yth en vy fygùr pòr vrav. Indelha poran o breus an bobel. Rag pàn wrug vy entra, dygoweth wàr geyn margh, bys in strêtys an Dre Goth, tewl ha bohes aga afînans, y feu hanas wostallath, ena banlev, ha benyn orth fenester a-ugh chy cog a grias lavar coth an tyller:
"Mars yw rudh, th'ywa druth!" ha me a wharthas ha dysky ow basnet, may halla hy gweles y bosaf a'n ewn colour, hag anjy ow qwil banlev arta.
Marhogeth o tra moy y les, yn tygoweth indelma, ha my ow clôwes campollans an rûth.
"Gwydnha y fâss ès dell yw ûsys," yn medh onen.
"Gwydn dha fâss jy, mar mednes bewa dell wra ev," y teuth gorthyp pòr dhyscortes.
"Brâssa den yw va ès dell wrêna desmygy," yn medh onen aral.
"Challa dâ ganso, ha'n varv-na trehys dhe ves," tressa a dheuth dhe gompla.
"Nyns yw y byctours lowr sêmly," a wrug declarya mowes teg, ow qwetyas may hallen vy clôwes. Tra vëth ma's flatteryng, heb dowt.
Saw in spit dhe'n sînys-ma a les ha comendyans, y feuv vy recêvys gans an moyha radn a'n bobel in taw, dywharth aga fysment, ha namnag esa portreyans a'm broder cuv ow tekhe oll an fenestry – pëth o wolcùm gesedhus y gynda dhe'n Mytern. Th'en vy pës dâ bos hedna heb gweles syght anwhek a'n par-na. Den o va êsy dhe serry, ha ny vensa ev y gemeres maga whar martesen dell wrug avy.
Devedhys en ny dhe'n Beneglos wàr an dyweth. Hy thâl brâs ha loos, afînys dre gansow a dhelwow, ha prowt a'y dharajow predn derow a'n gwelha in Ewrop, th'esa hy settys uhel dhyragof an kensa prës, ha namna veuv vy overcùmys gans sens glew desempys a'm bolder. Pùptra o nywlek pàn wrug vy skydnya dhywar ow margh. Th'esen vy ow qweles an Marshal ha Sapt yn tyscler, ha dyscler o an bùsh brâs a prontyryon, bryght aga fal ha mantel, esa orth ow gortos vy. Ha dyscler ow lagasow whath pàn esen vy ow walkya an eglos, oll hy horf meur, ha kesson an organ i'm scovarn. Ny welys vy tra vëth a'n rûth spladn esa orth y lenwel, scant ny wrug decernya fygùr stâtly an Cardynal pàn savas ev dhywar y gader argh-epscobek rag gwil wolcùm dhybm. Nyns o fâss vëth hewel cler dhyrag ow golok, ma's dew, an eyl ryb y gela – bejeth a vyrgh, gwydnyk ha teg, cùrun a vlew gloryùs an Elphbergs a-ughto (rag gloryùs th'yw an blew-ma wàr venyn), ha bejeth a dhen, ha my a wodhya, a'y vohow goosrudh, a'y vlew du, hag a'y lagasow tewl ha down, y bosaf a wel dhe'm broder, Michael Du, worteweth. Ha pàn y'm gwelas, y vohow rudh a godhas gwydn wàr nùk, ha'y vasnet ow troppya crev y glattrans wàr an leur. Bys i'n tor'-na ny wrug ev desmygy, dell gresama, bos an Mytern devedhys dhe Strelsau in very gwrioneth.
Myns a sewyas a'y wosa, ny'm beus cov anodho. My êth wàr dhêwlin dhyrag an alter ha'n Cardynal a wrug olewy ow fedn. Ena me a savas wàr dreys, hag istyna ow dorn ha kemeres cùrun Rùrytânya dhyworto ha'y settya wàr ow fedn, ha my a wrug ty coth an Mytern. Ha me a recêvas an Comùn Sans kyns essans oll (mar peu pegh, re bo gyvys dhybm). Ena an organ brâs a wrug kesseny arta, ha'n Marshal a worhemydnys dhe'n herôs, may whrellens y ow declarya. Awot an Pympes Rudolf cùrunys Mytern. Hag yma pyctour gorwyw a'n solempnyta bryntyn ow cregy i'm rom kydnyow vy i'n eur-ma. An portreyans a'n Mytern yw fest dâ.
Ena an venyn jentyl, ha'n bejeth gwydn dhedhy, ha'n blew gloryùs, ha'n losten draylya inter dêwla dew baja, a wrug stap in mes a'y thyller ha dos, le mayth esen vy sevys. Ha herôt a grias:
"Hy Uhelder Rial an Brynces Flavia!"
Hy a wrug cortesy isel, ha settya hy dorn in dadn ow dorn vy, ha gorra bay warnodho. Ha rag tecken yth en vy dowtys a'n gwelha pëth dell allen vy gwil. Ena my a's tednas hy dhybm hag abma dhedhy dywweyth wàr hy bogh, ha hy a rudhyas, ha – ena y Hanow Brâs an Cardynal Argh-Epscop a dheuth in udn slynkya dhyrag Michael Du, hag abma dhe'm dorn ha presentya lyther screfys dhybm gans an Pab – an kensa ha'n dewetha dell wrug avy recêva mes a'n qwartron-na, mar exaltys!
Ena y teuth Dûk Strelsau. Th'esa y stappys ow crena, me a'n te, hag ev ow meras adhyhow hag agledh, kepar dell vëdh den ow meras pàn usy va ow predery fia dhe'n fo. Ha'y fâss o cloutweyth a rudh ha gwydn, ha'y dhorn ow trembla, mayth esa ow sqwychya in dadn ow dorn vy, ha me a glôwas y wessyow sëgh ha cras. Ha my a wrug tôwlel golok orth Sapt, hag ev ow wherthyn cosel in y varv arta, ha me a gemeras Michael cuv er y dhêwla, ow qwil ow dûta vy, crev ow borpos i'n gre myternyth mayth en vy gelwys dhodho yn wondrys, hag abma dhodho wàr y vogh. Dâ veu dhyn, sur, pàn o hedna gwrës ha due!
Saw nag in bejeth an brynces nag in fâss den vëth ny welys vy dowt na qwestyon a'n lyha. Bytegyns, mar pen vy ha'n Mytern a'gan sav an eyl ryb y gela, y halsa an brynces decernya dyffrans desempys, pò wosa avîsment cot par hap. Saw nyns esa desmygyans vëth, na dhedhy hy na dhe nagonen, dell yllyn vy bos ken den ès an Mytern. An hevelep o lowr dhe servya, ha dres udn our yth esen vy sevys ena, owth omsensy mar sqwith ha mar vygyl dell ven vy mytern der oll ow bôwnans; hag abma a wrug pùbonen dhe'm dorn, ha'n lÿscanhasow ow tysqwedhes revrons dhybm, Arlùth Topham coth i'ga mesk, ha my dauncys kyns in y drigva in Plain Grosvenor, ugans tro. Grâss e dhe Dhuw, an den coth o mar dhall avell go'dhor, ha ny'm aswonys.
Ena dewhelys veun ny dhe'n Palys der an strêtys, ha th'esen vy ow clôwes fatell wrussons y banlev abarth Michael Du. Mès yth esa ev a'y eseth, dell wrug Fritz derivas, ow tensel y ewynas kepar ha den in hunros jorna, ha'y gothmans y honen kefrës ow leverel y codhvia dhodho ry show moy colodnek. Yth esen vy in caryach i'n tor'-ma, ha'n Brynces Flavia ogas rybof, ha pollat garow a grias in mes:
"Pana dermyn a vëdh an demedhyans?" ha ken onen a ros dhodho what wàr y fâss pàn y'n levery, ow cria "Bôwnans hir dhe Dûk Michael!" ha'n brynces a rudhyas – wordhy o an arlyw – ha meras
compes ha strait in rag.
Now th'esen vy in caletter, dell hevelly, awos my dhe ankevy govyn orth Sapt fatl'o stât ow sergh, pò pana radh a veu kescowethyans avauncys inter an brynces ha my. Mar pen vy an Mytern, seul belha avauncys seul voy y fien vy lowen, heb tùll na gil. Rag nyns ov vy den a woos syger, ha ny wrug abma dhe Brynces Flavia wàr hy bogh heb còst. An prederow-ma êth ha tremena der ow fedn, saw ny leverys tra vëth, awos my dhe vos ansur a'm leur. Ha wosa termyn cot an brynces a wrug dascafos hy diaha, ha trailya dhybm.
"A wosta, Rudolf," yn medh, "ken yw dha semlant hedhyw neb fordh."
Nyns o an feth-ma reveth, mès mencyon ancresus.
"Dha semlant yw dotha," hy a bêsyas, "moy sad. Namnag osta moy behys a wovyjyon, ha moy tanow os heb dowt. Dar, nyns yw possybyl bos fara dywysyk worteweth dhys?"
Dell hevelly, an brynces a's teva opynyon a'n Mytern kepar dell o breus Arlodhes Burlesdon ahana mavy.
Omgrefhe a wrug vy dhe'n kescows.
"Ha hedna ow plegya dhis?" me a wovydnas in lev isel.
"Ogh, te a wor ow thybyans vy," yn medh, ha trailya hy golok in kerdh.
"Pypynag a wrella plegya dhis, th'esof ow strîvya y wil," yn medhaf. Hag yth esen ow predery, pàn welys hy bos ow minwherthyn hag ow rudhya, fatell yllyn vy gwary cartednow an Mytern abarth y les yn tâ teg. Ytho me a bêsyas, ha myns oll a leverys vy, hèn o an gwir poran:
"Th'esof owth avowa dhis, kenytherow wheg, nag esa tra vëth i'm bôwnans orth ow môvya moy ès an wolcùm a gefys hedhyw."
Hy a wrug minwharth spladn, mès wosa pols hy a veu sevur arta, ha whystra:
"A wrusta merkya Michael?"
"Gwrug," yn medhaf, ha keworra, "nyns o dâ ganso."
"Kebmer with dour!" yn medh hy pelha. "Nyns esos – nag esta defry – ow qwetha lowr ragtho. Te a wor –"
"Me a wor," yn medhaf, "bos whans dhodho a'n pëth eus genama vy."
"Eâ. Whyst!"
Ena – ha my heb jùstyfians vëth, rag me a wrug kelmy an Mytern hir in hans dhe'm gwir dh'y wil – ow emôcyon dhedhy o creffa agesof ow honen – me a lavaras moy:
"Ha nampÿth inwedh, martesen, nag eus genama na whath, mès yma govenek dhybm a'y wainya neb termyn a dheu."
Hy a worthebys indelma. Mar pen vy an Mytern, me a vensa y sensy kenerthans:
"A nyns eus warnas lowr a jarjys rag udn jëdh, a genderow?"
Bobm, bobm! Uj, uj! Devedhys veun ny dhe'n Palys. Yth esa godnys ow tylla ha trompys ow seny. Rêsyow a wesyon a'ga sav ow cortos, ha wosa hùmbrank an brynces er hy leuv an stairys marbel ha ledan in bàn, my a gemeras posessyon yn furvus, avell Mytern cùrunys, a Drigva ow ragdasow, hag esedha orth ow bord ow honen, ha'm kenytherow adhyhow, Michael Du a'n barth aral dhedhy, ha'y Hanow Brâs an Cardynal agledh dhybm. Sevys adrëv ow chair vy th'esa Sapt. Hag orth pedn pell an bord me a welas Fritz von Tarlenheim dhe wakhe y wedren a shampên bys in hy goles, spot sconha ès sêmly.
Ha'n qwestyon ina vy: pandr'esa Mytern Rùrytânya orth y wil?
CHAPTRA 6
KEVRÎN IN CERTAN SELDER
Yth esen ny in rom omwysca an Mytern – Fritz von Tarlenheim, Sapt, ha my. Me a dowlas ow honen pòr sqwith wàr jair brehek, Sapt a dùchyas y bib. Ny wrug ev leva keslowena a'gan spêda varthys in peryl gwyls, mès oll y stubm o helavar a'y lowender. An vyctory, gans gweres martesen a win dâ warbarth, a rendras Fritz den nowyth.
"Ass yw hedhyw dëdh a alles jy remembra!" ev a grias. "Duw, me a garsa bos Mytern ow honen dêwdhek our nepprës! Saw, Rassendyll, res yw dhis heb denewy dha golon re aberveth i'n part. Nyns yw marth kyn feu tremyn Michael Du a'n duha – ty ha'n brynces, th'esa kebmys kescows inter why."
"Ha hy maga teg!" me a grias in mes.
"Ny vern an venyn," Sapt a groffolas. "Os parys dhe dhallath dhe'n fordh?"
"Ov," yn medhaf, in udn hanaja.
Th'o pymp eur, ha dhe dhêwdhek eur ny vedhen vy namoy ès Rudolf Rassendyll. Me a wrug y gompla in ton gesus.
"Y fëdh lùck genes," Sapt a nôtyas grym, "mar ny vedhys Rudolf Rassendyll, tremenys. Re'n ebron dhâ! Kellys yw omborth dhe'm pedn wàr warr, dell hevel, pùb mynysen may fy i'n cyta. A wosta, sos? re wrug Michael recêva messach a Zenda. Ev êth ajy dhe rom adenewen, y honen oll, rag redya – ha sowthenys dh'y golonen y teuth in mes."
"Parys oma," yn medhaf. Awos an nowodhow-ma ny veuma whensys dhe strechya moy.
Sapt a esedhas.
"Res yw dhybm screfa arhadow, may hallon ny qwyttya an cyta. Michael yw an Governour, dell wosta, ha res yw darbary orth lestans. Res yw dhyso sîna an arhadow."
"A goronal wheg, nyns ov vy fugyor deskys!"
In mes a'y bocket Sapt a gemeras darn a baper.
"Otta sînans an Mytern," yn medh, "hag ot obma," ev a bêsyas, wosa ken whythrans in y bocket, "nebes paper dargopia. Mar ny wrêta udn 'Rudolf' dâ kyn pedn deg mynysen, dar – ny allama vy?"
"Cler yw dha dhyscans jy dhe vos moy compassus," yn medhaf. "Te gwra y screfa."
Hag y feu fugyans fest perthadow ascorys in dadn leuv an gorour-ma, pòr gonyng.
"Now, Fritz," yn medh, "ma'n Mytern ow mos dhe'n gwely. Dystemprys yw va. Ny yll den vëth y weles kyns naw eur avorow. Yw convedhys? Den vëth."
"Convedhys," Fritz a wrug gorthyp.
"Michael a vydn dos par hap, ha demondya keswel dystowgh. Ty a wra gortheby dell usy an gwir a geswel ow longya dhe bryncys only a'n goos."
"Vexya Michael a wra hedna," yn medh Fritz, in udn wherthyn.
"Yw convedhys yn tien?" Sapt a wovydnas arta. "Mar pëdh daras an rom-ma egerys hedre von ny alebma, ny vedhys tejy yn few rag derivas orthyn."
"Nyns eus otham a scolyans, coronal," yn medh Fritz, tùch hautîn.
"Tan ha mailya dha honen i'n clôk brâs-ma," Sapt a lavaras dhybm, in udn bêsya, 'ha gwysca an cappa plat-ma. Y fëdh offycer negys ow marhogeth genama haneth dhe'n chy helghya."
"Yma udn let," me a verkyas. "Nyns eus margh i'n bÿs ha crefter ganso dhe'm don dêwgans mildir."
"Ogh eâ, eus defry – dew anodhans. Onen obma – onen orth an chy. Now, os parys?"
"Parys teg," yn medhaf.
Fritz a istynas y dhorn.
"Rag dowt na allen arta," yn medh. Ha ny a shakyas leuv yn colodnek.
"Amuvyans, dh'y gregy!" Sapt a groffolas. "Deus rag."
Nyns êth ev dhe'n daras, mès dhe banel i'n fos.
"In dedhyow an Mytern coth," yn medh, "an fordh-ma o ûsys genef yn fenowgh."
Me a'n holyas, ha ny a wrug kerdhes tremenva gul ahës, ogas ha dew cans lath, dhe'm breus vy. Ena drehedhys veun ny dhe dharas a bredn derow poos. Sapt a wrug y dhialwhedha. Ny a bassyas dredho, ha cafos agan honen in strêt cosel ow resek ryb lowarth an palys dhelergh. Th'esa den ow cortos gans dew vargh. Onen o margh gellrudh bryntyn, abyl dhe bùb poster. An aral o gorm ha nerthek. Sapt a sînas dhybm eskyna wàr an margh gell. Heb ger dhe'n gwas, ny a wrug eskyna ha marhogeth in kerdh. An dre o leun a dros, meur y jolyfter, saw ny a wrug dôwys fordhow pell dhyworth tus. Ow clôk vy o mailys dres hanter a'm fâss. Th'esa an cappa dalhus ow keles pùb cudyn a'm blew anheweres. Warlergh comondyans Sapt, th'esen vy ow plattya wàr an dyber, hag ow marhogeth gans keyn mar rownd dell na vydnaf y showya nefra wàr vargh arta, re bo govenek! Ny êth bownder ahës, cul ha hir, ha metya nebes gwandrysy, nebes kyffewysy. Hag in marhogeth th'esen ny ow clôwes clegh an Beneglos prest, a seny heb hedhy gà wolcùm dhe'n Mytern. Th'o hanter wosa whe, ha golow whath. Wàr an dyweth ny a dheuth dhe fos an cyta ha dhe yet.
"Sens dha arvow parys," Sapt a whystras. "Res yw dhyn stoppya y glap, mar mydn whedhla."
Me a worras ow dorn dhe'm revolver. Sapt a wrug hailya gwethyas an daras. An ster, th'êns y abarth dhyn i'n chalynj! Mowes vian, peswardhek bloodh, a wrug kerdhes in mes.
"Y praydha, sera, Tas yw gyllys dhe weles an Mytern."
"Y fia gwell dhodho mar pe ow cortos obma," Sapt a lavaras dhybm, gans gwenwharth.
"Saw ev a erhys na wrellen vy egery an yet, sera."
"A wrug in gwir, ow thegen?" yn medh Sapt, in udn skydnya. "Dhana roy an alwheth dhybmo vy."
Th'esa an alwheth in dorn an flogh. Sapt a ros cùrun dhedhy.
"Ot obma arhadow dhyworth an Mytern. Gwra y dhysqwedhes dhe'th tas. Offycer, egor an yet!"
Me a labmas dhe'n dor. Warbarth ny a rolyas an yet brâs wàr dhelergh, lêdya an vergh in mes, ha'y dhegea arta.
"Pyteth a'm beus a wethyas an daras, ha Michael ow tyscudha nag esa va in y dyller. Now, mab, gas ny dhe bonya whar. Res yw dhyn heb mos re scav, hedre von ny ogas dhe'n dre."
Bytegyns, dhia bàn esen ny avês dhe'n cyta nyns esa peryl brâs, rag pùbonen aral dhe vos aberveth, owth omlowenhe. Hag in coodh an gordhuwher ny a wrug agan toth moyha uskys, ha'n margh spladn ow pâcya in dadna vy kepar ha pàn vêna pluven. Yth esa hynon dhyn, ha'n loor owth apperya wharê. Th'esen ny ow côwsel very nebes wàr an fordh, ha dre vrâs adro dhe'n pellder oberys.
"An qwestyon yw, pëth a veu derivys dhe'n dûk i'n messach?" yn medhaf, unweyth only.
"Eâ, qwestyon dâ!" Sapt a worthebys.
Sevys veun ny rag draght a win ha rag boosa an vergh, ha kelly hanter-our indelma. Ny wrug vy bedha mos ajy dhe'n tavern. Th'esen vy ow cortos i'n stâbel gans an vergh. Ena ny êth in rag arta, ha lavuryes veu ogas ha pymp mildir warn ugans pàn savas Sapt desempys.
"Clôw!" ev a grias.
Me a wrug goslowes. Wàr agan lergh, abell hir, in cosoleth an gordhuwher – th'o hanter wosa naw poran – ny a glôwas carnow margh ow qweskel. Th'esa an gwyns, owth herdhya adrëv dhyn, ow try an son ganso. My a wrug tôwlel golok got orth Sapt.
"Deus rag!" ev a grias, ha ry kentryn dh'y vargh bys in ponyans leun. Pàn wrussyn ny hedhy ha goslowes an nessa torn, nyns o an carnow dhe glôwes namoy, ha ny a lowsyas agan toth. Nena ny a's clôwas unweyth arta. Sapt a labmas dhywar y vargh ha gorra y scovarn dhe'n dor.
"Ma dew anedha," yn medh. "Nyns usons y ma's mildir wàr gàn lergh. Grâss dhe Dhuw dell usy an fordh ow stubma ena hag ena, ha'n gwyns wàr agan keyn."
Ny a wrug ponya pelha. Dell hevelly, th'esen ny ow mentênya an keth pellder. Entrys veun ny in emlow forest Zenda, ha'n gwëdh ow clôsya dhelergh, ha'n fordh ow qwia igam-ogam, ow lettya rag gweles an helhysy, ha'n re-na lettyes rag gweles kefrës.
Hanter-our moy ha ny a dheuth dhe forgh i'n fordh. Sapt a dednas frodn.
"Adhyhow yma gàn fordh ny," yn medh. "Agledh, dhe'n Castel. Pùbonen a'n dhew, ogas hag eth mildir. Gwra skydnya."
"Saw agan cachya a wrowns y!" me a grias.
"Gwra skydnya!" ev a lavaras arta, yn harow. Ha my a'n obeyas. An coos o tew bys in very amal an fordh. Ny a lêdyas an vergh ajy dhe'n govva, kelmy lien dorn wàr aga lagasow, ha sevel rypthans.
"Os porposys dhe weles pyw yns?" me a whystras.
"Ov, ha pymowns y ow mos," ev a worthebys.
Me a welas y revolver dhe vos in y dhorn.
Nes y teuth an carnow. Nes whath. Th'esa an loor ow spladna cler ha leun lebmyn, may feu an fordh gwydn anedhy. An dor o cales, ha ny heb gasa olow.
"Ottensy devedhys!" Sapt a whystras.
"An Dûk yw!"
"Dell waitys," ev a worthebys.
An Dûk yth o, ha qwallok ganso esen vy owth aswon yn tâ, ha skyla dhodho a'm aswon vy wosa termyn – Max Holf, broder dhe Johann an gwethyas gam, ha servont body dh'y Uhelder. Devedhys vowns y dhe'n forgh. An dûk a wrug frodna. Me a welas bos bës Sapt ow stubma adro dhe'n tryger gans kerensa. Dell gresaf, ev a via parys dhe ofrydna deg bledhen a'y vôwnans rag udn tedn. Ev a wrussa ladha Michael Du mar êsy dell allen vy yar skyber in buarth. Me a worras ow dorn wàr y vregh. Ev a inclynyas y bedn, ow ry confort dhybm. Ev o parys pùpprës dhe settya dûta dhyrag whans.
"Pan qwartron?" Michael Du a wovydnas.
"Dhe'n Castel, gàs Uhelder," y goweth a wrug inia. "I'n tyller-na ny a dhesk an gwir."
An dûk a wrug hockya pols.
"Dell hevel dhybm, carnow a glôwys vy," yn medh.
"Heb hevelly dhybmo, gàs Uhelder."
"Prag na wren ny mos dhe'n chy helghya?"
"Ma own dhybm a vaglen. Mars yw pùptra'n tâ, prag y fydnyn ny mos dhe'n chy? Mar nyns yw, crocken yw, rag agan magly."
Desempys margh an dûk y whrug gryhias. Wàr nùk ny a blegyas mantel clos adro dhe bedn agan margh, ha'n revolvers medrys wàr an dûk ha'y servyas. Mar teffons y ha'gan cafos, tus varow a viens y, pò prysners dhe ny.
Michael a wrug gortos pols pelha. Ena ev a grias:
"Dhe Zenda dhana!" ha gorra kentryn in y vargh ha ponya in rag.
Sapt a dherevys y arv orth keyn Michael, ha'n edrega mar hirethek wàr y fâss, may feu froth brâs dhybm, nag ellen wherthyn in udn dardha.
Deg mynysen th'esen ny ow cortos.
"Dell welyth," yn medh Sapt, "danvenys veu nowodhow tell yw pùptra'n tâ."
"Pandr'yw hedna ow styrya?" me a wovydnas.
"Pyw a wor lemen Duw?" yn medh Sapt, ow plegya tâl yn fen. "Saw lowr rag y gerhes a Strelsau in penbleth vrâs."
Ena eskynys veun ny, ha marhogeth mar uskys dell ylly agan mergh sqwith trettya an dor. Dres an whe mildir dhewetha-na ny wrug ny côwsel namoy. Agan pedn o leun a dhowtys. "Pùptra yw'n tâ." Pandr'o styr hedna? O pùptra'n tâ dhe'n Mytern?"
An chy helghya a dheuth wàr an dyweth in gwel. Ny a wrug kentrydna an vergh dhe dhewetha strîvyans ha marhogeth bys i'n very yet. Pùptra o cosel ha qwiet. Ny veu den vëth dh'agan wolcùbma. Ny a skydnyas in hast. Desempys Sapt a'm sêsyas er ow bregh.
"Mir dres ena!" yn medh, ow poyntya dhe'n dor.
Me a wrug meras. Orth ow threys yth esa pymp pò whe lien dorn, ha'n owrlin anedha o sqwerdys garow. Me a drailyas dhe Sapt, leun a wovynadow.
"Der an re-na my a golmas an venyn goth," yn medh. "Stag an vergh, ha dos wàr rag."
Dornla an daras a wrug gwaya heb offens. Ny a bassyas ajy dhe'n rom a veu tyller a'gan fyt eva i'n nos kyns. Scùllys dredho whath th'esa an remenant a'gan soper ha'n botellow gwag.
"Deus rag," Sapt a grias, ha'y galmynsy reveth namnag o dyfygys.
Ny a stêvyas an dremenva ahës, wor'tu ha'n selders. Daras selder an glow o ledan-egerys.
"Y a gafas an venyn goth," yn medhaf.
"Marth vëth, awos an lienyow," yn medh ev.
Ena ny a dheuth dhe dharas selder an gwin adâl. Degës o. Th'o y semlant pùb fordh kehaval ha pàn wrussyn ny departya myttyn.
"Deus, oll yw dâ," yn medhaf.
Cùssyans a levas Sapt, uhel brâs. Y fâss êth gwydn, hag ev a boyntyas arta dhe'n dor. Adhadn an daras yth esa nàm rudh lêsys dres leur an dremenva ha gyllys sëgh. Sapt a veu posys, diegrys, orth an fos adâl. My a wrug assaya an daras. Alwhedhys o va.
"Ple ma Josef?" yn medh Sapt, isel y lev.
"Ple ma an Mytern?" me a worthebys.
Sapt a gemeras costrel in mes, ha gorra dh'y vin. My a bonyas dhe'n rom kydnyow arta, ha sêsya gwelen tan, poos lowr, dhywar an olas. I'm brawagh ha'm frobmans lybm me a ros cowas a strocosow wàr floren an daras, ha tedna cartryjen aberth inhy. Hy a blegyas, ha'n daras owth egery in udn lesca.
"Roy golow dhybm," yn medhaf. Mès whath th'esa Sapt posys orth an fos.
Ev o moy môvys, heb mar, ages my, hag ev ow cara y vêster. Ownek a'y wovys y honen nyns o màn – den vëth ny wrug y sensy ownek bythqweth. Saw predery a'n pëth esa martesen dhe gafos i'n selder-na, hèn o lowr rag gwydnhe kenyver fâss. My êth heptho ha kemeres coltrebyn arhans dhywar an bord kydnyow ha tanya golow, ha, pàn esen vy ow tewheles, me a glôwas an cor tobm wàr ow dorn noth ha'n gantol ow swaysya, ma nag ov vy abyl dhe dhespîsya Coronal Sapt rag y frobmans.
Me a dheuth dhe dharas an selder. An nàm rudh, gyllys moy ha moy dhe worm dyslyw, th'esa istynys ajy. Me a gerdhas dyw lath aberth i'n selder, ha sensy an gantol a-ugh ow fedn in bàn. Me a wrug gweles an arhow leun a votellow gwin; gweles kefnys ow cramyas wàr an fosow; gweles copel a votellow gwag a'ga groweth kefrës wàr an leur. Nena, i'n gornel bell, me a welas corf den, flat wàr y geyn, ha'y vrehow istynys efan, ha trogh rudh ha tewl adreus dh'y godna. Me a gerdhas dhodho ha mos wàr dhêwlin ryptho, ha comendya dhe Dhuw enef onen o len. Rag corf Josef o hebma, an servont bian, ledhys rag ev dhe wardya an Mytern.
Me a glôwas dorn wàr ow scoodh, hag omdrailya ha gweles Sapt ryba vy, ha'y lagasow ow meras stark ha brawehys.
"An Mytern? Re Dhuw! an Mytern?" ev a whystras yn hos.
Me a wrug tôwlel golow an gantol dhe bùb mêsva a'n selder.
"An Mytern nyns usy obma," yn medhaf., saw cùssul dhyworthyf: na wra darlesa messajys
CHAPTRA 7
Y VRÂSTER OW CÙSCA IN STRELSAU
Me a worras ow bregh adro dhe Sapt er y wast ha'y scodhya in mes a'n selder, ow tegea an daras cronkyes-na wàr ow lergh. Deg mynysen pò moy th'esen ny tawesek a'gan eseth i'n rom kydnyow. Ena Sapt coth a rùttyas mellow y dhewdhorn in y lagasow, whetha anellans brâs oll warbarth, ha dos dh'y rêwl arta. Pàn wrug an clock wàr an glavel gweskel udn eur, ev a stankyas, troos dhe'n leur, ha leverel:
"Anjy a wrug kibya an mytern!"
"Gwrussons," yn medhaf. "Dell dherivas an messach dhe Michael Du, th'yw 'pùptra'n tâ!' Ass esa ancombrynsy sur dhodho pàn wrug an godnys dylla wolcùm in Strelsau hedhyw vyttyn! An qwestyon yw, pana dermyn veu an messach recêvys?"
"Res yw ev dhe vos danvenys myttyn," yn medh Sapt. "Res yw anjy dh'y dhynwyn kyns ès dell wrug nowodhow a'th tevedhyans in Strelsau hedhes bys in Zenda – danvenys dhia Zenda, dr'yw soposya."
"Hag ev orth y dhon oll an jëdh!" me a grias in mes. "Re'm leouta, nyns ov vy onen a gafas jorna troblus heb re erel kefrës! Pandr'o y breder, Sapt?"
"Hedna prag yth yw bern dhis? Pandr'yw y breder, mab, i'n eur-ma?"
Me a savas in bàn.
"Res yw dhyn dewheles," yn medhaf, "ha dyfuna pùb soudor in Strelsau. Ny a dal bos in helgh Michael kyns hanter-dëdh."
Sapt coth a wrug tedna y bib in mes, ha'y thùchya gans rach dhe'n gantol esa ow crena wàr an bord.
"Anjy'yll moldra an Mytern, hedre von ny esedhys obma!" yn medhaf in udn inia.
Th'esa Sapt ow megy polta in taw.
"Mollath Duw dhe'n venyn goth-na!" ev a grias yn sodyn. "Res yw hy dhe dhynya aga attendyans neb fordh. Convedhys yw an gwary dhèm. Anjy a dheuth rag kibya an Mytern, ha – dell leverys – y gafos neb fordh a wrussons y. Na ve ty dhe vos gyllys dhe Strelsau, ty ha my ha Fritz, i'n tor'-ma y fien ny in nev!"
"Ha'n Mytern?"
"Ple ma an Mytern i'n eur-ma, pyw a wor?" ev a wovydnas.
"Deus, gas ny dhe dhallath ha mos!" yn medhaf. Mès yth esa va fast a'y eseth. Ha desempys y tardhas in y vriansen onen a'y ronk a wharth brâs.
"Re Varia, ass wrussyn ny shakya Michael Du!"
"Deus, deus!" yn medhaf in udn dhasleverel, cot ow ferthyans.
"Ha ny a vydn y shakya tabm moy," ev a geworras, ha minwharth fel ow lêsa dres y fâss, tewedhak y gryhow, hag ev ow tensel udn pedn a'y vinvlew glas. "Eâ, mab, dewheles a vydnyn dhe Strelsau. Avorow y fëdh an Mytern arta in y cyta."
"An Mytern?"
"An Mytern cùrunys!"
"Muscok osta!" me a grias.
"Mar mydnyn ny derivas an prat a wrussyn ny, pygebmys a wrêta tylly a'gan bôwnans?"
"Aga valew poran," yn medhaf.
"Ha tylly a se rial an Mytern? A dhybyth y fëdh dâ gans an uheloryon ha'n bobel bos tùllys i'n vaner dell wrusta jy gà thùlla? A dhybyth yth â aga herensa dhe Vytern, neb o re vedhow dhe vos cùrunys, hag a wrug danvon servont rag y omhevelly?"
"Droggyes veuva – ha nyns oma servont."
"Th'esof ow leverel versyon Michael Du."
Ev a savas, dos bys dhybm, ha gorra y dorn wàr ow scoodh.
"A vab," yn medh, "mar mynta gwary den colodnek, whath y hyllyth selwel an Mytern. Kê ha dewheles, ha sensy y se tobm dhodho."
"Saw an dûk a'n gor – an sherewys in y arfeth a'n gor –"
"Anjy a'n gor, saw ny yllons y côwsel!" yn medh Sapt in udn daredna, grym ha trygh. "In maglen ymowns y! Fatell yllons y acûsya jy, heb acûsya aga honen? 'Nyns yw an den-ma an Mytern, awos bos an Mytern kibys, ha'y servont moldrys, gena ny.' A yllons y leverel hedna?"
Studh an negys a veu cler dhybm kepar ha luhesen. My aswonys dhe Michael? A ven pò na ven, ny ylly ev y gôwsel. Marnas ev a wrella dascor an Mytern, pëth a ylly ev gwil? Ha mar teffa ha dascor an Mytern, pandra via y blit ev? Rag tecken me a wrug kelly cov yn tien ahanaf ow honen, saw wosa pols y teuth an caleterow in omsettyans crev warna vy.
"Res yw my dhe vos dyskeverys!" yn medhaf in udn erya.
"Par hap. Mès pùb our yw vas. Dres pùptra, res yw dhe ny gorra Mytern in Strelsau, poken codhys in dalhen Michael a vëdh an cyta kyn pedn udn jorna, ha pygebmys a venses tylly a vôwnans an Mytern i'n eur-na – pò a'y se rial? A vab, res yw dhis y wil!"
"Pandra mar towns y ha ladha an Mytern?"
"Anjy a teu ha'y ladha mar ny vydnys y wil."
"Sapt, pandra mar qwrussons y ladha an Mytern solabrës?"
"Dhana, re'n ebron dhâ, yth os Elphberg mar wir avell Michael Du, ha rainya in Rùrytânya a wrêta jy! Saw nyns yw ev ledhys, dell gresama. Ny towns ha'y ladha hedre vosta jy wàr an se. A vydnons y ladha an Mytern ha ty gesys in y dyller?"
Towlen wyls o – gwylssa vëth, ha moy othobmak, ès an prat a wrussyn ny solabrës. Saw pàn esen vy ow coslowes orth Sapt my a wrug convedhes an poyntys crev i'gan gwary. Ha dres hedna, den yonk en vy, ow cara gwrians, ha profys o dorn spladn a gartednow in torn spladn na wrug den vëth, pùb lycklod, gwary kyns.
"My a vëdh dyskeverys," yn medhaf.
"Par hap," yn medh Sapt. "Deus! dhe Strelsau! Kychys vedhyn ny, dyw logosen in crocken, mar mydnyn ny gortos obma."
"Sapt," my a grias, "me a assay an dra!"
"Ober wordhy!" yn medh. "Yma govenek dhybm bos an vergh obma whath. Gas vy dhe weles."
"Res yw dhyn encledhyas an pollat truan-na," yn medhaf.
"Termyn nyns eus," yn medh Sapt.
"My a'n gwra."
"Dhe'th cregy!" yn medh, gans gwenwharth. "My re'th wrug Mytern, ha – Wèl, gwra dhan. Kê ha'y gerhes, ha my ow kemeres with a'n vergh. Ny yll ev growedha down teg, saw dowt a'm beus y bos ev pòr nies a hedna. Josef truan bian! Darn den onest o va."
Ev êth in mes, ha my dhe'n selder. Me a wrug derevel Josef truan i'm dywvregh ha'y dhon ajy dhe'n dremenva, hag alena tro ha daras an chy. Ena, wàr an tu aberveth, me a'n gorras dhe'n leur pàn wrug vy remembra bos res dhybm cafos palyow dh'agan gweyth. I'n very prës-na y teuth Sapt arta.
"An vergh yw'n tâ. 'Ma very broder dhe'n margh a wrug dha dhry obma. Saw te'yll sparya dhys an gweyth-na."
"Ny vadnama mos erna vo encledhys."
"Y fynta bytegyns."
"Na vadnaf, Coronal Sapt; na vadnaf, hag oll Rùrytânya grauntys dhybm kyn fe."
"Fol osta!" yn medh. "Deus obma."
Ev a'm tednas dhe'n daras. Yth esa an loor ow sedhy, saw ogas ha tryhans lath avês, wàr an fordh dhia Zenda, me a wrug aspia bagas a dus ow nessa. Seyth êns y, pò eth. Wàr geyn margh yth esa peswar ha'n remenant ow kerdhes, ha me a welas an re-ma dhe dhon daffar hir wàr aga scoodh, palyow ha pygolow, dell hevelly.
"Anjy a vydn sparya an trobel dhys," yn medh Sapt. "Deus rag."
An gwir a'n lavaras. An bagas esa ow nes'he, res o ev dhe vos tus Dûk Michael heb dowt, devedhys rag remôvya olow aga drogober. Ny wrug vy hockya na felha, saw y'm sêsyas desîr na ylly bos gorthsevys.
Me a wrug leverel dhe Sapt, ha poyntya orth corf Josef truan bian:
"Coronal, y coodh dhyn gwil udn strocas rag y gerensa!"
"Dar, a vynta ry cowetha dhodho? Saw an ober yw re beryllys, a Vrâster."
"Res yw dhybmo gwil sqwat wàr aga fydn," yn medhaf.
Sapt a hockyas.
"Wèl," yn medh, "an negys nyns yw gwyw, a wodhes? Saw ty re beu mab dâ – ha mar pedhyn ny fyllys a'y spêdya, dhe'm cregy, cals preder a vëdh sparyes inwedh! Gas vy dhe dhysqwedhes fatell yllyn ny aga thava."
Gans rach ev a dhegeas aswy an daras o egerys whath.
Ena ny a wrug kildedna der an chy ha mos dhe'n entryng dhelergh. Obma th'esa an vergh a'ga sav, ha rôsva garyach istynys a'n chy in y gerhyn.
"Revolver parys?" Sapt a wovydnas.
"Nâ. Gwell yw laun dur gena vy," yn medhaf.
"Duw, ass eus ewl dhis a woos haneth," Sapt a lavaras, ha wharth in y vriansen. "Re bo indelha."
Ny a wrug eskyna, tedna cledha, ha gortos yn tawesek, nebes mynysow. Ena ny a glôwas trettyans a dus wàr an rôsva a'n tu aral dhe'n chy. Anjy a savas, hag onen a wrug cria:
"Now, dro e in mes!"
"Deun!" Sapt a whystras.
Ny a herdhyas kentryn i'gan margh ha stêvya in udn bonya adro dhe'n chy, ha desempys y feun ny mesk an dus vylen. Sapt a dherivas dhybm a'y wosa ev dhe ladha udn den, ha my ow cresy. Saw ny'n gwelys namoy. Gans trogh, me a faljas pedn dhe bollat wàr vargh gell, hag ev a godhas dhe'n leur. I'n tor'-na me a veu adâl neb den brâs, ha hanter-aspia ken den adhyhow. Re iffarnak o remainya, ha gans gwythres wàr not me a bockyas ow hentryn arta i'm margh, kefrës ha'm cledha i'n den brâs in y vrèst oll aberveth. Y vùlet êth ha whyrny dres ow scovarn – namna vensen vy tia an bùlet dh'y thùchya. An cledha me a drailya yn fen, saw ny dheuth ev dhe wary, ha my a'n gasas dhe godha ha ponya warlergh Sapt, a welys dhyraga vy ugans lath abell. Me a wevyas ow dorn rag sîna farwèl, ha'y dhroppya desempys gans garm, rag bùlet a dheuth ha dyrusca ow bës, ha my ow clôwes an goos. Sapt coth a drailyas wàr y dhyber. Nebonen a wrug tedna godn arta, saw nyns esa godnys hir gansans, hag yth esen ny mes a hedhes. Sapt a dhalathas wherthyn.
"Hèn yw onen dhybmo vy ha dew dhyso jy, agan lùck mar peu teg," yn medh. "Cowetha dhe Josef bian, ottensy."
"Eâ, partie carrée a vedhons y," yn medhaf. Ow goos o tobm, ha pës dâ veuma anjy dhe vos ledhys.
"Wèl, ober wheg re bo dhe'n erel dres nos!" yn medh. "An qwestyon yw, a wrussons y dha verkya?"
"An pollat brâs a'm merkyas. Pàn wrug y dhewana, me a glôwas ev dhe gria, 'An Mytern!'"
"Gorwyw! Dar, re bo lavur dhe Michael Du hogen!"
Ny a wrug powes pols, ha gorra lysten dhe'm bës golies, esa ow tyvera goos heb hedhy, owth hùrtya yn frâs, rag an ascorn dhe vos brêwys lowr. Ena ny a wrug marhogeth in rag, ha govyn oll an gallos orth an vergh dhâ. Marow veu frobmans a'n omlath ha'gan determyans brav, ha ny ow marhogeth in taw trist. Terry an jëdh a dheuth cler ha yêyn. Ny a gafas tiak, o nowyth dyfunys, ha'y gonstrîna dhe ry sosten dhe ny ha dhe'n vergh. My a gudhas ow fâss yn clos, ha gwil faintys a dhrog dens. Hag in rag unweyth arta, erna veu Strelsau dhyragthon in nes. Eth eur, naw ogatty, hag oll an yettys o egerys, dell êns y pùb termyn, saw pàn wrella sians an dûk, pò y blottyans, aga degea. Ny a wrug marhogeth ajy wàr an keth fordh dell dheuthen ny in mes i'n gordhuwher kyns, oll agan peswar – tus ha mergh – sqwith ha blin. An strêtys o cosel dhe voy ès pàn ethyn ny. Th'esa pùbonen ow cùsca wosa an gôlyans mery i'n nos passys, ha scant ny wrussyn ny metya den vëth kyns dos dhe yet bian an Palys. Ena th'esa grom coth Sapt orth agan gortos.
"Yw pùptra'n tâ, sera?" ev a wovydnas.
"Pùptra'n tâ," yn medh Sapt, ha'n den a dheuth dhybm ha kemeres ow leuv rag abma dhedhy.
"An Mytern yw golies!" ev a grias.
"Na fors," yn medhaf, ha skydnya. "Me a wrug magly ow bës in daras."
"Remember – taw!" yn medh Sapt. "Agh! saw nyns eus otham erhy hedna dhyso, a Freyler dâ!"
An pollat coth a dherevys y scodhow.
"Plesont yw gans pùb den yonk marhogeth traweythyow alês, prag na wrella an Mytern?" yn medh. Ha'y vreus a'm rêson ny veu troblys awos Sapt ha'y wharth.
"Y tal trestya dhe dhen," Sapt a verkyas, pàn settyas ev alwheth i'n floren, "kebmys dell yw res dhis, ha namoy."
Ny êth ajy ha dos dhe'n rom omwysca. Ny a wrug egery an daras yn freth ha gweles Fritz von Tarlenheim istynys, cowl-wyskys, wàr an gwely dëdh. Th'esa va ow cùsca, dell hevelly, mès agan entrans a'n dyfunas. Ev a wrug labma dh'y dreys, gorra udn wolok got warna vy, ha tôwlel y honen wàr dhêwlin dhyragof gans cry a joy.
"Grâss e dhe Dhuw, a sera rial! grâss e dhe Dhuw, te yw saw!" ev a grias, hag istyna y dhorn rag dalhedna ow leuv vy.
Môvys ov vy, res alowa. An Mytern a wodhya, pynag a ve y fowtow, gwil cara gans y bobel. Rag tecken ny yllyn vy côwsel màn, na sqwattya dhe'n gwas truan y dhesmygyans tùllys. Saw Sapt coth ha cales ny'n jeva skeus vëth a'n par-na. Ev a wrug what wàr y vordhos, brâs y blesour.
"Ass osta spladn, a vab!" ev a grias. "Soweny a vydnyn ny sur!"
Th'esa Fritz ow meras sowthenys in bàn. My a wrug istyna ow leuv.
"Te yw golies, a sera rial!" ev a grias in mes.
"Nyns yw ma's cravas," yn medhaf, "saw –" Me a hockyas.
Ev a savas wàr y dreys, sowthan y stubm. Ev a sensy ow leuv whath, hag aspia orta vy dhia'm pedn dhe'n leur, ha dhia'n leur dhe'm pedn. Adhesempys ev a wrug gasa ow leuv dhe godha, hag ev ow trebuchya wàr dhelergh.
"Ple ma an Mytern? Ple ma an Mytern?" ev a grias.
"Whyst, ty fol!" Sapt a wrug tythya. "Heb bos mar uhel! Ot obma an Mytern!"
Knouk a sonas wàr an daras. Sapt a'm sêsyas er ow dorn.
"Dar, uskys in dha jambour! Dha gappa ha'th votas dhe ves. Kê i'n gwely. Gwra cudha pùptra."
My êth dell veu erhys. Wosa pols Sapt a dowlas golok warnaf ajy, inclynya pedn, gwenwherthyn, ha comendya den jentyl yonk dhybm, gwyskys compes dres ehen ha leun a revrons, hag ev a dheuth dhe amal an gwely in udn blegya, arta hag arta, ha derivas dhybm dell o va esel a vêny an Brynces Flavia, ha dell veuva danvenys gans hy Uhelder Rial rag govyn spessly fatl'o yêhes an Mytern warlergh oll an sqwîthter a sùffras y Vrâster de.
"Moyha ras, sera, dhe'm kenytherow dhyworta vy," yn medhaf. "Ha derif dh'y Uhelder Rial na veuv vy gwell bythqweth i'm bôwnans."
"An Mytern," a geworras Sapt coth (ha gowleverel kerys ganso, awos an gow y honen, dell esen vy ow tyskevera solabrës), "re gùscas heb torrva vëth der oll an nos."
An den jentyl yonk (ev a dhros Osric in Hamlet dhe'm cov) a wrug plegya farwèl. Fynyshys o an gwary fol, ha Fritz von Tarlenheim ha'y fâss gwydn a wrug agan daskelwel dhe'n realeth – agan realeth kyn fëdh ev an gwary fol alebma rag.
"Yw an Mytern marow?" ev a whystras.
"In hanow Duw dh'y lawa, nag yw," yn medhaf. "Mès 'ma va in dalhen Michael Du!"
CHAPTRA 8
KENYTHEROW A'N TECKA HA BRODER TEWL
An bôwnans yw cales martesen dhe bùb mytern gwir. Saw meur moy cales yw dhe fâls-mytern, sur dell ov a hedna. I'n nessa dëdh, Sapt a dhescas dhybm ow dûtys – myns a goodh dhybm y wil ha myns a goodh y wodhvos – dres try our. Ena me a gachyas hawnsel, ha Sapt ow turya adâl dhybm, rag desky dhe vy fatell vedha an Mytern ow kemeres gwin gwydn myttyn pùpprës, hag owth abhorrya pùb vytel saworys sherp, dell wodhya kenyver den. Ena y teuth an Chansler, dres try our moy. Ha res o clerhe orto bos an brew wàr ow bës (ny a drailyas an bùlet yn frav dhe'n velyn) ow lettya rag screfa – ha mes a hedna froth brâs a sordyas, ha helghyans a furvellow kyns, ha wàr an dyweth 'me a wrug ow merk,' ha'n Chansler orth y desta gans 'falster a liow solempna. Ena an lÿscadnas Frynkek a veu comendys, rag presentya y lyther cresys. Nycyta nyns o bern genef obma: y fia an Mytern criv i'n negys-ma in maner gehaval (ny a wrug lavurya der oll an corps diplomatique i'n dedhyow a sewya, ha tremen a'n Gùrun ow temondya oll an trobel).
Ena worteweth, th'en vy ow honen oll. Me a somonas ow servont nowyth (ny a dhôwysas den yonk rag holya Josef truan, onen na aswonys an Mytern kyns), gwil dry brandy ha sôda, ha merkya dhe Sapt dell esen vy ow qwetyas powes wàr an dyweth. Th'esa Fritz von Tarlenheim a'y sav in nes.
"Re'n ebron dhâ!" ev a grias. "Ow wastya termyn th'eson ny. A ny vydnyn ny dehesy Michael Du er y wewen?"
"Lavar whar, a vab, lavar whar," yn medh Sapt, in udn blegya tâl. "Plesour y fia, mès re vrâs y gòst. A vensa Michael codha, ha gasa an Mytern yn few?"
"Ha py grêvons eus dhe'n Mytern," me a brofyas, "hedre vo tregys obma in Strelsau, warbydn y vroder wheg Michael?"
"A ny vydnyn ny obery tra vëth dhana?"
"Ny vydnyn ny obery tra wocky," Sapt a groffolas.
"In gwir, Fritz," yn medhaf, "neb plit yw drÿs dhe'm cov, eus kefys in onen a'n gwariow dramatek in Pow an Sowson – The Critic – a wrusta clôwes anodho? Dhe blebmyk mar mynta, plit a dhew dhen, an eyl ow codros y gela gans revolver. Rag ny allama vy dyskevera Michael heb dyskevera ow honen –"
"Ha'n Mytern," a wodorras Sapt.
"Ha re'm bo crog mar ny vëdh Michael dyskeverys y honen gans neb assay dhe'm dyskevera vy!"
"Omborth fest teg," yn medh Sapt.
"Mar pedhama dyscudhys," me a bêsyas, "me a vydn avowa pùptra, ha batalyas gans an dûk. Mès i'n eur-ma th'esof ow cortos an nessa gway i'n gwëdhpoll dhorto ev."
"Ev a vydn ladha an Mytern," yn medh Fritz.
"Na vydn," yn medh Sapt.
"Yma hanter a'n Whedden in Strelsau," yn medh Fritz.
"Nyns eus ma's aga hanter? Os sur?" Sapt a wovydnas yn freth.
"Sur – hanter poran."
"An Mytern yw yn few dhana, rag an try erel dhe vos orth y wardya!" Sapt a grias.
"Usons – an gwir a leverta!" Fritz a grias in mes, ha golow in y vejeth. "Mara pe an Mytern yn farow hag a'y wroweth in y vedh, y fiens y oll obma gans Michael warbarth. A wodhes bos Michael dewhelys, coronal?"
"Me a'n gor, mollath Duw!"
"A dus jentyl, dre gortesy," yn medhaf, "pyw yw an Whedden?"
"Aswonys vedhons y scon dhys," yn medh Sapt. "Whe den jentyl yns y, usy Michael ow sensy in y vêny. 'Mowns y ow longya dhodho, corf hag enef. 'Ma try Rùrytânyan. Ha Frank, ha Beljan, hag onen a'th wlas jy."
"Anjy oll yw parys dhe drehy codna mar teffa Michael ha'y gomondya," yn medh Fritz.
"Anjy a vydn trehy codna vy, par hap," me a brofyas.
"Tra vëth moy lyckly," Sapt a wrug assentya. "Pyw eus obma anodhans, Fritz?"
"De Gautet, Bersonin, ha Detchard."
"An estrenyon! Mar gler yw 'vell ebron las. Michael re's dros ganso, ha gasa an Rùrytânyans gans an Mytern. Dre rêson ev dhe vos porposys dhe dedna an Rùrytânyans ajy dhe'n negys downha galla."
"Dhana nyns esa onen anedha mesk an guvyon a wrussyn ny metya ryb an helghjy?" me a wovydnas.
"A pêns y unweyth!" yn medh Sapt, hirethek. "Y fiens y peswar i'n eur-ma, adar whe."
Yth esa udn nosweth a vyternsys dysplegys ina vy solabrës – ùnderstondyng nag esa otham a dhysqwedhes oll ow freder nag oll ow sêcret devîs dhe'm cosyns. Cowl-dhetermys en vy a'n pëth a vydnen vy gwil. Porposys en vy dhe wainya kerensa gans an bobel, moyha gallen, heb showya dysfaverans vëth dhe Michael i'n kettermyn. Indelma th'esa govenek dhybm lehe envy y scodhyoryon, ha dysqwedhes, pàn ve strif ôpyn, y bos ev ùnkynda, adar compressys.
Nyns esen vy ow tesîrya strif ôpyn bytegyns.
Th'esa les an Mytern ow tervyn keladow. Hag y fedha sport brav dhyraga vy in Strelsau, hedre ve keladow ow turya. Res o, na wrella Michael bos crefhës dre dhylâtyans!
My a erhys ow margh, ha marhogeth in rôsva nowyth ha ledan an Park Rial, gans Fritz von Tarlenheim warbarth, ha gortheby gans cortesy dour dhe bùb salujyans a recêvys vy. Ena me a wrug marhogeth dre nebes a'n strêtys, hedhy ha prena flourys orth mowes teg, ha tylly gans bath owr. Ena, wosa dynya kebmys attendyans dell o whensys (rag yth esa lost a hanter-mil dhen orth ow holya), me a wrug marhogeth dhe drigva an Brynces Flavia, ha govyn mar mydna hy ow degemeres. An stap-ma a sordyas lowr a les, ha bos wolcùbmys gans criow a gomendyans. Meurgerys o an brynces, ha dell hyntyas an Chansler y honen heb danjer, seul voy y whrellen vy inia ow thantans, ha seul voy y fednen vy dos wor'tu ha sewyans sowyn, seul voy y fedhen creffa in sergh ow sojetys. Ny wrug an Chansler, heb mar, convedhes an caleterow esa ow lesta y gùssulyans lel dres ehen. Bytegyns ny yllyn vy myshevya dre vysytya only. Ha th'esa Fritz orth ow scodhya i'n vreus-ma gans bolùnjeth o marthys dhybm, erna dheuth ev ha confessya yma chêson ganso kefrës a vysytya chy an brynces, nag o tra vëth ma's whans brâs gweles an arlodhes anedhys dhe'n Brynces, ha'n gowethes dh'y golon, Contes Helga von Strofzin.
Etyket a ros dhe Fritz gweres in y wovenek. Pàn veuv vy gedys ajy dhe rom an brynces, th'esa ev ow remainya gans an gontes i'n worstevel. I'n despît dhe'n bobel hag oll an servons ow crowdra, ny'm beus dowt vëth anjy dhe spêdya in kescows pryva. Saw nyns esa spâss dhybm predery anodhans, rag my dhe wary an môvyans moyha tyckly in oll an gwëdhpoll cales. Res o gwetha an brynces dhe vos kerenjedhek dhybm – kefrës mygyl dhybm. Res o dysqwedhes kerensa dhedhy – heb omglôwes. Res o tanta abarth den aral, ha gwil hedna – heb qwestyon hy dhe vos prynces, o pò nag o – worth an tecka mowes dell re welys bythqweth. Wèl, me a generthas ow honen dhe'n ober, hag êsya ny veu pàn wrug hy ow recêva gans ancombrynsy meur y worhan. Fatell sowenys vy owth obery ow devîs, y fëdh hedna apert alebma rag.
"Th'esta ow qwainya cùrun lorwëdh owr," yn medh. "Te yw haval dhe'n pryns in Shakespeare o transformys pàn veuva mytern. Ha my owth ankevy – te yw Mytern in gwir, a sera rial."
"Ha'm govyn dhyso yw, na wrelles leverel ma's myns a dherif dha golon – ha na wrelles cria vy ma's gans ow hanow."
Hy a wrug aspia tecken orthyf.
"Pës dâ ov vy dhana, ha prowt, Rudolf," yn medh. "Dar, dell leverys dhis, dha very fâss yw chaunjys."
Me a wrug aswon an prais, saw nyns en vy attês i'n desten. Ytho me a lavaras:
"Ow broder yw dewhelys, dell esof ow clôwes. Ev rej êth neb tro i'n pow, a na wrug?"
"In gwrioneth, yma va obma," yn medh, in udn blegya tabm tâl.
"Termyn hir ny yll sensy y honen, dell hevel, pell dhort Strelsau," me a verkyas, in udn vinwherthyn. 'Wèl, dâ yw gena ny oll y weles ev. Dhe nes yma va, dhe well."
An brynces a dowlas golok warna vy, ha golow dydhanys in hy lagasow.
"Dar, a genderow? A yllyth obma –?"
"Gweles dhe well myns usy va ow qwil? Par hap," yn medhaf. "Ha prag yth osta pës dâ?"
"Ny leverys y bosama pës dâ," hy a worthebys.
"Yma nebes tus orth y leverel i'th hanow jy."
"Yma lies den taunt," yn medh, delycyùs hy gooth.
"Dha vênyng yw, onen taunt ov vy martesen?"
"Ny yll dha Vrâster bos taunt," yn medh, ow qwil cortesy a fâls-revrons, saw hy a geworras, yn tregynus ha wosa powes cot: "Marnas, hèn yw –"
"Wèl, marnas pëth?"
"Marnas ty a lavar nag yw bern gena vy, na poynt na crack a'm besias, ple ma Dûk Strelsau i'n bÿs."
A pe unweyth in ober my dhe vos an Mytern!
"Nyns yw bern genes sy, ple ma Michael genderow –"
"Agh, Michael genderow! Th'esoma vy orth y gria Dûk Strelsau."
"Th'esta orth y gria Michael pesqweyth may whrelles y vetya?"
"Esof – herwyth arhadow dha das."
"Convedhys. Ha lebmyn herwyth arhadow vy?"
"Mars yw hedna dha arhadow in gwir."
"Ogh, dowt vëth! Res yw dhyn oll bos wheg dhe Michael cuv."
"Ha dha arhadow yw recêva y gothmans inwedh, a dybaf?"
"An Whedden?"
"Yw hedna gà hanow genes sy kefrës?"
"Rag res yw dhybm glena dhe'n fassyon. Saw nyns esof owth erhy dhis recêva den vëth mar nyns yw a'th vodh."
"Marnas recêva ty dha honen?"
"Abarth dhybm my a wra pesy. Ny allaf erhy."
Pàn esen vy ow côwsel, y feu banlef wàr an strêt. An brynces a wrug fysky dhe'n fenester.
"Otta va!" hy a grias. "Eâ – Dûk Strelsau!"
Me a wrug minwherthyn, heb leverel tra vëth.
Hy a dheuth arta dh'y eseth. Nebes termyn yth esen ny esedhys in taw. An tros wàr ves a wrug lehe, mès my a glôwas trettyans a dreys i'n worstevel. Me a dhalathas côwsel mater kebmyn. Y turya lower mynysen. An qwestyon o, pleth esa Michael i'n tor'-na, mès yth o genama gwell heb mellya. Desempys, er ow marth, Flavia a wrug clôsya hy dêwla ha govyn, meur frobmys hy lev:
"Os fur pàn wreth indelma y serry?"
"Eh? Pywa? Pana vaner y serry?"
"Dar, nyns yw va gesys dhe wortos?"
"A genytherow wheg, strechya ny vadnaf vy –"
"Wèl dhan, eus dhodho cubmyas entra?"
"Heb mar, ha ty parys."
Hy a dowlas golok a benbleth orthyf.
"Ass osta stranj," yn medh. "Certan ny yller presentya den vëth ha my in dha lôk."
Otta nosweth worhanus a vyternsys!
"Etyket dâ dres ehen!" me a grias. "Saw my a gollas cov yn tien. Ha mar pen vy ow honen oll gans neb aral, a ny yller dha bresentya jy?"
"Te a wor mar dhâ dell worama vy. Gyller, awos my dhe vos a'n Goos." Ha penbleth in hy golok whath.
"Ny allama nefra perthy cov a'n rêwlys fol-ma," yn medhaf, idhyl lowr, ha my ow mylega Fritz i'm preder rag na wrug ev desky dhybm. "Saw me a vydn amendya ow fowt."
Me a labmas in bàn, egery an daras yn freth, ha kerdhes i'n worstevel wàr rag. Th'esa Michael a'y eseth orth tâbel, ha'y dâl plegys yn sevur. Th'esa pùbonen aral a'ga sav, saw Fritz yn unsel (ky yonk ha dyveth!), o esedhys oll syger wàr jair brehek, ow flyrtya gans Contes Helga. Ev a savas, toth dâ ha revronsus, pàn wrug vy entra, ha hedna ow poyntya dh'y fowt kyns a vern. Cales ny veu convedhes na vedha Fritz meugerys dhe'n Dûk.
Me a wrug istyna ow leuv. Michael a's kemeras, ha my orth y vyrla. Ena me a'n tednas ajy dhe'n rom aberveth.
"A vroder," yn medhaf, "mar cothfen vy dha vos obma, ny venses gortos ma's mynysen ha my ow covyn orth an brynces ry cubmyas dhybm a'th try dhedhy."
Ev a wrug aswon grâss dhybm, pòr yêyn. An den a'n jeva meur a dalent, saw ny ylly ev keles emôcyon. Cler o dhe bùb huny, estren kyn fe, dell en vy cas ganso, ha dell o cas ganso dhe voy pàn y'm gwely ev gans Prynces Flavia warbarth. Bytegyns, me yw ogas sur y bos ev ow whelas cudha an dhew hâtyans-ma, ha dres hedna y bos ev ow tria perswâdya dell esa ow cresy my dhe vos an Mytern in gwir. Ny'n godhyen certan. Mès cabm na ylly Michael cresy an dra, marnas an Mytern a veu faitour kefrës hartha ha moy conyng ages my (ha me ow tallath estêmya ow honen i'n rol-na). Mar nyns esa va ow cresy, ass o dyflas dhodho godhvos revrons, heb dowt, ha clôwes ow "Michael" ha'm "Flavia" vy!
"Dha dhorn yw hùrtys, a sera rial," ev a verkyas, brâs y awhêr.
"Yw, th'esen vy ow qwary gans brithky" (porposys en vy dh'y vôvya), "ha dell wosta, broder, yma crowsecter in keun a'n par-na."
Ev a vinwharthas yn trenk, ha'y lagasow tewl ow powes warna vy pols.
"A nyns eus peryl i'n brath?" Flavia a grias, sodyn hy fienasow.
"Peryl vëth a'n brath-ma," yn medhaf. "Mar rollen vy dhodho spâss dhe vrathy downha, y fia ken mater oll, a genytherow."
"Saw sur, yth yw va destries?" yn medh hy.
"Nag yw na whath. Yth eson ny ow cortos mar pëdh y vrath ow myshevya."
"Ha mar pëdh defry?" a wovydnas Michael, der y vinwharth trenk.
"Ny a vydn y gronkya wàr y bedn, a vroder," yn medhaf.
"Ha ty heb gwary ganso namoy?" Flavia a wrug inia.
"My a wra gwary martesen."
"Ev a yll brathy arta."
"Heb dowt ev a vydn assaya," yn medhaf, in udn vinwherthyn.
Ena me a gemeras own y fydna Michael leverel nampÿth may fedhen vy constrînys dhe settya grêvons orto (kyn hyllyn vy showya cas, res o dhybm fâcya dell en vy leun a favour). Me a dhalathas praisya studh spladn y rejyment, ha'ga lel-salujyans in dëdh an cùrunyans. Alena me a dremenas in descryvyans, meur y lowena, a'n chy helghya a wrug ev lendya dhybm. Saw ev a savas sodyn in bàn. Th'esa y garadôwder ow tyfygya. Ev a wrug dyharas ha gorhebmyn farwèl. Bytegyns, pàn dheuth dhe'n daras, ev a hedhys ha leverel:
"Yma try hothman whensys fest dhe gemeres an onour a vos presentys dhis, a sera rial. Ymowns y i'n worstevel."
Me a wrug omjùnya dhodho heb let, ha gorra ow bregh der y vregh y honen. An tremyn wàr y fâss o mel dhybm. Ny a entras i'n worstevel in maner pòr vroderek. Michael a sînas, ha try den a wrug kerdhes in rag.
"An dus jentyl-ma," yn medh Michael, gans cortesy stâtly a ylly ev, res alowa in jùstys, ûsya perfëth y es ha'y dhynyta, "anjy yw an moyha lel, moyha len a'n servons dhe'th Vrâster, ha'n moyha stedfast ha'n moyha kerenjedhek a'm cothmans vy."
"Dre rêson an dewetha grônd, kebmys ha'n kensa," yn medhaf, "yth ov vy pòr lowen a'ga metya."
Anjy a dheuth onen hag onen, hag abma dhe'm dorn. De Gautet, gwas hir ha tanow, ha blew y bedn ow sevel strait in bàn ha'y vinvlew polyshys gans cor. Bersonin, an Beljan, den corfak a hirder cresek, pedn mol (kyn nag o va pell dres deg bloodh warn ugans). Ha'n dewetha, an Sows, Detchard, gwas a fâss cul, melen y vlew trehys pòr got, ha brons y fysment. Den formys teg o va, ledan in gwarr ha mon in clun. Breselor dâ, mès trespassor, dell y'n brusys vy. Me a wrug côwsel orto in Sowsnek, gans leveryans estrednek scav, ha'n pollat a vinwharthas, re'm leouta, kyn cudhas ev an wharth wàr nùk.
"Ytho Mêster Detchard yw kevrydnys i'n kevrîn," me a brederas.
Wosa ryddya ow honen a'm broder ha'y gothmans, me a wrug dewheles rag leverel 'Duw genes' dhe'm kenytherow. Th'esa hy sevys orth an daras. My a worhemydnys farwèl, ha kemeres hy leuv i'm leuv vy.
"Rudolf," yn medh, pòr isel hy lev, "a ny vedhys war?"
"Pandra vedhama war anodho?"
"Te a wor – ny allaf leverel. Saw gwra predery pandr'yw valew dha vôwnans dhe –"
"Wèl, dhe –?"
"Dhe Rùrytânya."
Esa an gwir dhybm ha my ow qwary an part? Pò en vy camdybys, ow qwary an part byttele? Ny wòn. Th'esa drog i'n eyl fordh hag in hy ben, ha leverel an gwrioneth ny vydnaf lavasos.
"Only dhe Rùrytânya?" me a wovydnas yn clor.
Rudhyans sodyn a dhysqwedhas dres hy bejeth heb parow.
"Dhe'th cosyns inwedh," yn medh hy.
"Cosyns?"
"Ha dhe'th kenytherow," hy a whystras, "ha'th vaghteth ker."
Ny yllyn vy lavar vëth. Me a abmas dh'y leuv hy, ha mos in mes, in udn vylega ow honen.
Wàr ves me a gafas Mêster Fritz, dybreder a'n servysy yn tien, ow qwary corden besias gans Contes Helga.
"Dhe'm cregy!" yn medh ev. "Ny yllyn ny brasy pùb termyn. Re bo dhe'n gerensa hy radn."
"Dell ov vy plegys dhe dyby in ketelma," yn medhaf. Ha Fritz, esa rybof kyns, a settyas y honen gans revrons wàr ow lergh.
AN CHAPTRYS NAWVES HA DEGVES A VËDH KEWORRYS MIS GENVER 2021.
GERVA
Glossary
Definitions have generally been confined to those relevant for the story. To keep the glossary to a manageable length the listing excludes the most common words. These are best looked up in Gerlyver Kescows – A Cornish Dictionary for Conversation (Ian Jackson, Agan Tavas 2017). A consultation draft of the Cornish-English section of the Second Edition of Gerlyver Kescows is available on the Vocabulary page of skeulantavas.com. If you need grammar, by far the most helpful book is Desky Kernowek (Nicholas Williams, Evertype 2012).
a'n leuv gledh phr morganatic
a vry phr high, distinguished
a wel dhe2 prep in sight of
actour gorthtro m actours understudy
adreu·s adv across
afînys adj smart, refined
agh interj oh (disapproving, protesting)
Alman adj German
Almaynek m German (language)
alter m alteryow altar
âmen ‖ interj amen
amuvyans m emotion
an Whedden m the Six (nickname for Duke Michael's henchmen)
ancompressadow adj irrepressible
ancow m death
ancresus adj disquieting
androw m late afternoon
andydro adj indirect
anellans m breath
anês m unease
aneth m anedhow residence
anetter m unease
anheweres adj unhelpful
anvoth m reluctance
arâ·g prep in front of
arlodhes anedhys f arlodhesow lady-in-waiting
arvrusyans m appraisal, assessment
aswonvos m acquaintance
attendyans m attention
auncyent adj ancient
avîsment m consideration
awhêr m distress, concern
banlev ‖ m banlevow cheer
beawty m beauty
bedha v dare
beha v load
Beljan adj/m Beljans Belgian
benyn jentyl f benenes lady
benenyk f benenygow young lady
berr adj short
bolùnjeth m will
bleyno·rieth f precedence
body m bodys body
boosa hig phr bait a hook
bos plegys dhe2 phr be inclined to
brafter m excellence
brâs-oberys ‖ adj magnificent
Brâster m Majesty (referring to royalty)
brasy v plot
brath m brathow bite
brawagh m terror
brawehy v terrify
breselor m breseloryon fighter
brithky ‖ m brithkeun ‖ mongrel dog
broder dâ m breder brother-in-law
broderek adj fraternal
brusy v appraise
buarth m buarthow farmyard
bùngalow m bùngalows bungalow
bytteth adv ever
cabm na2 particle phr not at all
cabmgryjyk ‖ adj heretical
cader f caderyow chair (high diction)
cafos drog i'n keus phr smell a rat
calmynsy m calm
campollans m comment(s)
cantolbren ‖ m cantolbrednyer ‖ candlestick
caradôwder m amiability, good temper
ca·rdynal m cardynalys cardinal
carn m carnow hoof
caro·rieth f [love] affair
cartryjen f cartryjednow cartridge
challa m challys jaw
chansler m chanslers chancellor
chy cog m treven cookshop
chy helghya m treven hunting-lodge
clap m chatter
clattrans m clatter
clavel f clavellys mantelpiece
cledhevyas m cledhevysy swordsman
clôsya v close up; clasp (one's hands)
cloutweyth ‖ m patchwork
coltrebyn m = cantolbren
comen-voys ‖ m public opinion
comondyans m command
compassa v encompass
confùndya v confound
consûmya v consume
contemplans m contemplation
contes f contesow countess
contradia ‖ v contradict
conyng adj clever, skilful
coraj m courage
corden besias phr cat's-cradle
corf an eglos phr nave
coronal m coronals colonel
crack m crack, snap (sound)
crèn lêhow m ague
crocken f crockednow snare
croffal m growl
croffolas v growl; mutter
croffolus adj grumbling
crog f hanging
crowdra v loiter, hang about
crowsecter m irritability, uncertain temper
cruskyn m cruskydnow flagon
cryhy v wrinkle
cufter m kindness
cùrun lorwëdh ‖ f cùrunyow laurels
cùrunyans m coronation
cùssyans m cursing
cygar m cygarow cigar
cyvyl adj civil
dalhus adj capacious
damnabyl adj damned
damsel f damsels damsel
dargopia v trace
dascùntell v rally (sb)
daskelwel v recall
daskemeres v recover
den bylen m tus vylen villain
densa m good man
der conj = dell
derow col derowen oak
dervyn v deserve, call for
desîr m desire
determyans m resolution, decision
deus rag phr come on
dyscans m education
dyslyw adj dull
diaha m ease (freedom from apprehension)
diarva v disarm
dos dhe wel phr appear
dothter m discretion
draght m draghtys draught
dre / dr' conj = dell
dregynus adj mischievous
dreslebmel v skip over
drog-davasak ‖ m drog-davasogyon ‖ scandal-monger
droggya v drug
drogoberus ‖ adj criminal
droppya v drop
dûk m dûkys duke
Dùrsona ‖ dhe'n Mytern phr God save the King
duwes f duwesow goddess
duwyl adj divine
dyghtyans m dealing
dylowrder m insufficiency
dyrusca v scrape the skin
Duw Dynam interj Good God
dybreder adj careless
dydhanans m amusement, diversion
dylâtyans m delay
dynya v lure, attract
dynyores f dynyoresow coquette
dy·nyta m dignity
dysencledhyas v disinter
dyserry v placate
dysês m indisposition
dyweres adj helpless
dywharth adj sullen
epscobek adj episcopal
edrega m = edrek
egor jarn m egrow daisy
eh interj eh, what
entent m ententys intention
eqwal adj equal, matching
er m êrys heir
er prep by (the hand etc)
er am marth phr to my surprise
erberow soudoryon phr troop barracks
erbysek adj = erbysus
erya v defy, insist
erytuster m heredity
eskynleur ‖ m eskynleuryow ‖ platform (station)
esow m dearth, hunger
estêmyans m esteem, admiration
estregus adj absent
etyket m etiquette
exaltya v exalt
faitour m faitours imposter
'falster m = gorfalster
ferfter m firmness
flat adj flat
fla·tteryng m flattery
forest m forestys forest
fortyn m fortune
Frank m Francas Frenchman
frigow pl nose
frobmans lowen m excitement (pleasant)
froth brâs phr much ado
Frynkek m French (language)
fugyans m forgery
fugyor m fugyoryon forger
furvel kyns f furvellow precedent
fydhya in phr trust verb
fynsya (fynyshya) v finish
fysment m fysmens feature (facial)
garget m gargettys garter
gasa hepcor phr waive
gellrudh ‖ adj bay
gesedhus adj ironic(al)
glew adj keen, intense
gobonya v trot
godhvos revrons phr pay deference
godnys brâs pl artillery
godregor m godregoryon visitor, guest
golowyjyon pl radiance
gôlyans m celebration, revelry
goon f gonow scabbard
goos pell phr distant relative(s)
goosrudh ‖ adj blood-red
gorfalster m superfluity
gorowra v gild
gorstevel f gorstevelyow ante-chamber
gorthenep m opposition
gorthsevel v resist
gorthter m obstinacy
gorwyw adj excellent
governour m governours governor
govyjyon pl cares
goyeyn adj cool
grauntya v grant
gre m standing, rank
grêvons m grievance
grêvya v afflict
grolyak adj gruff
grom m grômys groom
gryhias v neigh
grym adj grim
gwandrans m wandering, rambling
gwandryas m gwandrysy wanderer
gwayans m movement
gwedhwes f gwedhwesow widow
gwelen tan f gwelyny poker
gwelweyth ‖ m wicker
gwersyor m gwersyoryon versifier
gwethlu ‖ an onour phr the guard of honour
gwil cortesy phr curtsy verb
gwius adj winding, tortuous
gwlascor f gwlascorow kingdom
gwrës ha due phr over and done
gwybya v dart
gwydnhe ‖ v whiten, turn pale
gwythiek adj bloodshot
hailya v hail
hanas m sigh, murmur
hâtyans m hatred
hautîn adj haughty
havalder m likeness, resemblance
heb parow phr peerless, incomparable
heb tùll na gil phr frankly
helavar adj eloquent
helgh m hunt
helghjy ‖ m helghjiow = chy helghya
helghya v hunt
helghyas m helhysy hunter, pursuer
hensoudor ‖ m hensoudoryon ‖ veteran
herôt m herôs herald
hirgelgh ‖ m hirgelhow ‖ oval
hudhyk adj merry
hùmbrynkyades f hùmbrynkyadesow escort (female)
hy ben pron = y gela feminine reference
hynon f fair weather
hynt m hyntys hint
hyntya v hint
idhyl adj feeble; languid
imperyal adj imperial
in hanow Duw dh'y lawa phr God be praised
in lôk prep in the presence of
inclynyans pedn m nod
inferya v infer
inferyans m inference
iny m urging
Italek m Italian (language)
Jamys m James
Jory m George
jùstyfians m justification
kekefrë·s adv = kefrë·s (emphatic)
keladow m secrecy
kemeres le phr replace
kemyna v bequeath
kenerthans m encouragement
kentrevoges ‖ f kentrevogesow ‖ neighbour (female)
kentryn m kentrydnow spur
ker f kerow fort
kescolodnek adj sympathetic
keskyans m exhortation
keslowena f congratulations
kesscrefor m kesscreforyon correspondent
kesseny v peal out (of bells, organ)
kessenyans m pealing (of bells, organ)
kesson m peal (of bells, organ)
kesviajyor m kesviajyoryon fellow-traveller
kesviajyores f kesviajyoresow fellow-traveller (female)
kigek adj fleshy
knack adv immediately
knouk m knoukys knock
knyvyas v clip (hair)
kyffewyas m kyffewysy roisterer
kynyewel v dine
lanergh m lanerhy glade
lecyans m lecyansow licence
lemen prep save
lesta v hinder, get in the way of
lestans m lestansow obstacle
leva v utter
lobm m lobmow drop
loselwas ‖ m loselwesyon ‖ idler
losten draylya f lostednow train (of dress)
lower gweyth phr several times
ly m liow oath
lydnyath f lineage, dynasty
lynaja m lineage, ancestry
lynyaj m = lynaja
lÿs f lÿsyow court
lyther cresys m lytherow credentials
lyther kemyn m lytherow will
maghteth f meghtythyon female servant
mansyon m mansyons chateau
mantel f mentylly mantle
marbel m marble
marshal m marshalys marshal
medal m medallys medal
mell m mellow joint
menowghter m frequency
menowghva f haunt
meras stark phr stare verb
mery adj merry, jovial
mes a dorn phr at once
meur y worhan phr = gorhanus
molethy v curse
monark m monarkys monarch
mong m mongow mane
moren f moronyon wench
mos wàr y gàm phr to be steady / cool
mûtyans m sulking, moping
mydnas knack phr be [just] about to
mylega v curse
myshyf m injury, harm, ruin
myster [an] jornalyst m journalism
mysterden ‖ m mysterdens ‖ tradesman
myternsys m royalty
myternyth adj royal, kingly
nerthek adj powerful
nes'hevyn ‖ m relation(s)
nôbyl m nôblys noble[man]
nôbylta m nobility
nycyta m [foolish] ignorance
offycer negys m offycers orderly
olewy v anoint with oil
ombarusy v get ready intr
omdhal v quarrel
omdhysqwedhes v appear
omgomendya v introduce oneself
omgrefhe ‖ v brace oneself
omhevelly v impersonate
omjùnya v = jùnya intr
omlath dewdhen m omladhow duel
omlowenhe ‖ v make merry
ôstes f ôstesow hostess
othobmak adj beggarly (sb); desperate (sth)
ownek adj afraid
pâcya v pace
paja m pajys page (boy)
pal m palys mantle
parleth m parledhow parlour
'pe verb = a pe
pedn medhow m pednow drunkard
pedndour ‖ m pendourys ‖ keep (castle)
performyans m performance
perhenes f perhenesow possessor (female)
perhenogeth m possession
pe·tygrew m pe·tygrews pedigree
plegadow adj buxom
plegyans (omblegyans) m bow
plottyans m plotting, intrigue
plynchya v flinch
poll m head
pollgledh ‖ m pollgledhyow ‖ moat
pons derevel m ponsow drawbridge
ponyans m gallop
portreyans m portreyansow portrait
posessyon m possession
poster m weight
pottya qwarel phr claim
prais m praise
py·ctùresk adj picturesque
pygal f pygolow mattock
qwallok m qwalokys burly fellow
qwartronek adj local (within city)
qwiet adj quiet
qwyttya v quit, leave
ragdas m ragdasow forefather, ancestor
ragwel m foresight, providence
rainya v reign
rebukyans m rebuke, reproof
rej part = res
re·jyment m rejymentys regiment
repref m reproof
reun col reunen bristles
reverthy m torrent
reveth adj marvellous
revolver m revolvers revolver
revronsus adj respectful, deferential
rêwlyas m rêwlysy ruler
rom omwysca m rômys dressing-room
roslyw ‖ adj rosy
rudhyans m blush
Rùrytânya f Ruritania
Rùrytânyan adj/m Rùrytânyans Ruritanian
ryddya v rid
sacrylych m sacrilege
salow adj safe[-and-sound]
salujyans m salute, greeting
saw ... yn unsel phr except
sawment m preservation
scolyans m schooling
scorn m scorn
se rial m sêys throne
sêcret adj secret
senyans m sound(ing)
sera lîch phr my liege (addressing king)
sera rial phr sire (addressing king)
sergh m affection
servyas m servysy footman
sethor gans godn phr marksman
sherewa m sherewys villain
showya v show
siansus teg phr whimsical
sket adv straightaway
skyrmya v fence
solas m entertainment
sojeta m sojetys subject
so·mona v summon
sosten m sustenance, food
Sows m Sowson Englishman
sowyn adj prosperous
sparya v spare
Spaynek m Spanish (language)
sqwychya v jerk
stank m stamp (heavy tread)
stâtly adj stately
stedfast adj steadfast, loyal
stlevy v stammer
syger adj sluggish, lazy
styryans m explanation
tackya dorn v (wàr) clap (on)
tacla v array
taclans m decoration, ornaments
tag m choking
tallyour m tallyours trencher
tanek adj fiery
tanta v woo, make love
tantans m wooing, suit
tanya golow phr strike a light
tavasa v speak out
tavasak see drog-davasak
tavasans m scolding
tebmyk m temygow little bit
tekhe ‖ v ornament
temptyor m temptyoryon tempter
terlentry v twinkle
ternos ‖ adv the next day
tewedhak adj weather-beaten
tiogus adj country, rural
torgh coos m tergh wild boar
transformya v transform
treddeth adv three days
trega v dwell
trèm f look, sight
tremen m passing
trenja adv the day after tomorrow
trespassor m trespassoryon criminal
trettya v tread
trettyans m tread
troblus adj trying
trygh adj triumphant
ty m oath
tyckya v tick
tynkyal v jingle
tythya v hiss
ugh-rencas ‖ m ugh-rencasow ‖ upper class
uhelor m uheloryon aristocrat, noble
ùnkynda adj ungrateful
uvelder m humility, modesty
'vell prep = avell
vëth adv even (with comparative)
vexya v vex, annoy
viajyor m viajyoryon traveller
voys m voycys voice
vytel col food
walkya v walk (along, through sth)
was form of address = a was
wastya v waste
whans a wodhvos phr curiosity
whedden See an Whedden
whedhla v tell tales
whedhlor m whedhloryon gossip (person)
whor dre laha f whereth sister-in-law
whyrny v whizz
whyst interj hush
whythrus adj searching
wondrys adj wonderful
worshyp m social position
wosa termyn phr later
y Uhelder title his Highness
'yll verb = a yll
'ylly verb = a ylly
yùrl m yùrlys earl
An text-ma: 24 mis Kevardhu 2020